Top 10 High Style Waterjet Mosaic Tile Backsplashes
July 01, 2020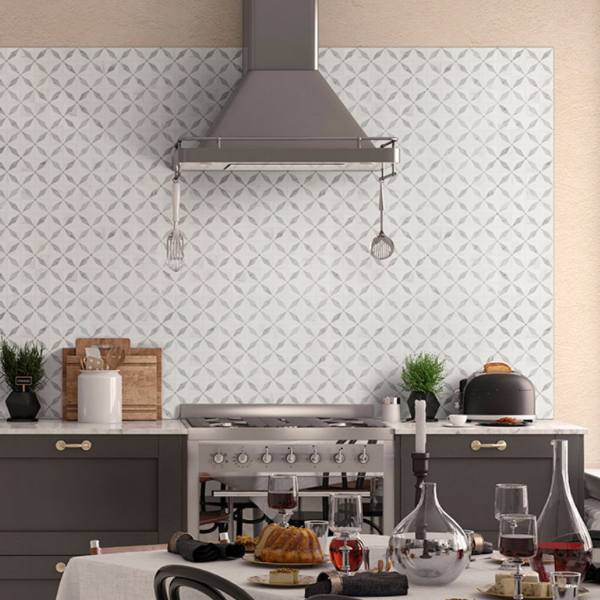 Mosaic tile backsplashes have become quite popular in recent years—and for a good reason! They enhance any room with their luxurious and sophisticated designs, ranging from subtle patterns to funky, retro patterns. The wide array of tile patterns paired with the various finish offerings make these yield to endless possibilities, allowing you to customize your space in a multitude of ways.
But how are these beautiful tiles created? They're created with a waterjet! A waterjet was invented back in the 1800s with the ability to shoot high-pressure water at 60,000 PSI (pounds per square inch)—which is strong enough to cut an anvil in half! Because of its strength, the waterjet was used in the United State mining industry. Since then, the very high-pressure jet of water has been used to cut through the tile with a combination of water and an abrasive. The power of the waterjet can be adjusted, and depending on the desired design, abrasive materials are sometimes used with the water for extra cutting power.
Waterjet mosaic spreads the magic and beauty of mosaics like no one else. Not only can the waterjet create one-of-a-kind tiles, but does so while remaining environmentally friendly—a win-win in our book! It has the ability to cut intricate designs without producing heat and minimal waste. One of the biggest benefits of a waterjet is its ability to cut the tile without causing damage to the material such as color changes or chipping.
Deciding on the right tile patterns for your kitchen or bathroom backsplash can be a difficult decision. There are a variety of sophisticated styles and patterns to choose from, which can be a stressful and overwhelming decision. Need some inspiration for your upcoming project? We've compiled our top ten best-selling kitchen backsplash tile so you can see all the options available to you.
Top 10 High Style WaterJet
Mosaic Tile Backsplashes
1) Bianco Quatrefoil Polished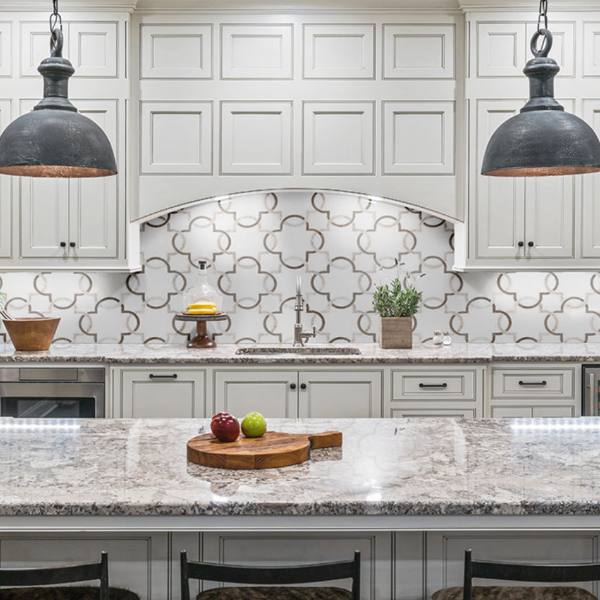 If you're looking for a subtle, yet beautiful pattern, Bianco Quatrefoil tile features a classic white marble background accented by a sophisticated geometric pattern. This is one of the most versatile tiles—you can install this in bathrooms, kitchens, laundry rooms, and other spaces. Similarly, you can use this across a wide range of appliances such as floors, backsplashes, vanity walls, shower surrounds, countertops, and more.
2) Rhombix Dove Polished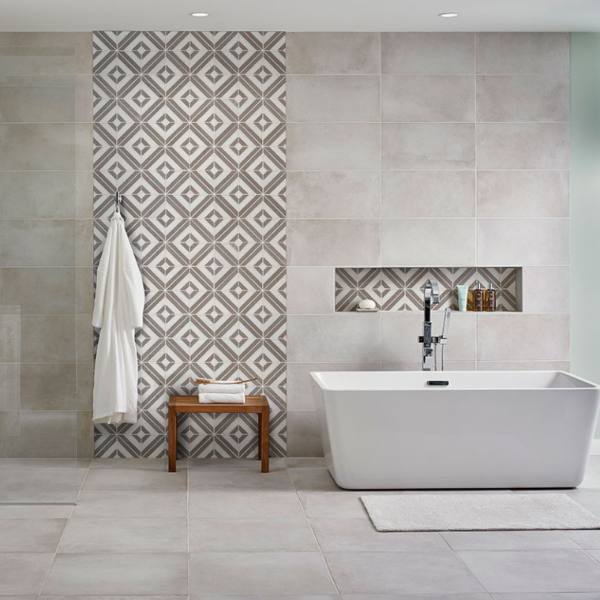 Maybe you're more into the look of modern tile designs. If that's the case, Rhombix Dove Polished tile offers a modern unique geometric, diamond shape made of alternating gray and white marble with a polished finish. Depending on the goal of your home project, these tiles look great when used for countertops, geometric floor tiles, and patterned wall tiles.
3) Carrara White Faceted Polished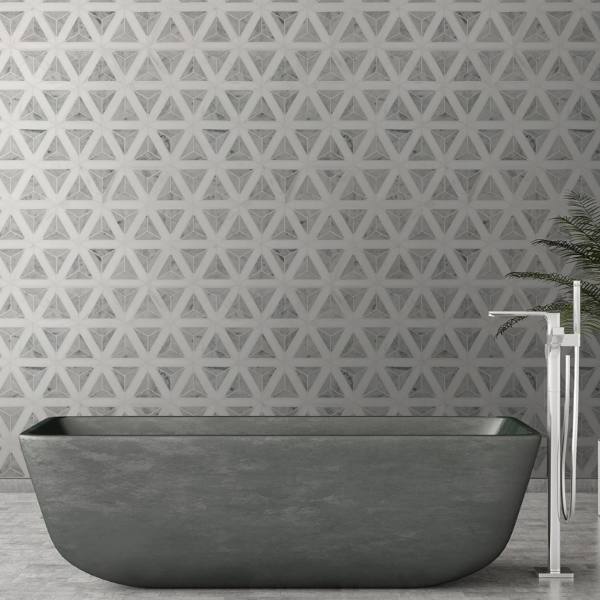 For a subtly elegant backdrop, Carrara White Faceted Polished tile can make any space pop. These tiles feature a distinct geometric pattern in white and gray marble. Spice up any space in your home by incorporating these within your kitchen or bathroom as countertops, patterned wall tiles, or geometric floor tiles.
4) Royal Link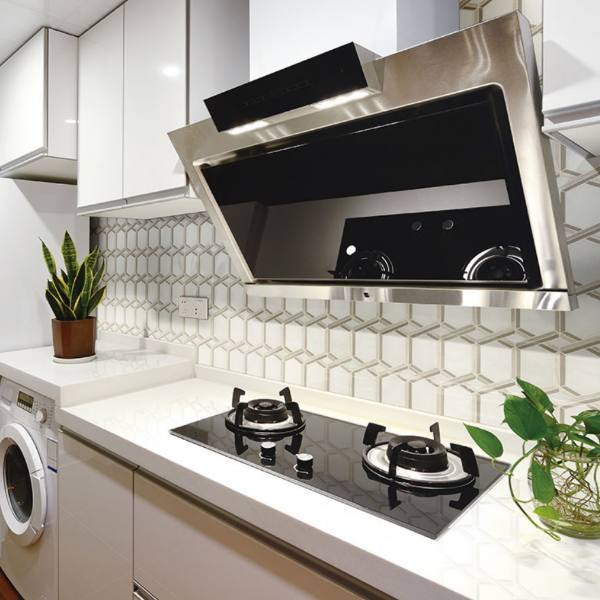 When you close your eyes and picture your new space, are you envisioning the room's backdrop design with a unique interlocking link pattern? If so, Royal Link tile in a soothing white marble might be exactly what you're looking for. Dazzle up your space by incorporating these tile in an array of applications—from kitchen countertops to bathroom geometric floor tiles to living room patterned wall tiles.
5) Carrara White Ellipsis Polished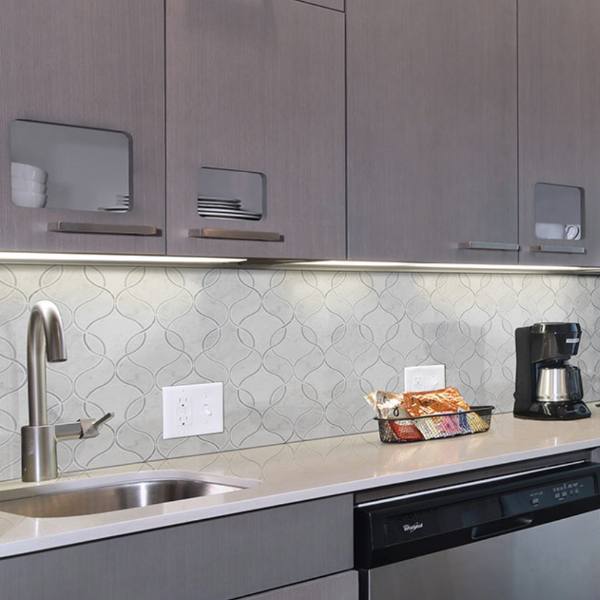 Maybe you're a fan of the classics and you're looking for a subtle, yet sophisticated tile to grab your guests' attention. Carrara Ellipsis Polished tile features a classic white marble background accented by a modern chain of dove gray marble for a look of movement and visual interest. This tile matches any color scheme or decor style and stands out when used in your bathroom or kitchen as the floor, backsplash, vanity wall, shower surround, countertop, and more.
6) Bianco Gridwork Polished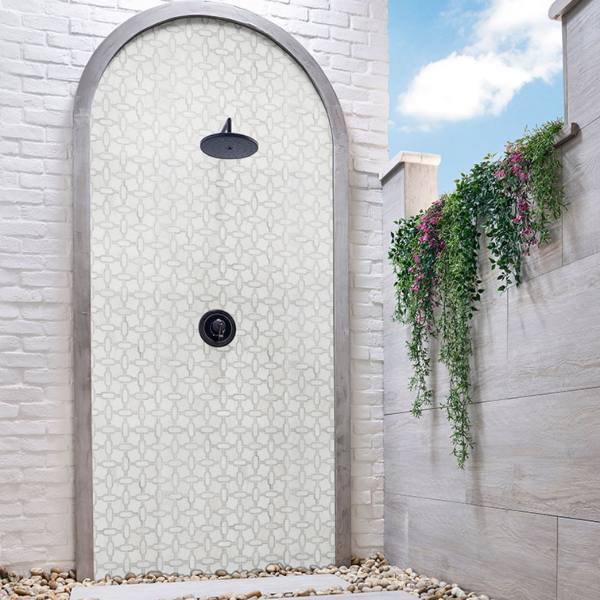 It's no surprise that Bianco Gridwork tile is one of our best-selling tiles. Looking for a distinctive tile that is suitable for floors, backsplashes, vanity walls, shower surrounds, countertops, and more? Bianco Gridwork tile offers homeowners a classic white marble accented by a sophisticated intersecting pattern of dove gray marble for a distinctive look. Its neutral tones make it an ideal option to add in your kitchen, bathroom, or laundry room.
7) Danza Arabesque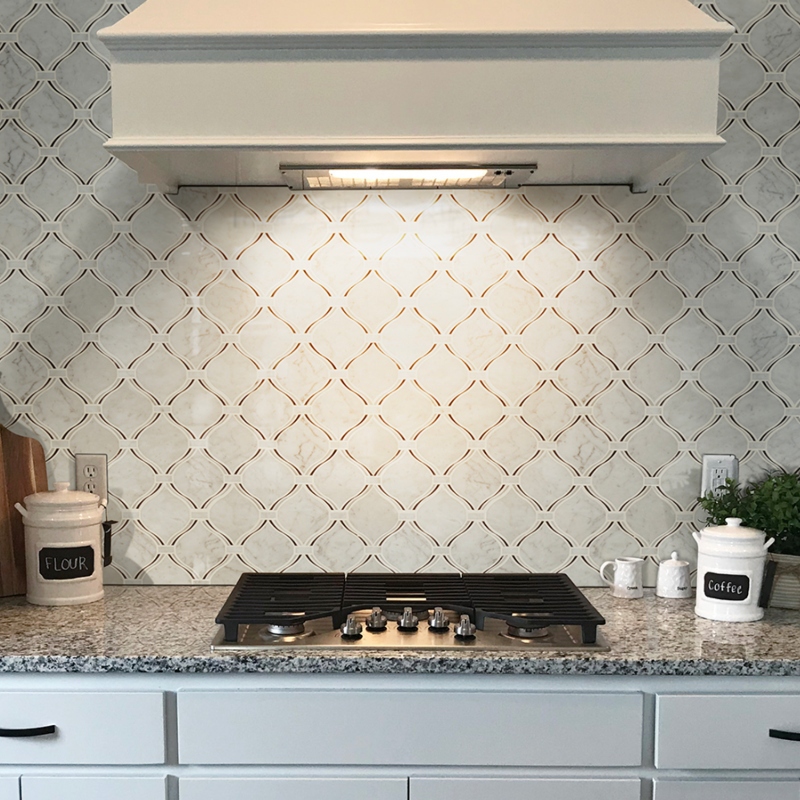 Dimension, dimension, dimension—that's what you'll get when you install Danza Arabesque tile! With a sophisticated combination of white-gray marble tiles outlined in darker marble, the Moroccan tile backsplash complements almost any color scheme and decorative choice. Because of its unique shape and design, it's the perfect choice for kitchens, bathrooms, laundry rooms, or mudrooms, and it can also be used as a feature wall or shower surround.
8) La Fleur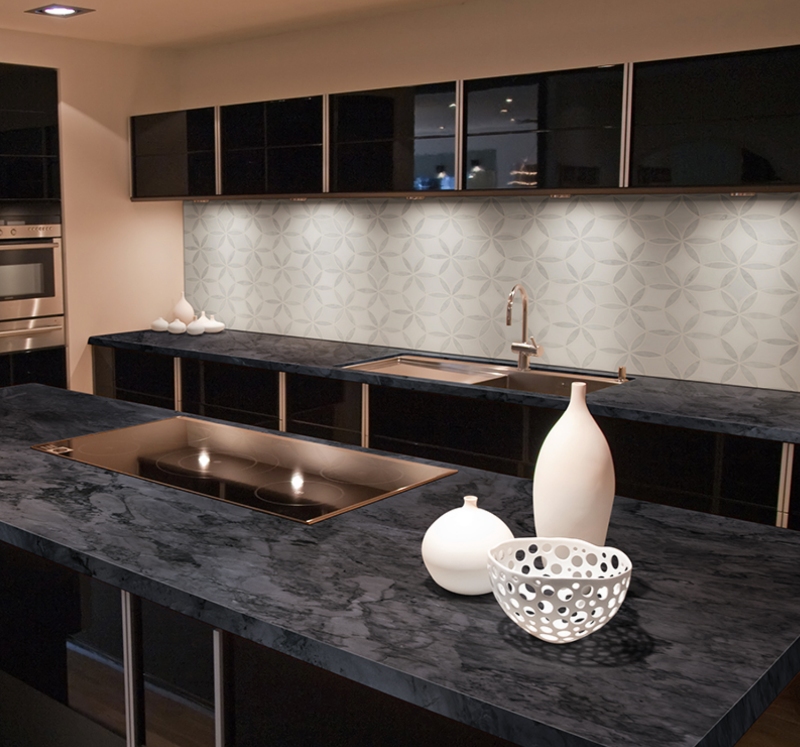 Are you a trendsetter? With La Fleur tile, you're sure to wow any guests. The modern yet subtle floral pattern adds interest to your space without overpowering the other key elements of the room. While the sophisticated combination of white and gray marble and the delicate design, the tile matches almost any color scheme and decorative choices.
9) Bianco Starlite Polished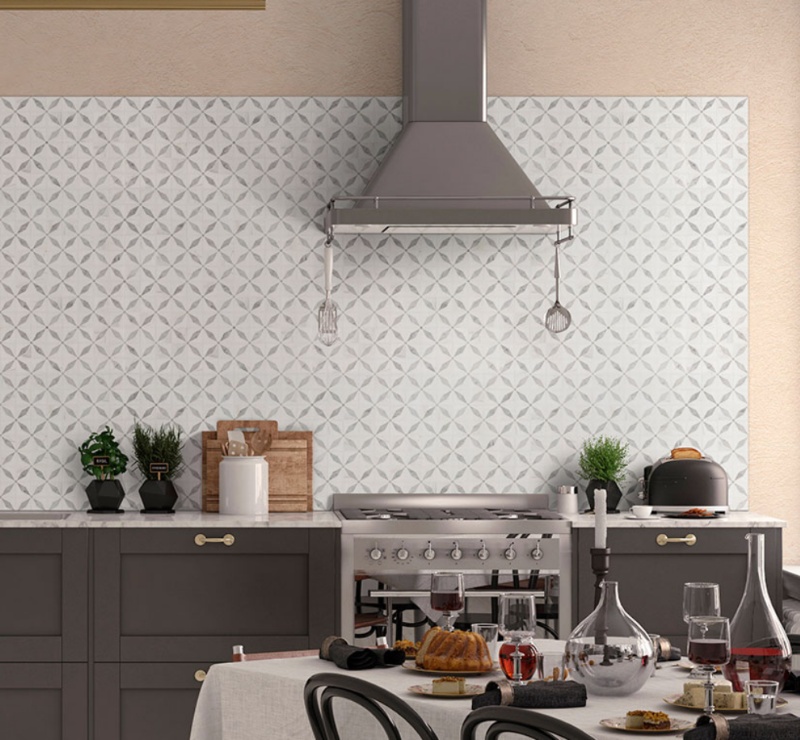 Bianco Starlite Polished tile uses delicate star-like shapes that can spruce up any space. With its neutral tone and white marble geometric shapes, you can use these tiles in a variety of ways like a patterned wall, kitchen or bathroom countertops, or as geometric flooring. The options are endless. Mix and match these with another mosaic tile to make the room one-of-a-kind!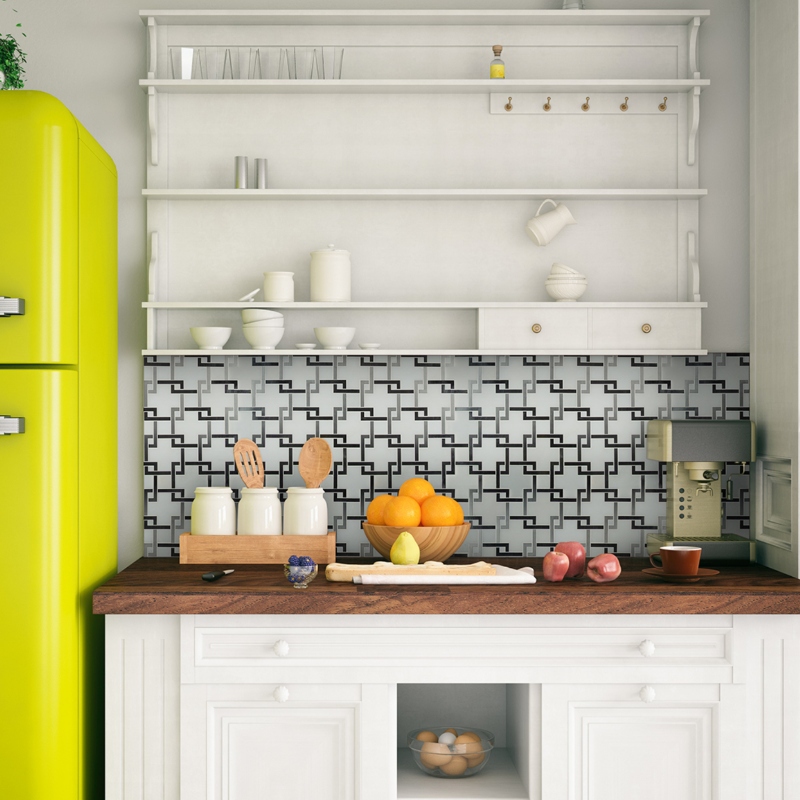 Tired of modern tile taking over kitchens around the world? Maybe you're looking for a way to stand out from the crowd. Want to add some spunk to your space? Blanco Lynx tile features a fresh white marble background accented with a unique interlocking link pattern for a retro-revived look that adds character to any space. Using these unique geometric tiles, you can make an edgy and funky space that pairs well with complementary geometric floor tiles or other natural stone.
READ MORE ABOUT MSI BACKSPLASH TILE
Should Your Backsplash Match Your Floor Or Countertop?
The Right Way To Install A Metal Mosaic Backsplash