How To Install Arterra Porcelain Pavers For Perfect Outdoor Living
October 14, 2020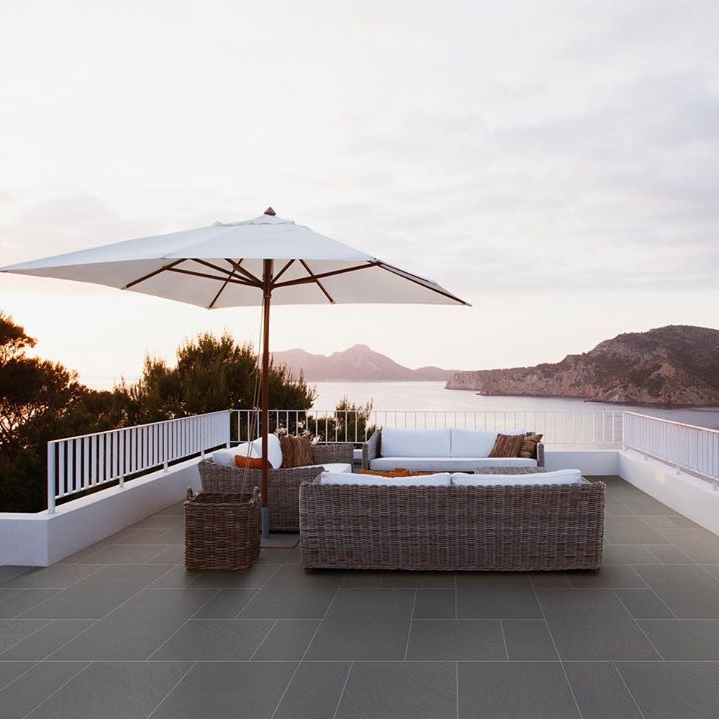 Arterra porcelain pavers can take any outdoor space to the next level, offering many benefits over the natural stone pavers commonly used for porches, patios, pool decks, and walkways. Porcelain pavers include wood-look planks, along with stone- or concrete-look tiles. They don't just look like stone pavers — they install like stone pavers. With the same methods used to install natural stone pavers, homeowners can create the look they desire at a reduced cost, with minimal upkeep.
Why Choose Porcelain Pavers?
One of the best reasons for choosing porcelain pavers for your outdoor space is the easy maintenance. Porcelain pavers never need sealing to remain completely waterproof and resistant to stains and damages. Although they are available in a wide range of beautiful colors and patterns, they can stand up to weather extremes including freezing and hot, direct sun. An ideal choice for using around swimming pools, porcelain outdoor patio tile is resistant to damage and fading from pool chemicals and have a natural stone-like slip-resistant texture. To find out more about how these pavers can help you create the outdoor living space of your dreams, watch MSI's Arterra Pavers video.

With the many colors, patterns, shapes, and sizes of Arterra modern tile, you can expand your design possibilities. Arterra pavers are available in wood-look planks as well as tiles mimicking the look of natural quartzite, travertine, concrete, slate, and more. They come in classic 24" x 24" tiles, as well as 16" x 32", 12" x 48", 13" x 24," and the combination needed for the popular Versailles pattern, depending on the color and style.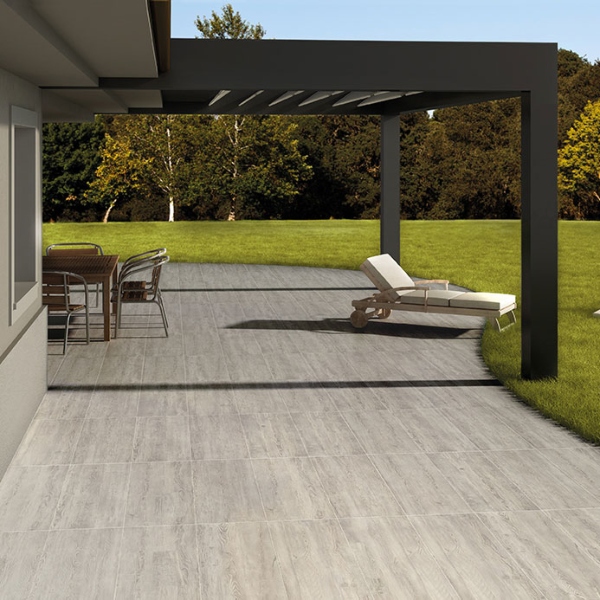 Better still, Arterra pavers are no more difficult to install than classic stone pavers! In fact, you can do it yourself, dramatically reducing the cost of finishing your new outdoor space. The average project takes about one weekend to complete — depending on the size and complexity of your design, of course. Here's how to install a porcelain floor using a traditional sand set over a compacted road base.
You will need:
MSI Arterra pavers
Gravel for base layer
Sand for laying over gravel
Geotextile filter fabric
Wet saw with a diamond blade, if any pavers must be cut to fit the space
Plastic spacers to maintain a minimum of 1/8" between the pavers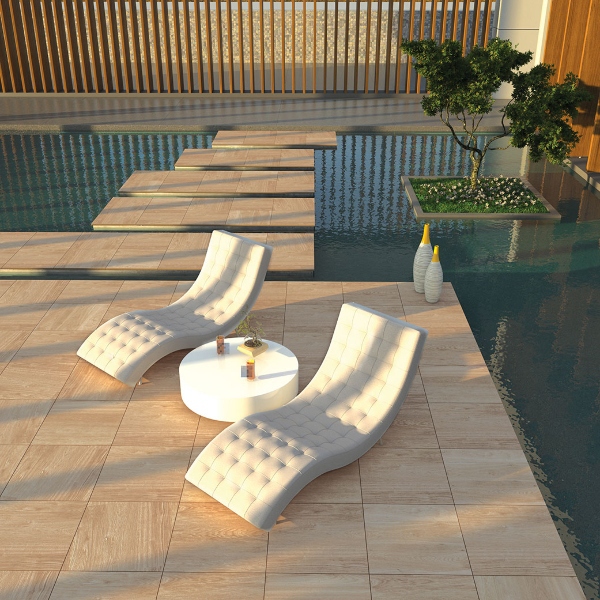 First, you will need to determine how much of each material you will need for the project. Measure the square footage of the space to be covered by the pavers, and calculate the following:
Pavers: Calculate the number of pavers per square foot. Multiply the length times width of each paver to determine the number of square inches in the paver. Divide 144 by the number of square inches in the paver. Multiply that number by the project's square footage to determine how many pavers you will need. Be sure to purchase at least 5% extra to allow for mistakes and breakage.
Gravel and sand: Multiply the project's square footage by 0.333 to determine the cubic feet of gravel or sand needed. To calculate the number of cubic yards, divide the cubic feet by 27. It's always better to order a bit more than is needed than to order too little.
1. Locate underground utilities such as electric lines, water pipes, gas lines, telephone and cable wires, etc. before you begin digging. Call the national "call before you dig" hotline: 8-1-1.
2. Excavate the work area. To determine the depth, take into account the thickness of the Arterra pavers, the layer of gravel, and the layer of sand.
3. Compact the soil, creating a slight slope away from buildings.
4. Lay the geotextile filter fabric over the compacted soil to separate the gravel from the soil. This also prevents weeds from growing between the tiles.
5. Fill the area with the gravel, and make sure it is well compacted. At this point you can install edge restraints to keep the pavers from shifting, or finish the outside edges with mortar.
6. Spread the sand layer over the gravel. Compact the sand, and screed it to make sure it is flat and sloped away from buildings.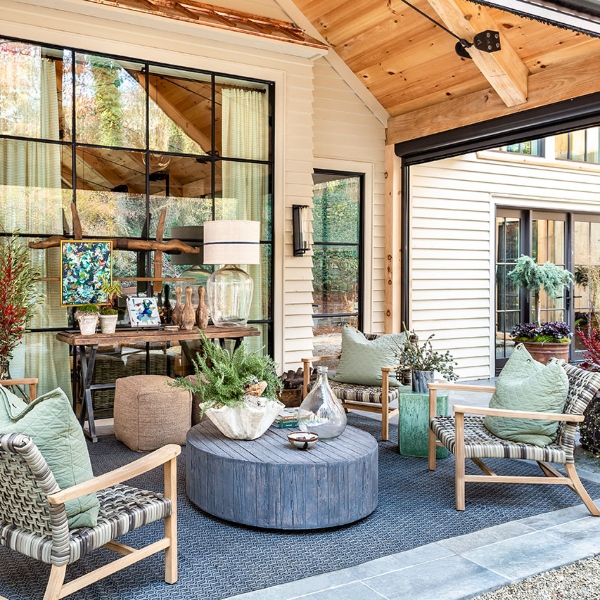 .
7. When installing pavers in tile patterns such as herringbone or Versailles, lay them out ahead of time in another area so each section is assembled and ready when needed.
8. Lay the pavers. Start at a corner and work your way out, using plastic spacers at the joints to create a 1/8" space between the pavers. Place each paver directly onto the sand, and do not drag or slide it into place. Check each paver as you go to make sure it is flat on the sand with no low or high spots.
9. When all pavers are laid, sweep off any debris.
10. If using a concrete edge to keep tiles from shifting, install it now.
11. Remove plastic spacers and fill the joints between pavers with polymeric sand. Make sure the sand is fine-grained enough to fill the narrow 1/8" spaces. Sweep the sand into the spaces between the tiles until they are completely full.
12. Sweep the surface of the pavers to remove excess sand and dust. When it is completely clean, mist it with water to activate the polymer and cure the mixture. Do not use too much water, or you may wash the polymer binder from the sand or even wash out the sand from between the pavers.
13. Allow 24 hours for the polymeric sand to cure and lock the pavers into place, then you may use your new outdoor space!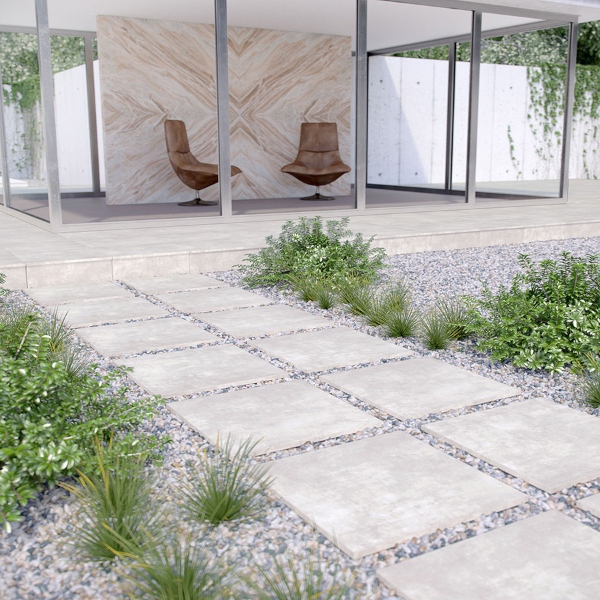 Arterra porcelain pavers by MSI make it easy and affordable to create an elegant, upscale patio, pool area, walkway, or any outdoor living space you desire. Since they are so easy to install, and need very little maintenance — not to mention their durable, versatile good looks — the possibilities for your home are endless.
For more detailed information on vinyl flooring, including installation costs for Luxury Vinyl Flooring, visit our website for our entire line of luxury vinyl planks.
Are you ready to get your DIY project started? First, find the perfect paver by reviewing MSI's expansive Pavers Collection, then find and visit an MSI Pavers Dealer in your area.
READ MORE ABOUT OUTDOOR SPACES with PAVERS AND PORCELAIN TILE:
Alfresco Living with Our New Concerto Indoor & Outdoor Porcelain Tile Collection
Can Porcelain Tile Be Used Outdoors?
Coordinate Your Indoor & Outdoor Spaces with Matching Porcelain Tile & Pavers