Strong And Beautiful: Our New Catalina Porcelain Floor Tile Collection
September 14, 2020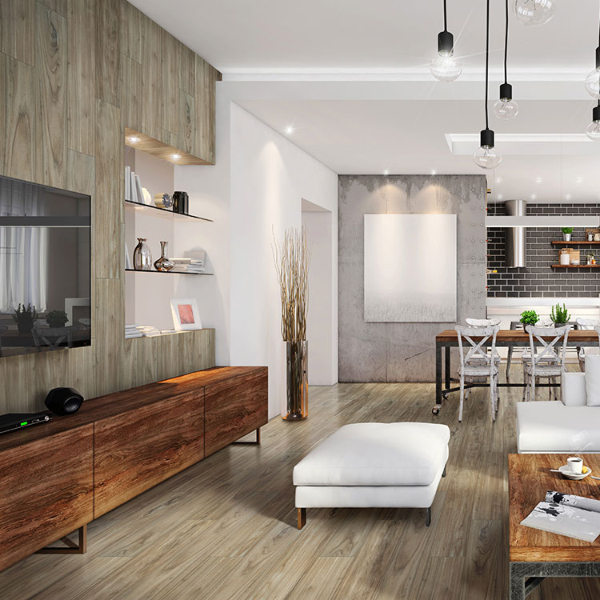 According to recent numbers, the porcelain floor tile market has been soaring to new heights in the last few years. Between 2018 and 2022, this industry is expected to rise by over 9%. If you're a homeowner looking to join in on this growing trend, it's essential that you choose a tile that's beautiful, versatile, and interesting to look at.
The Catalina Collection by MSI may only have three colors, but the possibilities are limitless. Available in 8"x48" planks, the porcelain tile collection is diverse enough for any decor style but is exceptionally well suited for modern or minimalistic aesthetic. Here, we're going to talk about why this flooring is ideal for homeowners who love all different styles, so read on for some reasons why the Catalina collection may be calling to you!
Why Use Porcelain Floor Tile?
There are many reasons to use porcelain flooring over other types of materials. The first is the fact that maintaining them is incredibly easy. Not only is porcelain moisture-proof and resistant to absorbing chemicals, but it's also easy to keep clean. All you need to do is mop up anything that spills on it and there will be no stains.
It's also an extremely durable material. If you were to drop something heavy on hardwood, it would be almost certain to scratch or dent. Porcelain won't have this problem. Regular wear and tear isn't an issue, either, since the color of porcelain doesn't fade offer time even with everyday use.
In addition to withstanding dropped items and scuffing shoes, porcelain tile also is resistant to more severe damage. This includes extreme temperatures up to and including fire. It's also completely safe and doesn't emit any toxins even in these scenarios. You'll never need to worry about needing new flooring when you choose porcelain.
Why Is the Catalina Collection the Best Choice?
Now that you know why you need a modern tile that's made from porcelain, it's time to take a look at why the Catalina collection is the best choice among the many options out there.
If you're looking for modern interior design, you probably will want your kitchen or bathroom to have some specific visual features. Emphasis on lines rather than curves, neutral and natural colors, and a lack of clutter and fluff are probably near the top of the list. A natural look is also critical to the modern aesthetic, and the Catalina provides this natural look while giving you all the benefits of porcelain.
Since modern design usually has exposed structural elements such as bricks and wood, getting tile that looks like wood is important. The Catalina collection is specifically designed to look like all-natural wood. You can get this in your choice of neutral color so that it appears to be real hardwood.
Because it looks so much like wood, Catalina tiles are perfect for pairing with other natural materials. Brick, metal, and leather are staples of modern interior design, and Catalina tiles look phenomenal when paired with brick walls or metal countertops. You don't need to worry about them clashing with anything. Plus, since the colors don't fade over time, your kitchen or bathroom will look unblemished and perfect for decades.
Catalina Flooring Options
Now that you know why porcelain is the best tile material and the Catalina collection is a great porcelain tile option, it's time to take a look at some of the specific styles offered. As we brushed on before, there are three colors in the Catalina collection: Ice, Maple, and Teak. Read on to learn about these different colored tile patterns so that you can choose the best one for your home!
Ice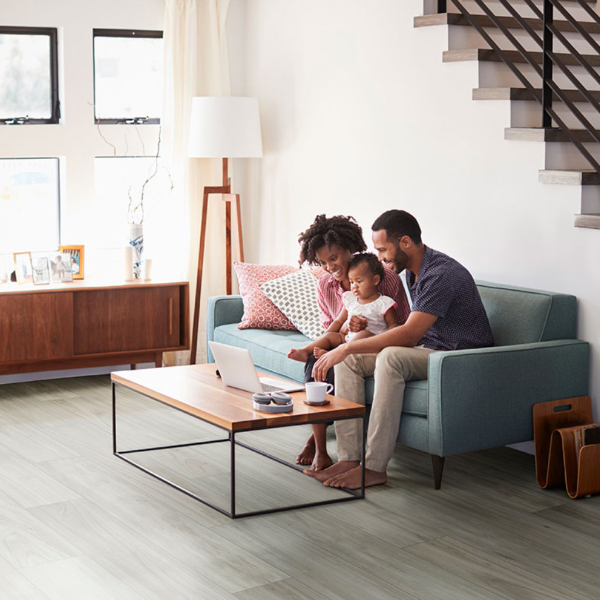 Ice is the lightest-colored option from the Catalina collection. This tile has cool undertones and is made up of neutral white and light gray hues. It's made to look like natural white wood that will complement any cool kitchen interior.
Because of its cold aesthetic, Ice is perfect for painting with metal countertops and stainless steel lamps.
Like all of our Catalina options, Ice can be used for kitchen and bathroom tile as well as backsplashes, living areas, and mudrooms.
Maple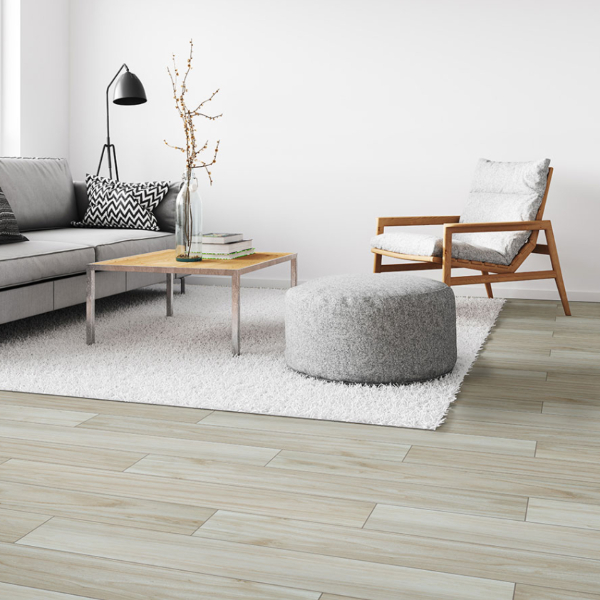 Maple is another light-colored flooring, but rather than having solely cool undertones it is classically neutral. This porcelain tile, made to look like wood, has beige and cream hues that stand out against darker grain. These dark knots make it distinct from Ice, which has very subtle grain.
If you're looking for a kitchen tile to go with brick walls or accents, Maple is definitely the right option for you. Its polished finish makes it perfect for modern designs, so you won't need to worry about it matching with anything.
Teak
In stark contrast to Ice, Teak is our warm Catalina option. This floor tile has gorgeous brown ones that stand out against dark graining. If you're looking for something to pair with dark brick or warmwooden countertops, this is the perfect floor option for you.
Not sure whether Teak or the more neutral Maple will look better in your kitchen or bathroom? You can use a flooring visualizer tool to figure out which of these gorgeous Catalina options is right for you!
Get Started
Now that you know about the best porcelain floor tile on the market, it's time to begin your interior design renovations. Contact us with any lingering questions that you may have about tile selection and installation. Our experts are committed to helping make your house as gorgeous and comfortable as possible at an affordable price.
READ MORE ABOUT THE BENEFITS OF PORCELAIN TILE
Sophistication Defined: the Sophie Porcelain Collection
The Benefits Of Porcelain Tile Floors In Your Kitchen