The Benefits Of Porcelain Tile Floors In Your Kitchen
October 13, 2021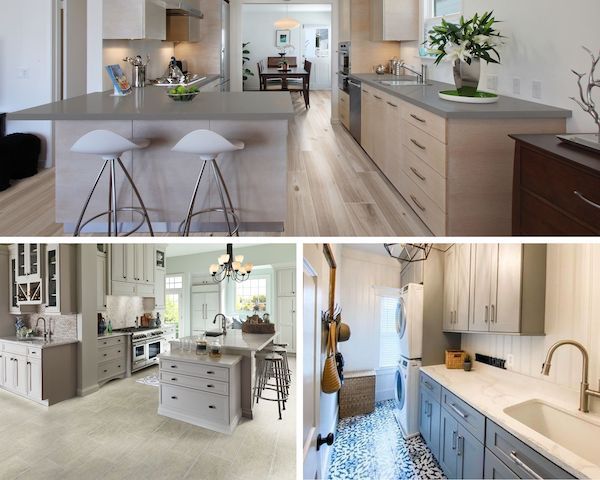 A kitchen floor is one of the hardest-working surfaces in a home.
How does porcelain tile measure up to other flooring types when it comes to high-pressure areas? Not only does it have to stand up to constant foot traffic, but it needs to be easy to keep clean and germ-free.
Apart from functionality, a stylish kitchen demands a floor that complements and completes the total kitchen aesthetic. It's not enough for a flooring material to be practical, it has to look just right too.
If you're considering porcelain tiles for your kitchen floor, read on for 8 great reasons to make use of this versatile tile.
1. Elegant Durability and Longevity
For a tile that will outlast ordinary ceramic tiles, porcelain tiles are an ideal choice. They are tougher than ceramics due to the fact that they are fired at a much higher temperature. The extreme density of a porcelain tile increases its water-resistant properties. The combination of strength and durability combined with a moisture-tight surface makes it the perfect floor tile for high-traffic, hard-wearing areas such as the kitchen. Porcelain tiles with a good rating can last 15 to 20 years. High-rated tiles will look good for up to 50 years.
2. Effortless Maintenance and Hygiene
Porcelain tiles only need a light sweep, or a quick once-over with a mop to stay immaculate. As they are naturally stain-resistant, they don't need to be sealed. This is one of the main reasons people opt for porcelain tiles instead of carpeting. As porcelain tiles are resistant to household chemicals, they can be properly cleaned and sanitized without getting damaged. They won't soak up the chemicals or be affected in any way, even if harsh chemicals are used.
3. Reduce Fire Hazard
Kitchens carry the highest fire risk of all the rooms in a home. Porcelain tiles are fire-resistant. They won't go up in flames the way laminates do or give off noxious fumes or smoke. If you love the look of a wooden floor in the kitchen but would prefer to go with a safer option, porcelain wood tile will give you the exact look you want without the risk.
4. High Traffic Areas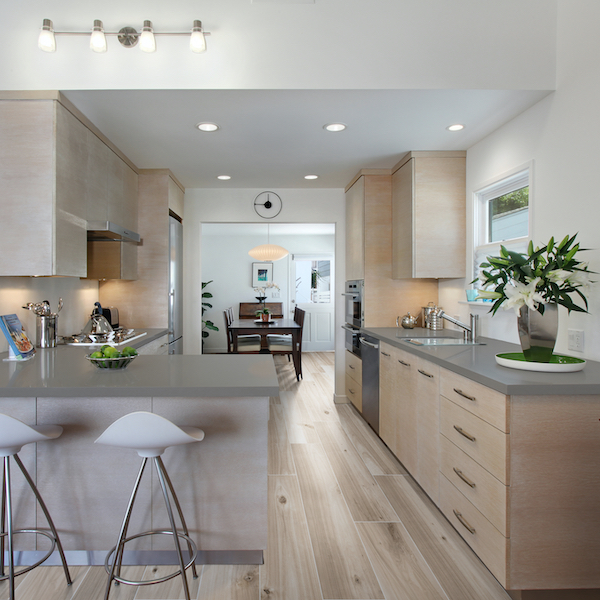 Surfaces in high-traffic areas show wear and tear fast. For long hallways or entryways where there's bound to be wear and tear from the passing of feet, porcelain tiles will withstand the beating and still look fresh. The warm gleam of wood grain porcelain tile adds elegance and a sense of cohesion between the kitchen and dining room spaces. Reflections of the overhead lights brighten the space in an easy flow. The beauty of this narrow space will remain fresh and new with very little effort.
5. Fade Free Design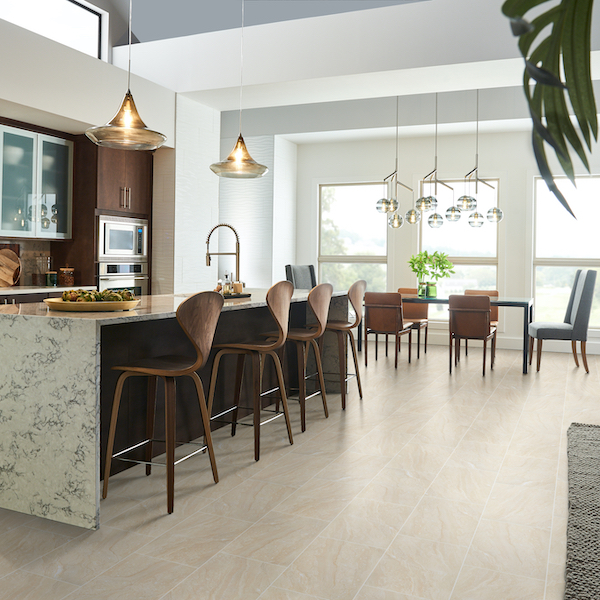 Porcelain tile patterns won't fade in direct sunlight. As floor tiles, they can be used outdoors without fear of the design wearing down under the influence of the elements. Even sunlight filtered through glass windows can cause patterns to fade on regular floor surfaces. Using MSI Aria Oro porcelain tiles with their subtle marbled patterns means no fear of fading. These rich, yet understated cream-colored tiles underline the sophistication of the room and echo the warmth of the natural wood used in the beautifully carved bar stools.
6. Moisture Resistant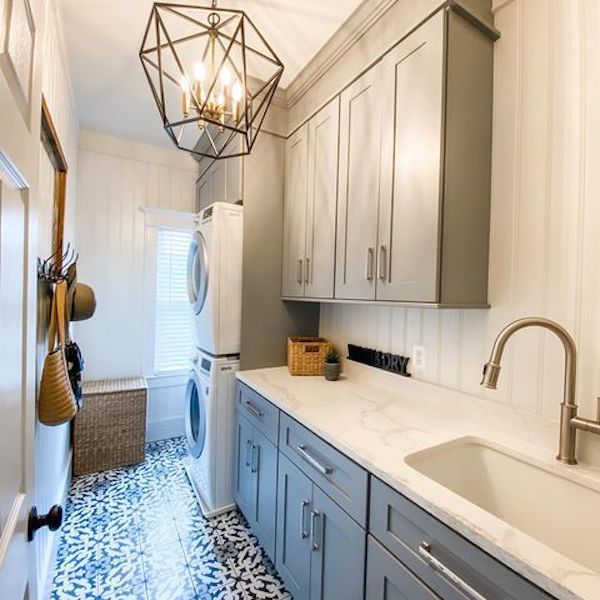 Image Source: Instagram
Porcelain tiles are water-resistant, with a moisture absorption rate of .5. This makes them perfectly suited to wet environments and areas that need constant cleaning such as kitchen floors. In compact kitchens, the bold patterns of the MSI Brina Floral Encaustic porcelain tiles offer an interesting contrast to the neutral palette echoed in the cupboards, walls, and decor. Using porcelain tiles for the flooring ensures that this small kitchen's splash zone is unaffected by moisture.
7. Slip Resistance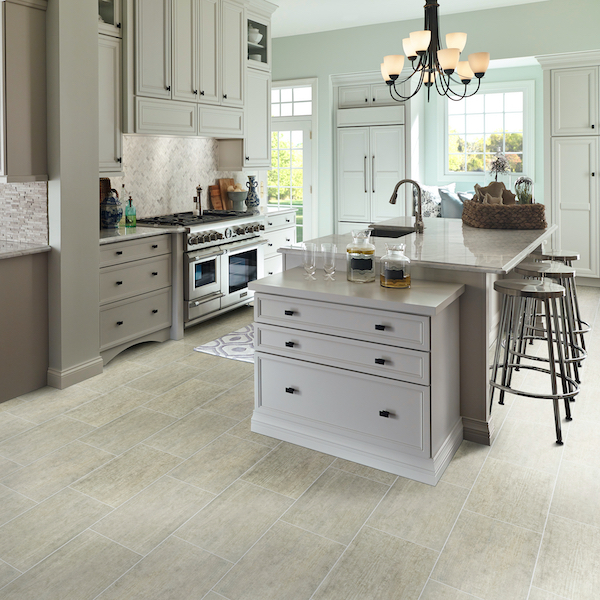 Porcelain tiles look slippery with their high gloss surface, but they are manufactured with a textured glaze to prevent the tiles from being slippery, particularly in areas of high moisture. Some porcelain tiles are manufactured with a matte surface that closely resembles natural stone such as this farmhouse kitchen. Subtle neutrals create an understated cohesion that is underlined by the MSI Cloud porcelain stone look kitchen flooring.
8. Beyond Imitation to Innovation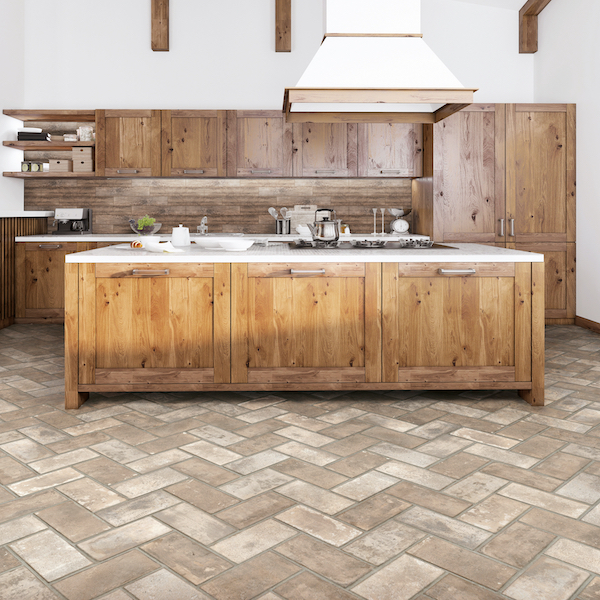 Porcelain tiles come in many designs that range from wood grain to a brick look surface complete with grout lines, a matte stone effect, or exquisitely patterned marble. Combining the versatility of design with easy maintenance and the hard-wearing properties of tiles makes porcelain tiles an ideal choice for your kitchen. The soft sandy tones of the MSI Ivory Brickstone add a classic brick floor look to offset the natural wood tones of the cabinetry. The diagonal grout lines lend authenticity to the brick look porcelain tile of the flooring and lead the eye toward the island centerpiece at the heart of the kitchen.
Porcelain Tile vs. Stone
How do you choose between porcelain tile and stone? Factor in your budget - the installation cost for porcelain tile is less than stone. Stone requires annual maintenance and has to be resealed annually. On the plus side, installing a stone kitchen floor is a lifetime investment that won't need replacing for many years.
The Ultimate Kitchen Flooring
Porcelain tile offers a multitude of flooring options for both indoor and outdoor living spaces. With easy maintenance and low-fuss cleaning, porcelain tiles are fast becoming the go-to flooring material. If a fusion of design versatility, top product quality, and a long-lasting end product are all important to you, consider using porcelain tiles for your flooring. Contact us for a full range of porcelain floor tiles.
READ MORE ABOUT THE BENEFITS OF PORCELAIN TILE
Sophistication Defined: the Sophie Porcelain Collection
Strong And Beautiful: Our New Catalina Porcelain Floor Tile Collection