Tile Style: Timeless Travertine – Perfect For Inside And Outside
December 25, 2016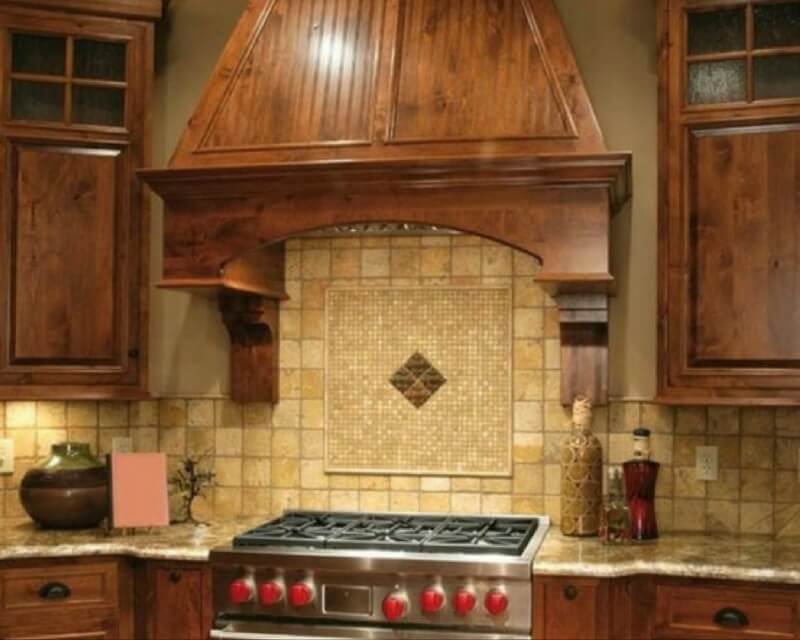 When creating an indoor or outdoor design that will stand the test of time, many homeowners are choosing travertine tile. The characteristic weathered-look of this natural stone adds warmth to any space. And while you may often see it featured as flooring for patios and pool surrounds, this durable stone is the perfect material to install throughout your home's interior and exterior. Install it as a kitchen backsplash, living room flooring, or fireplace feature.
In fact, with some of our favorite travertine designs, you may not even recognize this popular product. After all, natural travertine tile comes in a wide range of colors, cuts, sizes, and finishes. But to inspire you further, check out these top travertine options. Once you've seen them, you may well be ready to use this natural beauty for your next indoor or outdoor application.
First Floor Flooring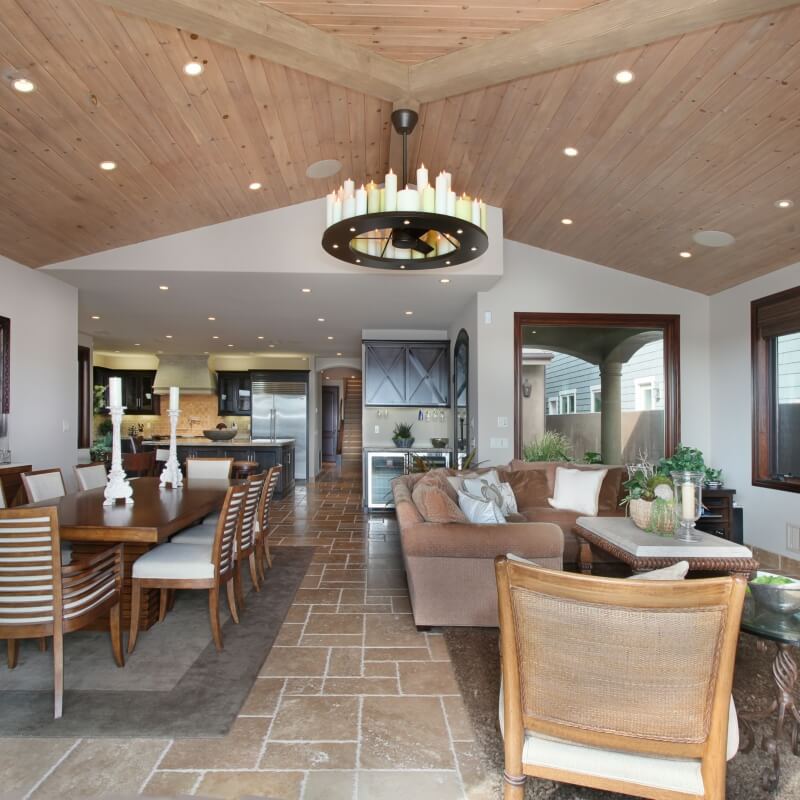 Featured: Tuscany Chocolade Travertine Pavers
Natural stone is a great option for wall-to-wall flooring, because it's far easier to keep clean than carpet. For example, this open-concept main living space features a floor color similar to the neutral furnishings and wood-planked ceiling.
These Tuscany Chocolade Travertine Pavers provide a rustic yet elegant look with their dark brown earth tones. They are available in a variety of sizes (8x8, 8x16, 16x16, and 16x24) and finishes (honed, tumbled, and unfilled). The lighter colored grout makes the Versaille pattern pop, while the vertical installation draws the eye through the narrow home towards the staircase.
An Exquisite Entryway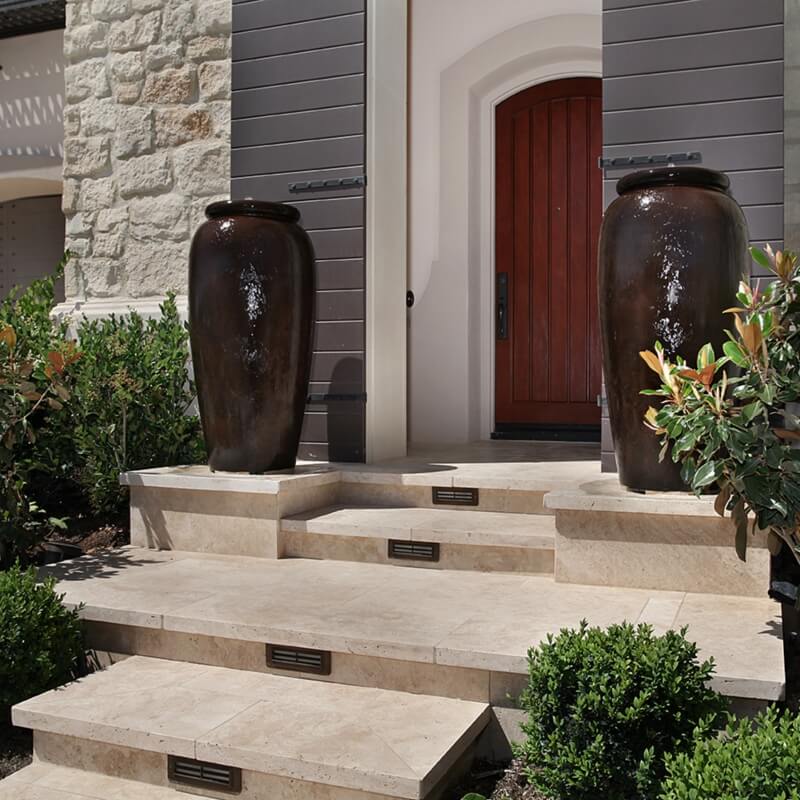 Featured: Tuscany Platinum Travertine Tiles
Adding any kind of stone to the front of your home boosts its curb appeal. This striking entryway features Tuscany Platinum Travertine Tiles. With its beautiful beiges and creams, this travertine tile creates a warm welcome, adds luxuriousness to the exterior, and ties in perfectly with the existing stone on the elevation.
The honed stone comes in sizes to suit your needs, such as 12x12, 16x16, 12x24, 18x18, 24x24, and 18x36. The muted color also contrasts remarkably well with the dark gray siding, large brown water features, and rich wood front door.
A Bathroom with Old-World Charm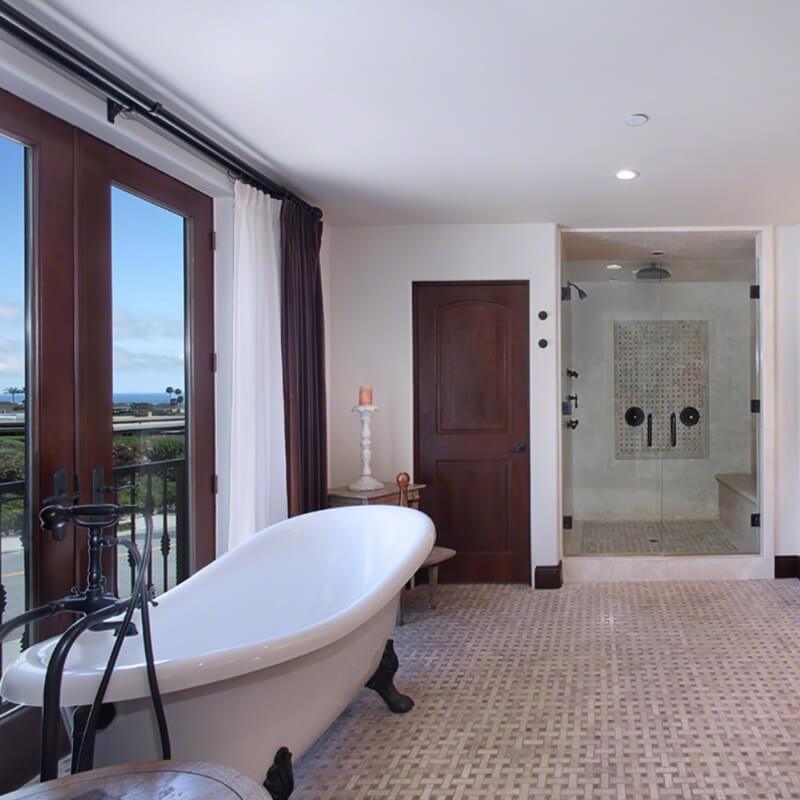 Featured: Durango/Caramel Basketweave Travertine Tiles
There are many ways to incorporate a travertine tile mosaic, but it can really have a dramatic impact in your bathroom. This master suite retreat is stunning with its Durango/Caramel Basketweave Travertine Tiles. The honed finish, warm neutrals, and classic pattern are all elements of this tile from Mexico, giving this bathroom plenty of character and old-world charm. It's also carried from the flooring to shower floor inlays and niche in this clever design.
A Fireplace Focal Point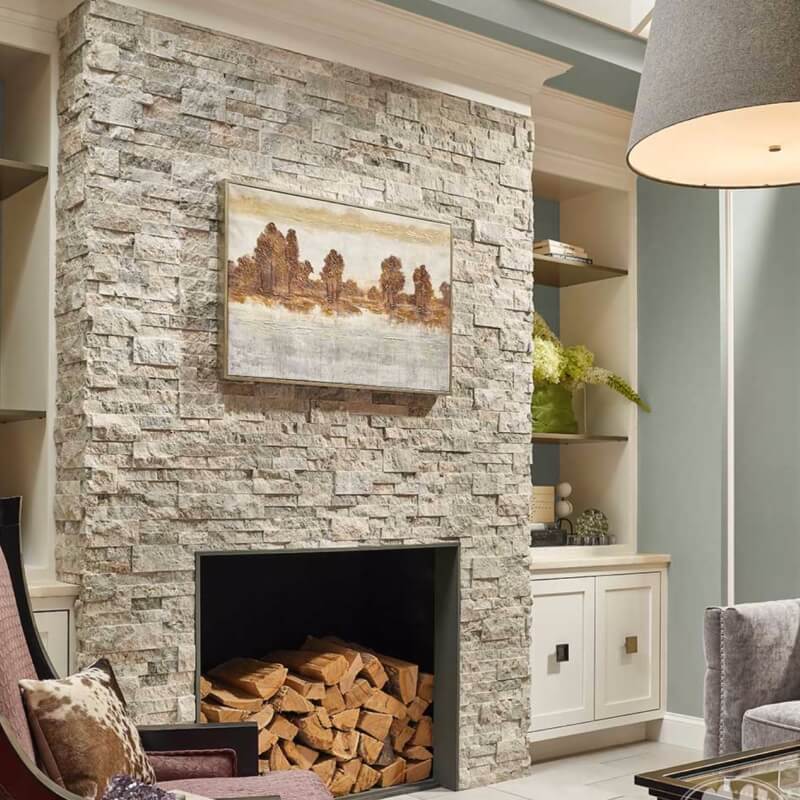 Featured: Silver Travertine Stacked Stone
You might notice that one of these room scenes is not like the others, but this fantastic fireplace does in fact feature travertine as well. With a refined take on rustic, the Silver Travertine Stacked Stone panels don't look like your typical travertine installation due to their warm gray tones and split-face finish.
These ledger panels, which infuse this space with much needed texture, enhance a variety of architectural elements both indoors and out, and have matching corners available to seamlessly finish off the look. No matter your style, use these travertine beauties to create a spectacular accent wall, gorgeous backsplash, or elegant retaining wall.
A Traditional Patio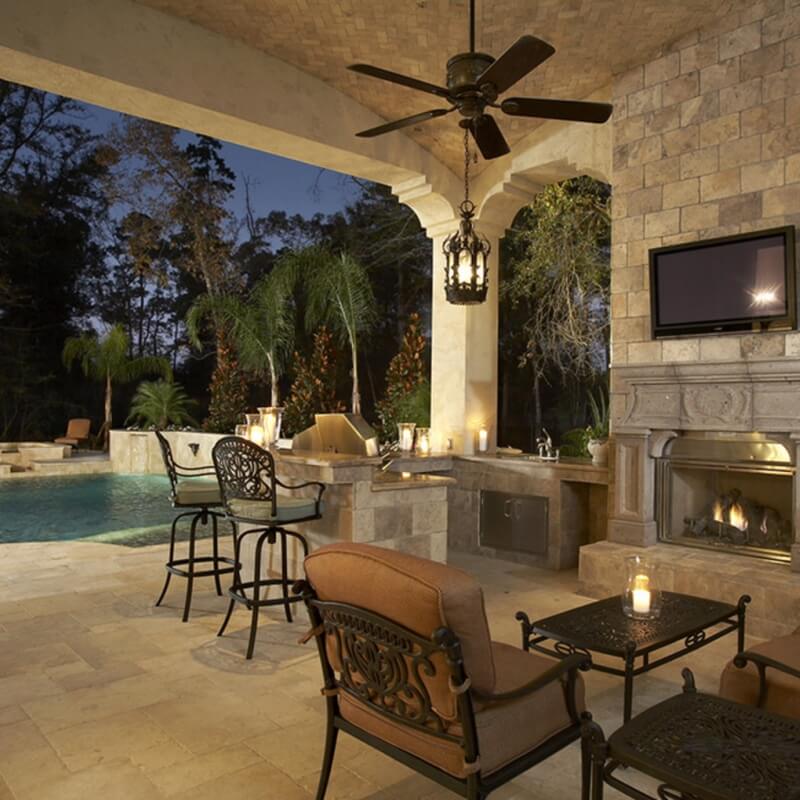 Featured: Tuscany Walnut Tumbled Travertine Pavers
This impeccable backyard appears to be completely covered in travertine. The various shades of creams, tans, taupes, and browns in the Tuscany Walnut Tumbled Travertine Pavers creates a covered outdoor space that's filled with warmth and grandeur. From the Versailles pattern on the floor to the oversized subway tile on the fireplace and bar surround and herringbone ceiling installation, the mixture of patterns keeps things visually interesting in this neutral space.
With so much of this stunning natural stone, these homeowners will need to stay on top of their travertine maintenance. Regular floor cleanings, wiping up spills immediately, and resealing the tile every couple years will keep this porous stone looking spectacular for years to come.