Our New Terrado Stacked Stone - Great For Indoors And Out!
September 17, 2020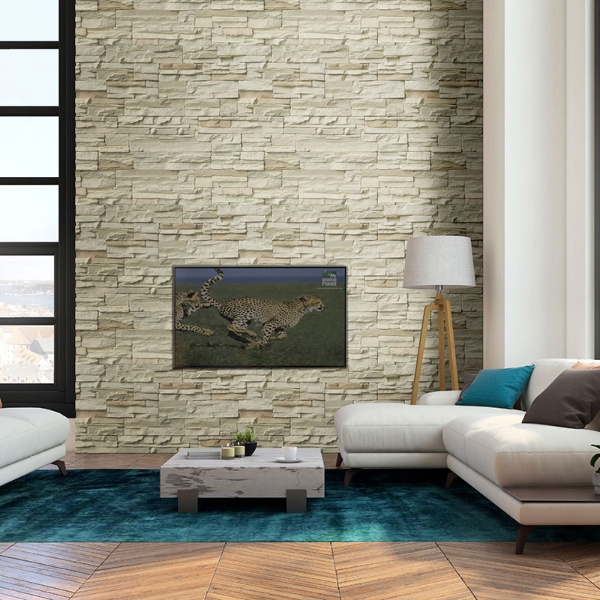 When you want to get the natural stone-look but without the price tag of natural stone, consider the new Terrado Collection from MSI Surfaces. This manufactured stacked stone offers the desired stone-look made from concrete — allowing you to get the exquisite look you want but at a much more affordable price point.
Terrado stacked stone tile is a cost-efficient option that allows you to create a sophisticated stone-like focal point in your space. With a variety of stunning color options, manufactured stack stone is the perfect option for both indoor and outdoor applications, such as architectural features, fireplace facades, feature walls, and more. For more information about the Terrado Collection, contact the team at MSI Surfaces.
Why You'll Love Terrado Stacked Stone
from MSI Surfaces
There are many reasons homeowners have turned to Terrado stacked stone to achieve the natural stone look they crave. Here are a few of the benefits:
Color Variety – Terrado stacked stone is available in five color options: Ash, Snow, Cream, Earth, Sand. The variety of colors allows you to choose a stone color that blends seamlessly into your aesthetic or creates a contrasting focal point.
Location Flexibility – Whether you're envisioning stacked stone inside your home or out, Terrado stacked stone makes that possible. It's flexible, making it possible for you to install it wherever you see fit — from living rooms to outdoor kitchens.
Stone Look – Achieve your desired look of natural stone without the headache that comes with installing real stone! You'll get the look you want at a much more affordable price point.
Maintenance Free – When it comes to Terrado stacked stone, you can essentially set it and forget it! You have to do very little to keep your stone looking as good as it did on installation day. Using soap and water with a soft bristle brush will keep your wall looking good as new.
Lifetime Warranty – When installing Terrado stacked stone in a residential application, you can have peace of mind knowing you have a lifetime warranty. Should anything happen, you'll be covered.
Ease of Installation – Your dream stacked stone wall is a quick installation away! No need to stress about a difficult installation process—Terrado stacked stone panels are built for fast and easy installation and include outer corner pieces.
MSI Surfaces has a GREENGUARD Certification for Indoor Air Quality for all of our products, including manufactured stacked stone. We are proud to hold this certification and increase customer confidence in our team as all products passed with flying colors!
Terrado Stacked Stone Options
Now comes the fun part—deciding which color stacked stone will bring your vision to life. With five color options, there a style to match any design aesthetic. From dark, gray tones to warm, earthy stone to clean whites and creams, there's something for everyone and every living space.
Let's take a look at the different colors that are part of the Terrado Collection:
Peninsula Sand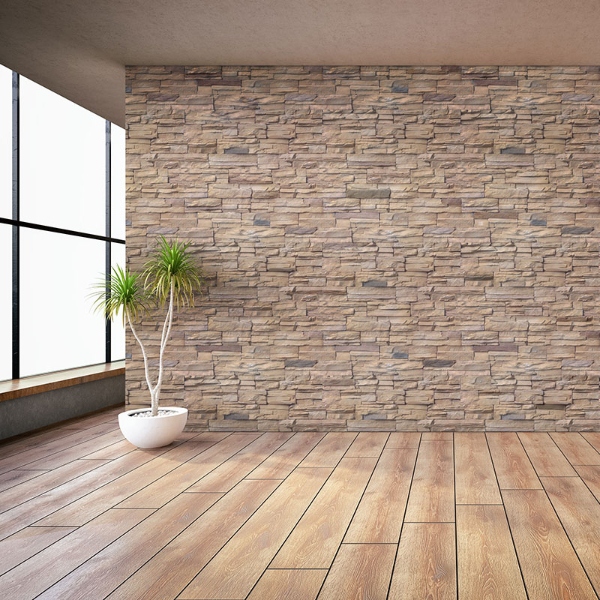 Peninsula Sand manufactured stacked stone offers a traditional look featuring warm beige and subtle copper tones—a color scheme that can perfectly pair with any decor! The stone's naturally varied shapes offer additional texture and dimension with a natural feel. Peninsula Sand stacked stone is ideal for a variety of applications, including fireplace facades, feature walls, and more.
Copen Ash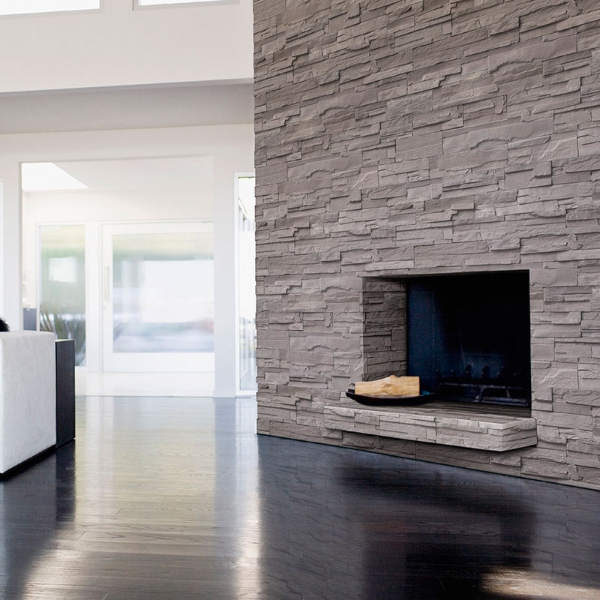 If you're not a fan of dark color schemes but want to add a bit of subtle contrast to your space, Copen Ash manufactured stacked stone offers a clean and modern color palette of dusty gray tones that adds a sleek, moody vibe. This color scheme is perfect for clean, modern designs, as well as more traditional aesthetics — enhancing nearly any room decor! Terrado stacked stone can be installed both indoors and outdoors — whether you choose to install this manufactured stacked stone in a living room, kitchen, bedroom, or outdoor living space, you won't be disappointed.
Copen Snow
There's nothing quite as beautiful as the modern color palette of dusty white tones that the Copen Snow manufactured stacked stone offers. The clean look of the naturally varied large stone pieces adds a mix of interest, dimension, and beauty to any room of your home. This color option provides a timeless look that will match any design style changes over the years. Create a wow-worthy fireplace facade or feature wall with Copen Snow stacked stone.
Peninsula Cream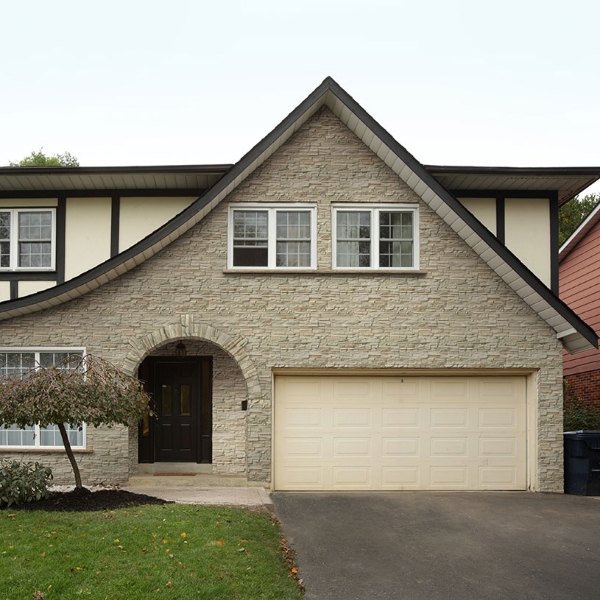 If you're a fan of light-colored accent walls, but don't want such a stark, clean appearance, then Peninsula Cream stacked tiles are exactly what you've been looking for! Peninsula Cream manufactured stacked stone offers a traditional creamy white tone that highlights any room's design and decor. Elevate the look and feel of your home by adding some texture and dimension with this stone's varied size stones and natural edges. Whether you're creating a stacked stone fireplace or enhancing another architectural feature in your home, Peninsula Cream tile will brighten up your space and create a one of a kind look.
Peninsula Earth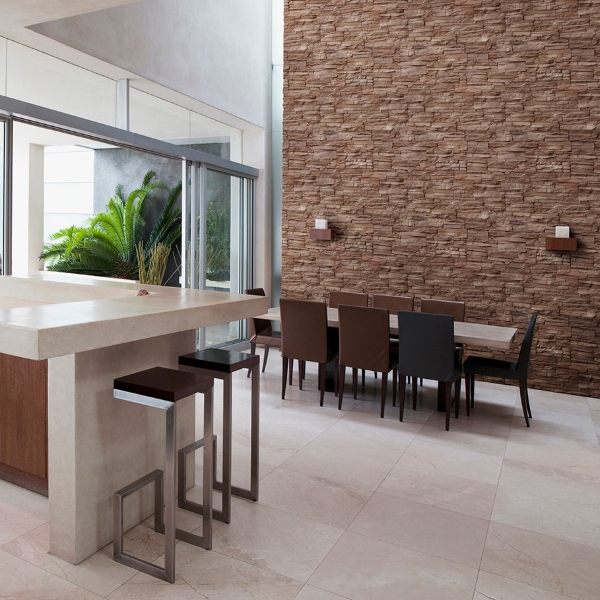 Dark and dreamy is exactly the look you'll achieve with Peninsula Earth manufactured stacked stone. The warm rustic brown tones and naturally varied shapes will make you think you have a natural stone wall in your home — but luckily for you, your manufacturer stacked stone is more affordable and offers a lifetime warranty! Create a welcoming aesthetic with these beautiful, warm-toned stacked stones that are sure to have your guests oohing and aahing.
Find the Ideal Terrado Stacked Stone for Your Home
With a variety of color palettes to choose from, determining which Terrado stacked stone is right for your space can be a difficult decision. From warm earthy tones to clean whites, we offer a range of light to dark manufactured stacked stone to bring you the most practical options that will take any room to the next level. Whether you're looking to installed manufactured stacked stone in an indoor or outdoor application, browse our Terrado Collection to find your ideal stone-look wall.