Popular
Home Bars Make A Splashy Comeback
October 18, 2016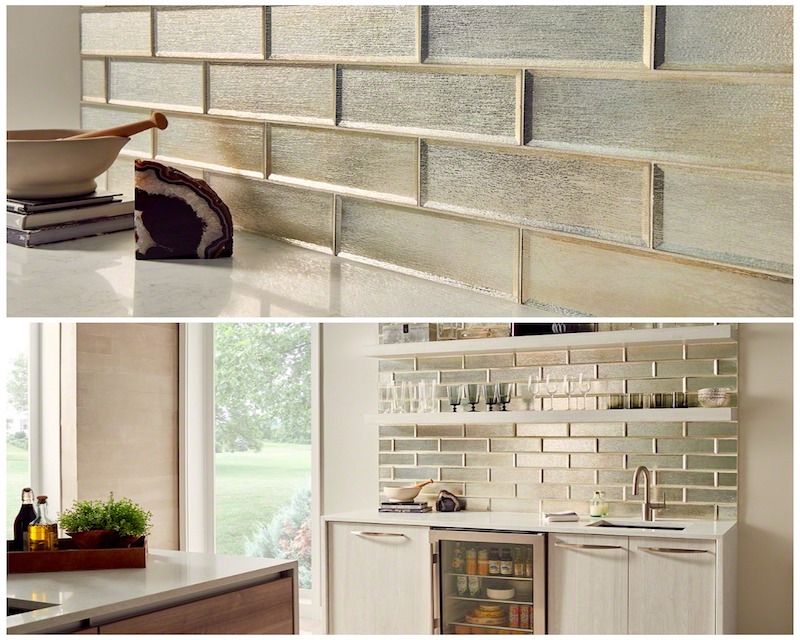 The long-loved cocktail hour is back and we're totally obsessed with the new at-home bar trend. Whether you entertain like Gatsby, whip up bubbly strawberry mojitos after dark, or host cocktail parties during the holidays, there's a certain ease and glamour about having a home bar – especially in families where entertaining is a serious affair. And it's not all about the spirits; a kid-friendly juice bar that doubles as a coffee nook is equally convenient.
If you're thinking about putting a refreshing twist on your existing bar space, or incorporating a wet bar into your kitchen renovation, our style experts are serving up their favorite ideas for creating a dream bar at home – without breaking a sweat. No matter what your décor, there's a bar style to match.
Hankering to feel like you're a character on Mad Men? We've included a few adventurous project ideas to really shake things up.
#1 Raising the Bar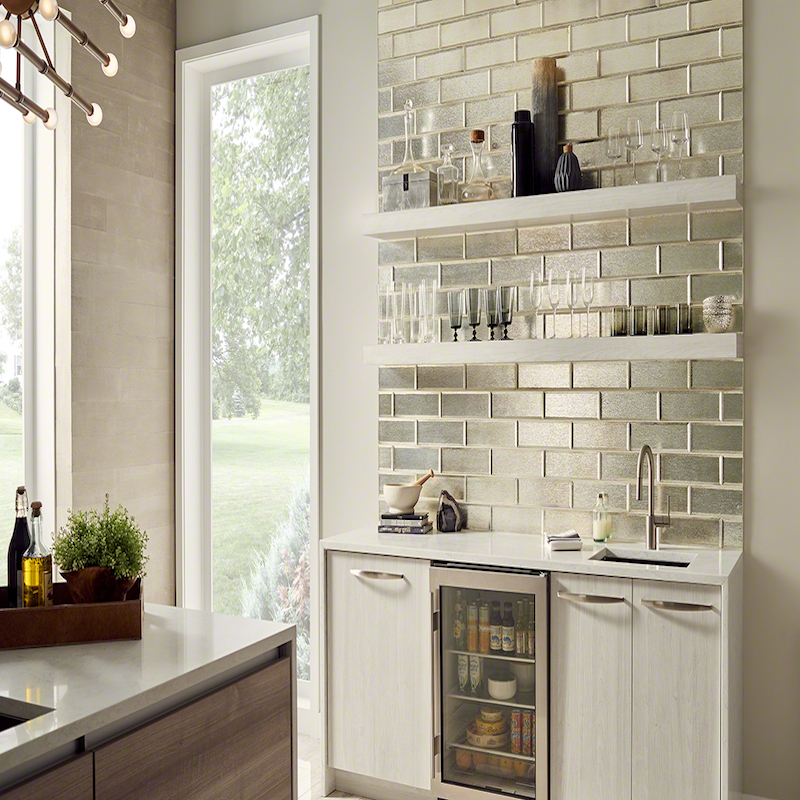 Featured: This modern — and wonderfully luxe — bar area features large format metallic subway tile in Silver Glisten 4x12 and a white marble look quartz countertop in Marbella White Quartz. Chrome hardware and fixtures enhance the glow in this little-used kitchen space.
Before dreaming up home bar designs to go with your new Don Draper lifestyle, a little planning goes a long way in striking the perfect balance between beauty, function, and harmony. A few things to think about…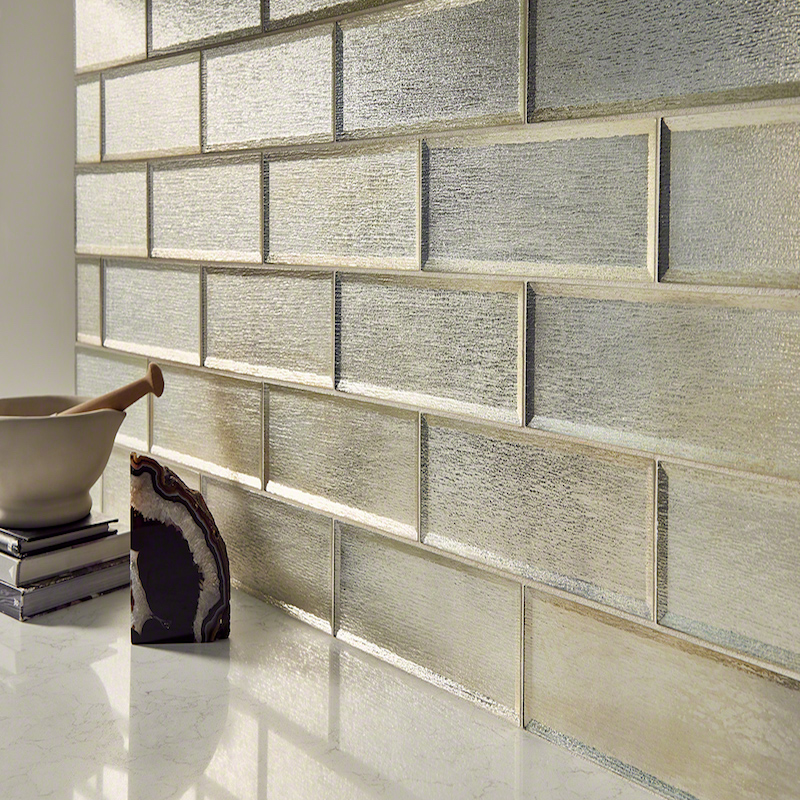 Featured: Silver Glisten 4x12 Tile
Will it be more family-style than formal? How will guests flow through the space?
To achieve a cohesive and design-savvy look, choose materials that tie in with your home's existing décor. And if you plan on using a refrigerator, wine cooler, or sink, you'll need to factor plumbing and electricity into your design as well.
Design Tip: Make your home bar look like it's part of your overall design scheme and a fabulous stage for entertaining, add collectibles, decanters, decorative glasses, and family pictures.
#2 Location, Location, Location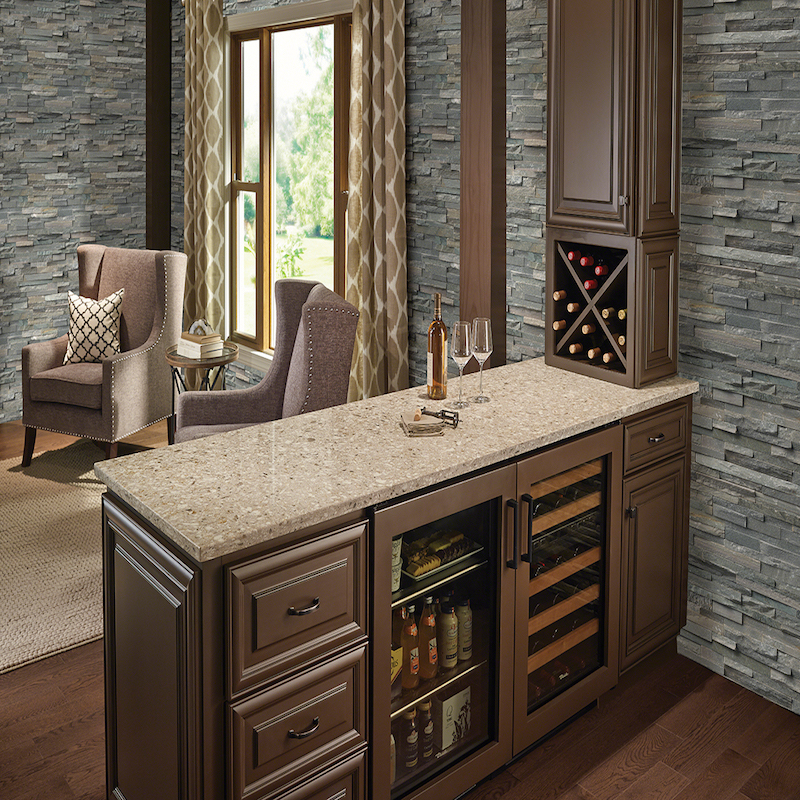 Featured: Situated between a family room and kitchen, this traditional home bar is a convenient place for serving wine, coffee, and after-dinner drinks. Sierra Blue Stacked Stone walls provide eye-catching texture – especially when paired with a Chakra Beige Quartz countertop.
If you're anything like we are, you want to live in every inch of your home, in order to make the most of its hidden assets and unused space. Castle or cottage, you can create a cocktail station almost anywhere, while adding value to your home.
Planning a renovation? A dedicated area used exclusively for a home bar, whether it's in a basement, outside utility room, cellar or garage, means that you can include seating and go all out transforming the area into an entertaining hub. But don't forgo the convenience of a cocktail area just because space is tight. A single wall home bar can be designed into an alcove, a little-used closet, or under a staircase.
Design Tip: Entertaining in a small space? Fill your sink up with ice, and display beverages for self-serving.
#3 Material Matters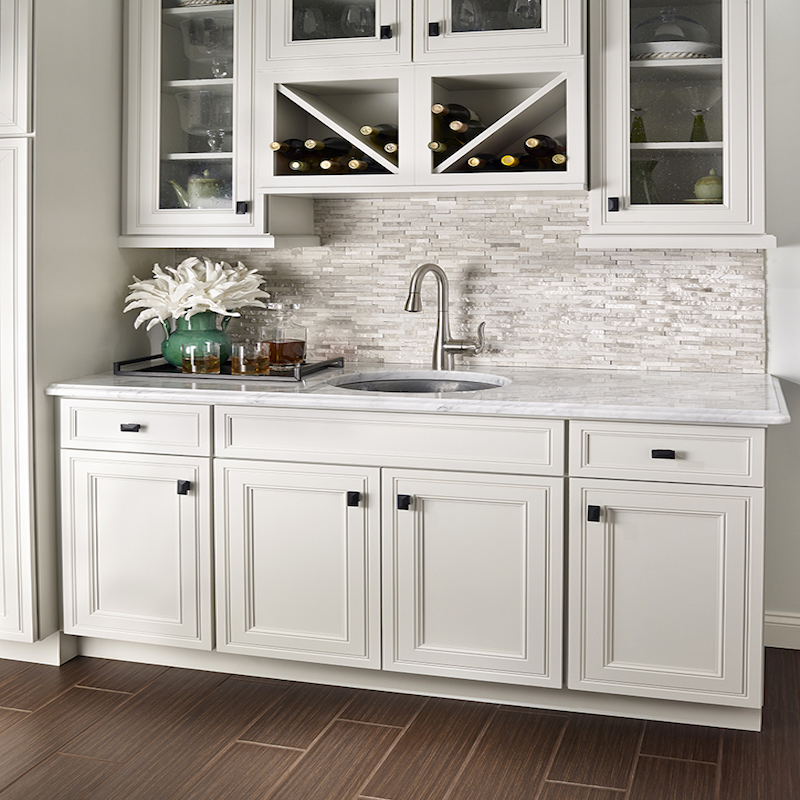 Featured: The textured White Quarry Split Face backsplash and Carrara White Marble countertop complement each other in this kitchen-corner bar area. And while mainly white tones dominate, this space looks far from boring – especially with the high-contrast wood look porcelain tile flooring.
Luckily, there's a broad range of traditional, transitional and modern bar materials to choose from. Among the varied backsplashes, countertop surfaces, wall and floor styles available, you're sure to find a few faves in the mix.
On the walls, natural stone adds gravitas. Even in a small single-wall area, you can make a big style statement with stacked stone. To give your home bar a more glamorous feel, metallic backsplashes and iridescent glass looks modern and super chic.
If you have space, islands are great for shaking, stirring, and serving drinks and setting out hors d'oeuvres. Add barstools so your guests are comfortable while socializing. Island or not, we recommend either a sparkling quartz or granite countertop – as both are resistant to stains, like spilled red wine.
Design Tip: If built-in cabinets don't fit your design or budget, a buffet table or bookshelf makes great bar storage.
#4 The Great Outdoors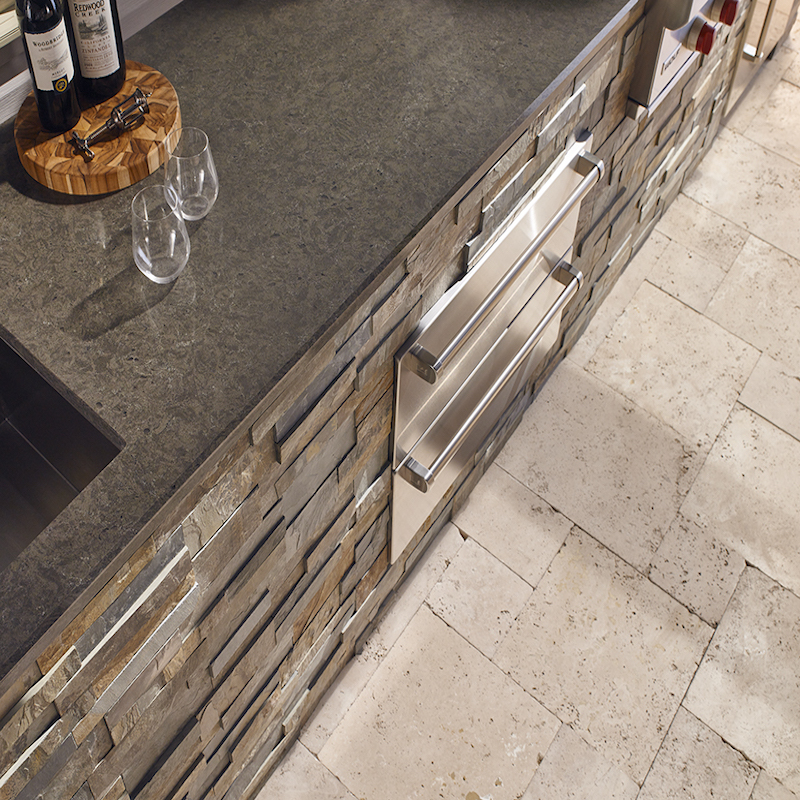 Featured: A Babylon Gray Quartz countertop sits atop a beautifully textured Rustic Gold Stacked Stone island – complete with a pizza oven—in this inviting covered patio. Chianti, anyone?
Ahh, the mere mention of rolling the party outdoors and serving up food and drinks in the breeze is all the inspiration we need to put our own backyard bar plans in motion.
Whether entertaining a small circle of friends, having an intimate dinner under the stars, or throwing a huge backyard bash, an outdoor bar is a refreshing way for you and your guests to enjoy life alfresco.
#5 The Last Call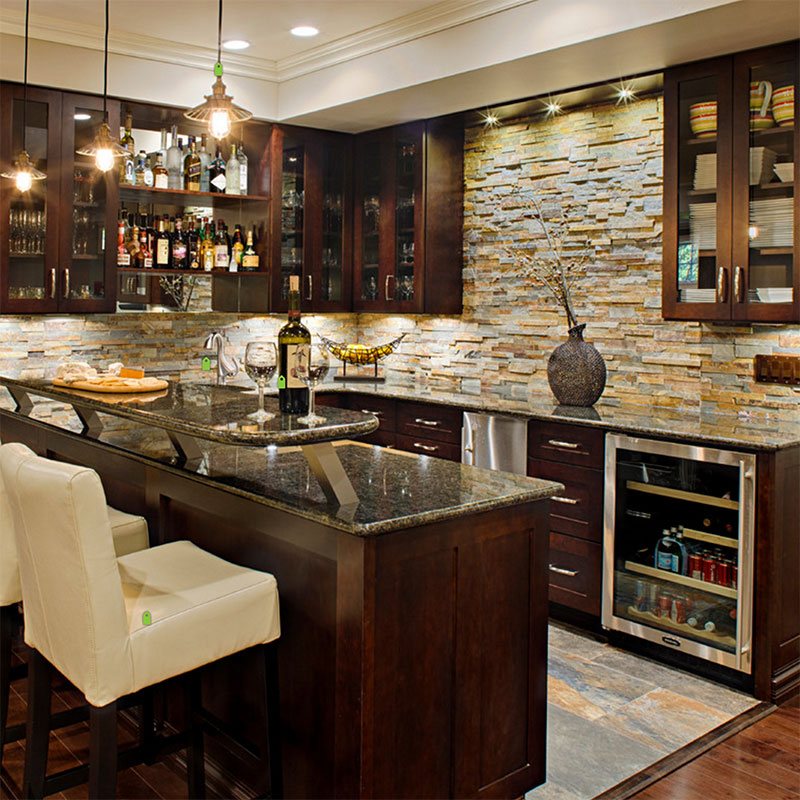 Photo by Houzz
Featured: A stacked stone backsplash, combined with mahogany cabinets, granite countertops and white leather bar stools, add texture, warmth, and luxury to this well-appointed basement bar.
Whether you're a first-time hostess or a seasoned pro, keeping a well-stocked bar—even if you don't drink— is bound to make your guests feel welcome. And while you're busy dreaming up a home bar design, and crafting a signature drink, keep us posted on your progress and feel free to share your ideas. We'd love to hear from you.
Cheers!