Backsplash Tile: Vintage Looks In Contemporary Patterns
March 21, 2020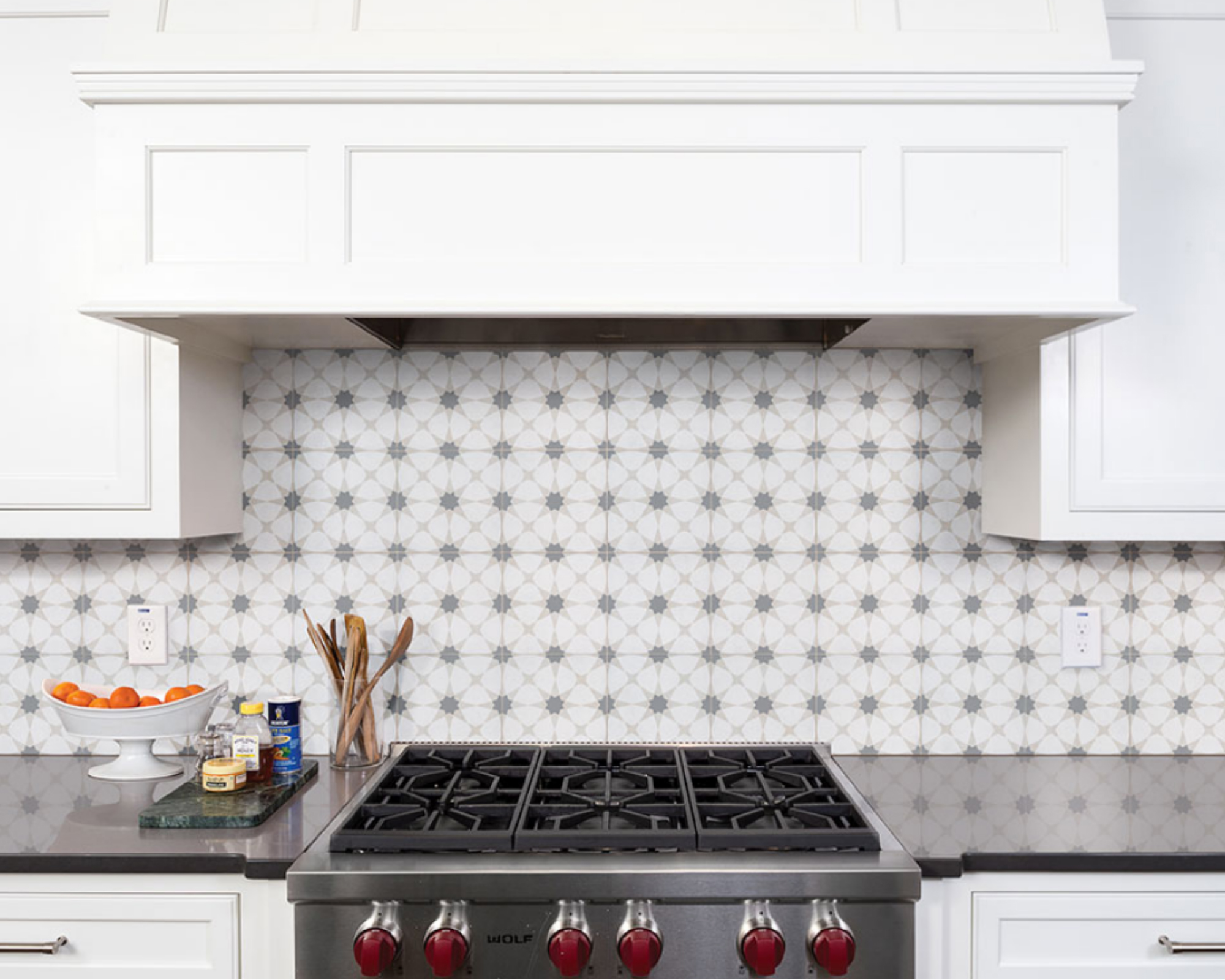 One of the tricks to incorporating a vintage vibe into a modern design is to add just the right touch, and backsplash tile is the perfect place to feature a throwback-inspired pattern. This nostalgia for days past can be achieved by incorporating beautiful marble with standout geometric patterns or ceramic white subway tile with a patchwork-like pattern mix. Check out some of our favorite backsplash looks that alter a room's aesthetic just enough to be slightly more vintage than contemporary.
Royal Link
Royal Link features a stunning geometric interlocking link pattern made of white marble accented by two tones of tan stone. The retro style is reminiscent of a '60s chain design but in an updated, oversized version. The polished marble tile backsplash completes the look of this contemporary farmhouse kitchen by matching the whites and tans to the whites, grays, and woods used throughout.
Georama Grigio Polished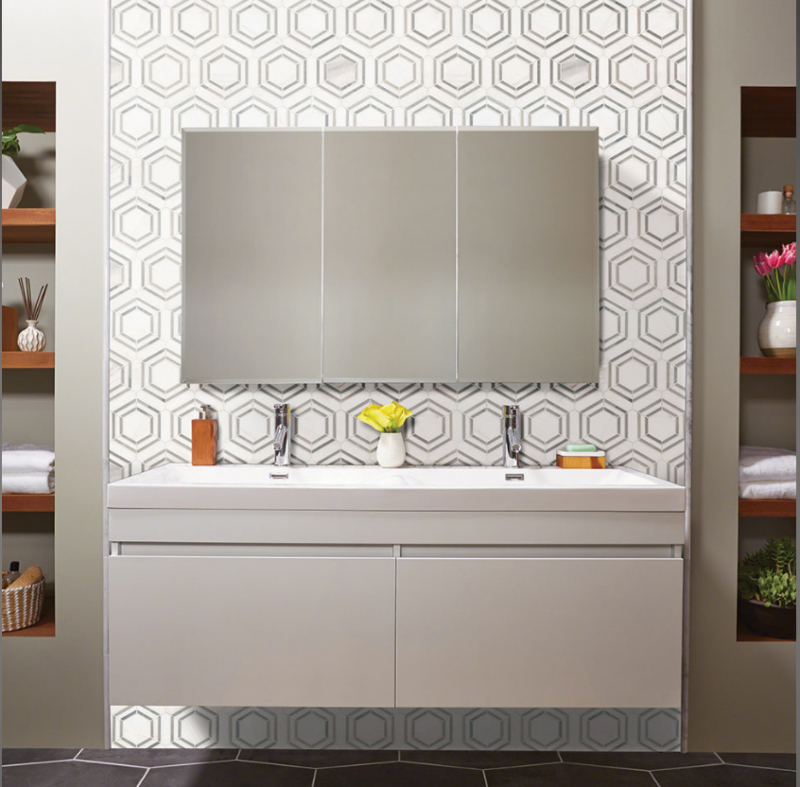 Georama Grigio Polished is a slick geometric tile that features white and gray marble in a polished finish. The way the modern tile is designed evokes a groovy feeling thanks to its '60s-inspired hexagonal shapes. Yet, this master bathroom is still well balanced by the ultra-modern floating vanity, sleek mirror, and clean built-ins with warm wood shelves.
Bianco Dolomite Geometrica Polished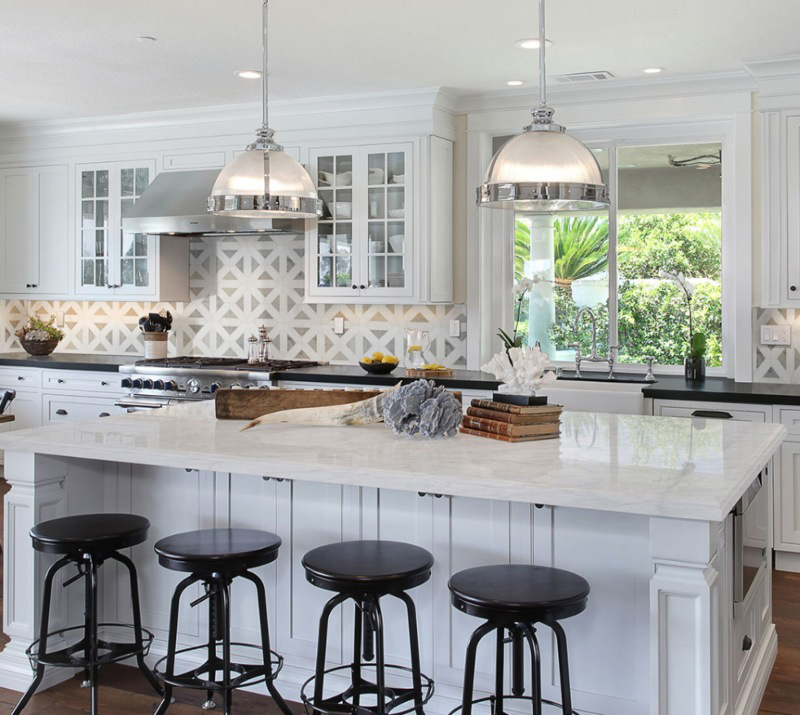 Bianco Dolomite Geometrica Polished is a timeless wall tile crafted from natural white and gray marble from Turkey. From the black-and-white design to the perfectly paired pendants, this vintage-inspired kitchen features subtle flashbacks of the 1950s, and the contemporary backsplash tile pattern is a softer, more elegant style that gives a slight nod to a more obvious black-and-white checkered pattern so popular of the times that would just be too overpowering in this picture-perfect space.
Bianco Starlite Polished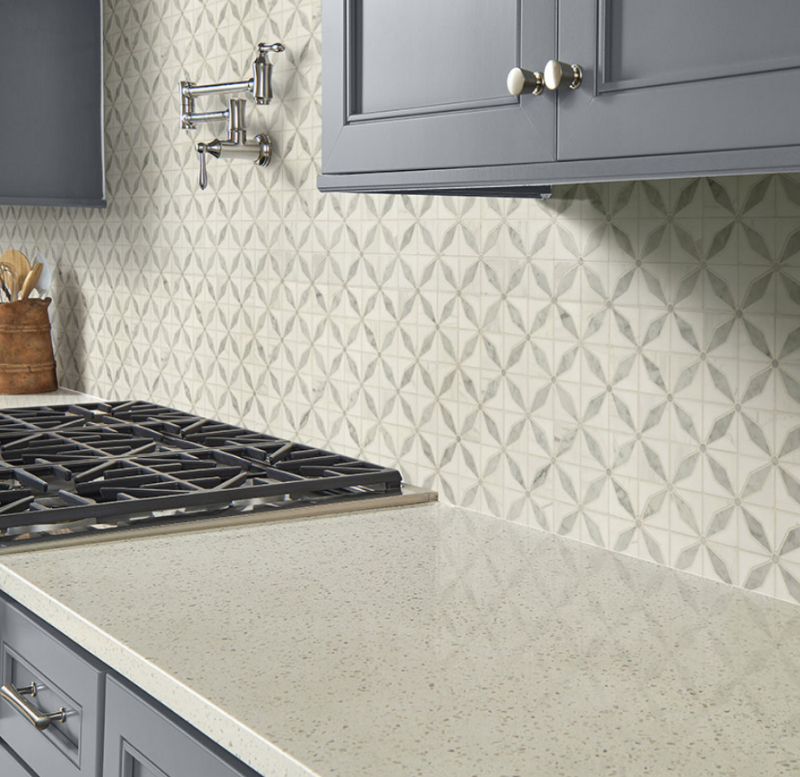 Bianco Starlite Polished features white and gray polished marble with geometric star-like shapes reminiscent of vintage pinwheels. Combining elegance with contemporary styling, the backsplash tiles unite the gray cabinetry and silver accents with the white speckled quartz countertop.
Pure 3D Mix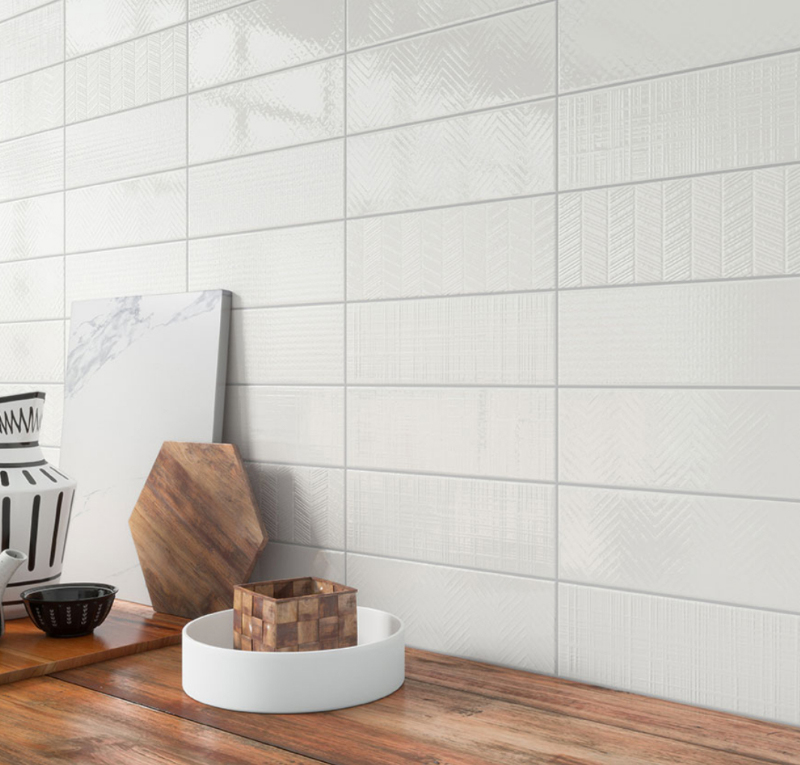 Pure 3D Mix is a white ceramic tile from Portugal that features four three-dimensional patterns with a glossy finish. The patchwork style evokes the eclectic, expressive fashion of the 1970s, but the pieced work is something that's been used for centuries. The oversized 4x12 shape makes it a more modern tile, and it can be installed in various ways like a stacked bond pattern or classic running bond pattern to change it up. All white is a great way to freshen up a space, and it pops nicely against the rich wood countertop. Adding the right accessories can enhance the pattern by making it feel global, bohemian, or contemporary.
Complete the Look
When it comes to planning a kitchen or bathroom remodel or new build, sometimes the walls can be overlooked. Instead of letting these canvas-like surfaces go unnoticed, add backsplash tile to complete the entire look. These vintage- and retro-inspired wall tiles are just a few fashionable examples of how you can give your space a little flair without taking over the design of the room.
READ MORE ABOUT MSI BACKSPLASH TILE
Backsplash Designs: 5 Vintage Looks In Contemporary Patterns
Backsplash Ideas For Granite Countertops
Backsplash Tile: Make Your Walls Come Alive With Specialty Shapes