Backsplash Tile: Make Your Walls Come Alive With Specialty Shapes
November 19, 2020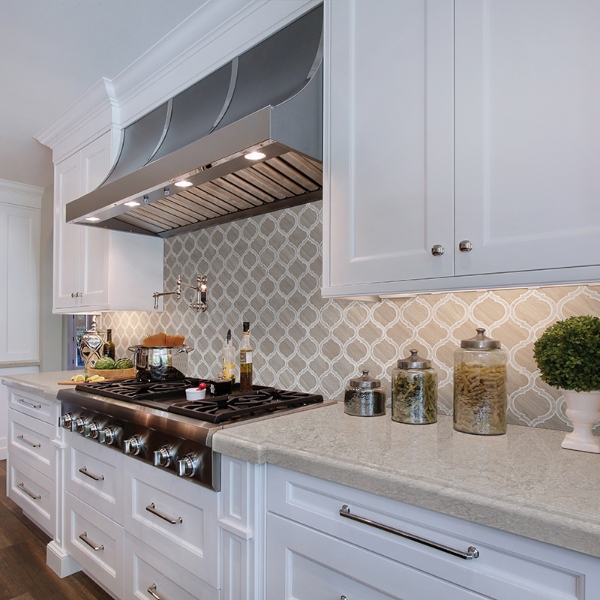 Over the past hundred years, the number of bathrooms in the average American home has doubled. Assuming that each bathroom has at least one sink (and likely more), there are a lot of sinks in the average house. These numbers don't even account for kitchen sinks, either, which means that there are even more walls on which backsplash tile can be displayed.
Backsplash tile can be practically any shape- so why not try something a little more bold and trendy? Afraid that you'll go too far?
This isn't possible with the specialty shaped tiles we rounded up. From porcelain to marble, these brilliant backsplash tiles are sure to make your kitchen or bath pop.
Here, we're going to talk about some of the reasons that backsplash tile is a great idea and give you some installation tips. We also are going to take a look at some of the best options offered by MSI, so read on for some ideas on how you can make your living space more homelike.
Why Backsplash Tile?
The backsplash is the perfect place for timid DIYers to take a risk. Not only is it a small area, but the specialty shapes come prearranged for no-fuss style.
The small area is also ideal for installing tile patterns that would seem too audacious for a full wall or floor installation (even counter to ceiling works!) Exquisite design heightens an already alluring natural stone and brings "budget" porcelain/ceramic to couture levels.
While trendy, many of these designs take cues from classic styles, making sure that these tile designs always look fresh. It's one of the fastest, easiest, and most cost-effective ways to give a kitchen or bath a facelift.
Additionally, backsplashes protect your walls from incurring preventable costly damage. Water damage from the sink that sits in front of it and accidental bleach sprays will be no match for MSI's attractive and functional backsplash options!
Arctic Storm Arabesque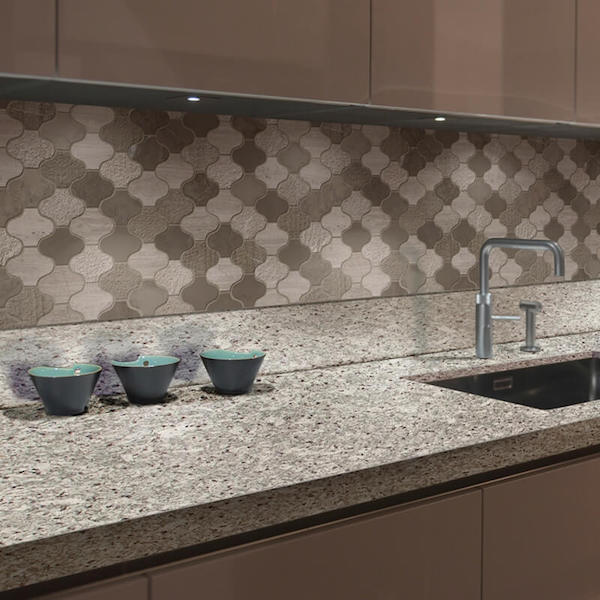 If you love to play around with texture in your interior decor, Arctic Storm Arabesque is the perfect choice for your bathroom or kitchen.
This wall tile has a timeless wavy appearance shaped somewhat like a traditional vase. The tops and bottoms of each tile are small and geometric, but they taper like an hourglass to a wider organic center. This will give your backsplash a unique appeal and flair that's unlike any other design.
However, the shape is not by any means the focal point of these tiles. That honor goes to the texture variation- some tiles are completely sanded down to the perfect smoothness while others retain a raised natural texture.
The random variation of these textures as well as multiple shades of gray makes for a timeless aesthetic perfect for all decor schemes.
Azul Scallop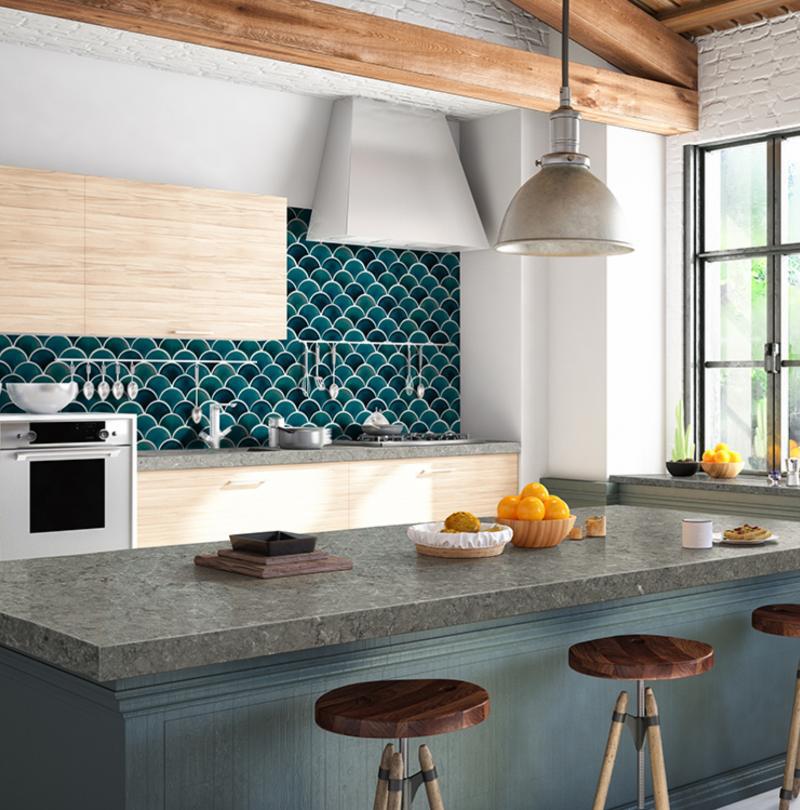 If you prefer backsplash designs that have color at the crux of their appeal, Azul Scallop is a wonderful alternative to brown or gray tile. Shaped to look like scales, each tile boasts a different shade of blue-green.
From a deep-sea blue to the teal of the sun hitting the ocean waves, each tile's hue invokes feelings of extreme calm. The glossy finish adds to this feeling because it appears to be glassy in the same manner that water is.
In addition to being a wonderful backsplash option, many people choose to use Azul Scallop as a floor tile or shower surround. Regardless of where you use it to spice up your home, this modern tile design is an amazing conversation starter with everyone who sees it.
Azula Hatchwork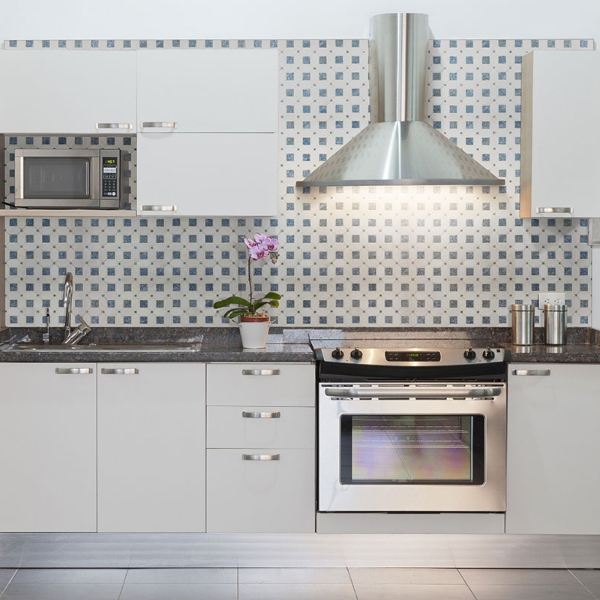 Azula Hatchwork is another modern tile that primarily features blue in its design. Unlike the tile that we have previously discussed, however, it is entirely made up of geometric shapes. Large square tiles surrounded by smaller ones sit at the center of long hexagons to create intricate- and beautiful- line art.
The light blue color used to color the squares is incredibly calming, invoking the feelings of the sky on a clear morning. These hues are accented with slightly darker and lighter small stains, giving them the look of clouds or glittering waves.
If you want to take your kitchen or bathroom decor to the next level, we recommend that you use Azula Hatchwork as a flooring or countertop tile that you pair with an Azul Scallop backsplash. You can do the opposite as well- it truly is up to you!
Bianco Quatrefoil Polished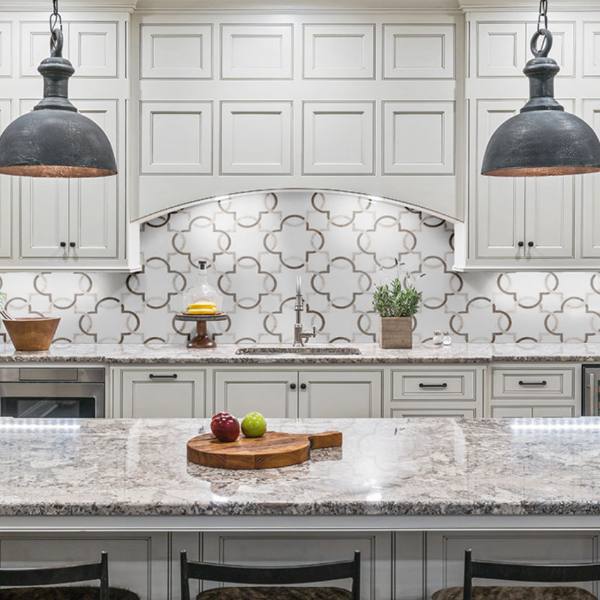 Love the idea of line art being incorporated into your tile patterns? Bianco Quatrefoil might be the style for you. Polished to be smooth to the touch, this tile features gray and brown neutral hues as accents on a warm white background.
The real appeal of these tiles is the intricacy of their pattern. The organic line art interlocks with other shapes that are identical to it. These shapes, which look like four-leaf clovers, alternate between different neutral colors as they create gorgeous starburst shapes between them.
This tile pattern is perfect for both vintage and modern aesthetics in any room. Because it is so sophisticated, consistent, and geometric, your home will have a distinct air of classic authority and elegance.
Rhombix Nero Polished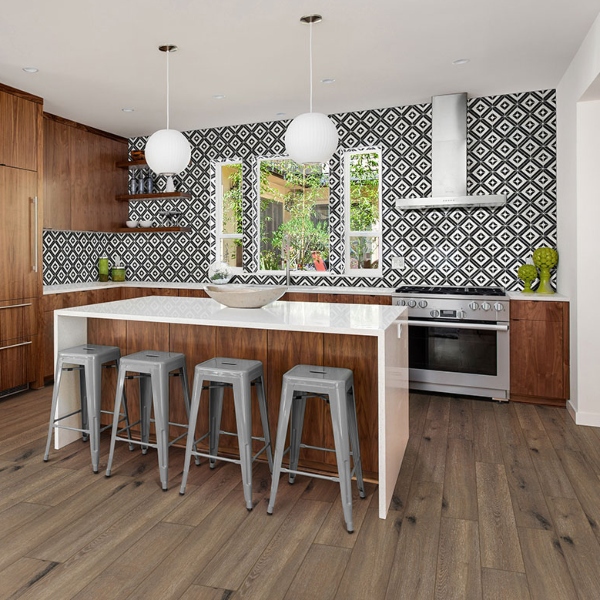 Looking for something with a cool appeal rather than warm undertones? Rhombix Nero Polished tile is likely the answer. With a monochromatic black-and-white color scheme, you can use this tile option in any room where you want to make a statement.
The geometric patterns are made to look like diamonds, which is the perfect way to accentuate a contemporary or modern decor scheme. If you want something visually appealing while still being simple, this is an excellent choice.
Stay Stylish and Functional
Now that you know about the best specialty shaped tile varieties on the market, it's time to get started.
Contact us with any questions that you have about these styles or any other styles in our vast backsplash collection. MSI's experts are happy to help you find the perfect option for your individual needs, so we look forward to hearing from you soon!
For even more information on backsplash design, check out the MSI Backsplash Tile Guide!
READ MORE ABOUT MSI BACKSPLASH TILE
Backsplash Designs: 5 Vintage Looks In Contemporary Patterns
Backsplash Ideas For Granite Countertops
Backsplash Tile: Vintage Looks In Contemporary Patterns
Backsplashes – A Quick & Affordable Upgrade