DIY Stacked Stone Fireplaces On A Budget
January 07, 2019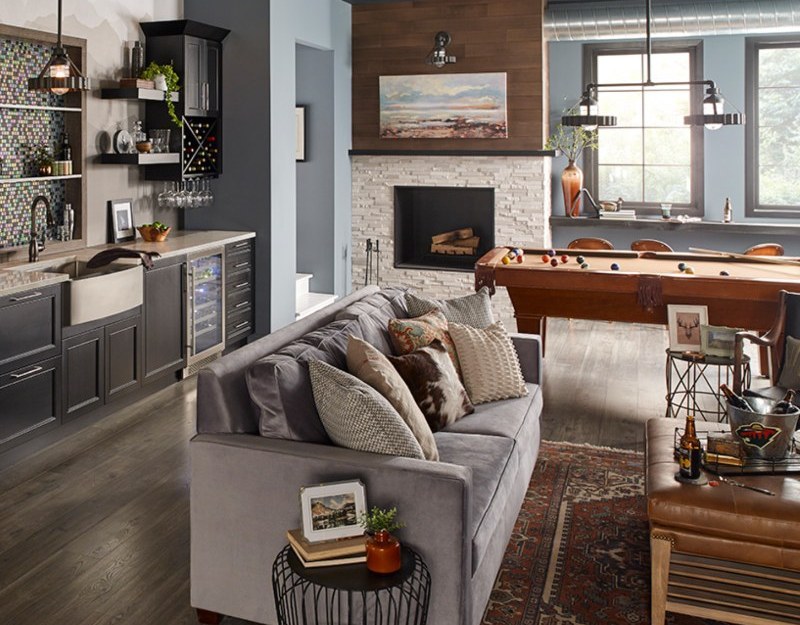 Stacked stone panels are a budget-friendly way to transform a room. If you're wondering where to use stacked stone inside the home, a fireplace surround is the obvious choice — though they can also create interesting accent walls or backsplashes in other rooms as well.
If you've been blessed with a fireplace in your home, but feel that it needs some updating, don't put it off any longer. Installing stacked stone panels is a great DIY project, and today's ledger stone veneer makes it practically foolproof.
There's no doubt that a stone fireplace surround looks upscale and expensive. However, there are many reasons why ledger panels can save you big!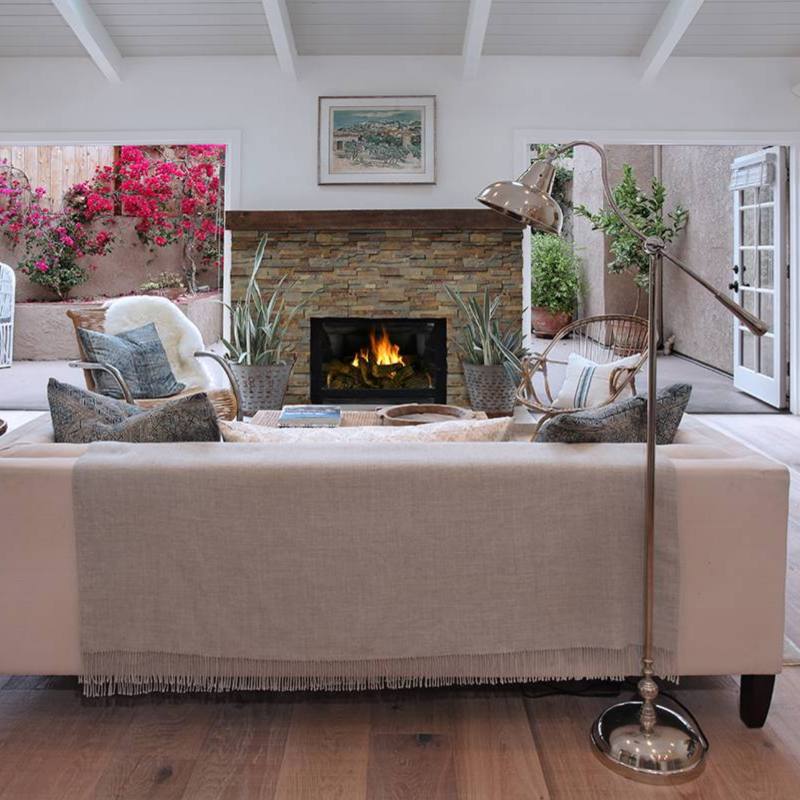 Featured: Gold Rush Ledger Panels
Stone veneer panels are made from real, natural stone. However, they use much less of it than a traditional stone wall. This allows homeowners to enjoy the gorgeous benefits of real stone with less expense, and it also takes up much less space.
It's not necessary to hire a professional stonemason for stacked stone panels, because they are pre-assembled and fit together like puzzle pieces. Another reason they're so easy to install is the lighter weight due to the thin veneer. There's no need to prepare the wall with reinforcements to handle the added weight of heavy stones.
When installing real stone fireplace surrounds or accent walls, it can be difficult to make corners — both inner and outer ones — look polished and professional. Corners require cutting and fitting; not a good DIY project at all. However, stacked stone ledger panels include matching, pre-made corner pieces, so it's a breeze to create the clean, professional look your home deserves.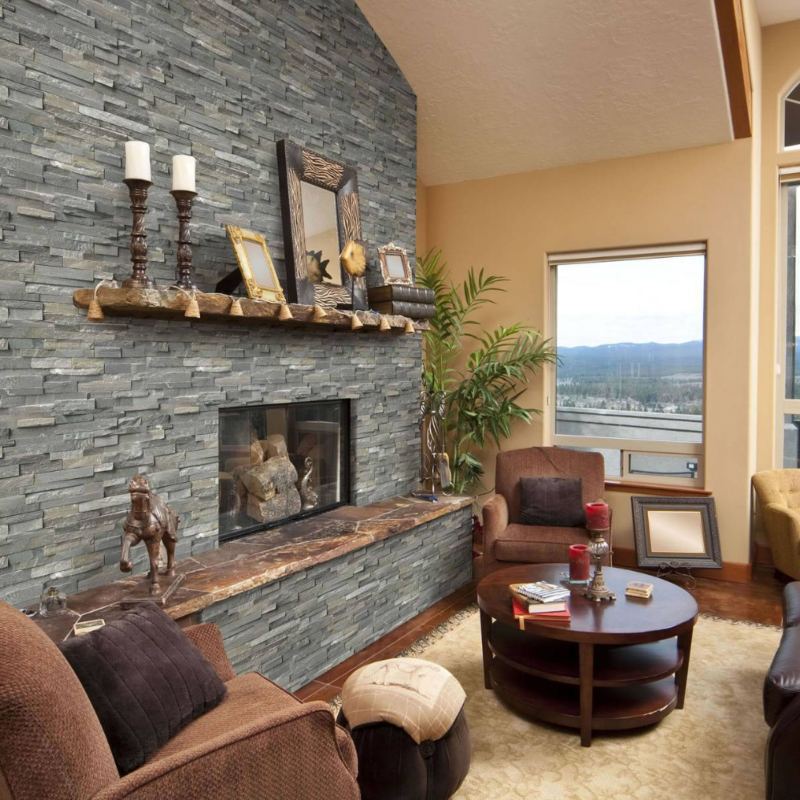 Featured: Sierra Blue Quartzite Ledger Panels
Want to save even more? Consider using porcelain panels, which are textured to resemble stacked stone with its varying colors and sizes. They come in convenient 6" x 24" panels for super-easy installation, just like any other type of wall tile.
The toughest part of creating your stacked stone fireplace might be choosing which type of stone to install. Stacked ledge stone is a popular classic; it's available in many 3D configurations with varying depths, as well as more uniformly assembled styles. You can also choose from soft pale gray, darker shades, or a colorful rust-and-gray combination.
Stone veneers are also available with many different types of stone, from split-face quartzite or slate to conservative, honed travertine, or even combinations. Your choice will depend on personal taste as well as your style of decor.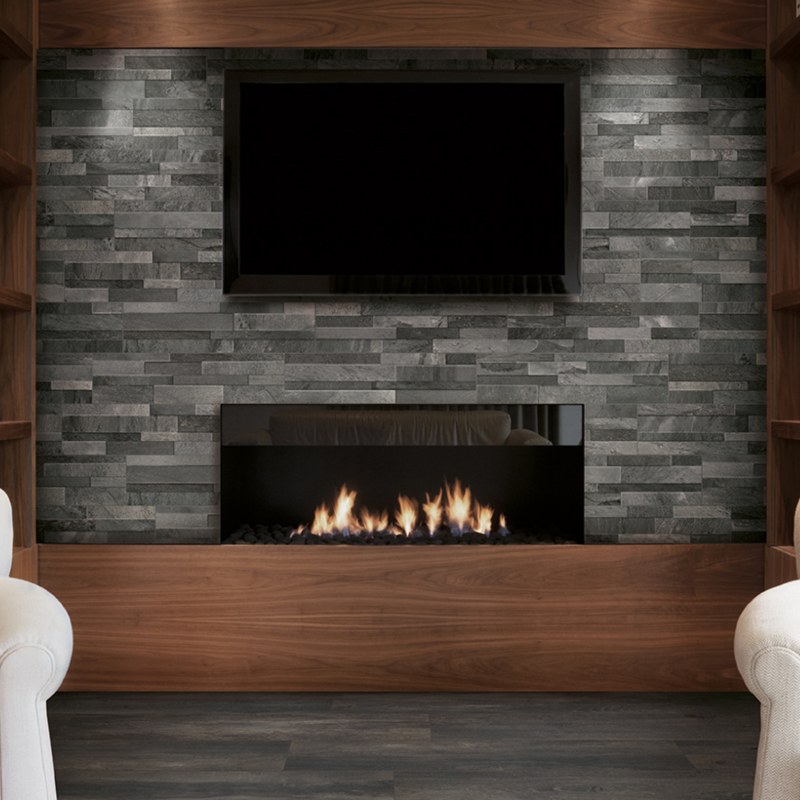 Featured: Ardesia Black Porcelain Panels
Installing ledger panels does not require any specialized knowledge or experience — that's what makes it perfect for a DIY project! You'll find plenty of tutorials available online, both on websites and YouTube. The most important steps to success include:
Research techniques ahead of time so you're confident when you begin.
Measure carefully and make sure you have enough stone veneer panels, including corner pieces.
Assemble the right tools and adhesives for the job ahead of time.
Complete any wall or floor preparation that may be needed for a sturdy installation.
Follow manufacturer instructions.
If you've been living with an outdated fireplace in your home, don't wait any longer for that upgrade! You'll be surprised at how budget-friendly a stacked stone fireplace surround can be, especially when you do it yourself.
For more detailed information on vinyl flooring, including installation costs for Luxury Vinyl Flooring, visit our website for our entire line of luxury vinyl planks.
Are you ready to get your DIY project started? First, find the stone wall tile by reviewing MSI's expansive Stacked Stone Collection, then find and visit an MSI Hardscape Dealer in your area.