Current Obsessions: 5 Beautiful, Marble-Look Quartz Countertops
December 01, 2015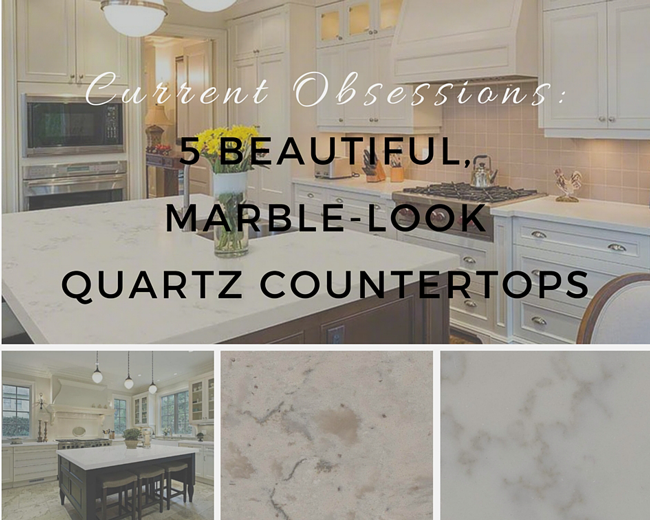 From the great domes of the Taj Mahal to the terrace walls of the Lincoln Memorial, marble is weaved throughout many celebrated and historic structures across the world. A natural stone with characteristic veining and a bold, white backdrop, marble is an elegant option for modern and classic aesthetics alike. With proper care, and the right sealants and care, a marble countertop is a beautiful choice for any home or commercial property. However, since marble is a porous stone, it can absorb spills over time if not sealed. By contrast, quartz countertops are nonporous, don't require sealing, are heat and chemical resistant, and fend off etches, scratches, and stains.
A marriage of natural minerals and current technology, modern quartz is highly durable, with the sparkling beauty of a natural-looking stone. As a manmade product with the wherewithal to hold up in the kitchen, quartz can be produced in a variety of colors and designs—including options that look like granite and marble. If you crave the coveted look of marble without the upkeep, quartz serves as a functionally beautiful alternative. These striking, contemporary quartz designs deliver that desirable marble look:
1. Calacatta Vicenza Quartz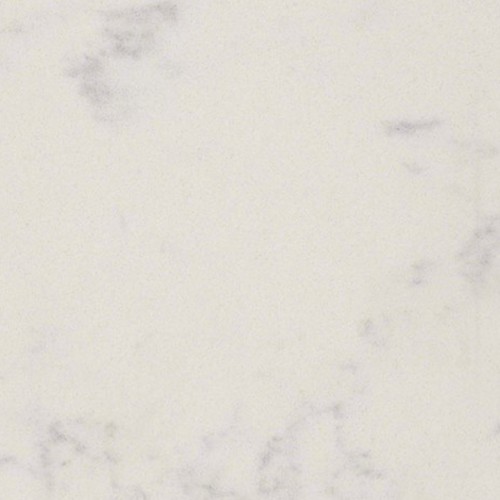 Featured: Calacatta Vincenza Quartz
A brand-new addition to the Q Premium Natural Quartz Collection, Calacatta Vincenza sparkles like a grand marble statue, with soft shades of gray and white. With fresh blends of white, gray, and brown weaved throughout the design, Calacatta Quartz delivers that popular marble look—minus the maintenance.
2. Carrara Grigio Quartz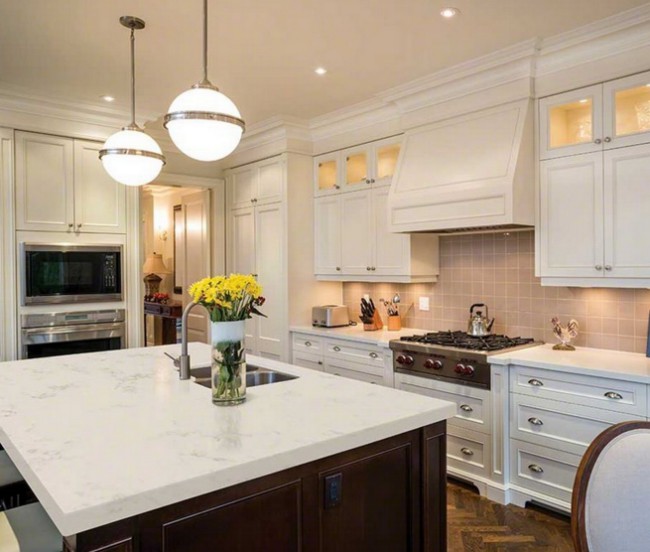 Featured: Carrara Grigio Quartz
Resonant of Carrara Marble, with added resilience and easy maintenance, Carrara Grigio Quartz countertops deliver the beautiful appearance of marble, in easy-care quartz. A charming choice for counters, statement islands, and backsplashes, this beautiful gray quartz naturally enhances the architectural aspects of any space.
3. Cashmere Carrara Quartz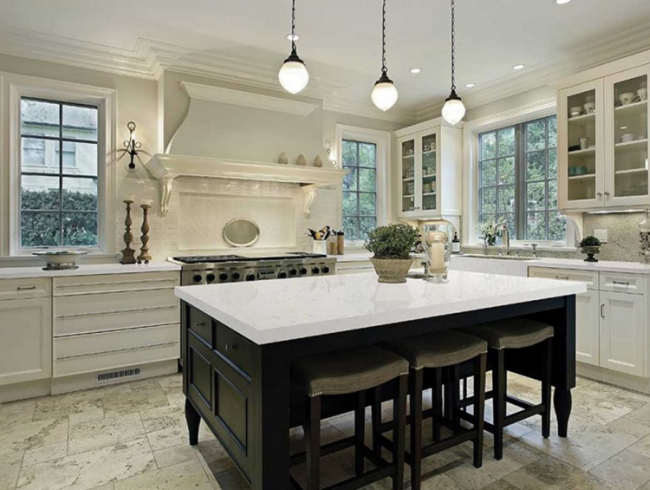 Featured: Cashmere Carrara Quartz
Subtle gray veins amidst an ivory and alabaster background are something of a staple for those who adore the traditional look of marble. Cashmere Carrara countertops, floors, and backsplashes will certainly appeal to those that embrace this classic look. Ideal for interior use, this lovely quartz is available in 2 cm and 3 cm polished slabs.
4. Glacier White Quartz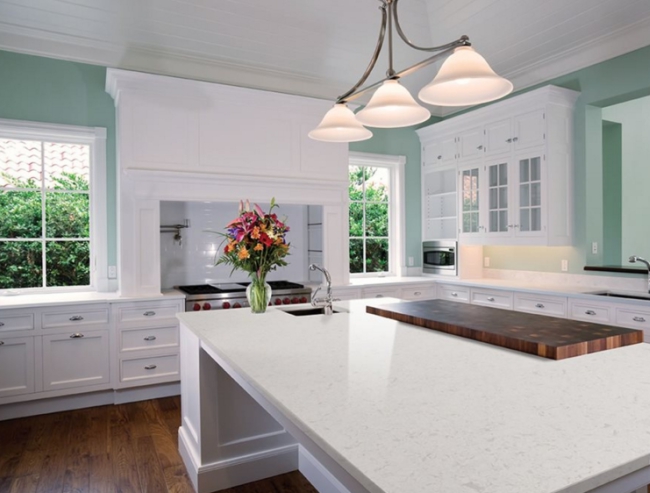 Featured: Glacier White Quartz
Like a snowy meadow on a crisp winter morning, Glacier White Quartz glistens with faintly clouded, frosty heather. This naturally sparkling, milk-white quartz—polished to perfection—is available in prefabricated 2cm countertops suitable for a range of projects and aesthetics. This time-tested blend of white and muted gray is right at home in a range of residential and commercial applications, including flooring, walls, counters, and backsplashes.
5. Romano White Quartz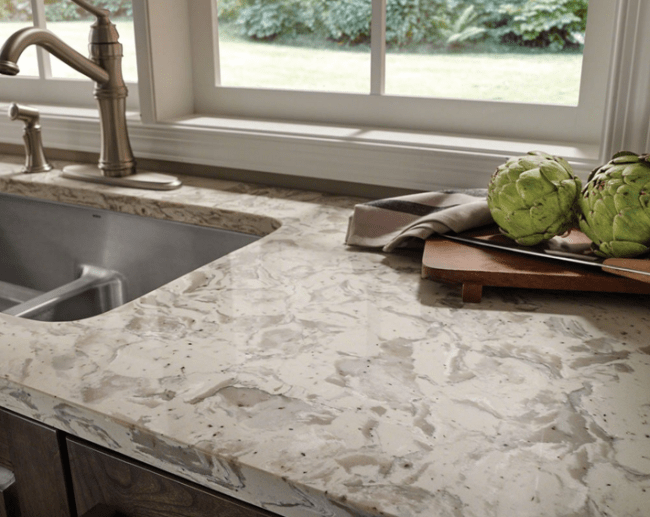 Featured: Romano White Quartz
Hailing from the exquisite Q™ Premium Natural Quartz Collection, Romano White Quartz features dramatic movement in subtle tones of gray and white, with just a touch of marble-like veins and specks. With a look that resembles natural marble or granite, this elegant quartz is timeless yet modern, making it an ideal choice for a variety of aesthetics and applications, from sweeping islands to dazzling accent walls and backsplashes.
For the lovely look of marble without the maintenance, marble-look quartz is equally elegant in homes and commercial properties alike. From Calacatta Vicenza to Romano White, there's a durable, marble-look quartz from MSI to suit a range of projects and styles.
Read More About Quartz in Natural Stone and Marble Looks:
Marble Look Quartz Countertops
Is Quartz More Expensive Than Marble?
Marble Look Quartz Countertops
Marble Inspired Quartz Countertops
Are Quartz Countertops Really More Expensive Than Marble?
Best Marble Slab Alternatives in Quartz Countertops
Thinking About Marble Consider a Quartz Countertop First
Quartz Countertops That Look Like Marble
Marble Look Quartz Dominates Home Remodels Here's Why