Celebrate Your Kitchen With Quartz
July 28, 2013
There's one room in the home that plays more roles in your life than any other. It's the place where a family's breakfasts, lunches, dinners and desserts are prepared, on beautifully designed countertops, and often eaten there too. It's where family members and guests gather to snack, chat and socialize. It's a landing place for everything from mail to homework to hobbies.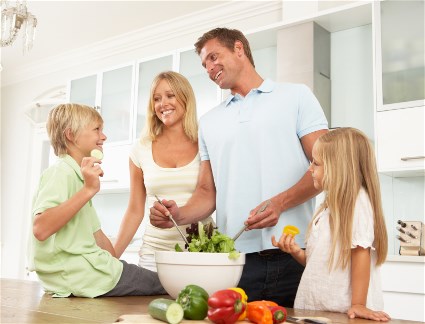 The kitchen, more than any other room in the home, is exposed to the greatest variety of activity. A living room's main purpose is for relaxing, and the bathroom is for quiet serenity, but the kitchen is the true king of busy lifestyles. As such, this high traffic area deserves both durable function and beautiful design - celebrate your kitchen by making it a quartz kitchen with Q Premium Quartz!
Whether you are designing your new dream kitchen or remodeling your current kitchen to keep up with you, quartz countertops are an excellent choice for the discerning buyer who values function and aesthetic equally. In terms of function, quartz is easily the strongest countertop available. It is stain resistant, scratch resistant, scorch and heat resistant, and is easy to maintain as it doesn't require sealing, re-polishing or waxing to protect it or keep it looking vibrant.
(Read our blog on Q Quartz care and maintenance.)
Better yet, quartz kitchens are exceptionally beautiful. They are built with a material that marries attractive natural minerals with technology - sparkling quartz filled with resin - to make them extremely durable for high traffic and daily use. Though strength is its hallmark, the look of a quartz countertop truly steals the show. Solid versions are cool, sleek and stylish, providing the perfect canvas on which to build a contemporary kitchen. The look of white quartz, for instance, is clean and pure. Literally, like all quartz, a white quartz countertop has tight pores that prevent bacteria from collecting; however, the look of the surface itself is unblemished and beautiful against other solids, like black cabinets or dark hardwood floors, or set in contrast to focal points like mosaics and other patterns. Black quartz is equally stunning paired with lighter colors and creates a sophisticated mood. Lighted correctly, a pure black quartz offers a monochromatic brilliance that becomes the focal point of the room.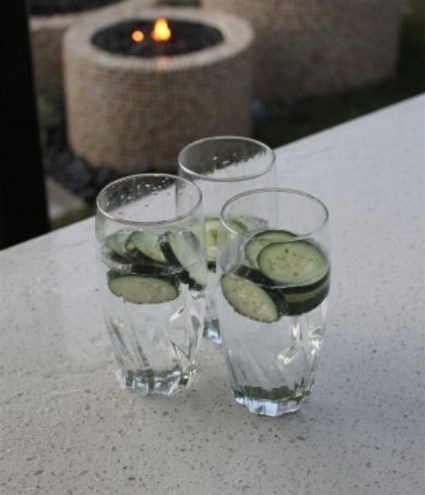 For homeowners who look to quartz countertops to mimic their favorite stone but deliver the exceptional durability of quartz, there are varieties of quartz counters that imitate the look of granite or other natural stones. There are selections like travertine, limestone, or quartz mixed with other materials like crushed glass to add additional interest and shine. Colors include whites, beiges, golds, and reds.
With a quartz kitchen, one never has to decide between function and appearance. The busiest, most flexible room in your home requires countertops, backsplashes, and even flooring with the functionality to use them without reservation and the beauty that allows you to enjoy a room where you spend so much of your time. Celebrate your kitchen by giving it Q Premium Natural Quartz.