Granite Vs. Quartz Vs. Quartzite — How To Choose The Right Countertop
December 15, 2021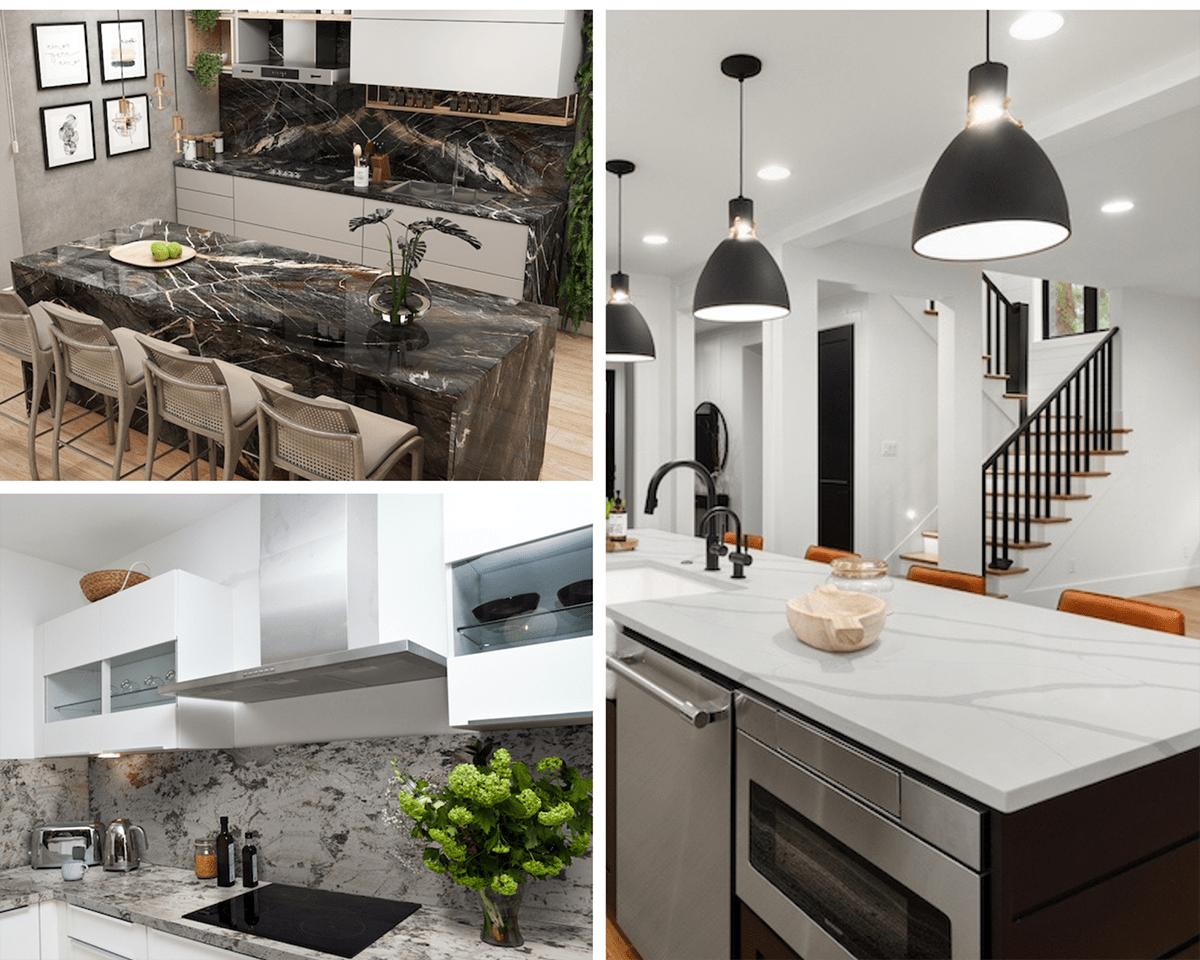 Your kitchen countertop is probably the most important surface in your home, aside from the floor. It's the space for family meal preparation, late-night snacks, and kids' school projects. And, since the kitchen seems to be the place where guests tend to gather, it's central for entertaining, too. You may be living with your granite, quartz, or quartzite countertop for decades into the future, so it's vitally important to choose just the right one.
However, if you've spent any time browsing a home improvement showroom, decorating magazine spreads, or exploring countertops on the internet, you know it's a tougher choice than ever before. That's because there are so many different countertop materials to choose from, each with a distinctive look and style, and each with different benefits and drawbacks.
Here, we discuss three of the most popular kitchen countertop choices: Granite, Quartz, and Quartzite. Learn about their similarities and their differences, and you'll be better equipped to decide which one is perfect for your home.
Granite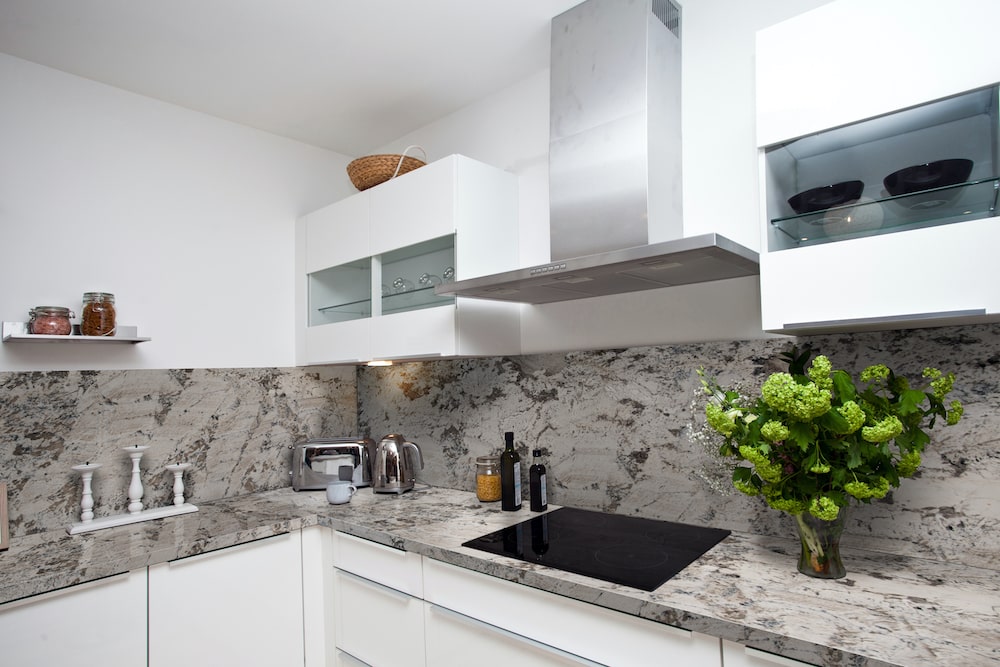 Grey Nuevo Granite Countertop
Granite countertops are the hardest natural stone surface you can install in your kitchen. That means they are extremely durable. Here are some benefits of granite:
Heat resistance: While we still advise the use of hot pads or trivets, if you should accidentally place a hot pan on the countertop, it won't be damaged or discolored.
Scratch resistance: We don't recommend chopping vegetables directly on the countertop surface, but everyday use should not cause scratches, even by the busiest of cooks.
Stain resistance: You should always wipe up spills as soon as possible, especially with acidic liquids such as vinegar or tomato sauce — but when natural-stone sealer is applied regularly, a granite countertop repels stains.
Low maintenance: All you need to keep a granite countertop sparkling clean is a mild cleanser and a soft cloth.
Return on investment: It's a well-known fact that granite countertops tend to increase a home's value and help it sell more quickly.
Colors and patterns: Granite is available in a wide variety of colors, including neutral shades from white to dark brown and exotic shades of rusty- or rose-red or gray tinted with blue or gray. Patterns range from subtle to bold and dramatic. Try our granite visualizer to see how each countertop will look in a real kitchen.
Quartz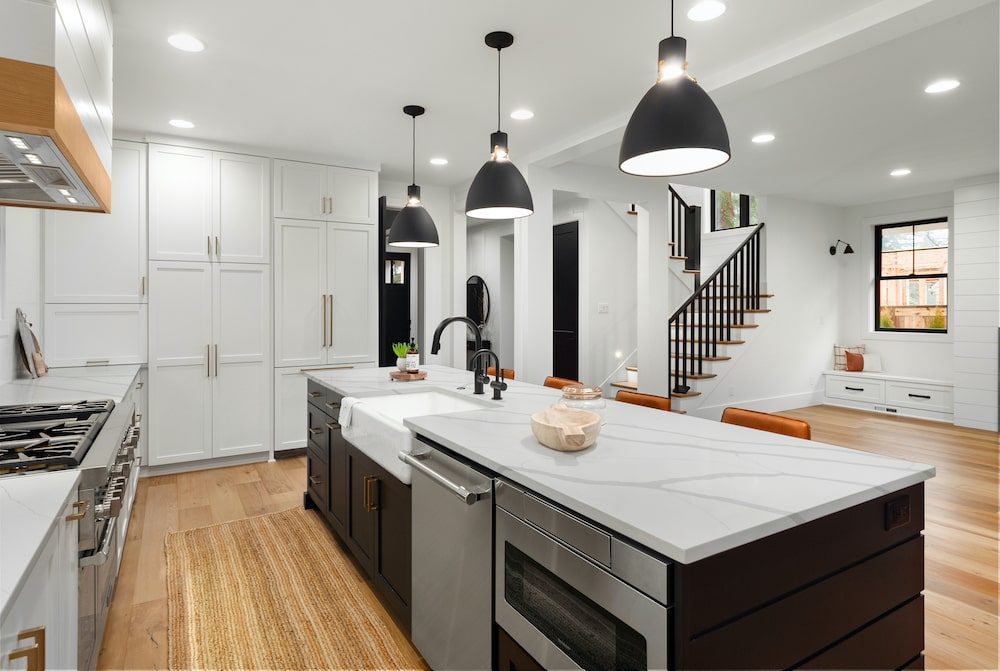 Calacatta Sierra Quartz Countertop
Quartz countertops are engineered surfaces. They contain about 90% pulverized quartz, which is combined with other minerals and pigments to create different colors and patterns and bonded together with a strong polymer resin. It's been steadily gaining popularity, and here are a few reasons why:
Durability: Like granite, quartz countertops are extremely resistant to stains and scratches.
Water resistance: quartz kitchen countertops are completely waterproof and never need sealing.
Low maintenance: Since quartz countertops are waterproof, cleaning them is easy and just requires a mild cleanser.
Return on investment: As quartz countertops soar in popularity, home buyers appreciate their ease of care, durability, and beauty, and some even prefer them natural stone.
Consistency: Unlike natural stone countertops, you can see a sample of quartz and know it will look exactly the same when installed. This makes it easy to match two pieces together side-by-side.
Colors and patterns: Quartz countertops are manufactured in solid colors, ideal for contemporary decor. They are also made to resemble all kinds of natural stone, including marble, granite, soapstone, concrete, and more.
Quartzite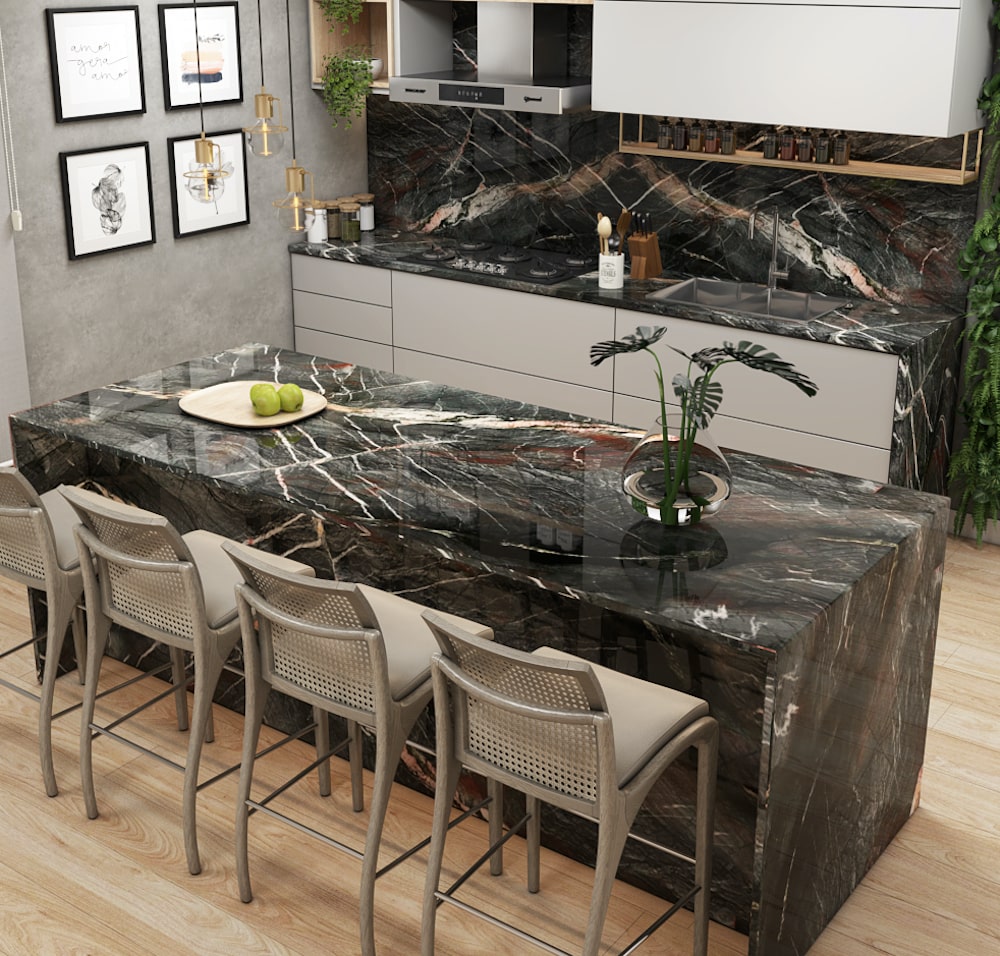 Crytos Quartzite Countertop
Quartz and quartzite countertops are frequently confused with one another — quartzite is a type of natural stone quarried from the earth in slabs. It's created when sandstone is altered by a natural process of high pressure and heat. Here are some reasons homeowners choose quartzite for their kitchen countertops:
Durability: Quartzite is similar in hardness to granite, and unlike granite and marble, true quartzite will not etch when exposed to acidic liquids. It's resistant to stains, but not as much as granite — especially light-colored counters.
Care and maintenance: For daily care, a mild cleanser works fine. For more intensive cleaning, use a cleanser formulated for use with natural stone. Quartzite countertops need to be sealed regularly to stay water- and stain-resistant. When cared for properly, however, they will stay beautiful for decades.
Colors and patterns: Quartzite is most commonly found in lighter shades such as creamy-white, pale gray, and beige. These often resemble marble, with similar patterns of veining, so you can get the look of natural marble without the high maintenance. Darker colors and exotic shades such as blue and pink are also available.

Countertop Edges: Quartzite is slightly softer than granite, so it's easier for your fabricator to customize it with a different countertop edge
Points to Consider
The choice between quartz vs. granite or quartzite is easier when you know your priorities. Here are three questions to answer:
Which is more important while using your countertops — stain resistance, scratch resistance, or etching? Granite provides better stain and scratch resistance than quartzite. Quartzite is better at resisting etching. Quartz countertops repel all three.
How much time are you willing to devote to countertop care and maintenance? Every stone countertop needs occasional sealing to maintain stain- and water-resistance. Quartz. Never needs sealing.
What's your budget for your kitchen remodel? Granite tends to be the least expensive, with quartzite at the top range. You can reduce the cost of your favorite countertop material by using it in one place, such as a center island, and choosing a complementary, less-costly surface for your side counters.
Each type of countertop material has its own pros and cons, and ultimately your choice may come down to this — which one just feels right? The best part about your choice of granite, quartz, or quartzite is that no matter which one you pick, you'll be installing a beautiful, durable countertop that you and your family will enjoy for a very long time.
For more information, find an MSI authorized dealer near you, visit an MSI showroom, or chat online with one of our helpful representatives.
LEARN MORE ABOUT QUARTZITE COUNTERTOPS
Our Most Popular Natural Stone Countertop Choices: Marble, Quartzite, And Granite
Which Is Better: Quartzite Or Granite Countertops?
Choosing Your Bathroom Countertop: Quartzite, Granite, Marble, And Quartz Countertops
Quartz Countertops In Durable Natural Quartzite Looks
READ MORE ABOUT GRANITE COUNTERTOPS
Choose the Perfect Granite Countertop with MSI's Slab Selection Process
8 Unique and Exotic Granite Countertop Colors From MSI
Our Most Popular Natural Stone Countertop Choices: Marble, Quartzite, And Granite