Popular
Coverings After-Show Style Review
April 14, 2017
We recently got back from Coverings—where 25,000 tile and stone professionals descended upon Orlando for the largest industry trade show of the year. Between soaking up cutting-edge design trends on the global market, and introducing our new collections, we returned from Florida as obsessed as ever with bringing all things current, chic and surface-related to your fingertips.
Our very own Emily Holle, Director of Trend and Design, was busy at the show sharing inspired tips on planning a phenomenal showroom in her talk, Site Lines - Tips from the Trade on Designing Showrooms.
Emily said, "There is an energy and excitement unique to Coverings that sets the tone for the rest of the year. With so much to spark the imagination, it's wall to wall inspiration. I hope the insights from my talk contributed to that dynamic. We're looking forward to watching how the positive feedback we received from our new styles plays out with homeowners. Seeing them make our designs their own is incredibly rewarding."
Beyond searching the world to curate the most coveted looks on the market, there are few things Emily and the rest of our design team love more than bringing ideas to life. So when we roll out a fresh collection, we're over the moon when we see the first crop of residential and commercial designs popping up on Pinterest & Houzz.
Here's to continuing that trend with an up-close review of the gorgeous tile and countertop collections we debuted at the show. From envy-of-the-neighborhood backyard makeovers to high-style interior remodels, here's some divine inspiration to see your projects through.
Inside & Out Eye Candy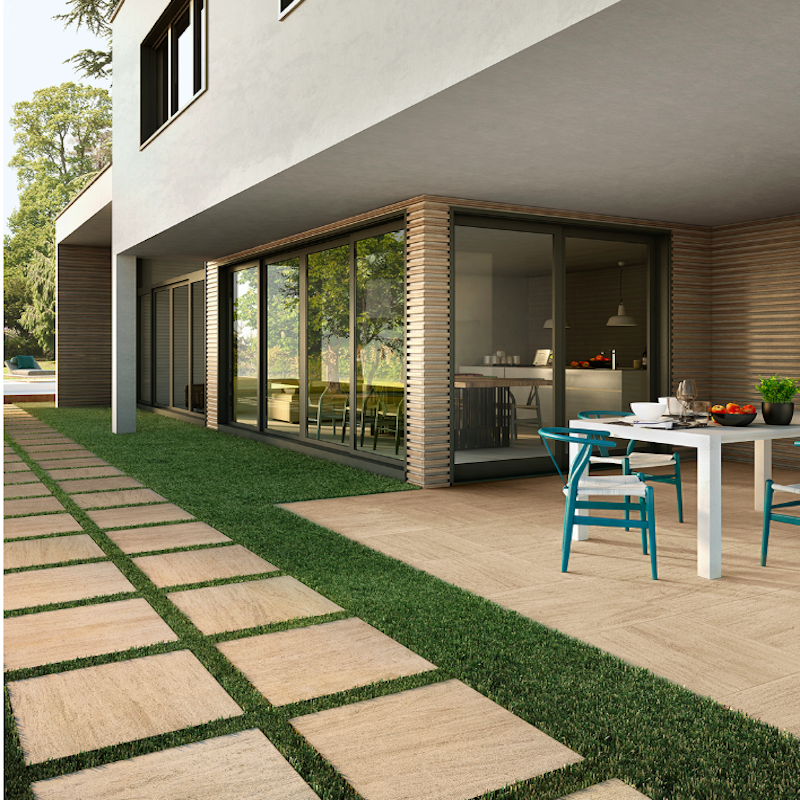 Featured: Livingstyle Porcelain
Made for gracious living indoors and out, Livingstyle Porcelain is a seamless concept floor tile designed for the terrace and throughout your home. One of our most versatile collections ever, this ultra-durable large-format line—complete with lawn pavers—has the European limestone look we love. On the lookout for softening the lines between your interior and exterior spaces? This all-weather lineup has seriously stylish possibilities.
Low-Maintenance. High Style.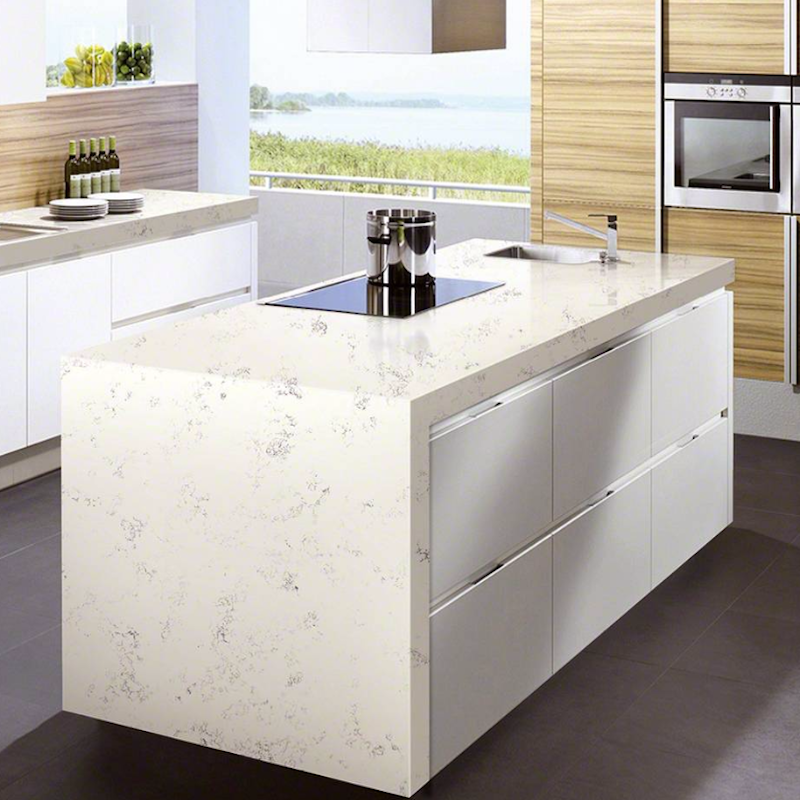 Featured: Q™ Premium Natural Quartz in Carrara Marmi™ Quartz
If you follow home trends, the coast to coast obsession with quartz countertops has been on your radar for some time. After unveiling seven new irresistible colors in our Q™ Premium Natural Quartz collection just in time for the show, it's never been easier to create a dreamlike space. (There's now over sixty styles to inspire you.)
From the whispery veining of Carrara Marmi Quartz, to the even softer ones in Carrara Caldia Quartz, to the dramatic movement in Calacatta Laza Quartz, these new styles take a cue from luxurious white marble – right down to the realistic veining.
Prefer quartz with an edgy concrete finish? Our new Midnight Majesty Concrete Finish Quartz and Babylon Gray Concrete Finish Quartz countertops serve up a one-of-a-kind cosmopolitan aesthetic.
Porcelain & Ceramic: The Power Players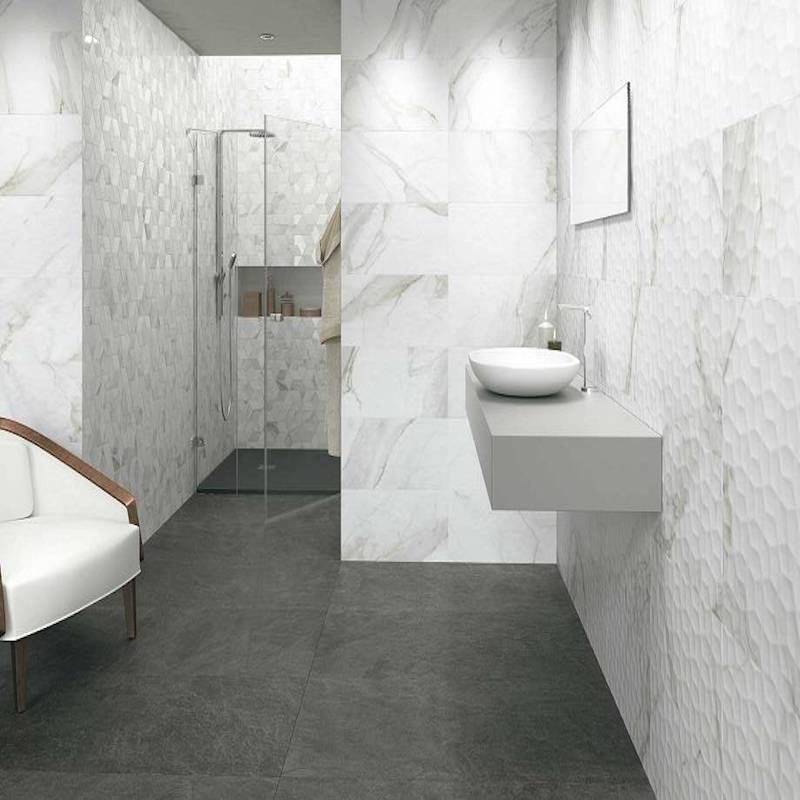 Featured: Adella Viso Calacatta Porcelain from the Adella Porcelain & Ceramic Collection
Thanks to technology and innovative designers, this is not your mother's porcelain and ceramic tile. From imaginative 3D designs and geometric patterns to mod palettes and fabulous texture, our new wave of porcelain tile can rise to any occasion.
Due to impeccable details that can make tile look like wood or fabric (among other things), these power players received major bonus points at the show. Their ultra-durable, no-fuss sensibility? Only dials up the allure.
Among the crowd pleasers in the new lineup was Adella Porcelain and Ceramic – large format, 3D ceramic wall tiles with a contemporary palette and coordinating porcelain floor tile.
Attendees also raved at Kenzzi Porcelain: intricate encaustic designs like stylized flowers and mod geometrics converge with timeless details to make this new floor and wall tile collection an instant hit.
We also debuted Watercolor Porcelain plank tiles which feature an artful light-as-air brush stroke design; and Brickstone Porcelain, inspired by stacked stone and brick looks. For ultra-affordable residential and commercial projects, we introduced Turin Ceramic, a large plank floor tile with never-seen-before linear wood looks.
Industrial-Inspired Recycled Glass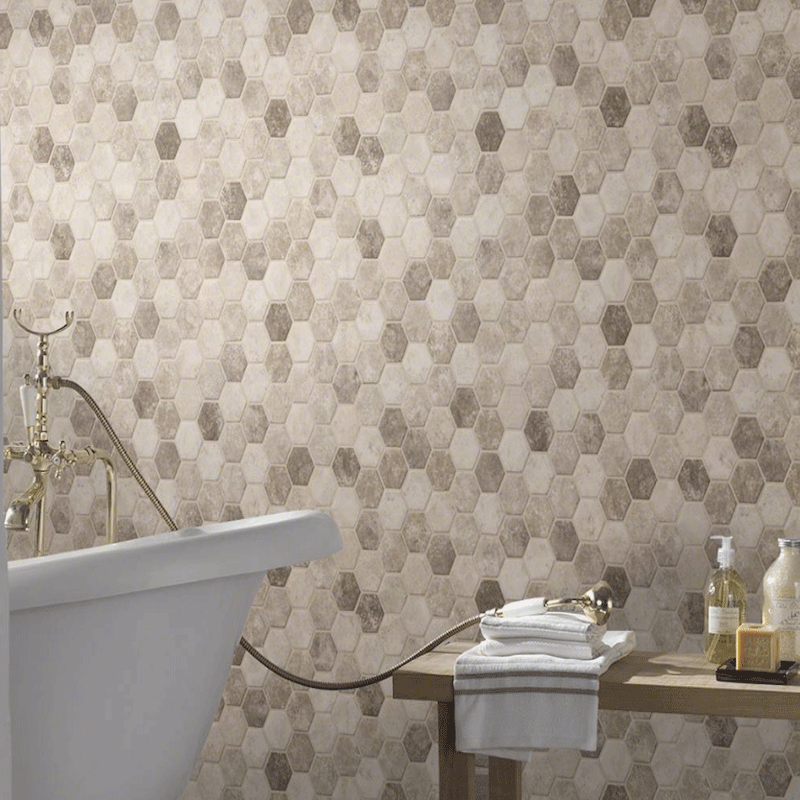 Featured: Sandhills Hexagon
Even close up at the booth, people were surprised to learn that these natural stone and wood-inspired tiles were recycled glass. But that's what gives our reimagined Recycled Glass Decorative Mosaics line its casual, down-to-earth vibe. Best part? These eco-friendly glass backsplash tiles can also be used for floors, countertops, showers, and accent walls. A richly textured collection, you'll find natural stone, textile, and wood-inspired tiles in trendy hex and subway patterns.
Sam Kim, Vice President at MSI said, "We do everything possible to make premium surfaces more accessible and affordable to homeowners, and thanks to events like Coverings we get the opportunity—year after year— to introduce cutting-edge designs that bring this mission to life. This year more than others, there was a heightened interest in our new collections, and we couldn't be happier to collaborate with our new and existing trade partners to bring these fresh designs to homes across the country."
We hope our new designs are just the inspiration you need to bring your dream looks to life this spring!