What Is The Best Luxury Vinyl Flooring For Bathrooms?
June 06, 2022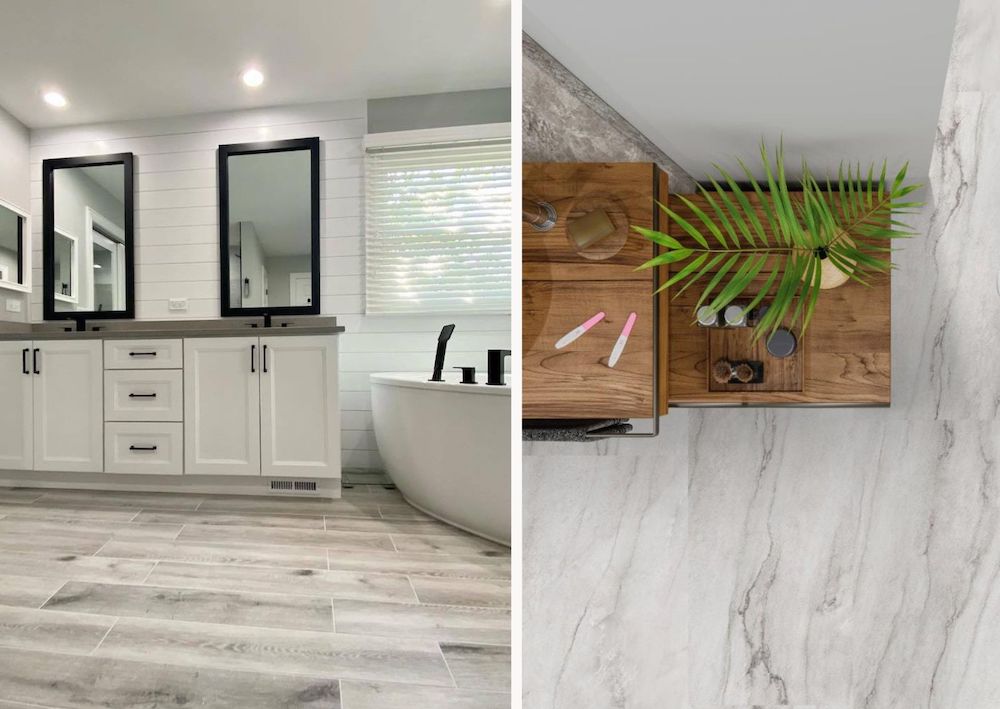 Bathroom renovations tend to be second only to kitchens when it comes to adding value and appeal to your home and seeing the greatest return on investment. These days, one of the best options to upgrade this potentially troublesome room is luxury vinyl flooring.
Luxury vinyl flooring, or LVF, offers the practical function you need in your busy household, especially in a damp bathroom environment. Even better, it provides the authentic look and feel of natural wood or stone flooring, adding a luxury aesthetic. In other words, LVF is the perfect option for modern homeowners seeking the best of both worlds.
The only conundrum is choosing the right luxury vinyl flooring for your bathrooms. With the beautiful and expansive collection from MSI, you'll have no trouble finding the options that elevate your bathroom design and represent your personal style.
How to Select the Right Vinyl Flooring
The first thing to consider with any home remodeling project is function — and in the bathroom, that means choosing waterproof flooring.
Steam will permeate every surface of your space, and anyone exiting the shower or bath is likely to drip. You could even experience leaks, but 100% waterproof LVF can handle it all without warping, rotting, or succumbing to mold and mildew.
Bathrooms get a lot of use, so it's also best to choose flooring designed for high-traffic areas. With a rigid inner core and layers of material that protect against wear, LVF is ideal for busy households.
Luxury vinyl flooring is also cost-effective and offers easy installation. You can choose from a range of wood, and stone looks that mimic the natural materials you love while enjoying the practical benefits that only LVF provides.
In addition, you won't have much trouble with luxury vinyl planks care and maintenance. Sweeping and wiping up spills will take care of daily dust and dander. For scuffs and grime, a simple mopping should keep your floor looking clean and new.
Suitable Vinyl Flooring for Bathrooms
You might be surprised to discover that you have a range of flooring options when it comes to choosing the perfect vinyl for your bathroom upgrade. Maybe you love the look of hardwood but realize the inherent issues that could occur when planks are exposed to moist, humid conditions.
Perhaps natural stone options are more to your liking, but the cost and maintenance don't suit your budget or lifestyle. Luxury vinyl tile benefits blow other flooring types out of the water, and there are a couple of great options to consider.
Vinyl Plank
Many types of flooring look like wood: authentic hardwood, laminate, and luxury vinyl planks, to name a few. Vinyl planks are a great choice because they're waterproof, scratch-resistant, warm and comfortable underfoot, and less prone to noisy echoes than other hard flooring types. Luxury vinyl planks are also incredibly attractive and can be nearly indistinguishable from real wood these days.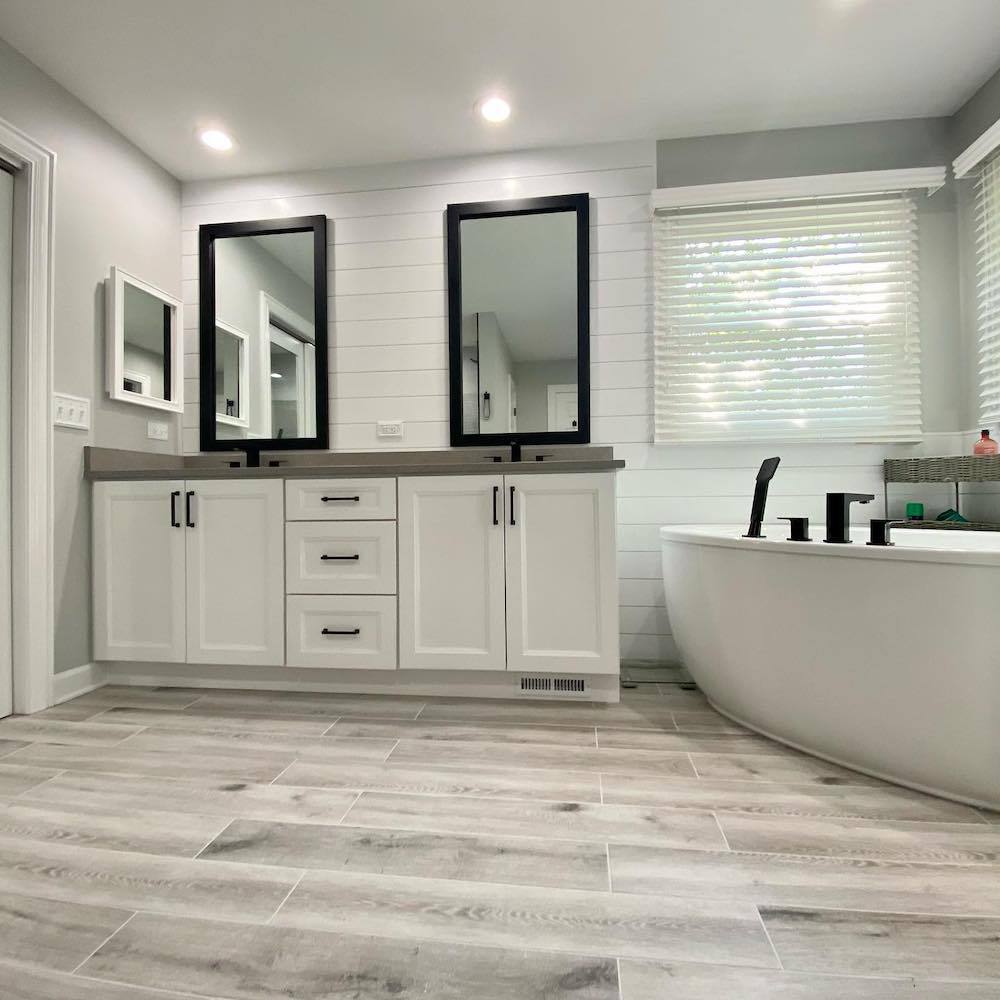 Woodrift Gray Luxury Vinyl Plank - Photo Credit: @paisely_designs_17 on Instagram
If you are in love with the weathered barn wood trend, in which case mid-tone Woodrift Gray, featuring a darker, denser, fine-grained pattern, may be right up your alley. With the perfect wood-look vinyl plank flooring in place, you can turn your bathroom into the Zen retreat you've been dreaming of.
Vinyl Tile
Because wood flooring is somewhat anathema to moist spaces, you might not be keen on even the look of it in your bathroom. Never fear: stone-look natural tile is here.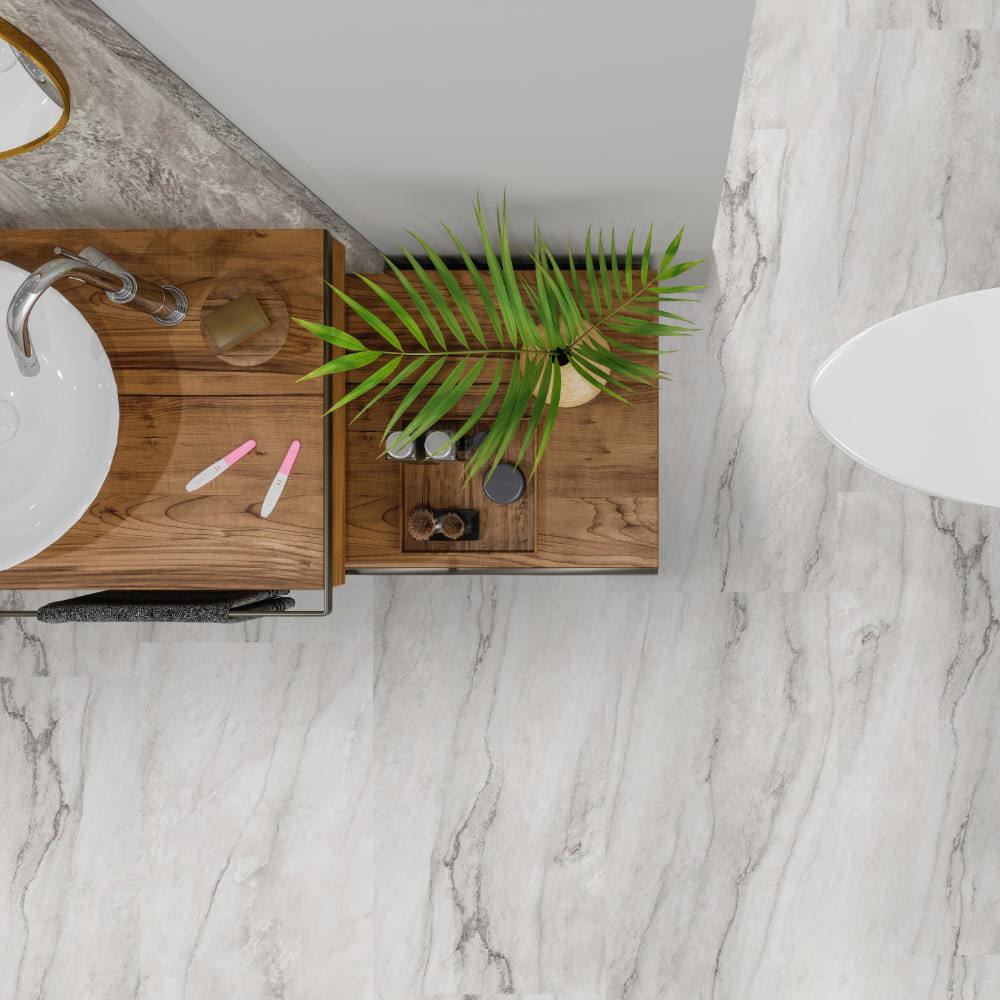 Quarzo Taj Luxury Vinyl Tile
Quarzo Taj delivers the soft, serene appeal of marble or quartzite, complete with an ivory backdrop and gentle, gray veining. The smooth, polished finish appears incredibly realistic, but you'll never have to seal it.
Sheet Vinyl
The cost per square foot of sheet vinyl is less than some other flooring types, making it an attractive option, but if you want flooring designed to last, modern luxury vinyl flooring offers greater resilience, comfort, and allure.
Sheet vinyl may seem cost-effective upfront, but it doesn't have the same rigid core and layers of protection as LVF, so it won't stand up to the same wear and tear of a busy household.
Flooring Types to Avoid
While there are many water-resistant flooring materials to choose from during your bathroom remodel, you'll want to steer clear of certain types of flooring to avoid damage that can lead to early replacement and ongoing expense.
Carpeting
If you want softness underfoot when you exit the tub or stand in front of the mirror, get a throw rug that's easy to replace: the moisture in a bathroom setting will generate mold and mildew in textiles over time. You can always hang a bath mat on a towel bar or toss it in the dryer. This is obviously not possible with wall-to-wall carpeting.
Wood Flooring
As noted, wood is not ideal for any space where water is present, whether you're dealing with spills, drips, or humidity in general. When exposed to moisture, wood is likely to warp, rot, and harbor mold and mildew, none of which you want to deal with when you shell out the money for authentic hardwood.
Although wood laminate is slightly different, it still has a wood core, and the laminate surface is made from pressed wood.
Linoleum
Many types of bathroom tile are suitable for this humid space, but linoleum isn't one of them. While the material itself is water-resistant, it isn't immune to the effects of moisture, and over time, water can permeate and damage the surface.
Why Choose MSI for Your LVT Bathroom Flooring?
Between the rigid core, wear layer, and waterproofing, luxury vinyl flooring offers the function you need in a busy bathroom space. You also have a range of gorgeous designs to choose from, ensuring a perfect match for every interior design and personal style.
With MSI, you'll always enjoy a quality product that comes with a limited lifetime residential warranty for your peace of mind. For professional guidance on the best flooring material for your project, contact us through our online chat, find an authorized MSI dealer or visit an MSI showroom to get started.
Discover More About Waterproof Flooring From MSI
Check Out These 7 Instagram Worthy Rooms Featuring Waterproof Flooring from MSI
Get The Look And Warmth Of Wood With Waterproof Flooring
MSI Luxury Vinyl Flooring Product Overview
Waterproof And Pet-Friendly New Luxury Vinyl Flooring
Whitewash Vinyl Flooring Planks From MSI