MSI Luxury Vinyl Flooring Product Overview
August 21, 2022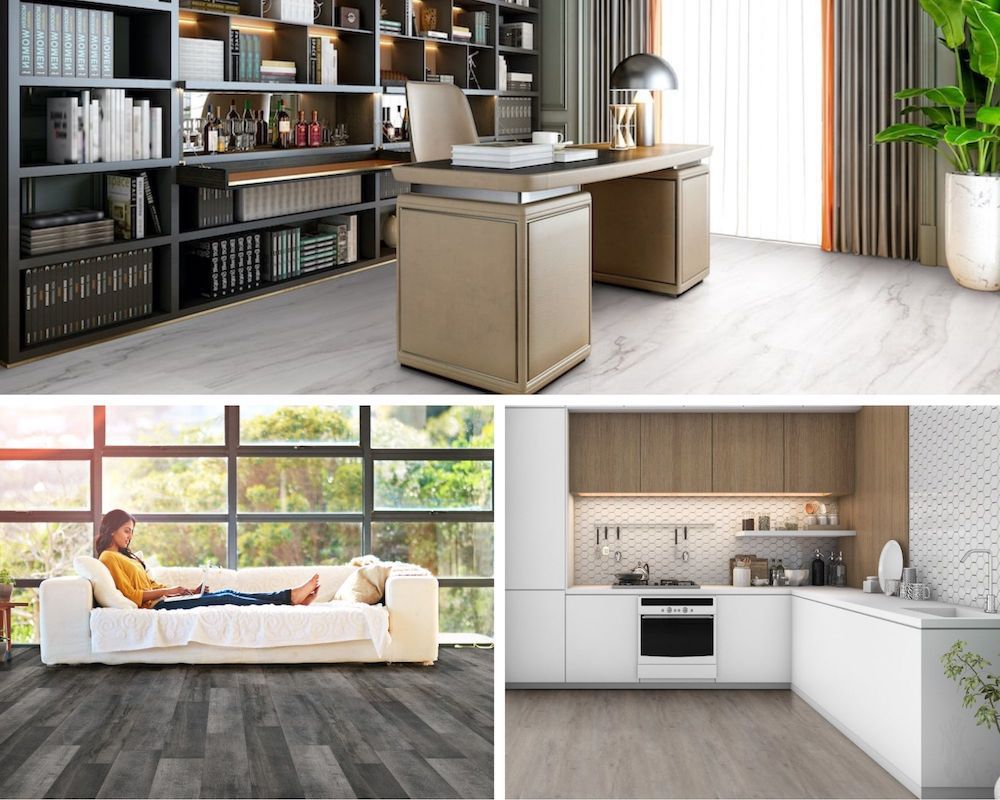 If breathtaking premium flooring that won't break the bank sounds good to you, then take a look at luxury vinyl flooring. Not only does luxury vinyl flooring mimic real hardwood flooring and authentic stone so well that sometimes it's hard to tell the difference, but it also brings a number of benefits to the table, which we'll cover in a moment. This affordable flooring option provides the most optimal outcome for your design needs at an extremely reasonable price.

In this article, we'll explore the many advantages of luxury vinyl flooring, look at five stunning options by MSI, and more. Let's start with the benefits.
DURABILITY
When it comes to durability, luxury vinyl flooring brings so much to the table. In fact, it's among the most durable premium flooring options available to consumers today, even in the most high-traffic residential or commercial areas. Many available luxury vinyl options are waterproof, while others are water resistant, making them perfect for wet areas like kitchens, basements, bathrooms, and laundry rooms. Durability is one of the most significant benefits of luxury vinyl tile as they stand up to mold, stains, scratches, moisture, and scuffs.
LOW MAINTENANCE
Where many of the premium flooring types that luxury vinyl mimics, like real wood flooring and authentic stone, require sealing and ongoing resealing to protect your investment, luxury vinyl tile and luxury vinyl planks do not. All you need is light wiping and regular mopping on the surface of your floor to remove any debris or dirt that may have built up.
It's important to note that while your luxury vinyl tile may be waterproof or water-resistant, avoid using a steam cleaner on this premium surface. It could seem like a good idea for a deep clean, but the extra moisture could release into the subfloor and end up causing water damage.

Take a look at this wonderful video for more information on the care and maintenance of your luxury vinyl flooring.
EASY TO INSTALL
When you opt for luxury vinyl tile, you'll save on installation costs. Installing luxury vinyl planks for the average homeowner with some DIY experience under their belt can be relatively easy. Additionally, you'll save more money compared to premium floorings that require other materials such as grout. Finally, you can save even more money if the vinyl flooring is installed over a subfloor since you won't have to spend money tearing that floor up.
APPEARANCE
Luxury vinyl flooring comes in numerous looks and colors though the main two categories are wood look and stone look. Imagine capturing that sought-after look of weathered reclaimed wood or authentic stone but for a much lower price point. No matter the wood pattern, premium stone flooring style, or color, chances are you'll find it with luxury vinyl flooring. And this large selection of styles, colors, textures, and sizes gives you the freedom to customize your floor exactly how you want.
VERSATILITY
Luxury vinyl flooring is highly versatile compared to other premium surfaces. As previously mentioned, they are ideal in rooms that produce moisture, such as bathrooms, kitchens, and even basements. Another thought is using it in your kid's playroom to avoid unwanted dents and scratches.
CRANTON LUXURY VINYL PLANKS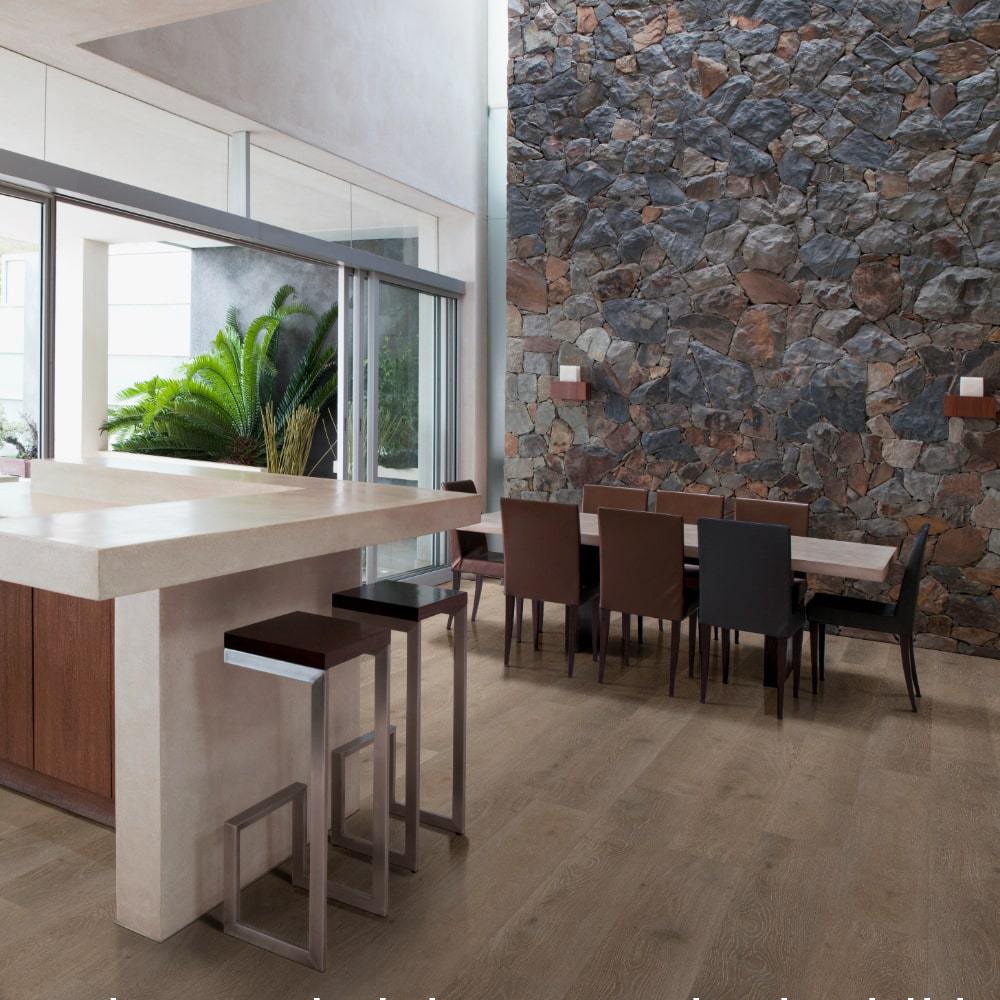 These wood look Cranton Luxury Vinyl Planks come in a beautiful 9"x60" contemporary matte beige. See how elegant these wood look floors appear against the accent rock wall? The good news is they look as authentic in person as in this photograph. With Cranton, you get a hundred percent waterproof, stain, scratch, and dent resistant flooring backed by a lifetime residential warranty, a 20-year limited light commercial warranty, and a 15-year limited commercial warranty. These innovative planks employ a pre-attached backing, leading to less noise and more comfort underfoot.
If you'd like to mix and match to see how a premium flooring looks in a kitchen area with other decor, check out this flooring visualizer.
ASHTON YORK GRAY™ LUXURY VINYL PLANKS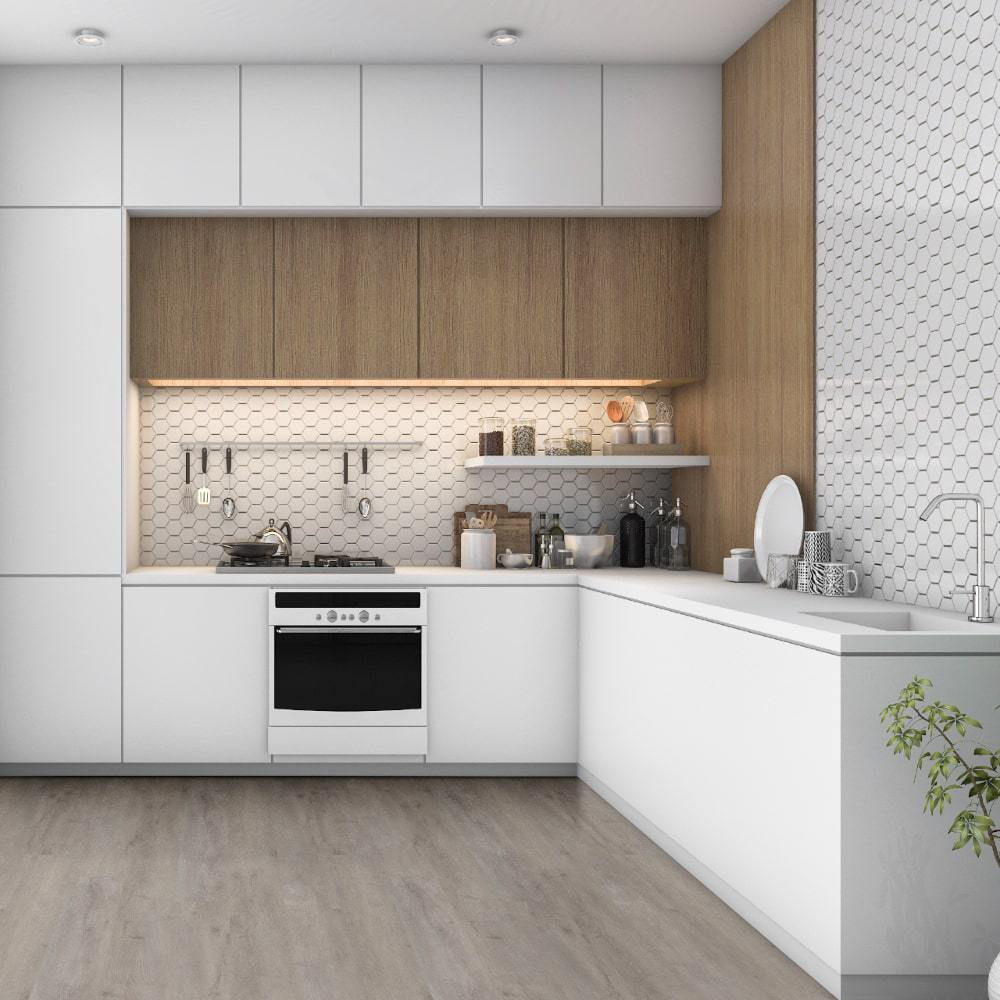 One look at these Ashton York Gray Luxury Vinyl Planks is all you need to fall in love. They utilize inviting grays and beige tones to create a relaxed, inviting space of supreme luxury. This wood look waterproof flooring is waiting to take your kitchen or other areas to the next level.
DAKWORTH LUXURY VINYL PLANKS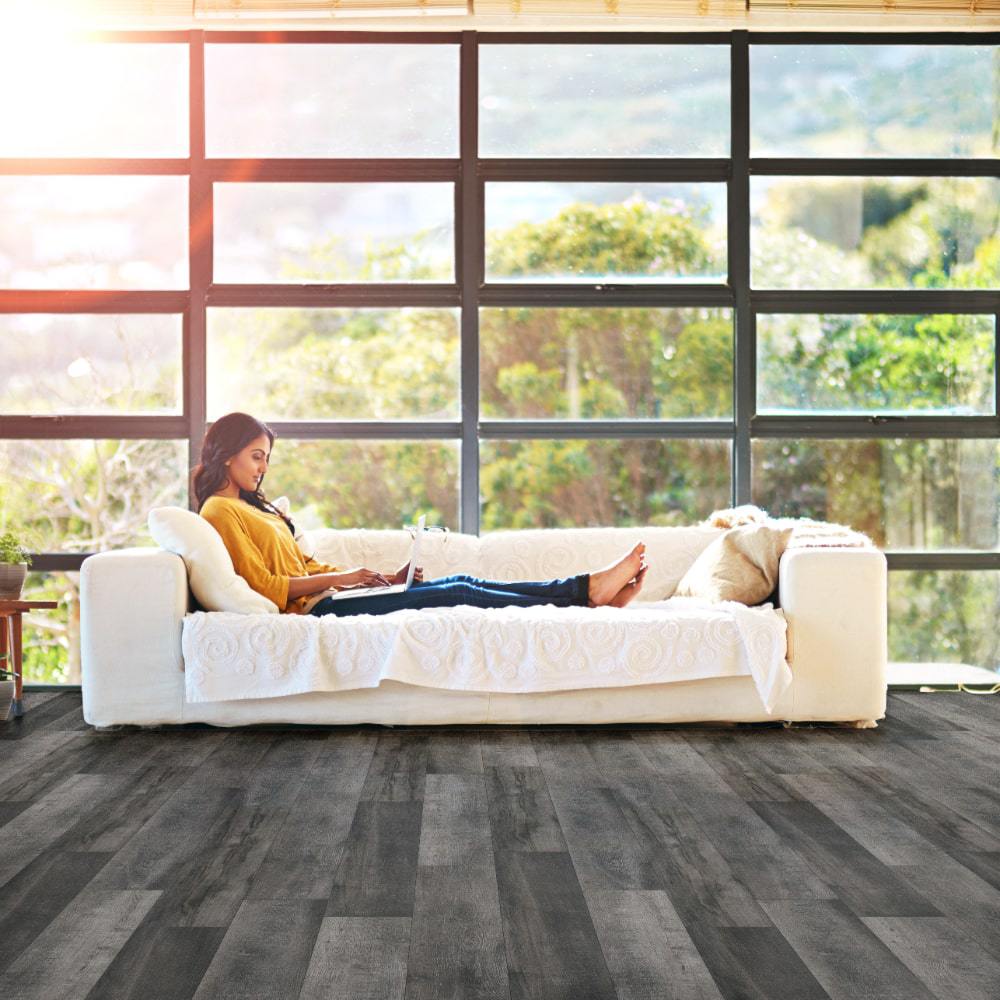 Our wood look Dakworth Luxury Vinyl Planks are nothing short of awe-inspiring. This premium surface has a truly authentic look that features gorgeous charcoal black shades and subtle knots and graining. These one hundred percent waterproof planks are ideal in the kitchen, basement, living area, bathroom, and more. Plus, they come with a limited lifetime residential warranty, a 15-year limited light commercial warranty, and a ten-year limited commercial warranty.
CHARCOAL OAK LUXURY VINYL PLANKS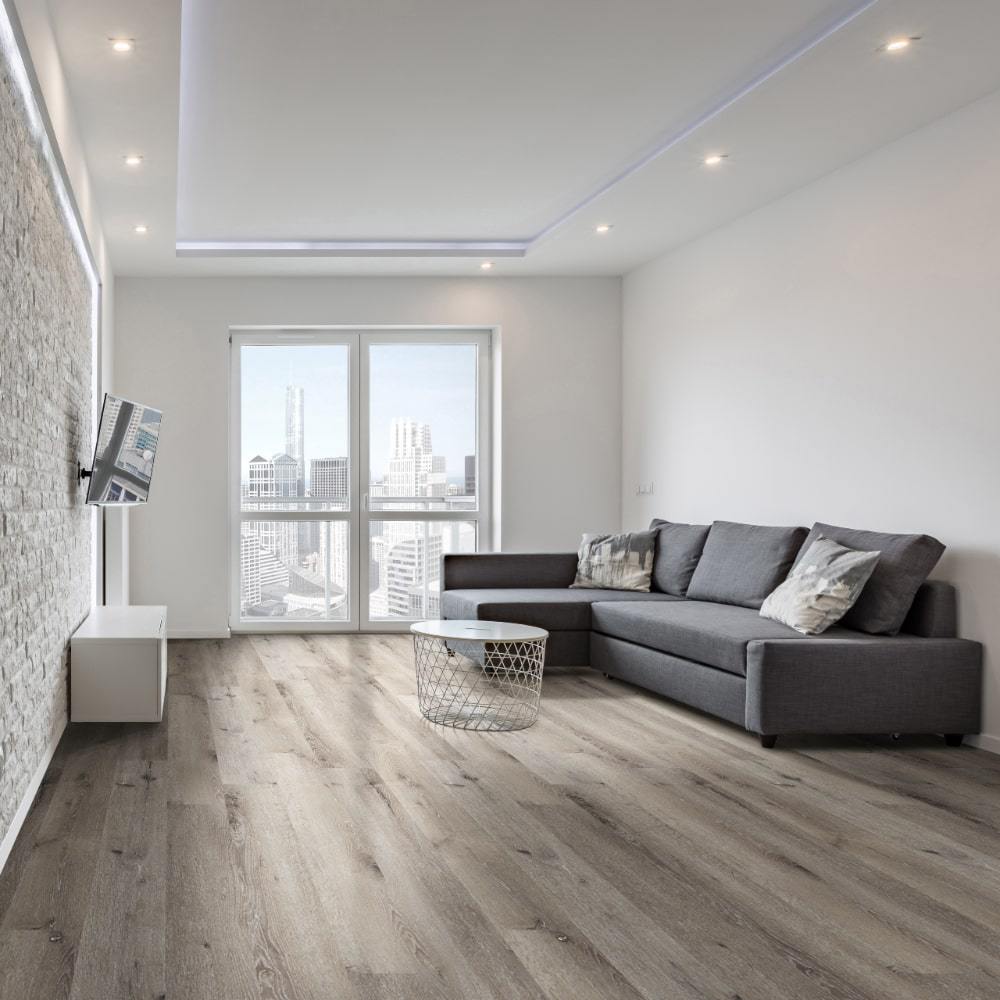 Our Charcoal Oak Luxury Vinyl Planks feature grays and greige hues with understated knots and graining to create an authentic hardwood look in a more durable flooring. Low maintenance and enchanting in its beauty, you'll turn the heads of more than a few guests when you opt for Charcoal Oak.
QUARZO TAJ™ LUXURY VINYL TILE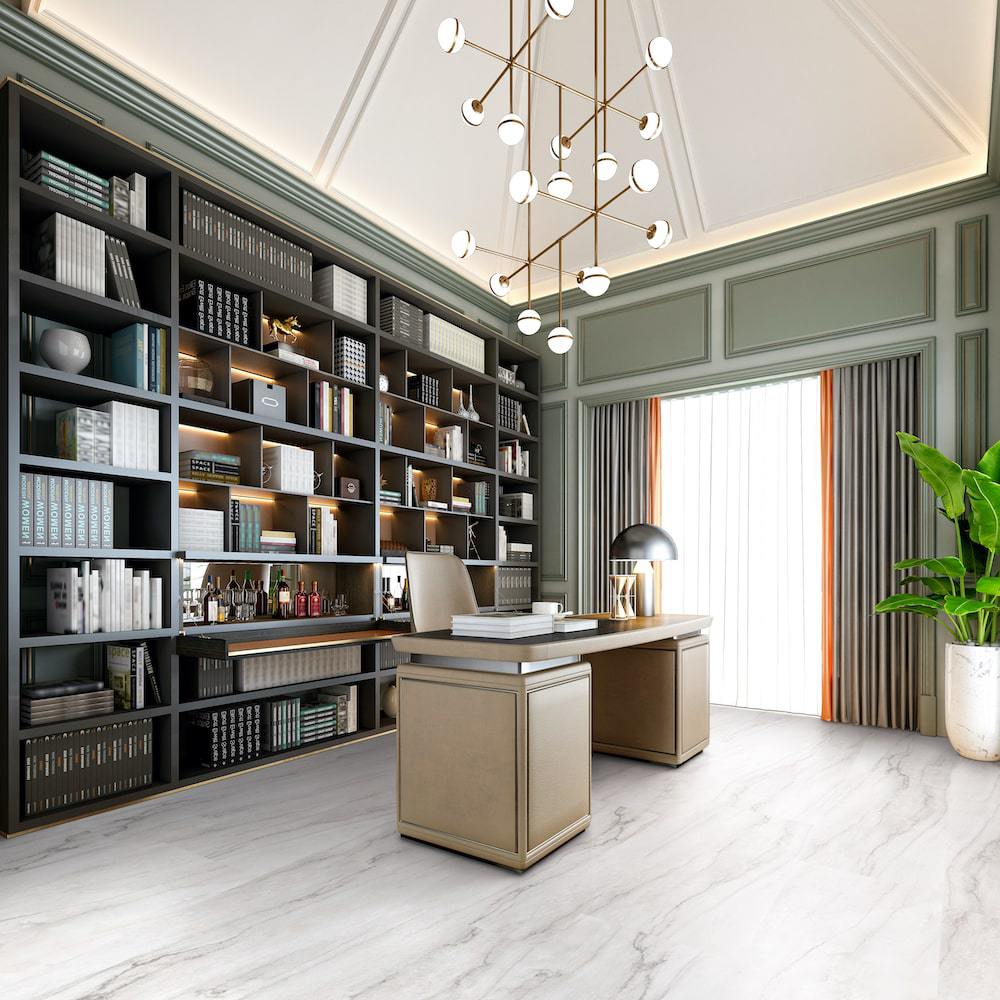 Quarzo Taj Luxury Vinyl Tile brings the luxury of natural stone to the kitchen, bedroom, bathroom, living room, and more in a low-maintenance, affordable, 100% waterproof vinyl tile. The ivy backing and understated gray veins create a real marble look that will elevate any space. Finally, this luxury vinyl flooring is stain, scratch, and dent resistant.
WRAPPING UP
If you have any questions about our luxury vinyl flooring products, please get in touch with us by phone, online, or visit one of our showrooms. Our experts are ready to assist you to select the ideal luxury vinyl flooring for your design needs.

Also, you can contact us in real-time using our MSI website chat feature. Through this feature, we can take questions and provide additional information about our products. Locating the chat feature is simple—look to the bottom right of your screen on any page on the MSI website. Then, click the circle, and a chat box will pop up with a friendly agent ready to assist you.
Discover More About Waterproof Flooring From MSI
What Is The Best Luxury Vinyl Flooring For Bathrooms?
Check Out These 7 Instagram Worthy Rooms Featuring Waterproof Flooring from MSI
Get The Look And Warmth Of Wood With Waterproof Flooring
Waterproof And Pet-Friendly New Luxury Vinyl Flooring
Whitewash Vinyl Flooring Planks From MSI