Current Obsessions: The Most Timeless Quartz Countertop Colors
July 29, 2018
A quartz countertop is engineered to last, making it all the more essential to choose a color and style that you'll love for years to come. But which colors stand the test of time? Check out our top picks in timeless quartz colors that are guaranteed to look fresh and on-trend no matter the decade.
From regal marble to sleek concrete, this round-up of luxury quartz counters are ageless in performance, too! Which will you choose?
Frost White Quartz
Want to add a touch of sparkle? This is what Frost White Quartz can do with ease, thanks to its shimmery white tones. It's also durable and easy to maintain, making it perfect for headlining your design or creating a clean canvas with endless design possibilities. Your quartz countertop will stand out instantly.
Lagos Azul Quartz
A solid coffee brown background with darker accents is what Lagos Azul Quartz brings to your kitchen. It's a great choice for anyone interested in an earthy tone, and the fact that it is durable, low-maintenance and stain-resistant only adds to its attraction.
Calacatta Classique Quartz
This quartz is a show-stopper because its clean white and striking through-body veining helps it stand out instantly. Calacatta Classique Quartz is lovely and neutral, which allows it to create the look of luxurious marble with a lot more durability.
Calacatta Pearl Quartz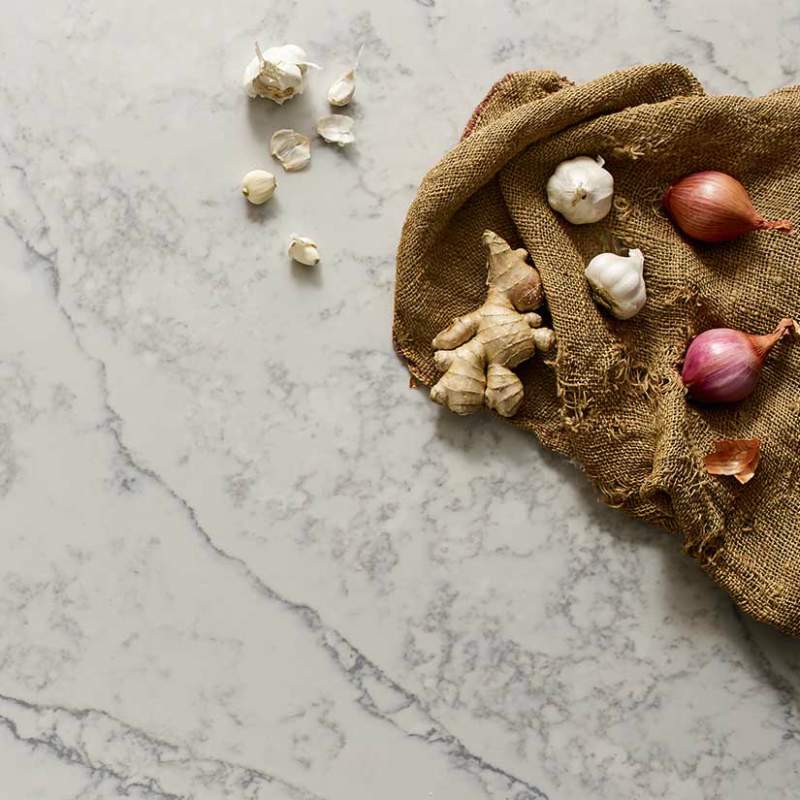 Featured: Calacatta Pearl Marble-Look Quartz
Want to create beautiful and durable quartz countertops, waterfall islands, backsplashes, showers, and accent walls? Calacatta Pearl marble-look quartz is what you need. Its light greiges background and prominent long dark veins create what can only be described as a timeless sensibility.
Midnight Majesty Concrete Quartz
The dark color of this quartz countertop is as interesting as its smooth velvety texture. Midnight Majesty – Concrete Finish Quartz boasts a 100% non-absorbent surface and trendy brushed-like finish. It can make your kitchen seem classy, timeless and sophisticated all at once.
These examples show how the installation of your choice of quartz colors and countertops — bold or crisp, soft or natural — can help you add your signature style to a room.
Here are some more popular quartz colors you can check out. Choosing the right countertop and colors for your quartz kitchen is also easier with this list of neutral color ideas for the home.
Read More About Quartz Countertop Colors and Styles:
Beautifully Beige Quartz
High Style Monochromatic Quartz Countertops
Bathroom Beauties with Quartz Countertops
Dreamy Beige Quartz Countertops
Greige is the Newest Quartz Countertop Color Trend
Sophisticated and Sparkling Quartz Countertops