Current Obsessions: The Most Glamorous Quartz Kitchens In 2018
March 28, 2018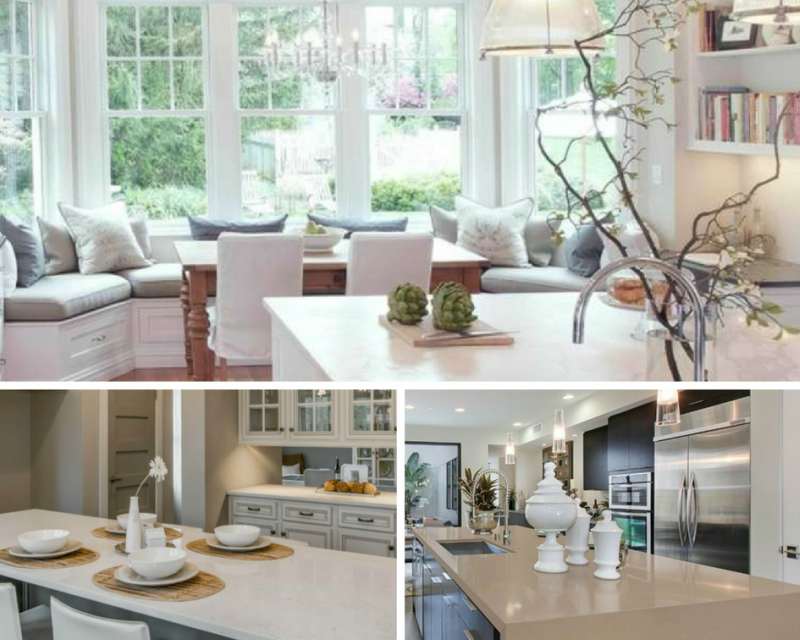 When we talk about quartz countertops, it's generally in reference to durability, upkeep, and value. When we talk about glamorous kitchens, we're generally talking about marble, granite, or quartzite. But if we don't include quartz in that lineup, we might be missing out on a stellar opportunity.
What if we talk about the gorgeous looks of quartz countertops — and only the looks?
The question is, does quartz have the same opulent, luxurious look and feel as marble, quartzite, and other natural stone?
The answer is yes — MSI's Q Premium Quartz is elegant enough to fit among the ranks of the most glamorous countertops you can buy. It has a modern look and feel, making it ideal for the contemporary decorating trends of 2018. Besides, if marble is what you crave, some quartz countertops are easily mistaken for a marble slab.
So whether you are planning spacious, designer kitchens or a small kitchens with big style, quartz is highly desired and high-end enough to lend the luxurious aesthetic you're looking for.
Fossil Taupe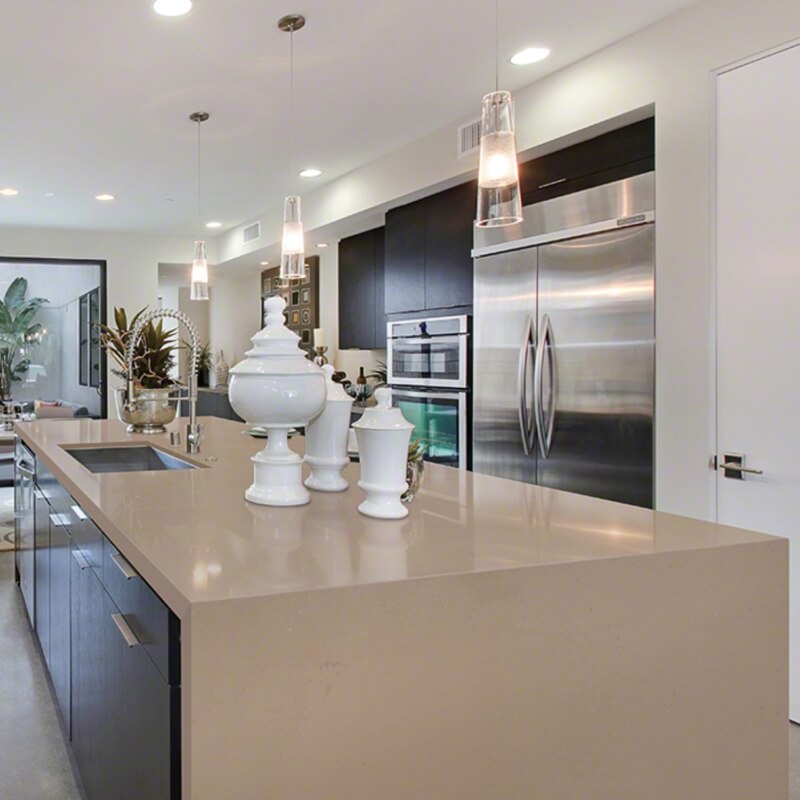 Featured: Fossil Taupe Quartz
Sometimes less is more when it comes to elegant countertops. Fossil Taupe Quartz is a polished mid-tone neutral with subtle freckles for a welcome touch of visual interest. Unlike a boldly patterned countertop, this sleek minimalistic surface complements your other artistic touches, such as unique pendulum lighting. It's the perfect match for contemporary décor and clean lines.
Fairy White
Some color combinations are timeless, and one of these is white, silver, and gray. This scene presents a different twist on the all-white kitchen, filling it with bright, reflective surfaces that effortlessly harmonize. Fairy White Quartz features soft gray and silver highlights on a pure white background, with a cool, touchable glossy finish. A combo like this is an exceptional choice for small kitchens.
Carrara Grigio
Marble countertops are one of those ideas that look great in decorating magazines but aren't practical for many people in reality. Don't give up on your marble dreams so fast, though, because there's Q Premium marble-look quartz Carrara Grigio Quartz. It's such an upscale lookalike that your guests will wonder how you manage to keep your white quartz countertops looking so fresh and gorgeous while actually using them to prepare food.
Calacatta Verona
Quartz that looks like marble is like a secret weapon for decorators — it allows you to fill your kitchen with the luxurious look of marble while still keeping money in the budget for your appliances. Why stop with the countertop? Calacatta Verona Quartz, which offers the beloved, classic look of Italian marble with gray veins on a white background, looks even more impressive on your backsplash.
Pelican White
Another marble lookalike, Pelican White Quartz is opulent and versatile. It's an ideal match for traditional décor, or even better, for transforming modern décor into classic elegance. The subtle gray swirls on a soft white background give a light and airy vibe, pairing well with natural wood flooring and stylish modern furnishings. The result is almost spa-like, a relaxing haven that will rejuvenate your spirit.
If you're searching for the perfect intersection of livable durability and high-end beauty, quartz countertops may be just what you're looking for. Although they are manufactured instead of quarried, they feel natural and solid. A quartz countertop means never having to compromise to get all of the features an ideal kitchen countertop should have. Check out MSI's web gallery to see the incredible variety of quartz colors and patterns you can choose from.