Popular
Monochromatic Quartz Colors: The Perfect Canvas For Kitchen Creativity
August 25, 2014
There is a fine line between creating interest in design and going overboard. Mixing too many textures, colors, patterns or ideas can take a kitchen one step beyond beautiful to the place no designer wants to go - overdone. The perils of combining too many beautiful things in one room is one we must all face, whether we are choosing materials for our home or for our business. Fortunately, this is why monochromatic quartz colors and neutrals were born. They give us contrast. They give us a canvas to build upon. And most importantly, they lead the eye toward special focal points without sidetracking us along the way. As you're choosing materials for your next project, consider a monochromatic quartz paired with a wild, statement granite or a neutral quartz with a colorful and unique backsplash. The contrast will create that interesting design you desire without taking you a step too far.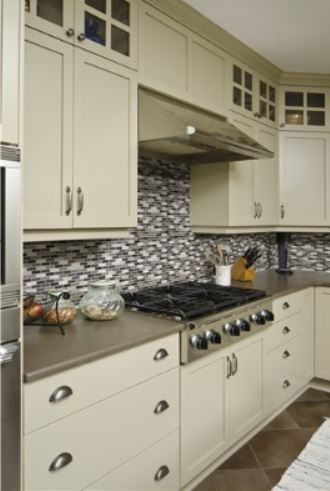 Though quartz is available in countertop selections that are comparable to marble and granite in appearance, there are highly popular monochromatic options that will complement statement pieces of other natural stones nicely. Blanca Arabescato, Artic White, Lagos Azul, Concerto, and Shadow Gray are a few of the options for a solid color scheme that pairs beautifully with a contrasting stone, lending excitement to a room without overcrowding with color or pattern.
Allowing for multiple types of stone in your design can be an asset both aesthetically and functionally. For instance, quartz is one of the most durable countertops available. It is resistant to heat, chemicals, bacteria, etching and scratching. It is arguably the best option for a countertop, as it combines the natural mineral quartz with man-made polymers to create a hard surface that is difficult to penetrate. However, you may visually be attracted to other options as well - a stunning real granite with lots of flecks, a marble with sophisticated veins, a bold slab of onyx, or a unique mosaic of glass and stone. Mixing materials allows you to have the best of both worlds - quartz for the surfaces that will see the most action, such as food preparation or landing spots for laptops and purses; other natural stones that draw your eye for accent, as backsplashes throughout or in statement areas.
Check Customize Your Kitchen with Quartz Natural Stone for more about customizing your kitchen with mixed materials.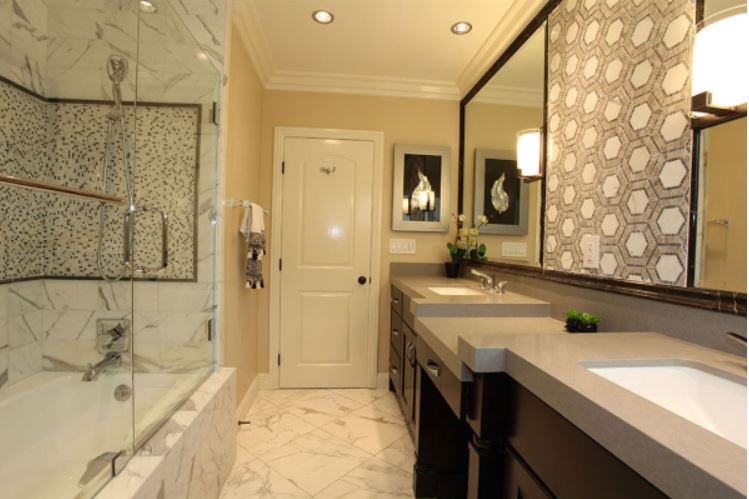 A design faux pas can also be the "matchy-matchy" look. Too much of the same style, pattern or color can look preconceived or overthought. Good design is all about introducing different elements in a way that feels fluid and natural, chaotic but organized. A fully monochromatic look, from floor to ceiling, can lack movement. Pops of color and contrasts can break it up, and even in small ways, enhance the look of both the solid pieces and the patterned ones. A bold granite kitchen island paired with quartz countertops everywhere else can make that use of stone even more impactful. A piece of beautiful marble on that same island, perfectly cool for making pastries, can give just the right amount of contrast with your Artic White quartz countertops to break up that "matchy matchy" feel in a subtle, classic way. Striking mosaics are also the perfect foil for a solid color countertop, as they introduce color and even theme or geometric shape without overcrowding the room with too much to see at once.
It is that solid piece, the canvas, that allows your imagination to fill in the rest of the design without crowding the senses. If you like the idea of mixing and contrasting, but you want a robust material for every inch of your kitchen, remember that quartz is available in striking colors, too, like Sparkling Ruby and Coronado that provide plenty of rich color of their own. Consider pairing these bold options with neutral quartz colors, or mixing quartz's granite and marble looks, until you achieve a design that both beautiful and refined.
MSI has provided premium surfaces since 1975 and is the leading importer of natural stone in North America. MSI offers 27 premium quartz selections as well as a full line of mosaics and wall tile for beautiful contrast.
More on Quartz Countertops
Common Misconceptions About Quartz Countertops
Here's Why Quartz Countertops Are the Best Choice to Busy Families
10 Reasons Why We Love Quartz Countertops
Have You Considered Quartz Countertops for Your Kitchen Remodel
What Is It About Quartz Countertops That Has People Talking