Can You Put Luxury Vinyl Planks On Stairs?
March 03, 2021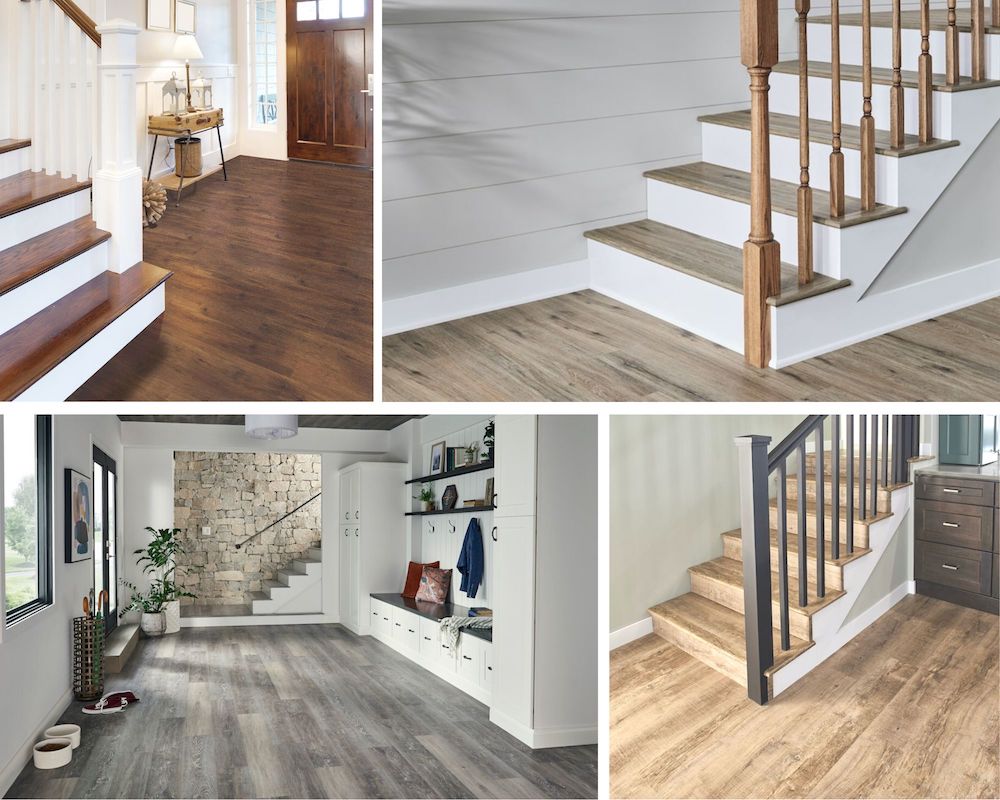 If you're like many homeowners who are selecting luxury vinyl planks for its affordability, remarkable durability, realistic wood looks, and easy installations, then you're probably pondering what to do about the staircase. Yes, LVP can be installed on stairs, and the outcome is a gorgeous-looking tile floor that is easier to clean than carpet and creates a cohesive design. Plus, it holds up well to the heavy traffic that stairs see.
Previously with LVP, though, stair installations required a lot of planning, measuring (more than once), cutting, and fitting to get the job done. Unfortunately, it didn't always look so sleek in the end. Luckily, there's an easier solution today with MSI's ready-to-install stair materials. From stair treads to stair noses, these finishing pieces are available in the Cyrus, Prescott, and XL Cyrus series. Read on to learn more about how you can achieve a professional-looking stair install.
LVP Stair Pieces
There are a few different stair pieces that can be used for a vinyl plank flooring install, and you don't want to make the mistake of using the wrong ones. Installing stair treads or stair noses are ideal since they give a finishing look and flush feel to the stairs, unlike planks with trim pieces that pair cut vinyl tiles with raised edges that look not only bad but also feel bad on the balls of your feet and toes as you walk down the steps.
Stair treads cover the entire top layer of each step, so there aren't any joints or gaps left on the stairs. These solid pieces save time during the installation process and eliminate the need for stair noses. These shorter pieces are used to finish the end of a step, such as at the top of a landing or level where the stair nose will meet with the rest of the floating-click or glue-down LVP.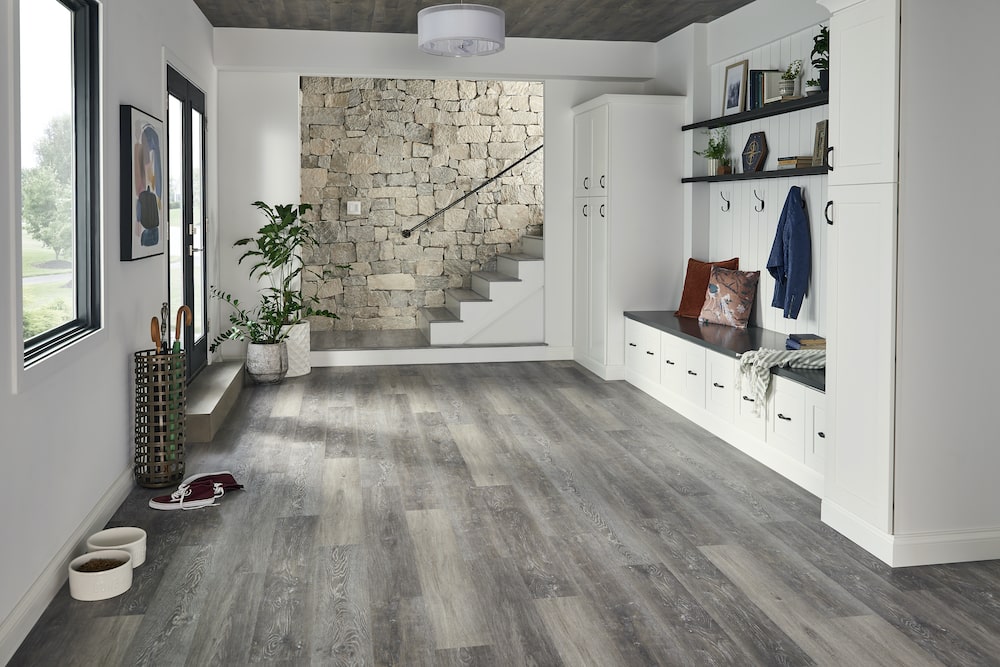 Finely Luxury Vinyl Planks
As you can see in this stunning mudroom, the open staircase without spindles and one railing along the stone wall adds to the spaciousness of the room all while showcasing how smooth the Finely Luxury Vinyl Planks stair noses are. Luckily, the subtle gray and greige tones from the Cyrus series come in coordinating stair and trim pieces, which may otherwise be difficult to match.
LVP Risers vs. White Risers
One of the next design decisions is to stick with LVP risers or to contrast your wood with white risers instead. Both are suitable for different interior styles, so it's really a personal preference for something that continues the wood look or breaks it up.
For instance, you can see in this staircase installation, the homeowners chose to continue the weathered Ryder luxury vinyl planks along the risers for a solid wood look. The warm beige and brown tones along with dark knots and graining strengthen its authentic reclaimed wood characteristics and create a flowing, sleek design. Since Ryder from the Cyrus series doesn't include stair treads, stair noses and planks were used for the install.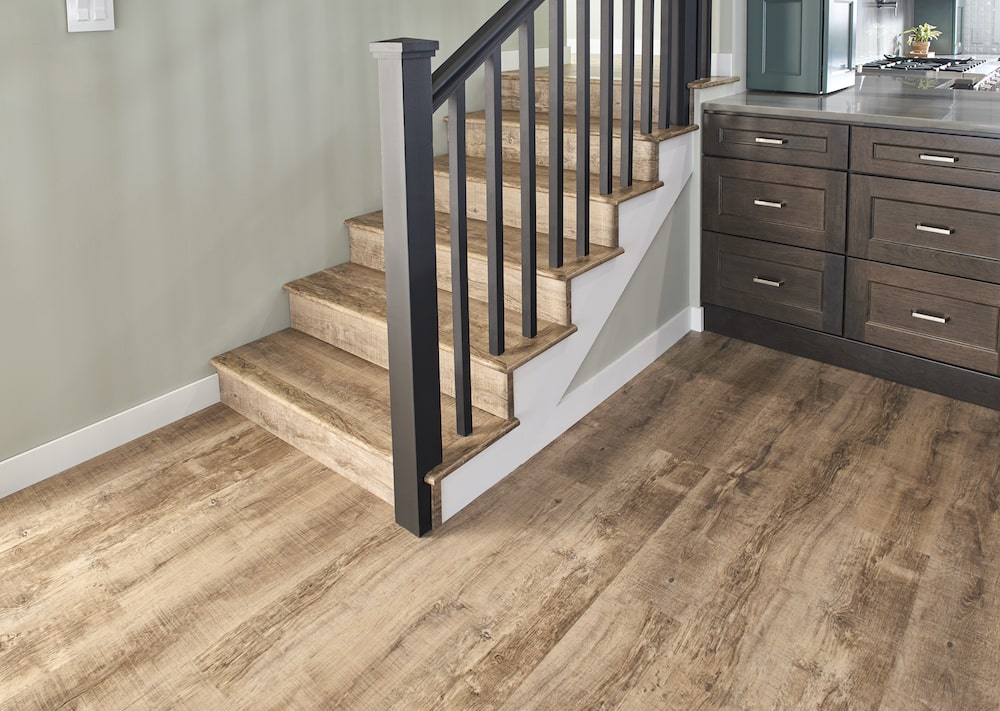 Ryder Luxury Vinyl Planks
However, in this foyer, the stark contrast between the deep browns and the bright whites continue onto the staircase with the addition of the Braly stair treads. These luxury vinyl planks from the Prescott series feature rich reddish-brown tones with darker knots and graining for character-rich hardwood-like floors that are beautifully highlighted by white risers.
Installing LVP on Stairs
One of the greatest luxury vinyl flooring benefits is the easy installation method, even for DIYers. First, check to see if the bulging bullnose on the stairs need to be cut or if the bullnose fits underneath the stair treads or stair noses. Once that's done, you'll want to begin at the bottom of the stairs if you have matching risers and work towards the top; if no matching risers are being installed, then you can install the stair treads anywhere you want.
Start out by using either a riser or a plank, and ensure that it's the correct height. If you choose to go with an LVP riser, then cut the vinyl piece to size and cut off the click-locking system. Flip the riser or plank over, and give it a quick sanding before adding glue to the backside in strips approximately 6 inches apart. Press the riser into place, and add painter's tape to help hold it in place.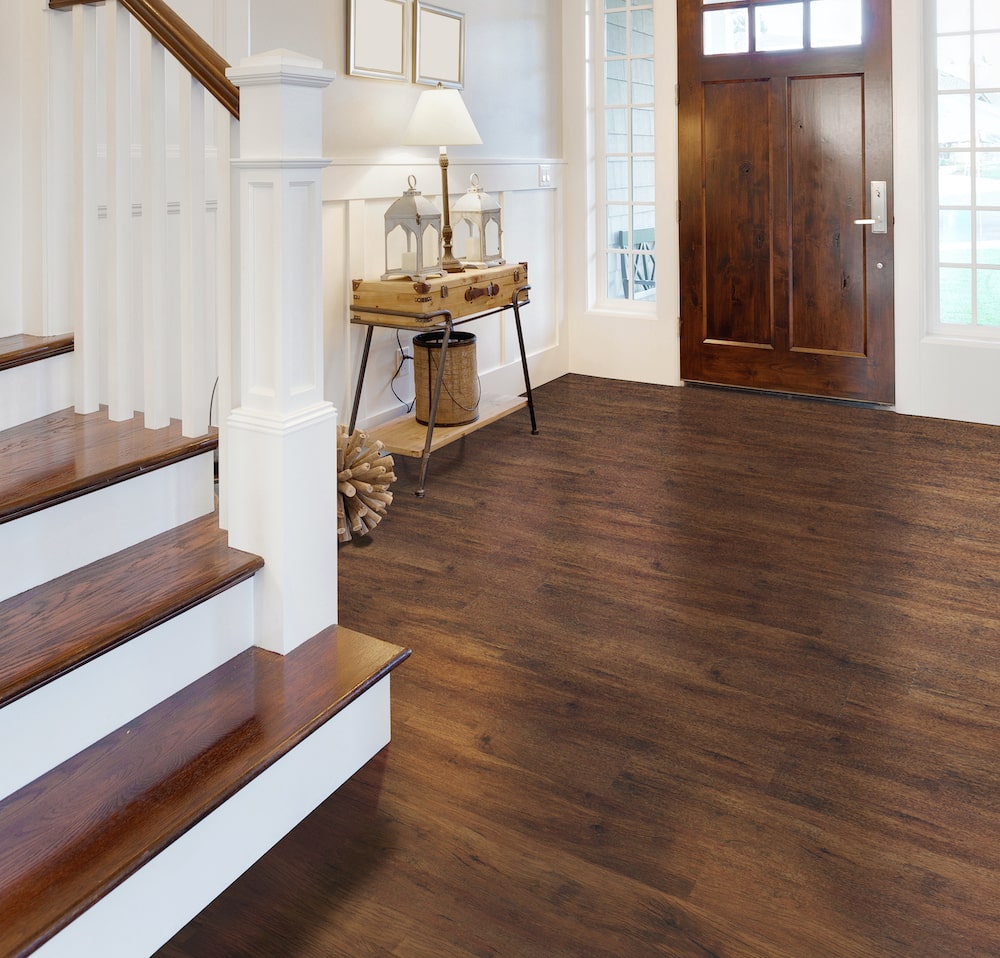 Braly Luxury Vinyl Planks
Next, measure the tread of the stairs to check if the stair tread needs to be cut for depth or length. Give it a quick sanding, remove the painter's tape on the riser, add glue to the stairs in strips approximately 6 inches apart, and press the stair tread down and in place.
For the remaining risers, check the measurements for the height to see what cuts need to be made. Remember that these will be sitting on top of the stair treads, unlike the first one. You want your pieces to be as flush as possible. Then, continue installing the risers and treads, as mentioned.
When it comes to a landing or the top of the stairs, remember to use a flush stair nose instead of a stair tread. That's because this shorter piece will be glued into place where it will connect with the rest of the luxury vinyl flooring.
For stairs with returns, take a stair nose and miter the edge at a 45-degree angle for one or both sides. Then, miter another piece that will fit flush with the first stair nose. Cut the floating-click mechanism off on the planks and noses. Next, glue down the plank and the mitered noses so everything sits flush.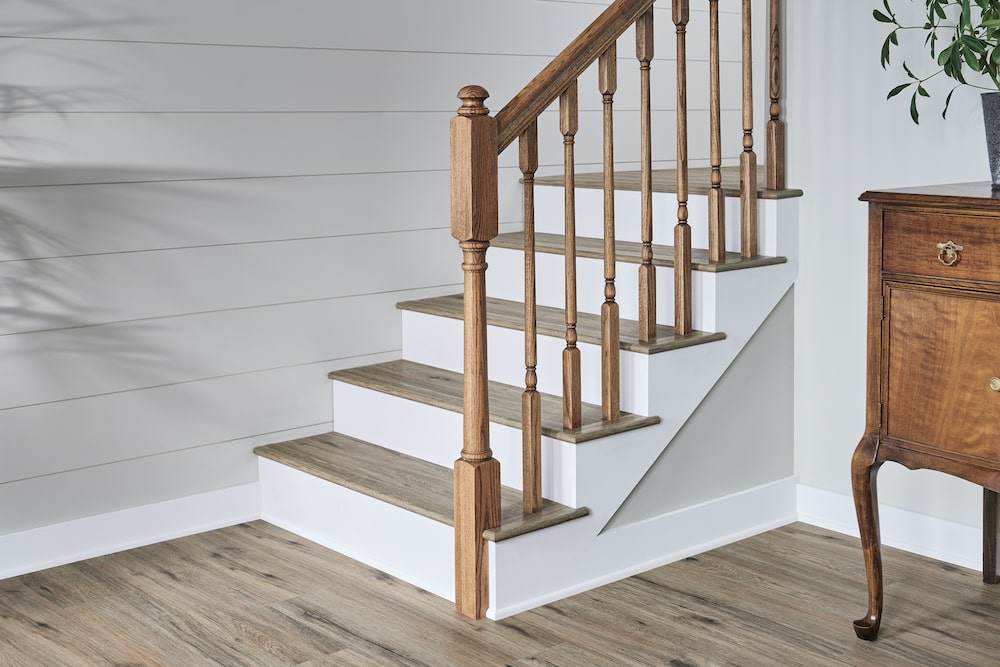 Fauna Luxury Vinyl Planks
As you can see, this stair install features a finished return edge, but the angles aren't at a 45-degree angle. Instead, they complete the open edge of the staircase where the warmer-toned spindles beautifully stand out against the Fauna Luxury Vinyl Planks, a lighter-brown vinyl with dark brown knots and graining for an authentic wood look from MSI's Prescott series.
One of the best things about using luxury vinyl planks is that you can use it in any room or level, including the stairs. Extending LVP flooring up the stairway will help to freshen up your landing and keep the planks matching throughout the house. Besides its simple vinyl flooring care and maintenance is its easy installation process, and having the right finishing parts greatly impact the project and give it a professionally polished look. Using MSI's LVP stair pieces will make the vinyl flooring installation process much easier and smoother.
More On Vinyl Flooring
Achieve No-Fuss Natural Looking Stone Floors with Luxury Vinyl Tile
Laminate vs. Vinyl Flooring: What Is the Difference?
Considering Installing Luxury Vinyl Flooring? Read This First!
Is Luxury Vinyl Tile a Good Investment?
A DIY project in the making, there's no easier way to replace laminate, tile flooring, or carpet than installing luxury vinyl flooring. From prep work and step-by-step instructions to tips, tools, and materials, follow these Vinyl Flooring Installation instructions for everything you need to know to achieve professional results. You could get started today and be done in just a few days – and with professional, polished results. If that sounds attractive to you, read Luxury Vinyl installation best practices for optimal results.
What's not to love about low-maintenance vinyl flooring? As lovely as they are, they won't clean themselves. To keep your Luxury Vinyl Tiles and Planks looking their best through the years, follow these handy Luxury Vinyl care and maintenance tips.
For more detailed information on vinyl flooring, including installation costs for Luxury Vinyl Flooring, visit our website for our entire collection.
Are you ready to get your DIY project started? Chat with us online, visit an MSI showroom, or an MSI authorized dealer near you.