Laminate Vs.Vinyl Flooring: What Is The Difference?
March 08, 2021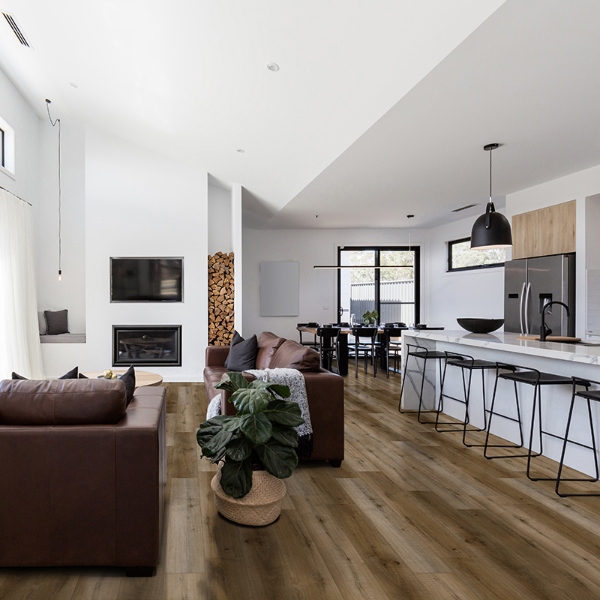 Two of the most deliberated flooring options are laminate and vinyl flooring. That's because they both offer the realistic look of real wood at a price point that's more affordable than the real deal. While these materials do share some similarities, they also include key differences, the most important one having to do with water. Use this guide to help you learn more about why laminate or vinyl is right for your next project.
The Core Difference
Laminate flooring is a man-made product with a core construction consisting of wood byproducts mixed with resins. Its four layers include a protective wear layer, a wood design printed layer, a high-density fiberboard or medium-density fiberboard base layer, and a strong rigid backing layer. Laminate features a click-lock system for easy floating installation and doesn't need any glue.
Luxury vinyl tile is also a man-made product with a core construction made up of multi-layer polyvinyl chloride (PVC) vinyl. Its four layers include a protective top wear layer, a fabulously designed print layer, a solid vinyl core base layer, and a comfortable backing layer. Other waterproof products include WPC vinyl, which is wood plastic and polymer composite, and SPC, which is stone powder, PVC, and a stabilizer. Both tiles and vinyl plank flooring can come in the click-lock system, where the rigid tiles or planks click together and float over the subfloor, or glue-down vinyl, where the more flexible tiles or planks are glued down to the subfloor and typically don't include an attached backing.
The Appearance Difference
Laminate is touted as the first wood-look alternative that made its debut back in the 1970s, and it's available in a wide range of colors, patterns, and styles thanks to technological advancements. For some homeowners, the wood-core product is more realistic in its appearance with better imagery or embossing, and they often choose laminate in areas of the home that are highly visible, such as living rooms, dining rooms, and entryways.
Vinyl is on a completely different level than mom's old sheet vinyl, as it's ironically often mistaken for laminate. Luxury vinyl tiles and planks realistically mimic the look and feel of stone, wood, and other materials with a wide range of colors and styles to choose from. The vinyl-core product also offers authentic print designs and embossing, but because of vinyl's thicker core, the impressions can be even more profound than that of laminate. While certain room installations may be more popular than others, vinyl can be installed in every single room and level.
The Water-Resistance Difference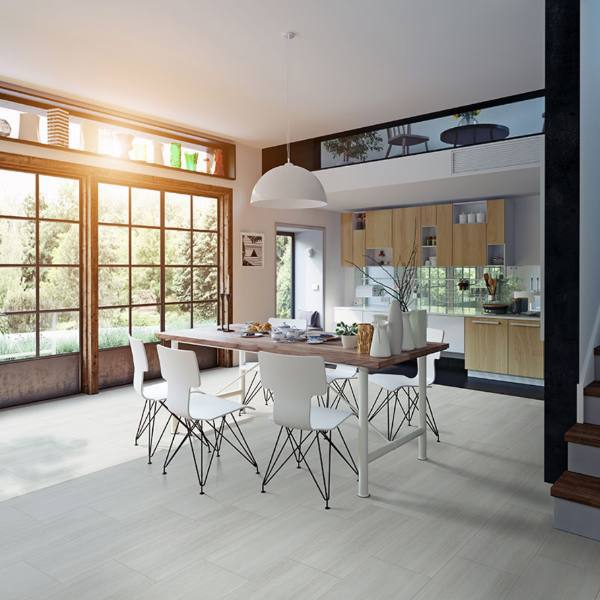 Since laminate features a wood fiber core, it can become damaged by water pretty easily, thus, requiring an expensive, unexpected replacement. While some products include water-resistant properties, they are not waterproof, so any water sitting on them for an extended amount of time will cause serious water damage. Laminate should not be installed in wet areas like bathrooms, basements, laundry rooms, and possibly kitchens.
On the other hand, one of the most important luxury vinyl tile benefits is not only its water-resistance but also waterproofness. Since vinyl flooring is essentially all plastic, it offers superior resistance against moisture, and even if water sits on top of the floors for an extended amount of time, it won't get damaged, unlike laminate. It's perfect for both wet and dry areas throughout the house, and if you have messy kids or pets that make messes, too, then vinyl will save you in the long-run. Many products like MSI's Everlife are 100% waterproof, and you can learn more about our durable line by checking out this video below.
The Care Difference
It's best to care for laminate with dry methods only. That's because you want to avoid any water sitting on top of your tile floors. Sweeping or dry mopping is best, and since the floors can be scratched, it's important to get rid of debris on the daily. If you must, you could cautiously damp mop your floors every two or three months using a well wrung-out mop for a deeper clean. There's no need for special products, and do be sure to clean up any spills immediately!
Luxury vinyl tiles or planks can be cleaned with dry or wet methods. Sweeping, vacuuming or mopping will get rid of the dirt and debris that could scratch your floors. No special products are needed but check with your manufacturer to ensure a film isn't left on the wear layer. Although it's 100% waterproof, get in the habit of wiping up spills as quickly as possible.
The Durability Difference
Both products are durable flooring surfaces, but laminate isn't as tough as vinyl. Unfortunately, it only lasts 10 years or less before needing to be replaced. However, the cost for laminate is cheaper, so if you're in need of long-term flooring, calculate the differences and start saving for a later installation.
Vinyl, on the other hand, can last up to 20 years before requiring a replacement thanks to its water-resistance, high-traffic area performance, and overall durability. But, LVT and LVP are more expensive, so you'll need a larger initial investment to reap the long-term benefits of your vinyl flooring installation.
The Environmental Difference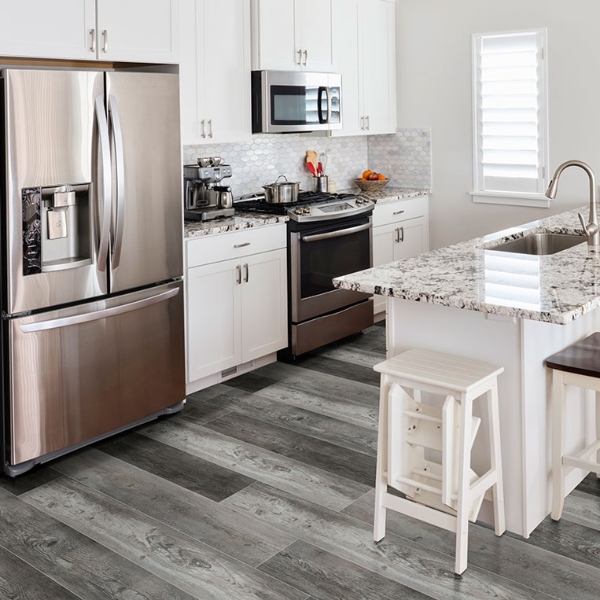 Each flooring type has its own environmental impact, so check with manufacturers about certain certifications prior to purchasing. Laminate's high-density wood core may include recycled resources from natural elements, and the product itself may also be recyclable, which could contribute to LEED points. While they comply with formaldehyde emissions regulations, laminate floors could off gas for up to 10 years.
Luxury vinyl flooring is easily recyclable since it's mostly made up of vinyl, a material that can easily be transformed into new products. LVT typically doesn't affect indoor air quality and can even qualify for LEED points for low-emitting material or come with a GreenGuard certification. With glue-down materials, a vinyl floor adhesive is required and could contribute to VOCs in the air for a time.
The Right Flooring Choice
Luxury vinyl will last longer and can be installed anywhere because of its waterproof properties, while laminate may be better suited for tighter budgets and those wanting even more realistic wood looks. Both flooring options are beautiful and tough, so it really comes down to application and longevity. Still unsure? Click here to read more about laminate vs. luxury vinyl.
More On Vinyl Tile
Can You Put Luxury Vinyl Tile on Stairs?
Achieve No-Fuss Natural Looking Stone Floors with Luxury Vinyl Tile
Considering Installing Luxury Vinyl Flooring? Read This First!
Is Luxury Vinyl Tile a Good Investment?