Improve Any Room With These Easy Porcelain Floor Tile Patterns
May 28, 2021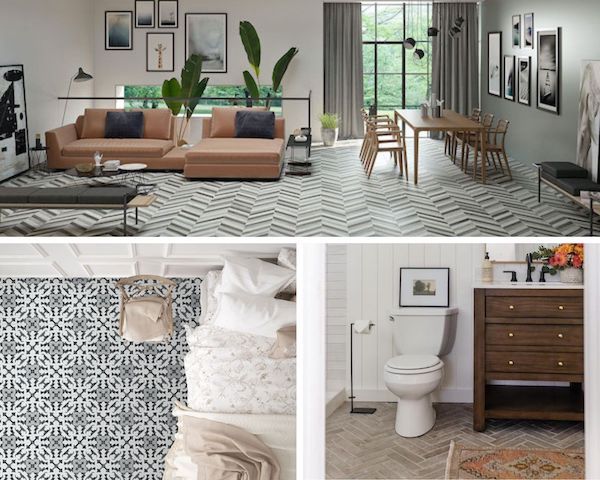 Designing your home is a tedious job. From selecting paint colors and kitchen hardware to lighting fixtures and appliances, there's a lot that goes into making a house a home. Selecting the perfect flooring option isn't any easier with so many patterns and materials on the market. But when you're looking for durable and easy to maintain flooring options, there's only one option to consider — porcelain floor tile.
Porcelain tile comes in a variety of shapes, textures, patterns, and colors, making it easy for you to find the exact tile that you've been dreaming about. From traditional wood-look planks to modern tile, you'll be able to find the ideal porcelain tile pattern for any room in your home. To help you narrow down the many choices and decide which tile option is right for your home's design aesthetic, we've compiled a list of our favorite porcelain floor tile patterns.
Taupe Porcelain Tile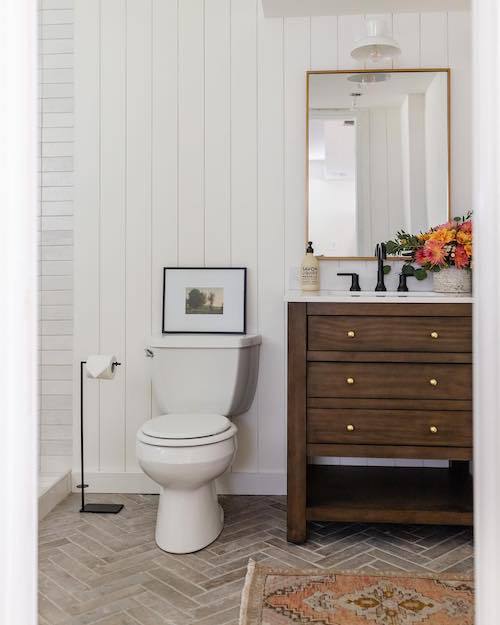 When you're looking to add character to an otherwise bland room, you may be considering spicing things up with some trendy flooring. Well, the wait is over because Taupe Porcelain Tile from the Brickstone collection is the perfect way to spice up your home's interior. Featuring soft gray and taupe brick look porcelain floor tile, you're going to shock your guests when they find out that this faux brick is actually porcelain tile. Its brick-like texture easily adds rustic elegance and charm in any application, from flooring in a kitchen, mudroom, entryway, or any room in your home. For an understated tile choice that elevates your home, look no further than Taupe Porcelain Tile.
Gris Platinum Porcelain Wood

Dare to be different with a flooring option that offers a bold pattern, adding interest and dimension to any room. Gris Platinum Porcelain Wood Tile from our Antoni Collection features a luxurious herringbone pattern that is both trendy and timeless — ensuring it will elevate your home for many years to come. With varying shades of light and dark grays, Gris Platinum Porcelain Wood tile offers a neutral-toned background and natural wood grain that blends beautifully into any space no matter the home decor. Whether you plan to make this the focal point of your kitchen or incorporate throughout your entire home, you won't be disappointed in this luxurious porcelain wood tile selection that looks like a hardwood floor.
Vintage Lace Wood Look Tile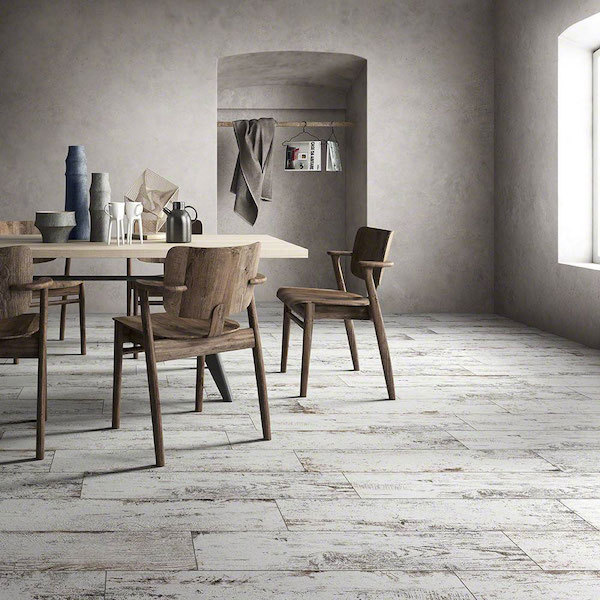 If your dream home has a rustic charm to it, Vintage Lace wood-look tiles can help transform your vision into a reality. Bring your farmhouse kitchen to life with these porcelain tiles that look like hardwood floors but without the price tag or the headache of maintaining them! Instead, you get durable and low maintenance flooring that resembles wood. Featuring reclaimed wood-like planks coated with light whites, you're going to leave your guests questioning whether they're on a midwest farm or in your beautiful kitchen! Whether you're opting for dark contrasting kitchen cabinets or a pop or color, Vintage Lace porcelain tile flooring is sure to elevate the room.
Oxide Iron Porcelain Tile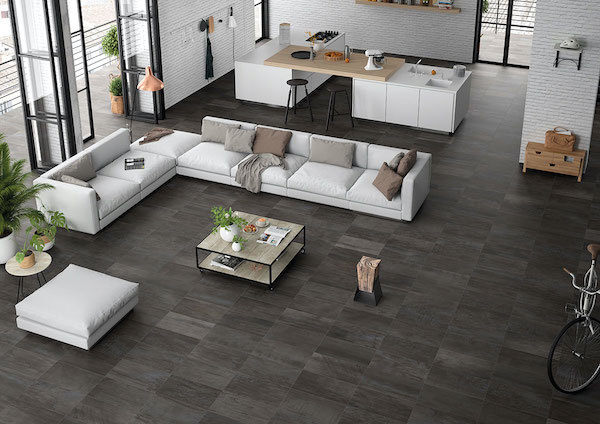 When renovating your kitchen, you want to make a statement with all your design choices. For the perfect porcelain tile that will leave your guests oohing and ahhing, take a look at Oxide Iron porcelain tile. With an intriguing mix of grey and cocoa brown hues and a gorgeous matte metallic-look finish, this porcelain tile option adds dimension and interest to any space. From kitchens to mud rooms to basements, you can't go wrong with this versatile option because of its impressive durability. Imagine this paired with a rustic kitchen aesthetic with dark wood countertops, or maybe you're going to modify it into a kitchen with a traditional aesthetic. No matter your design preferences, you can't go wrong with Oxide Iron's oxidized look and warm colors.
Havenwood Saddle Chevron Mosaic Porcelain Tile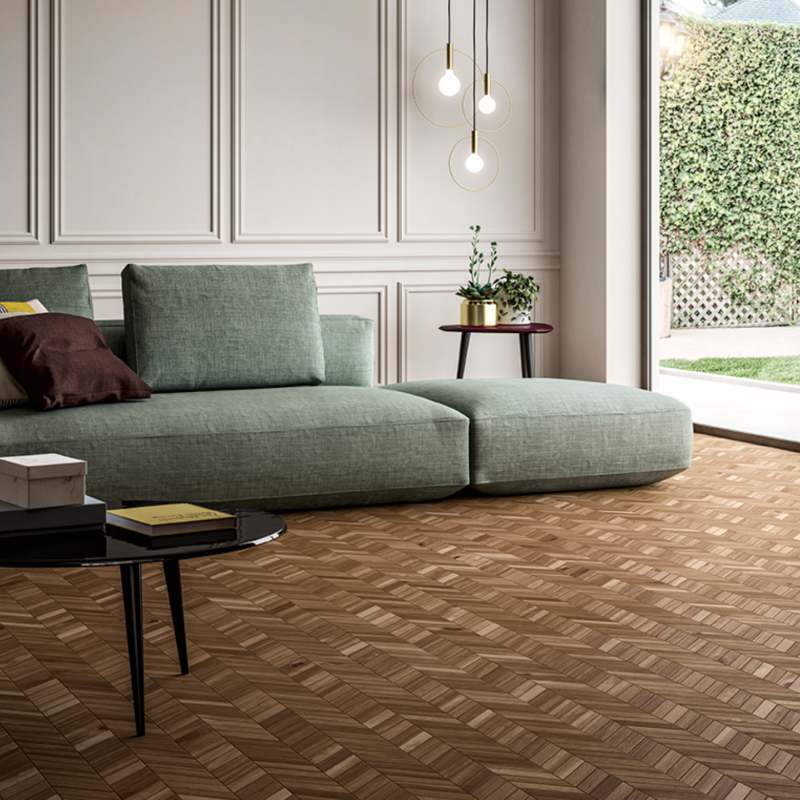 Chevron is one of those patterns that will never go out of style. Instead of opting for standard plank flooring or traditional subway-style tiles, consider Havenwood Saddle Chevron mosaic porcelain tile laid in a beautiful contemporary pattern. Boasting an elegant combination of warm brown and amber tones, these Italian porcelain tiles seamlessly blend into any home interior — looking especially beautiful in a room that receives a lot of natural light. Easy to clean, durable, and low maintenance, you can rest easy knowing you not only installed aesthetically pleasing tile, but tile that will last for many years to come. If you're looking to add an interesting visual element, you don't want to miss Havenwood Saddle Chevron mosaic porcelain tile. It is sure to brighten any room, including kitchens, entryways, mudrooms, bedrooms, and more.
Brina Porcelain Tile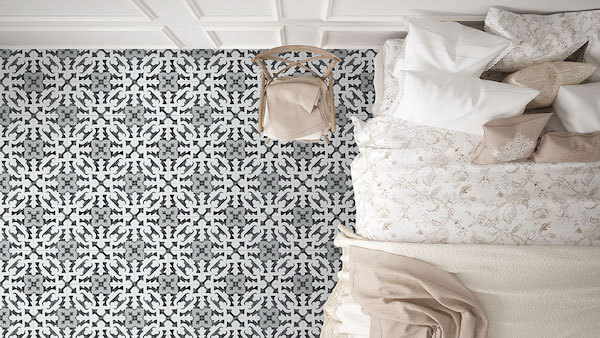 Why fit in when you were born to stand out? When you want to add some pizzazz to your space, don't hold back! Brina Porcelain Tile from our Kenzzi Porcelain Tile Collection displays an eclectic black, white, and gray pattern that can make any room feel luxurious. Its intricate design is hand painted on each individual tile, creating a one-of-a-kind design that isn't fashioned to align seamlessly. Available in a matte finish, it's the perfect tile to complement a room with any aesthetic. Whether you want to use Brina porcelain tile as flooring, countertops, or an accent wall, you won't be disappointed in your kitchen tile selection.
Have a favorite from the list above? Need help visualizing these porcelain tile flooring options in your home? MSI's flooring visualizer makes it easy to see exactly what the porcelain floor tile pattern will look like in your home. Learn more about our flooring visualizer:
To learn more about our wide selection of porcelain floor tile patterns, contact MSI Surfaces today. We can help you determine the most effective and affordable way to bring your vision to life — starting with your home's floors!
READ MORE ABOUT THE BENEFITS OF PORCELAIN TILE
Find Porcelain Tile Inspirations with Our Backsplash Tile Guide
Get Vertical with Trendy Porcelain Wall Tile
How to Clean Porcelain Floor Tiles