Visualize Granite Countertops And More With Our Multi-Surface Visualizer Tool
December 27, 2021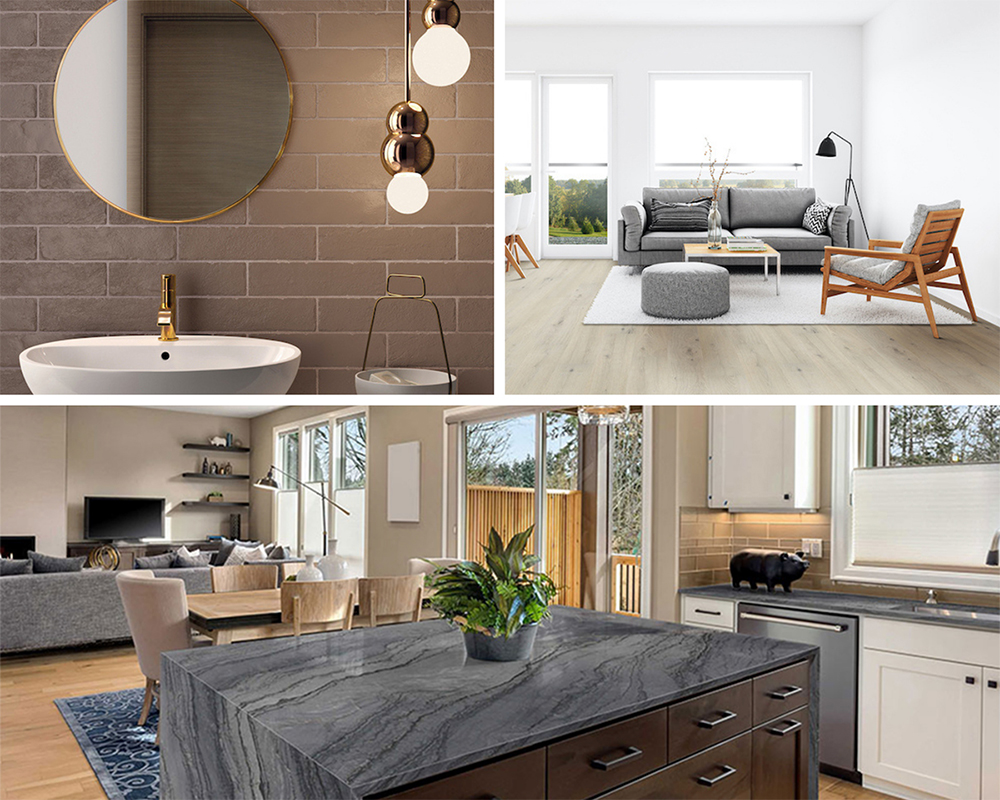 It can be tough to picture how your new granite countertops will look alongside your new flooring and wall color once you've actually got them in your home. What if there were an easy way to visualize it all together simply by using your PC, smartphone, or mobile device?
With MSI's Multi-Surface Visualizer tool, now you can.
There are three easy steps to using our visualizer tool:
1. Snap and upload a photo of your room or outdoor space.
2. Select the product of your choice.
3. See our products in your room in seconds.
Here's how it works, and some tips!
Take a Photo of Your Space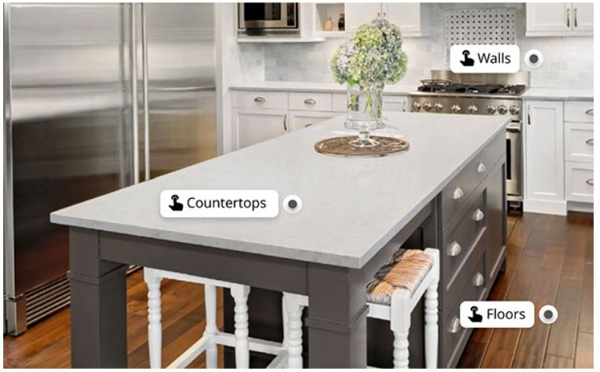 Even the best interior designers need to take photos of the room where they are working so they can properly compare combinations of decorative elements.
Whether you are remodeling your outdoor space or any interior room, simply snap a picture of the room as it currently is. Try to make sure the room is well-lit, and use an angle that shows as much as possible of the surfaces you plan to change. For example, if you will be replacing your kitchen countertops, you may want to stand on a stepladder (or ask a tall person for help) so your picture will be looking down at the countertop surface.
If you will be replacing the flooring, then it makes sense to choose an open area so you'll see a lot of floor space. The same idea goes for the walls where you plan to install one of MSI's products, such as a kitchen backsplash. While choosing the area, of course, you'll want to include all three surfaces. After all, you want to see how they will look together!
When you've taken the perfect photo, upload it to MSI's visualizer. It's easy — just click or tap on the "Upload My Room" button and choose your photo file. MSI will do the rest! You can do this for a second room as well, so you can try another area in your home or see a room from a different angle. Simply click on "Change Room" and you can upload another photo.
Select Your Products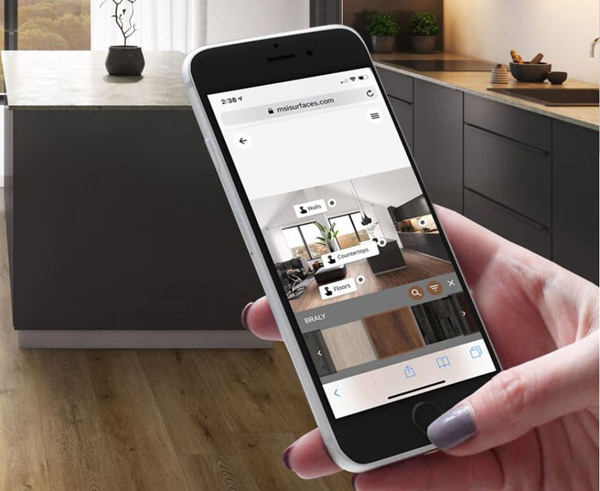 MSI's Multi-Surface Visualizer includes three surfaces to choose from: flooring, walls, and countertops.
If you choose to see flooring products, click "Countertops" and you will be shown a selection of countertops. From there you can narrow it down by choosing the type of material you want, such as quartz vs. granite, porcelain, soapstone, or marble. Choose as many as you like or leave all boxes unchecked to include them all. You can also choose what color scheme you have in mind — and there's an MSI countertop product for every color preference.
If you want to compare flooring products, click "Flooring." You can choose what look you are going for, such as brick, quartzite, or marble. Keep in mind that this is not the same thing as "material types," because MSI has items in a variety of materials that resemble other natural stone. As with the countertops, you can also choose one or more colors that you prefer.
The "Walls" option can help you choose the perfect MSI product for your backsplash or accent wall. You can choose wall tile with a 3D look, glass, metallic, and more. Material types are another available filter, as well as color.
You can play with all of these options as much as you like, until you've created the perfect combination!
Find Out More About the Products
When you've found a surface product that interests you, use the menu on the right and click "Go To Product Page." We encourage you to find out more about the surface products you like, such as the description, the sizes in which it's available, thickness, and other details. You can also view a professionally photographed room scene using the product. Then, order a sample of our premium surfaces.
Other Visualizers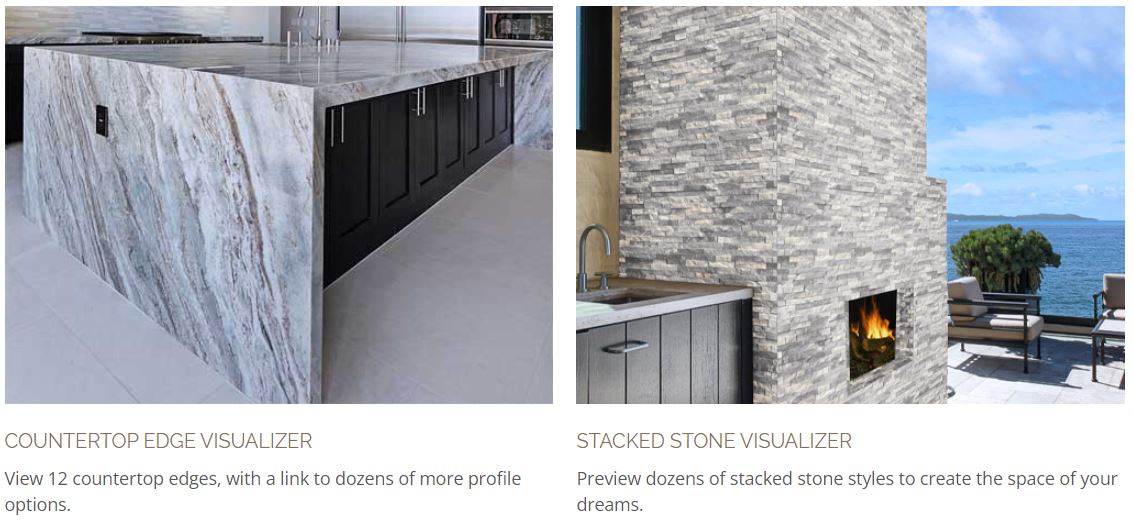 MSI's Multi-Surface Visualizer tool is the only one that lets you upload a photo of your own room. However, there are other visualizer tools you can use, which may also help you in the selection process. These include:
• Kitchen Visualizer: Create endless combinations of countertop material, backsplashes, cabinet colors, and flooring within one of four kitchen room scenes.
• Bathroom Visualizer: Compare combinations of backsplash tile, wall tile, and floor tile within one photo of a roomy, designer bathroom.
• Countertop Edge Visualizer: You can customize your bathroom or kitchen countertop with a variety of edge treatments. See how 13 of our most popular countertop edges look when paired with either a white or beige countertop.
• Stacked Stone Visualizer: Choose one of three indoor and outdoor stacked stone applications and see dozens of stacked stone options within that scene. Find out how each type of ledger panel looks when installed on a large surface.
Need more inspiration? We offer several other features on our website that can give you some ideas for your own creation. These include a Lookbook featuring the hottest home trends, our Product Blog, and more. Try our Countertop Quiz or Flooring Quiz to find your surface soulmates. Are you classic and traditional? Dramatic and bold? Family-oriented? Find out which products you'll fall in love with.
At MSI, we want to make the process of choosing the surfaces for your next remodeling project not only easy, but also fun! We also want to make sure that the countertop, wall tile, flooring tile, or other surface product is exactly what you want so you will enjoy it for decades into the future.
LEARN MORE ABOUT GRANITE COUNTERTOPS
Find the Perfect Granite Countertop with MSI's Kitchen Design Tool
Add Sophistication to Your Kitchen with New Gray Granite Countertops
Understanding Granite Countertops and How to Choose the Best One