Wood Look Tile Is The Eco-Friendly Alternative
February 20, 2019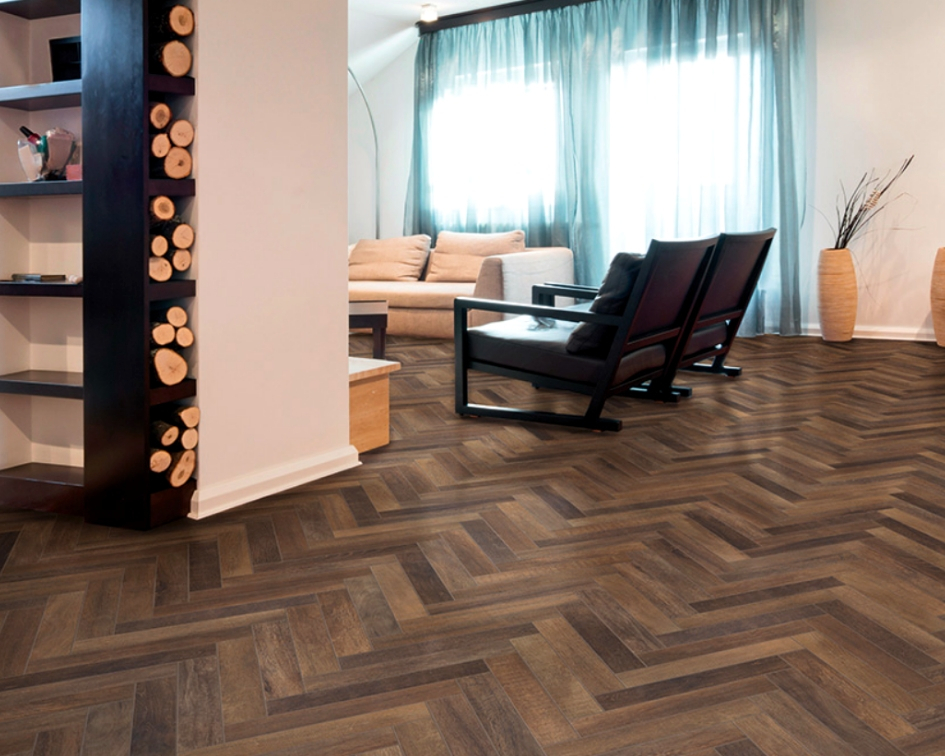 If being "green," eco-friendly, and living sustainably are important to you, wood-look tile is a great choice for any room in the house. It's unmatched for value, is extremely durable, and is available in an incredible variety of wood-grain looks. But, you may wonder, why not just install a real wood floor in the first place?
The first thing that comes to mind when considering natural wood floors is deforestation. It's well known that we are losing our natural resources at an alarming rate; we've all heard about how important it is to save the rainforests. After all, the increasing levels of carbon dioxide, which contributes to global warming, can be helped by maintaining and increasing the planet's tree population.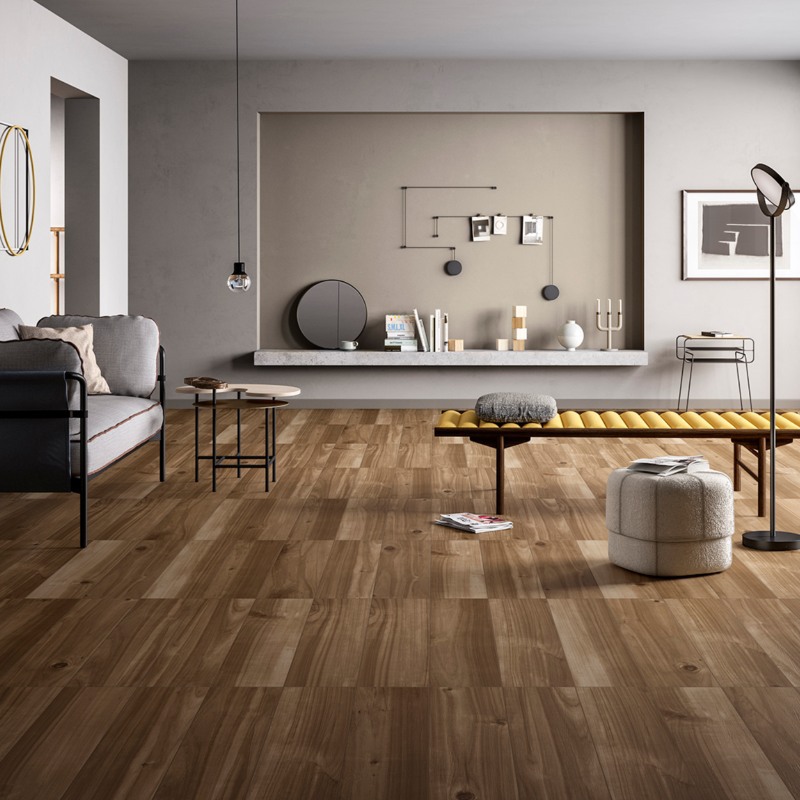 Featured: Saddle Havenwood
However, a quick search online produces a lot of conflicting information about the eco-friendliness of hardwood flooring. It turns out that wood is a sustainable resource after all. Today's lumber suppliers are focused on responsibly managing forests, planting new trees to make up for the number they harvest. As for that CO2, rapidly growing young trees absorb more than older trees.
There's a lot more to eco-friendliness than deforestation, though. We also need to consider manufacturing processes, durability, recyclability, and other factors, some of which are only apparent in the long term, such as several years after installation.
Manufacturing Wood vs Wood-Look Flooring
If manufacturing hardwood floors were simply a matter of cutting down a tree and sawing it into planks, it would be the winner for sure. The process is more complicated than that, though, and uses even more resources. For example:
Shipping: Fossil fuels are used by the power equipment used to sort and stack the lumber, as well as trucks that may transport it from thousands of miles away.
Drying: Lumber may be air dried, but it is commonly seasoned in a kiln before it can be sawn into planks. This uses fossil fuels, such as gas and coal, both directly and for producing electricity.
Sawing and Shaping: Yet more electricity is needed to run the saws and machinery that forms the wood into ready-to-install hardwood planks.
Each of these processes uses non-renewable energy sources and adds harmful emissions to the environment. Not very "green," after all, is it?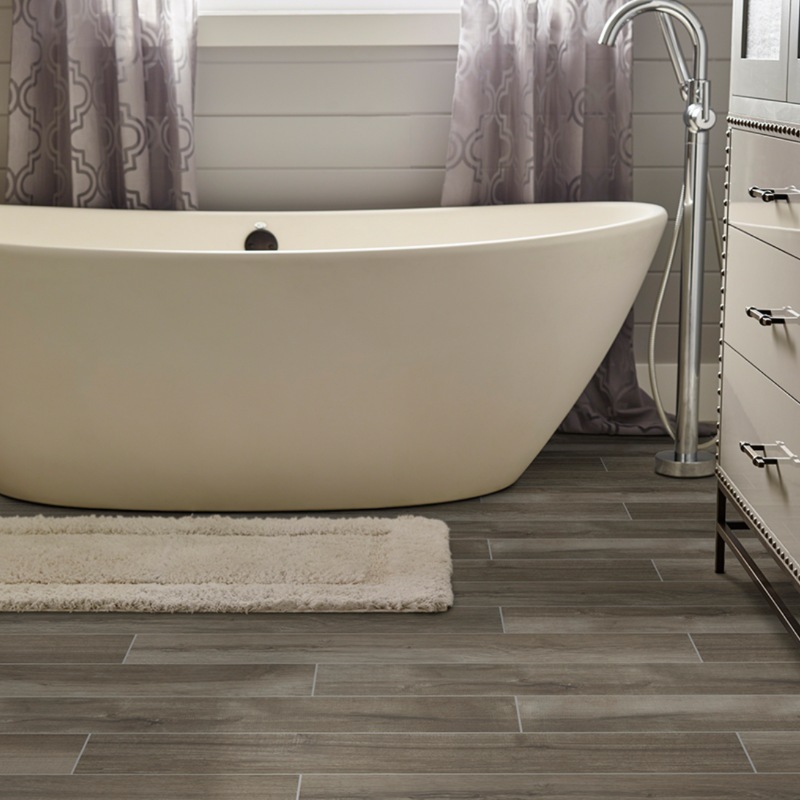 Featured: Smoke Palmetto

In contrast, here's a simplified overview of how tile that looks like wood is made.
Source material: Ceramic tile is made from clay. Modern tile is also crafted from pulverized rock and even recycled glass.
Manufacturing: Porcelain wood tile is shaped in a factory, a glaze is applied, and then it is fired in a kiln.
Shipping: Tile may be sourced from all over the world, but there are plenty of ceramic and porcelain tile manufacturers located within the U.S., maybe even in your home state. Local production means less fuel consumption and fewer emissions from transporting the flooring.
Maintenance
Along with manufacturing, it's important to consider everyday maintenance of your flooring material in terms of environmental concerns. For example, hardwood flooring must be sealed to protect it from wear and tear as well as water, moisture, mildew, and stains. The most common way to accomplish this is with a polyurethane floor finish — and one whiff of this polish is all you need to figure out one of its major drawbacks, namely VOC emissions, also called "off-gassing." Volatile Organic Compounds (VOCs) have been shown to cause several health problems such as headaches, eye and throat irritation, damage to internal organs, and even cancer.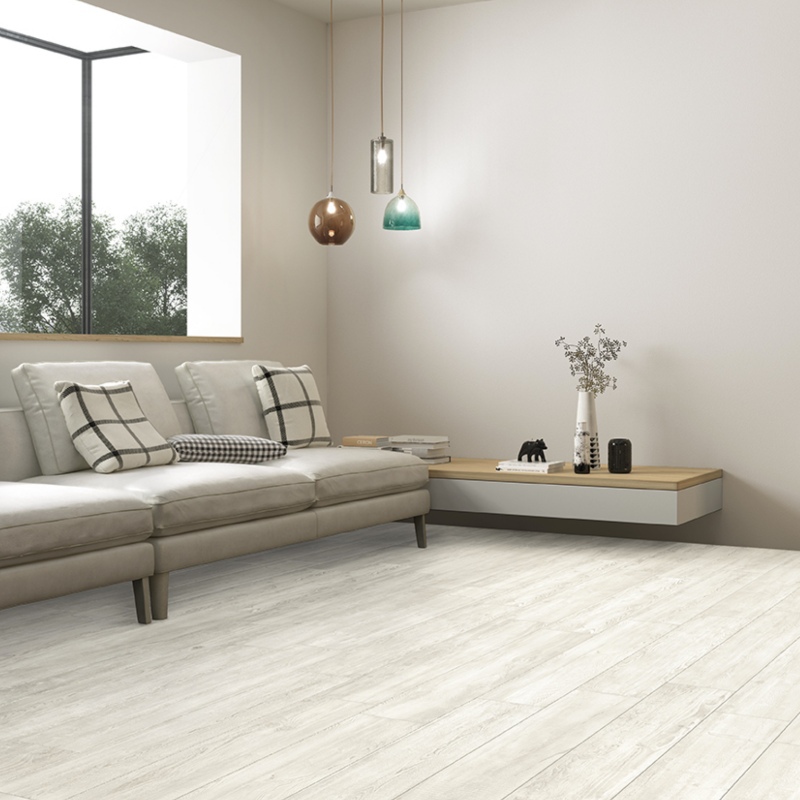 Featured: Blanca Caldera
You'll need proper ventilation during and after application, especially for the first few days when emissions are strongest. Finishes made from natural oils and waxes are available, and while their VOC emissions are lower, they still do exist.
Also, hardwood floors tend to lose their shine after a couple of years, especially in high-traffic areas. Restoration means refinishing, a time-consuming process that involves even more smelly polyurethane polish. Wood tile, on the other hand, does not require sealing, except for the grout — and nontoxic, zero-VOC grout sealers are widely available.
Durability
Durability is important when choosing a flooring material, whether you're concerned about eco-friendliness or just your bank account. While it's true that hardwood floors can last a lifetime, keeping them attractive requires a lot of labor and care. In areas that are exposed to water, either regularly or by accident (such as spills or pet accidents), wood can warp or even rot. Wood tile can also last a lifetime if properly installed and maintained. It's impervious to moisture — virtually waterproof — so it belongs in every room of the house.
With wood-look tile, you can have the luxurious look of hardwood even in bathrooms, spa rooms, mud rooms, and kitchens without worrying about water, mud, or stains. While it's true that tile can chip or crack, replacing it is a simple matter if you've kept a few extra tiles on hand after installation.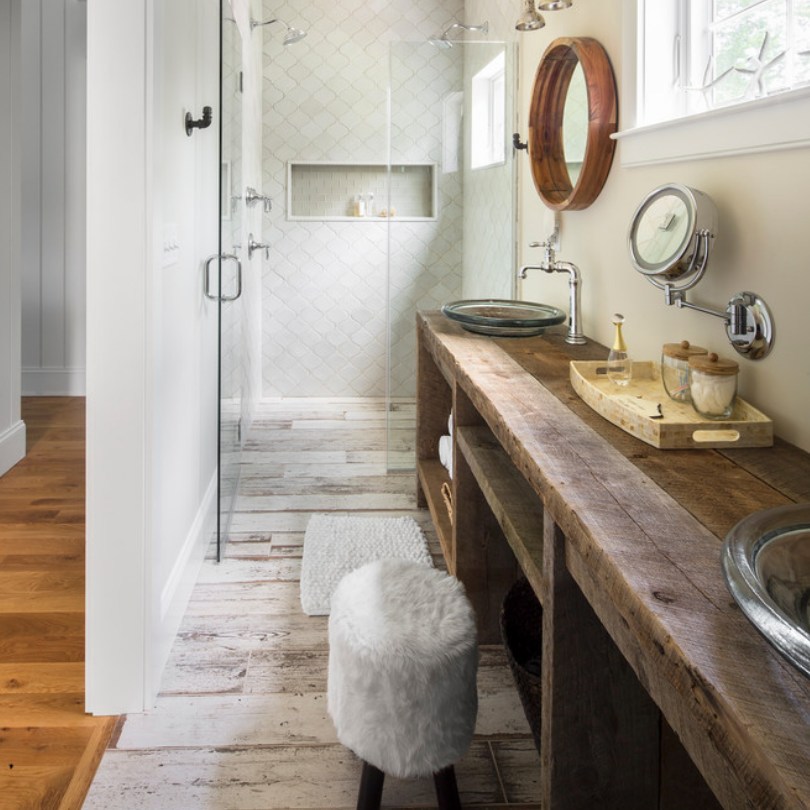 Recreate this look with MSI's Lace Vintage (Photo Credit: Houzz)
Recyclability
It seems strange to choose a flooring material based on what will happen to it at the end of its useful life. Every type of flooring will eventually wear out and need to be replaced, though, so which is better, tile or wood?
Hardwood Floor: If you're crafty, you can use some of it in projects around the house such as creating accent walls, décor, or even furniture. You can burn it in an outside fire pit (not indoors, as it has been treated with harmful chemicals). You can donate it to a company that manufactures wood pellets for stoves.
Tile: Again, crafty folks can use old porcelain floor tile pieces for a variety of projects such as garden stones or mosaics. They can also be pulverized and used for paving driveways and roads. It's important to note, however, that many ceramic tiles are made with stone dust from manufacturing debris as well as post-consumer glass, so it's "green" from its very beginning.
Conclusion
Today's homeowners are choosing wood tile over natural wood flooring for many reasons, such as its benefit to allergy sufferers, ease of cleaning, water resistance, and value. Another important reason is its benefit to the environment — to the planet, and also to the interior of our homes. For the very best "green" choice from beginning to end, wood-look tile offers all the benefits of natural wood with none of the drawbacks and looks beautiful too.
READ MORE ABOUT WOOD LOOK TILE:
Country River Collection: Naturally Elegant Wood Look Porcelain Tile
Signature Wood Look Luxury Vinyl Flooring Without the Worry
Genuine Wood Looks In Luxury Vinyl Tile