Introducing The Lumaluxe Q Quartz Countertop Collection From MSI
October 28, 2021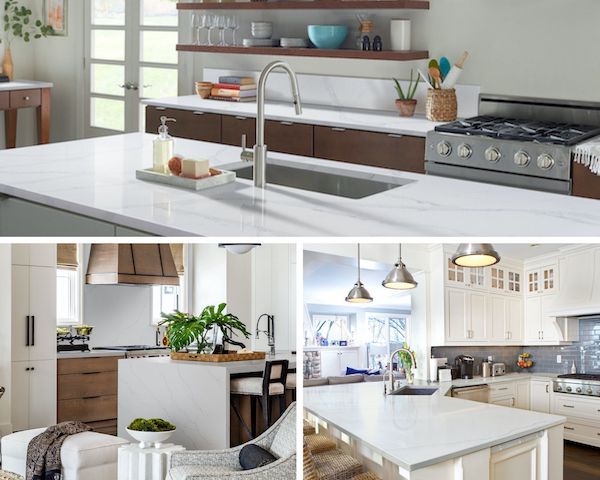 If you haven't fallen in love with MSI's quartz countertops yet, now is the time. The Lumaluxe Q Quartz countertop collection has taken an exceptional product to the next level, featuring a bright, dimensional look that's more realistic than ever.
Homeowners and interior designers love modern quartz countertops for so many reasons. Although natural stones such as granite, marble, and quartzite continue to be popular, quartz offers several distinct advantages over those countertop materials. Here's some information about quartz countertops in general and what makes the new Lumaluxe collection special.
What Is a Quartz Countertop?
Quartz is a natural mineral, yet quartz countertops are manufactured rather than quarried in large slabs. They originated in the late 1980s, engineered by Breton S.p.A., a company located in Italy. Bretonstone still supplies the machinery that manufactures quartz countertops, but it does not produce the slabs itself.
The basic mixture designed by Bretonstone has been improved upon over the years, culminating in MSI's brand-new, exclusive formulation. The basic quartz-countertop recipe includes about 90% natural quartz, which is ground into fine pieces. Pigments, glass, and other minerals are added to create the desired color and pattern, and it's all bound together by a polymer resin. The mixture goes into a mold to create a large rectangular slab, which is compressed under high pressure to fuse all of the elements together.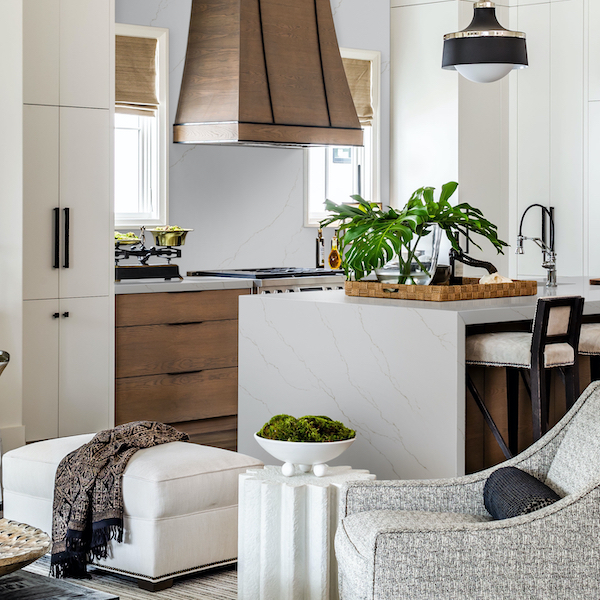 After the slab is compressed, it's cured under high heat and pressure. These processes remove every bit of air from the mixture, so the resulting slab is completely nonporous and extremely durable. The slabs are then finished to create the desired surface texture — a shiny, high-polished finish or the matte texture that some homeowners prefer.
Next, the fabricator cuts the slab to the exact size to fit the installation area, adds edge treatments, and cuts openings for sink basins and other fixtures. The result is a gorgeous countertop that is extremely hard, stain-resistant, nonporous, and easy to care for.
Lumaluxe Q Quartz countertops from MSI are designed to authentically replicate the gorgeous looks of natural marble. So, why would a homeowner choose engineered quartz over the real thing?
For one, there's the maintenance issue. Real marble needs regular sealing and special natural-stone cleansers when extra scrubbing is required. Homeowners with marble counters must guard against etching by acidic liquids and staining. Also, since marble is not as hard as granite or quartz countertops, it's prone to scratching from everyday use. Some homeowners have grown to appreciate the "lived-in" look of marble that's seen a few years of family cooking, but if you prefer kitchen countertops that stay just as beautiful as the day they were installed, choose quartz.
Besides, when you compare LumaLuxe quartz vs. granite or marble, you won't miss the real thing at all. Representing a true breakthrough in quartz engineering, MSI's new Lumaluxe collection offers several unique features:
Superior Whiteness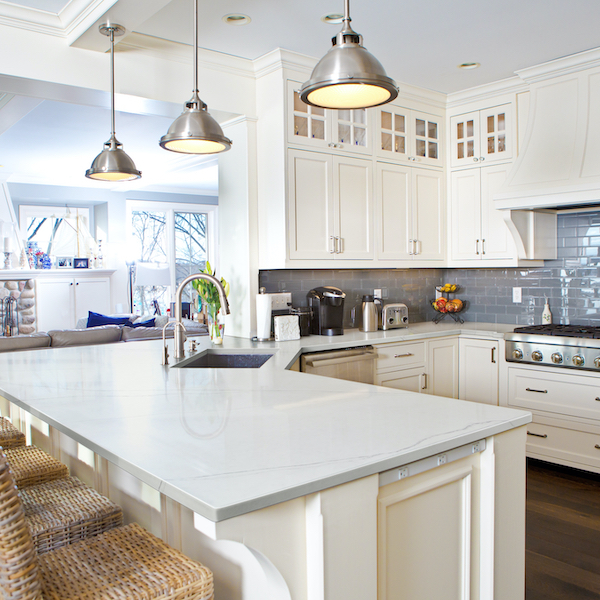 If you love the pure, white look of natural marble, you'll love the purer, brighter white of Lumaluxe. Its new formulation enhances the realism and depth of all quartz colors — and, best of all, it'll stay that way for decades. Calacatta Trevi, for example, offers a cool white with subtle gray veining, with all the opulence of fine Italian marble. Miraggio Gold presents a warmer shade of white with pale brown veining.
Dramatic Veining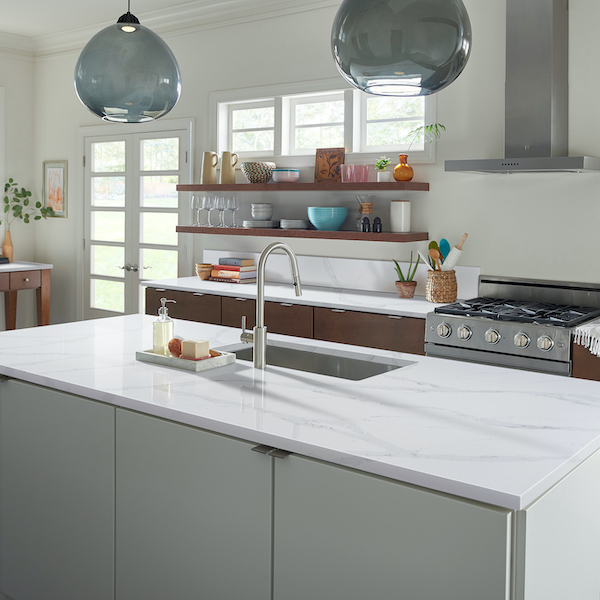 Just as there are many types of marble with varying patterns of veining, Lumaluxe offers several patterns as well. The veins run through the entire slab, and the result is incredibly realistic, even across custom edge treatments. Calacatta Azai is a good example of this, as a cool white marble look with dramatic gray veins.
Increased Depth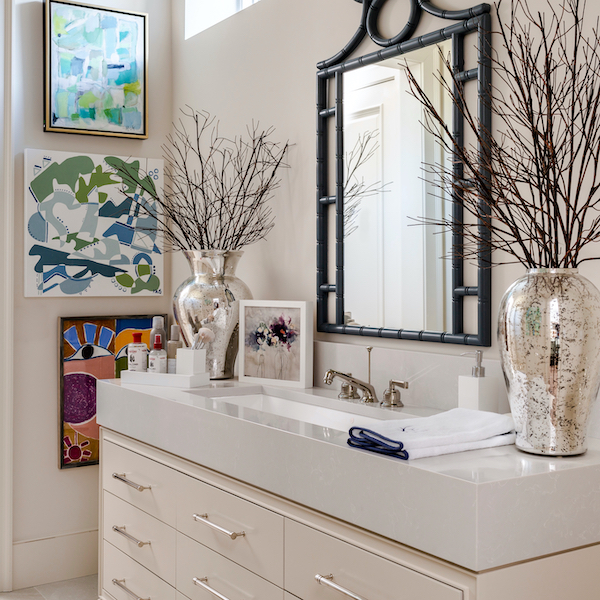 Many natural stone slabs, such as marble and granite, feature a sense of depth beneath the top surface. It catches and reflects the light, and Lumaluxe replicates this by featuring a slight transparency that offers that sense of dimension. With Vena Carbona, for example, the light penetrates the dove-gray top surface, allowing the subtle white veining to appear not just on the top but also beneath.
Despite its enhancements, LumaLuxe Q Quartz is just as long-lasting, durable, and easy to care for as MSI's other quartz countertop collections. All you need to keep it clean is a soft sponge with warm water or a diluted gentle cleanser, such as dish soap. LumaLuxe and all quartz countertops never need to be sealed to remain nonporous and stain-resistant.
Also, our new LumaLuxe countertops feature the same warranty as our other quartz countertops — a limited lifetime warranty for residential use and a 10-year warranty for commercial installations. All of MSI's quartz counters are Greenguard and NSF certified, so you can feel confident about their safety within your home. They are also certified as Kosher due to their ability to be cleaned thoroughly to the highest standards of hygiene.
Quartz countertops are becoming more popular every day, both for homeowners and commercial buildings, because they offer so many advantages over the natural stones they resemble: durability, easy maintenance, and more. Now with MSI's LumaLuxe, you can enjoy all of those advantages with a countertop that's more realistic and gorgeous than ever. Be sure to browse MSI's web galleries to see all of the Q Premium Quartz colors and patterns we offer.
Learn More About New Quartz Options
Experience Our New Exclusive Lumaluxe Quartz Countertop Collection
Make A Bold Statement with New Q Premium Quartz Countertop Colors
8 New Quartz Countertop Colors That Wow!