The Right Time To Install A Porcelain Tile Floor During Renovations
June 06, 2018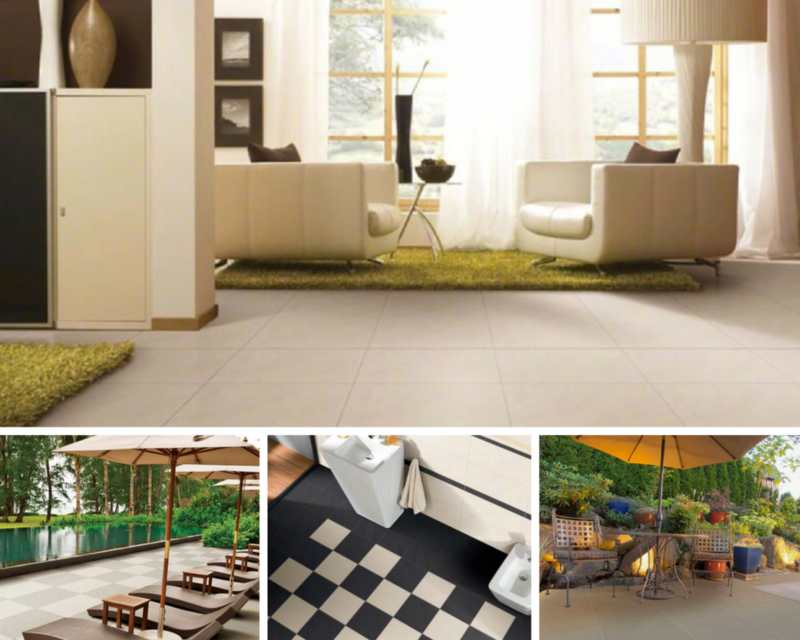 When you're remodeling or renovating your home, you have a lot of decisions to make. After you've chosen the elements of your new room design — flooring, cabinets, countertops, fixtures, etc. — yet one more important decision is the order in which to do things.
The correct timing of the flooring installation is vital. What needs to be done before you install porcelain tile?
Should you install the tile flooring before or after the cabinets are put in? Unfortunately, it's not always clear, and there are pros and cons of doing it each way.
Let's discuss some of these so you can decide once and for all, and get going on that gorgeous project!
Outdoor Porcelain Tile Installation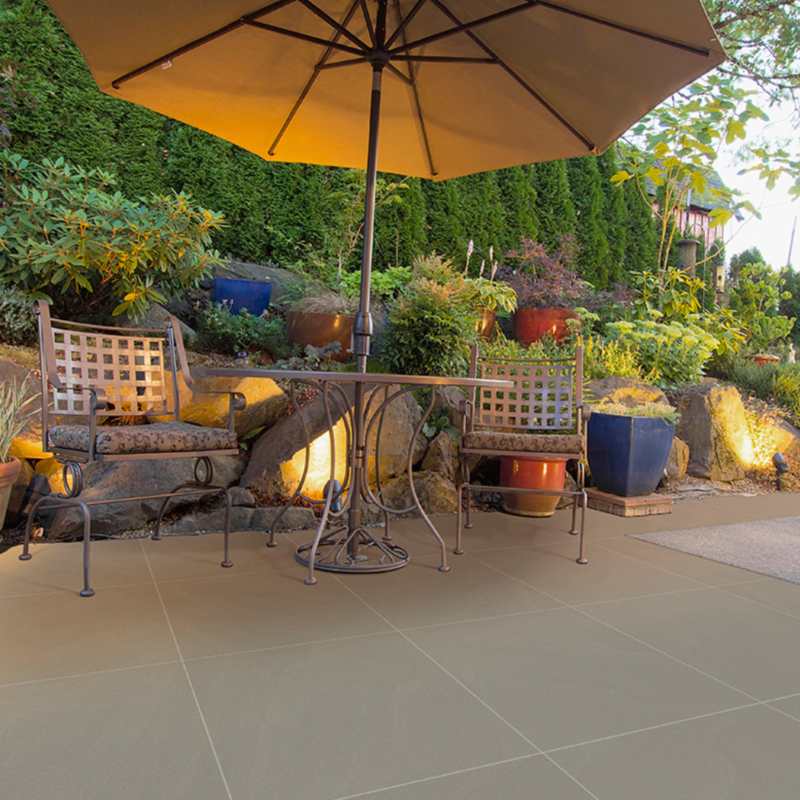 Featured: Optima Gray Porcelain
MSI's Optima porcelain collection includes several neutral shades that are durable enough for outdoor use and a great alternative to stone pavers.
Optima Gray Porcelain tile has a soft, light-gray coloration that blends in well with landscaping and natural stone hardscaping elements. It's available in the popular 12" x 24 size, which covers big areas quickly and efficiently. Smaller sizes are also available to help finish the design in your unique space.
In this image, Optima Olive Porcelain combined with Optima Cream Porcelain coordinate beautifully to create a contemporary checkerboard-pattern pool deck. You can easily create your own combo with all four colors in the collection. The matte glaze is slip-resistant, making these tiles an ideal choice for outdoor applications.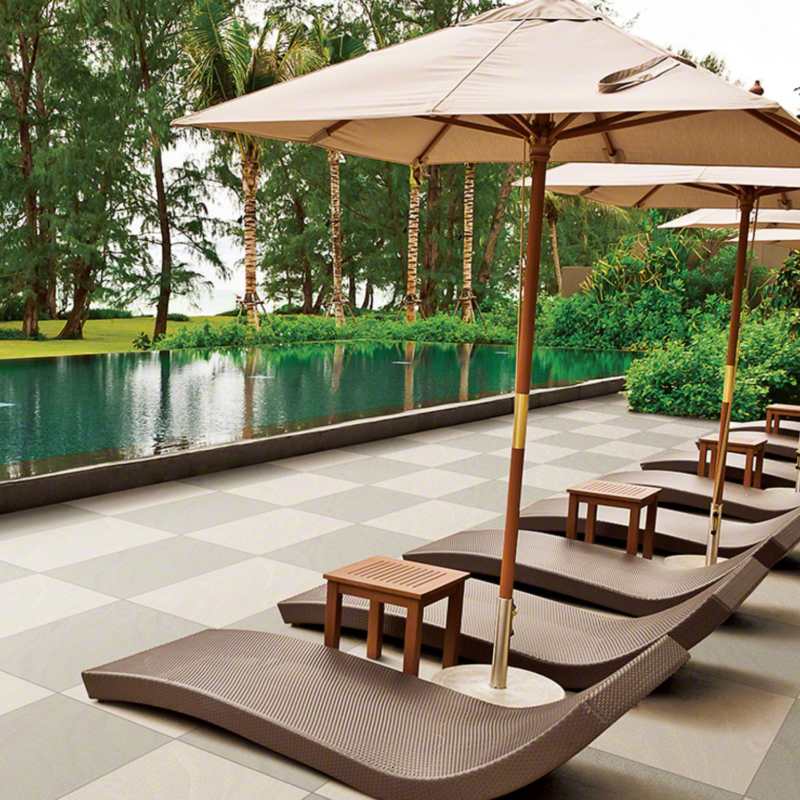 Featured: Optima Olive Porcelain
MSI recommends installing porcelain tile over a concrete base. If you already have one in place, make sure it is in good repair with no cracks and an even, level surface, and clear of debris. If you need to build one, schedule this about a month in advance so the concrete slab has time to cure.
If you're adding a built-in bar, counter, grill, hearth, or other permanent element, it should be completed before the tile is installed.
Indoor Installation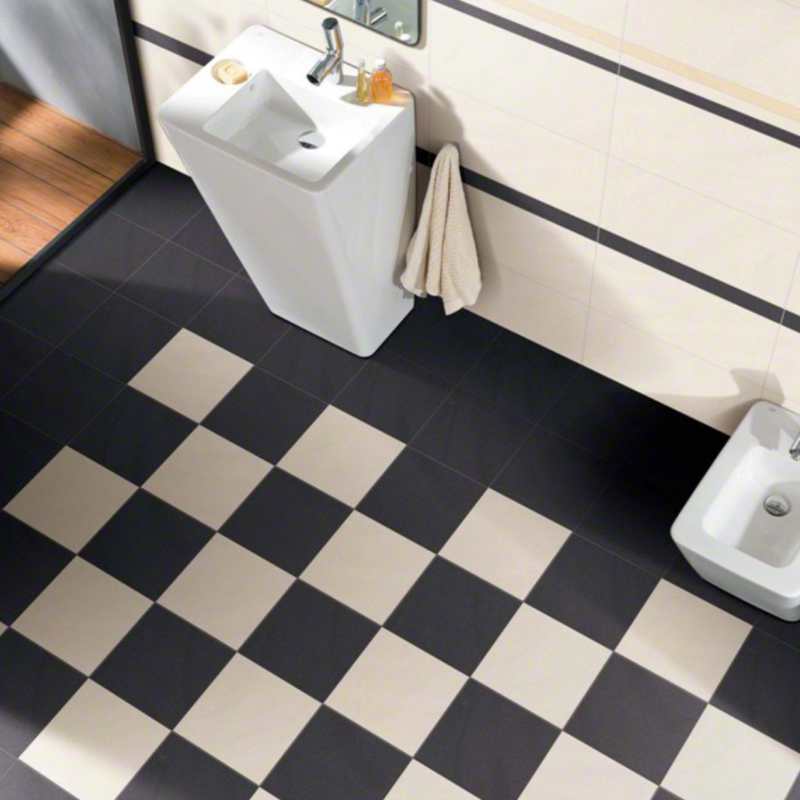 Recreate this look with MSI's Optima Graphite Porcelain (Photo Credit: Houzz)
Porcelain flooring is an excellent material for bathrooms, particularly MSI's Optima collection. Like all porcelain tile it is nonporous, so water splashes and spills will not affect it, it resists mold and mildew, and cleanup is a breeze. Shown here, Optima Graphite and Cream marble look porcelain offer a modern twist on the classic checkerboard tile pattern.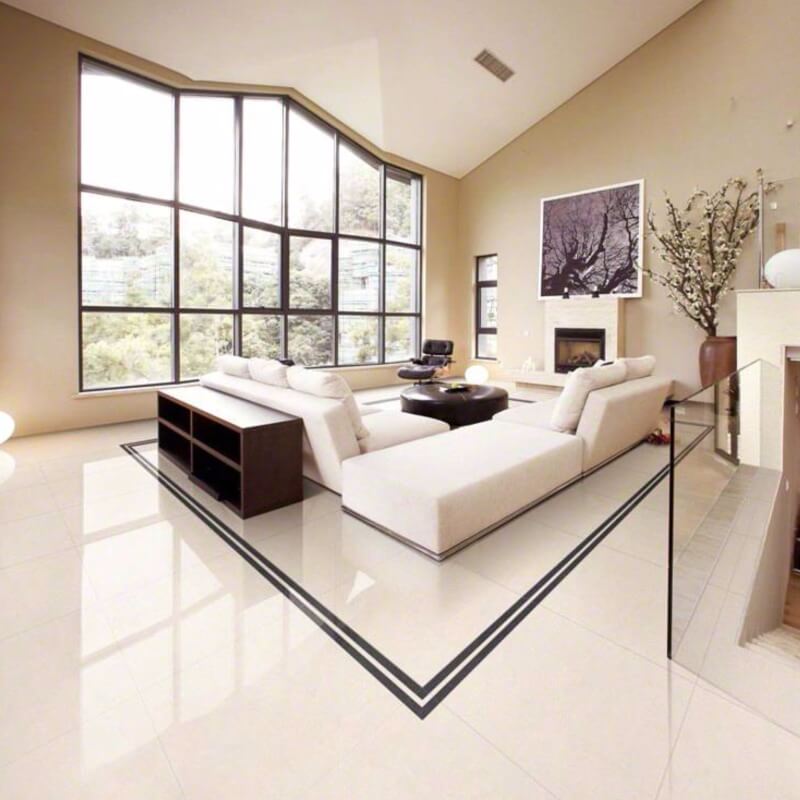 Featured: Optima Cream Porcelain
It's not just for kitchens and baths — Optima Cream with a matte finish creates an easy-care flooring surface that even stands up to heavy foot traffic. Choosing tile instead of carpet has many benefits, especially in a home with kids and furry pets. It's also available in a high-gloss polished finish to add a more elegant, contemporary look to the room.
With an indoor porcelain tile installation, there's a debate over whether it's better to install the flooring or the cabinetry and other fixtures first. The correct order for your bathroom renovation checklist or kitchen remodel planner depends upon many factors, and even personal preference.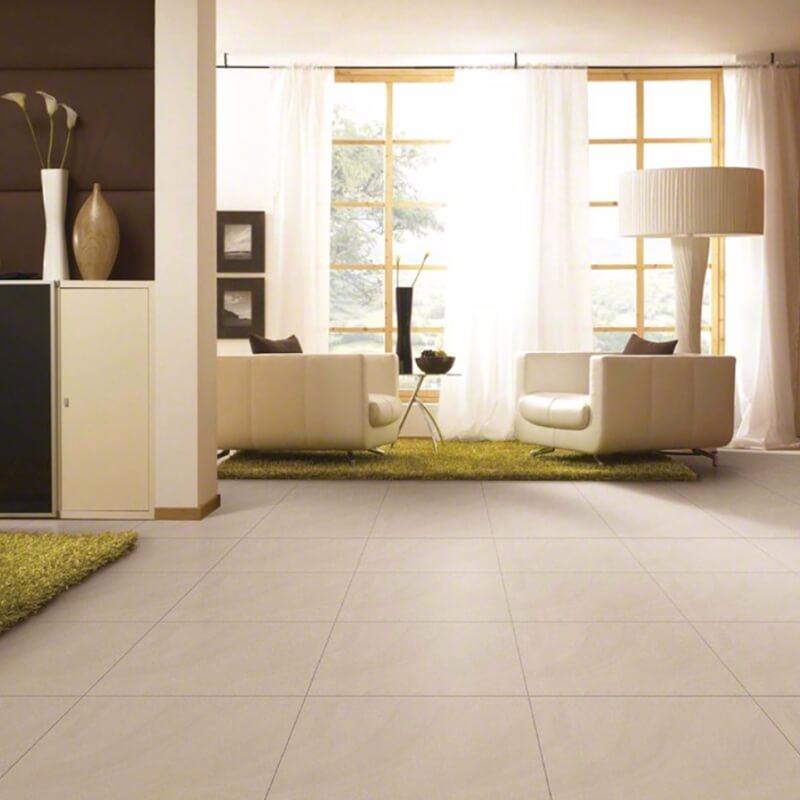 Featured: Optima Cream Porcelain
Regardless of which you choose, all demolition should be complete before installing anything new, with debris cleared away and all surfaces prepped. This is also a good time to paint the walls, so you won't need to worry about dripping paint on your new flooring or cabinetry.
Benefits of installing porcelain tile flooring first:
• You don't have to cut tiles to fit around cabinetry and fixtures.
• The height of your flooring won't affect the height of your cabinets.
• It creates a "clean" look, with no need for any trim pieces around cabinetry or fixtures.
• If you replace cabinets later, you don't need to use the same shape and size of cabinetry.
Benefits of installing cabinetry and other fixtures first:
• You use less flooring materials since you don't need to cover the floor beneath the cabinetry.
• You don't need to worry about scratching your new flooring while installing other elements.
• You can replace the flooring without moving the cabinetry or leaving old flooring beneath them.
MSI recommends installing all cabinetry and fixtures, such as the bathtub and shower, before laying tile.
Visit MSI's website to get a better look at our Optima collection as well as the other porcelain tiles we offer.
If you have any questions about choosing the perfect tile for your remodeling project or installation, feel free to contact us.
READ MORE ABOUT THE DIFFERENT TYPES OF PORCELAIN TILE
The Unexpected Benefits of Thin Porcelain Tile
Top Reasons to Choose Cement-Look Porcelain Tile Over Real Cement