Choosing The Best Grout For Backsplash Tile Installations
February 08, 2017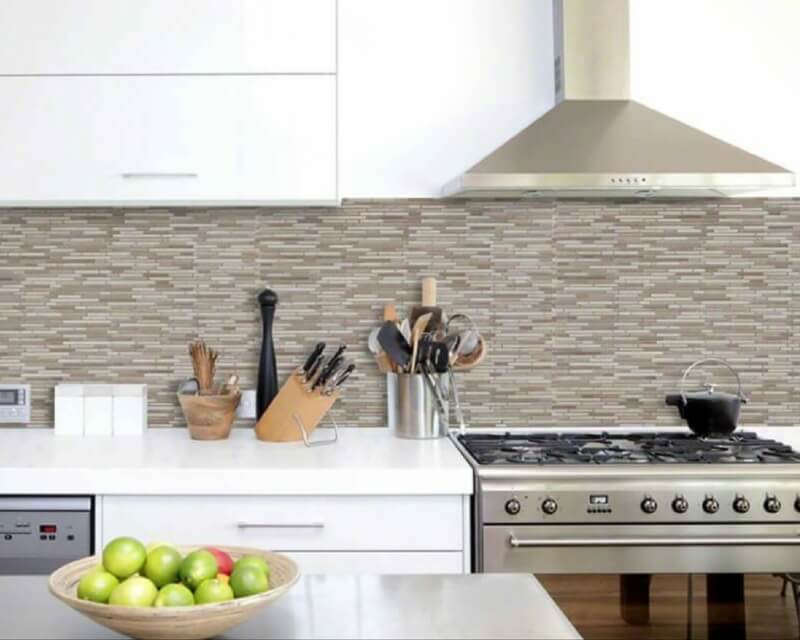 Don't start your mosaic wall tile installation without knowing the proper grout type for your project.
Installing mosaic wall tile is a great do-it-yourself project; smaller installations like backsplash tile can easily be completed in a weekend. When planning your project you've got a lot of decisions to make – choosing the tile, choosing to use matching or contrasting grout color. But you have one more decision, and it's one that is vital to your tile installation's success: sanded or unsanded grout?
Sanded grout is – you guessed it – grout that has fine sand added to the mixture. The sand makes the grout stronger, reinforcing its bond and helping it resist cracking over time. Another reason to choose sanded grout is color. If you are using grout that is colored to match or contrast with your tile, sanded grout usually offers a richer, truer color instead of drying to a lighter shade.
So why choose unsanded grout? If your tiles have joints of 1/8" or less between them, you will need unsanded grout. It's also the best choice if your tiles are soft stone, because the sand in the grout may scratch them. And finally, sanded grout has a grainy finish, which may not suit your preferences.
Here is a selection of MSI's mosaic tile, and our tips for which type of grout works best with each mosaic.
Saddle Canyon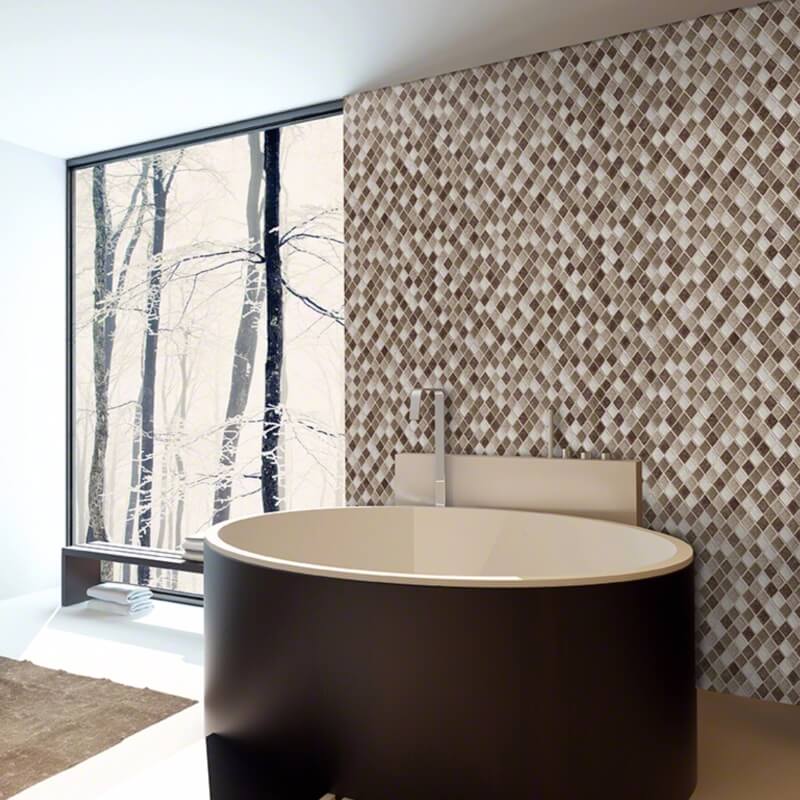 Featured: Saddle Canyon Rhomboid Glass Mosaic
The unusual rhomboid, or diamond, shaped tiles in this elegant Saddle Canyon Rhomboid Glass Mosaic feature shades of white, mottled black, and green. Crafted of crackled glass, with colors arranged in a random pattern, they catch the light in this contemporary bathroom with a 3-D shimmer. The installation of this glass mosaic tile would require unsanded grout for best results.
Arctic Ice 4x12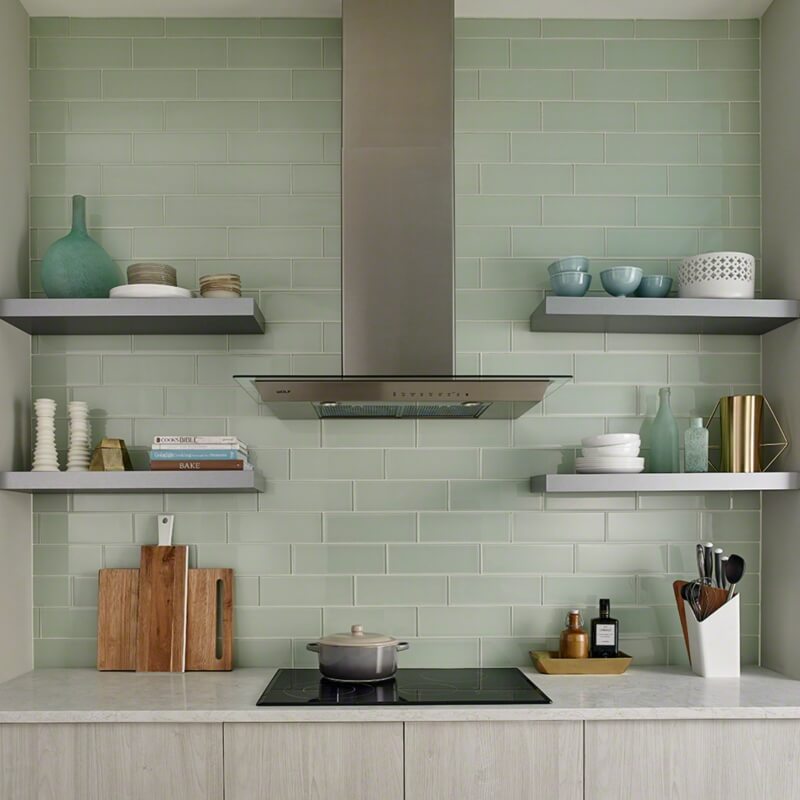 Featured: Arctic Ice 4x12 Glass Mosaic
Subway tile is always a popular, classic choice for wall coverings, and Arctic Ice 4" x 12" Glass Mosaic tiles are no exception. These crystalline glass tiles in frosty white offer a reflective surface, polished and clean, perfect for glass backsplash tile or accent walls. They are ideal for any room, any style, from shabby chic to contemporary. Due to the wider joints between subway tile mosaics, sanded grout is a good choice here.
Keystone Blend Interlocking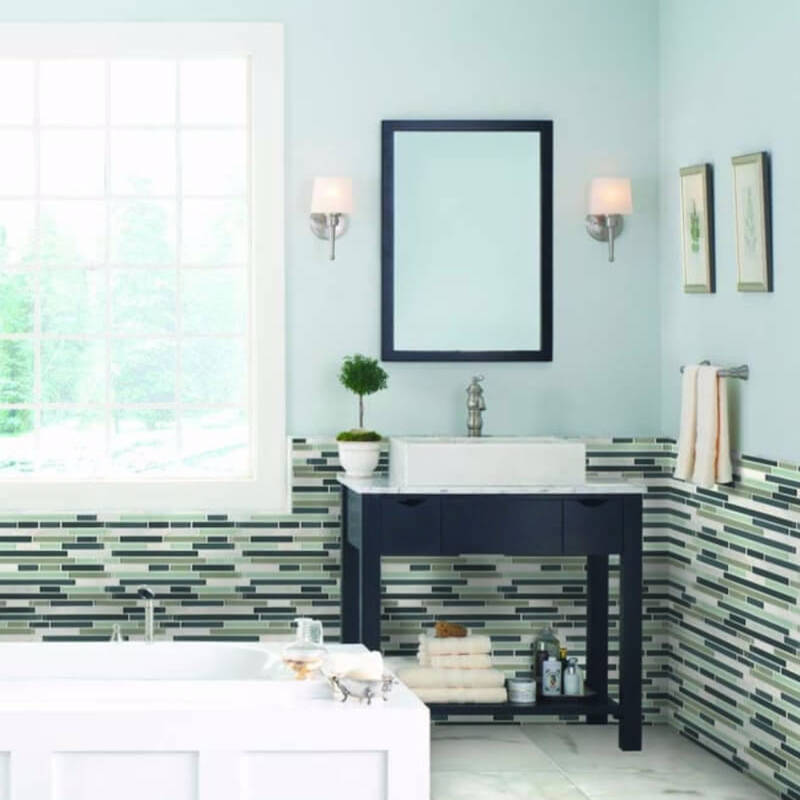 Featured: Keystone Blend Interlocking Marble Mosaic
The linear pattern of Keystone Blend Interlocking Marble Mosaic features randomly arranged white, gray, and blue-gray tiles. This mosaic is a mixture of glass and Arabescato Carrara marble. It makes for a stunning backsplash tile installation, or as shown here, is an elegant way to cover a lower section of wall as well. This delicate mosaic calls for unsanded grout.
Café Forest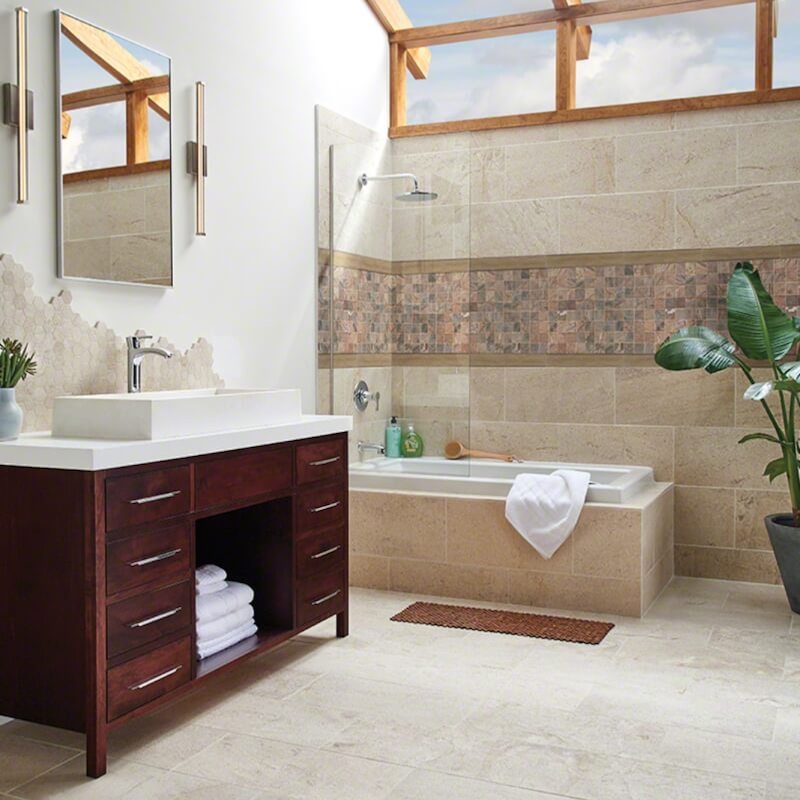 Featured: Café Forest 2x2 Marble Mosaic
With boldly patterned tiles in shades of beige, gray and ivory with deep brown contrasting veins, Café Forest 2" x 2" Marble Mosaic adds drama to every room. A horizontal accent stripe in the wall tile of this airy bathroom's shower surround creates superb visual interest without overwhelming the space. The joints between these tumbled marble tiles are narrow, and should be filled with unsanded grout.
Walnut Travertino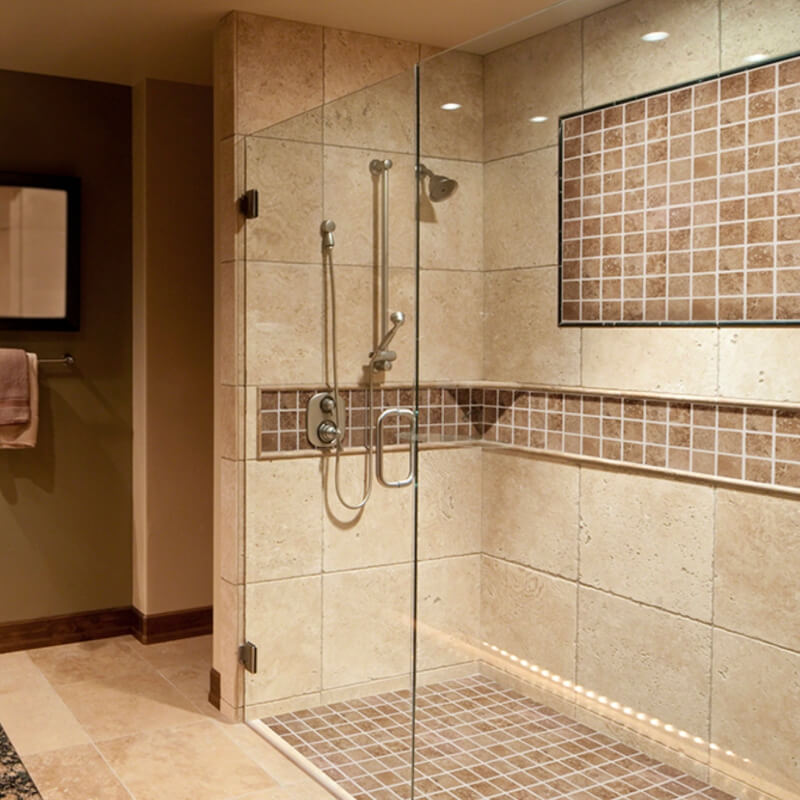 Featured: Walnut Travertino 2x2 Porcelain Mosaic
The dappled coffee-brown and cream-colored porcelain mosaic tiles of Walnut Travertino 2" x 2" Porcelain Mosaic are beautifully neutral, but rich in depth and drama. Shown here as flooring as well as wall accents, coordinating with large-format beige tiles, it's a great team player. The joints between these tiles are stunning with contrasting-colored sanded grout.
Your choice of grout will be driven mainly by the width of spacing between the mosaic tiles in your wall installation – it's a simple rule to follow. Keep the other points in mind as well, though: color and texture. Why not visit our gallery to see these, and other tile mosaic options for backsplash tile or the other projects you have in mind? You'll be inspired to get started on that DIY project right away.
READ MORE ABOUT DIFFERENT TYPES GROUT
Backsplash Series Part Four: About Grout
Choosing the Perfect Grout Color For Your Backsplash