There's More To Love With 8 New Everlife LVT Colors!
December 01, 2020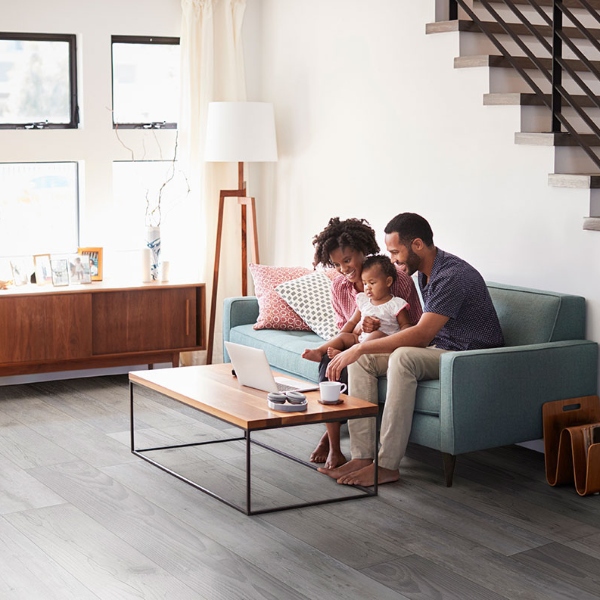 Many homeowners crave the look of hardwood flooring in their home but don't want to deal with the headache of maintenance or high costs for material. Because of this, luxury vinyl tile (LVT) flooring has become increasingly popular for home renovation projects. Not only does it transform your space with the wood-look you're dreaming of, but provides you with endless color possibilities to seamlessly blend in with your home decor. In fact, it's even easier to match the exact color and tones you want because vinyl tile is manufactured, while natural hardwood varies in color and wood grains
When choosing your flooring, there are countless options — but you deserve only the best in quality and appearance. MSI launched a new series of "genetically perfected" modern wood-look luxury vinyl flooring to help you create the space you've been envisioning. To help you decide, we've outlined a few of the many modern, neutral color palettes for you to consider. If you see one you like, use MSI's multi-surface visualizer tool that allows you to see the exact flooring in your room.
Wolfeboro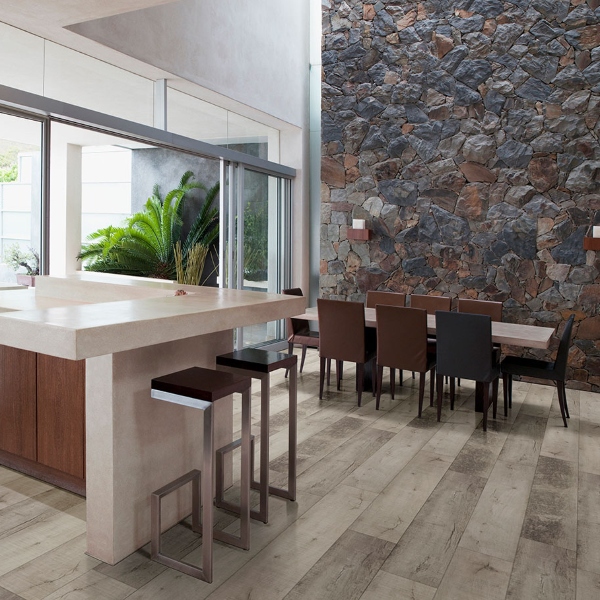 The best part about wood-look tile is that you have a beautiful, neutral color palette to choose from — including Wolfeboro vinyl flooring. The lovely shades of gray and beige create a rustic greige wood-look with 9"x60" tiles that offer warmth and comfort to any space. Whether you're a fan of the traditional farmhouse style or a more modern vibe, Wolfeboro vinyl tile is versatile to use with any aesthetic. The greige color palette looks beautiful against any home decor and furniture, seamlessly integrating into the room like it was there all along.
Boswell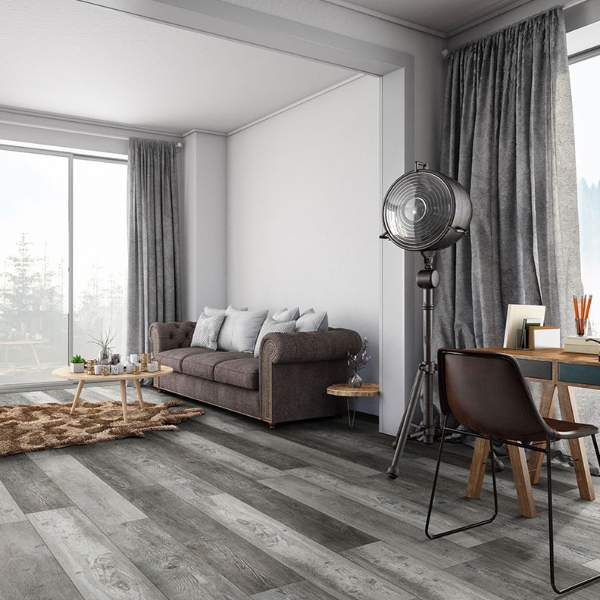 Whether you're looking to add vinyl plank flooring in your home's entryway, laundry room, mudroom, kitchen, or bathrooms, look no further than Boswell vinyl flooring. This waterproof, scratch, stain, and dent-resistant flooring is durable enough to hold up to any wear and tear you throw its way. With 9"x60" luxury tiles in a lovely rustic gray tone, you will instantly upgrade your home's interior at a much more affordable price than natural hardwood flooring. The best part about Boswell vinyl flooring? This affordable tile is backed by a lifetime residential warranty that provides you with peace of mind year after year.
Billingham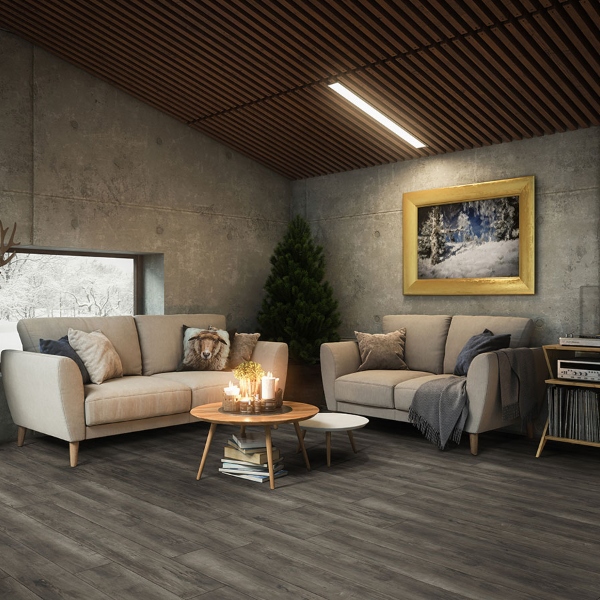 Nothing creates a more modern look than dark, moody tones. Billingham vinyl flooring makes it easy for you to achieve the modern aesthetic in any room! With contemporary, dark brown tones, you'll easily create a wow-worthy space that leaves your guests complimenting them all night long. With this luxurious flooring option, you can add a touch of texture with the natural look graining in 9"x60" vinyl planks that can be easily installed by any DIY-er.
Woburn Abbey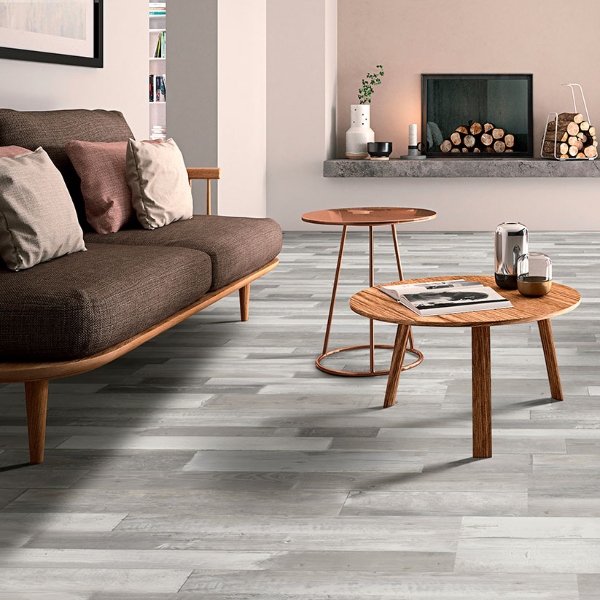 Along with the beauty of Woburn Abbey vinyl flooring, you'll receive countless luxury vinyl tile benefits when you choose this option. From its light and airy urban gray tones and lifetime residential warranty to its ability to stand up to moisture, scratches, stains, and dents, porcelain tile is a no brainer for any application in your home. Transform any space from your master bedroom to your living room with these beautiful 7"x48" luxury vinyl tile planks at a price point that won't hurt your wallet.
Bracken Hill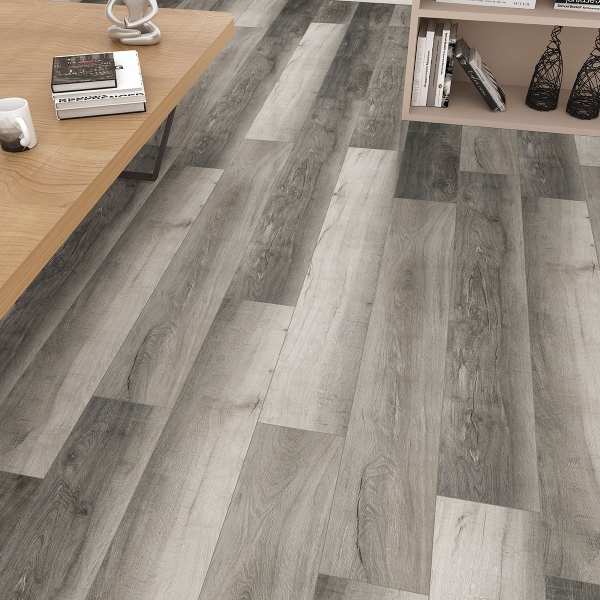 If you're craving a modern aesthetic with a touch of traditional, Bracken Hill vinyl flooring provides the gray wood-look you need to achieve just that! It's the perfect option to tie in all your modern decor while adding your own touch to the trend. The best part about the gray color scheme is that it hides any dirt and grime built up over time. Luckily, vinyl flooring care and maintenance is easy for homeowners — relieving any headaches from dirt, scratches, and dents that hardwood flooring is more susceptible to. With LVT you can rest easy knowing your floors are going to look beautiful for many years to come.
Loton Hill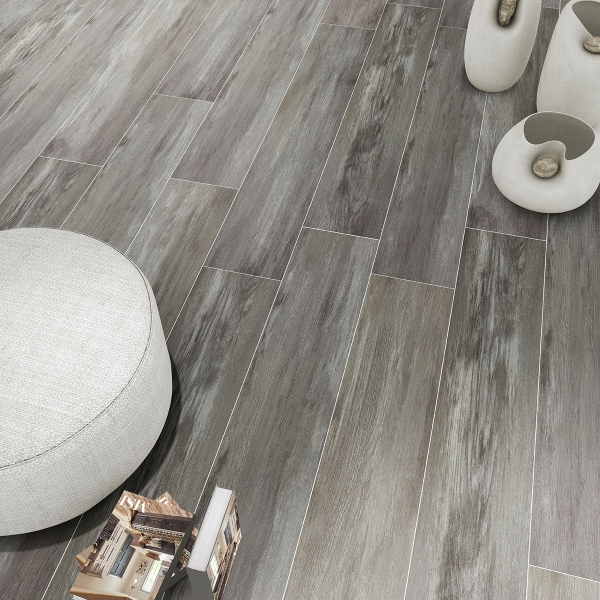 The neutral gray-light wood tones of Loton Hill vinyl flooring is a versatile color that will create a timeless look in your home. With the smooth greige tones, these porcelain tiles will make your rooms feel brighter, bigger, and more open — and the beautiful wood grain texture will add character and charm that is unmatched! From rustic to contemporary to modern aesthetics, this affordable and beautiful vinyl flooring isn't one you will want to overlook. If you're looking for a beautiful wood-look tile, then Loton Hill will be easy for you to install with its easy-install locking system.
York Gray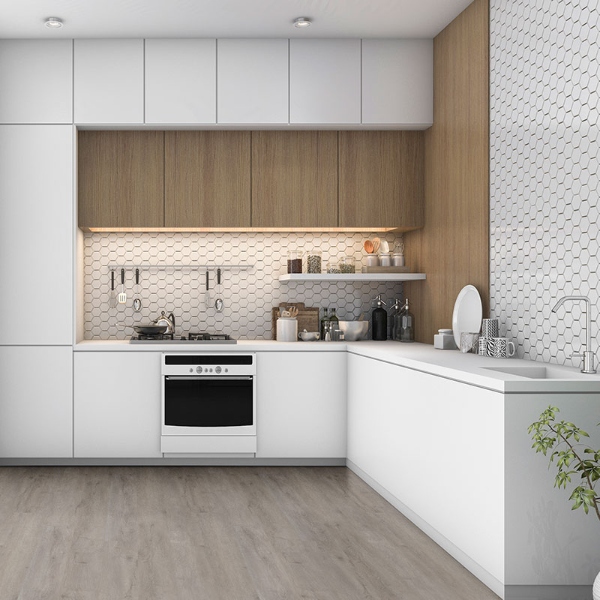 Your floors play a big role in the overall tone that your home gives off. That's why the warm York Gray vinyl flooring is a great option for homeowners that often invite friends and family over. With its greige color palette and warm hues, your room will be inviting for everyone who steps foot through your front door. The subtle textures and ability to withstand more than average wear and wear make it an ideal choice for any space in your home, including the kitchen, bedroom, entryway, bathrooms, basement.
Maracay Brown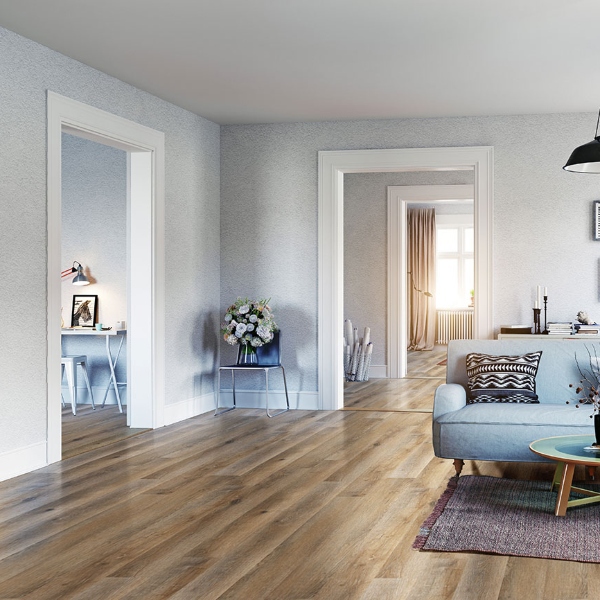 If you want more of a classic, traditional wood-look for your home, then you must consider Maracay Brown luxury vinyl tile flooring. The warm tones are complemented with gray hues that highlight the texture and grain patterns commonly found in natural hardwood floors, giving off both an upscale and comfortable vibe. This traditional wood-look porcelain tile will leave you and your guests oohing and aahing every time you enter the space. Have peace of mind when selecting Maraca Brown tile knowing that it will look good and be a beautiful backdrop to any home decor and furniture.
Seeing is believing — and makes it a lot easier for you to make the final choice! Pick your favorite vinyl plank flooring options from this list and use MSI's multi-surface visualizer tool to see how they look in your existing space.
More on Luxury Vinyl Tile
Low-Maintenance Luxury Vinyl Flooring: How to Keep It Clean
Does My Luxury Vinyl Tile Need an Underlayment?
See How Plank Luxury Vinyl Flooring Transformed These Rooms
Luxury Vinyl Tile vs. Hardwood Flooring: Only You Know the Difference
LVT Flooring provides upscale looks in a low-maintenance package for homeowners of all incomes. Learn more about the benefits of Luxury Vinyl Tile. And check out these vinyl flooring videos to learn more about LVT flooring styles, LVT installation, and maintenance.