Go Green With Q Premium Natural Countertops
July 05, 2013
Environmental responsibility continues to grow in our collective awareness, not just in the public conscience as a hot topic for home improvement, but among industry professionals as part of an important global conversation. MS International's commitment to the environment and the natural stone industry spans several decades, beginning with a green product like quartz countertops and the engagement of strong relationships with quarries that equally take environmental stewardship seriously as they work to uncover the world's most exceptional natural stone.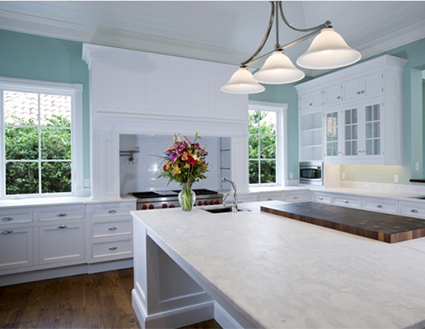 At MSI, protecting the environment is a collective effort embraced by our employees, customers, and suppliers. It is in ours, and future generation's best interest that when we build, we build with the goal of making as small of an impact as possible on our earth's precious resources. Q Premium Natural Quartz countertops meet today's highest standards for interior products and are green in the following five ways:
1.Quartz comes from the earth.
2.Quartz is an environmentally sustainable building material that lasts for centuries.
3.Quartz is recyclable.
4.Quartz is pure and void of foreign substances that might be harmful to the earth or your health.
5.Quartz is non-toxic and is easy to maintain with non-toxic, natural cleaners.
In any industry, labeling a product as "green" or simply listing its inherent attributes is not enough. This is no less true when it comes to natural stone, and there are certifications that ensure indoor products, even those that come straight from the earth, meet universal standards for being environmentally responsible and safe. Such certifications include:
The GREENGUARD Environmental Institute's Indoor Air Quality and Children & Schools certifications, which set standards for low emissions of volatile organic compounds;
The U.S. Green Building Council's (USGBC) LEED Green Building Rating system, a non-profit coalition of building industry professionals that has developed a consensus-based, point-rating system that sets a national standard to support and validate green building design, construction and operations;
And finally, the National Sanitation Foundation International (NSF), which is an independent, non-profit, non-government organization and global leader of public health and safety risk management solutions providing product certification and safety audits for the food and water industries.
Q Premium Natural Quartz has obtained certifications from and met or exceeded the standards set by all of the above.
Q countertops are indeed low-emitting surfaces that have met GREENGUARD's rigorous and comprehensive standards for low VOCs. In addition, our quartz countertops are safer for families, as they contribute to healthier indoor environments by reducing contaminants like mold spores, pesticides, and chemicals.
With regard to LEED (Leadership in Energy and Environmental Design), the green movement is creating revolutionary innovation in the design community with cutting edge strategies, concepts, and ideas. MSI is an active member of the USGBC and works to understand and further develop ideas and concepts for green building, while also helping architects, specifiers, and design teams to gain certification points by incorporating Q Premium Natural Quartz into their designs.
Lastly, the NSF certifies that Q Premium Natural Quartz from MSI conforms to the requirements of NSF/ANSI Standard 51- Food Equipment Materials. Our NSF certificate certifies that Q Premium Natural Quartz is safe for direct contact with food preparation areas. This means that not only are quartz indoor and outdoor countertops environmentally stable and can be maintained beautifully with non-toxic cleansers but that the material itself is a safe surface for preparing everyday meals. Learn more about our NSF certification here.
The best practices developed and followed by quarry owners themselves also ensure that this stone that begins "green" stays green throughout the process of mining, cutting, and transportation. These practices include restoration to the regions where quartz is obtained and respect for ecosystems and wildlife as well, thus safeguarding the inherent beauty and green qualities of Q Premium Natural Quartz countertops as not only friendly for your environment but for the global environment, too.
Read More About MSI's Q™ Premium Natural Quartz:
Popular Questions About MSI's Q™ Premium Natural Quartz
Q™ Premium Natural Quartz Brings Easy Care to Today's Busy Households