The Right Way To Use Two Granite Colors In The Kitchen
August 29, 2018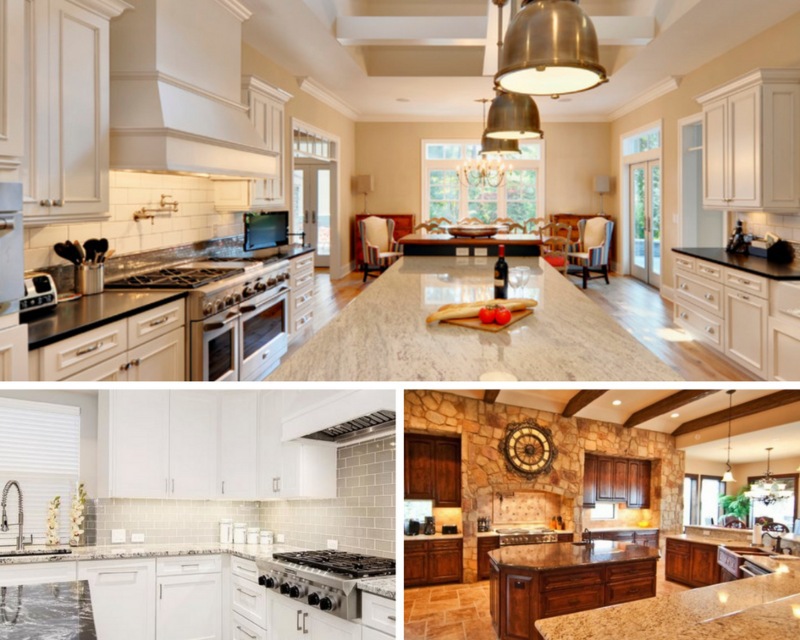 Exploring color ideas in the kitchen can be nerve-racking, especially when it comes to choosing permanent fixtures like brand-new granite countertops. But, mixing and matching this natural stone with other hues and patterns is a lot easier than you might think thanks to the rainbow of granite colors perfectly blended by Mother Nature herself.
You can feel confident in your choices since you really can't go wrong with any decision you make, and the result of this two-toned trend is a creative and impactful design we think you'll love for a long time. You can even get more adventurous with your two different colors of granite by mixing the finishes, too! If you're still unsure about which ones will look best together in your remodel or new-build, then get inspired by these kitchens that feature two completely different colors of granite.
Colonial White & Absolute Black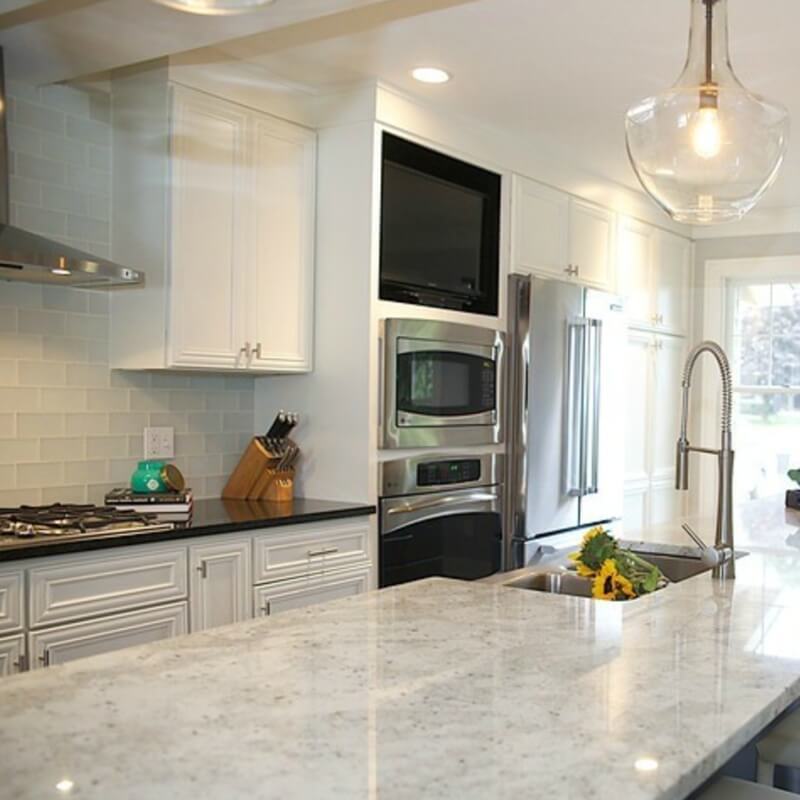 Recreate this look with MSI's Colonial White Granite and Absolute Black Granite (Photo Credit: Houzz)
A black-and-white kitchen is a timeless look you'll never tire of. This beautiful cooking space features a light, patterned slab on the island and contrasting, solid color on the back wall. Colonial White keeps the kitchen light with its blend of cottony-pale gray with cloudy silver tones. The natural stone from India features a medium variation and polished finish, while the jet-black speckles are perfectly picked up in the Absolute Black granite counter. This solid black stone from India has a low variation, so you can expect a consistent color and texture. It's also seen in a polished finish, which works well against the glass subway backsplash.
Nero Mist & Saturnia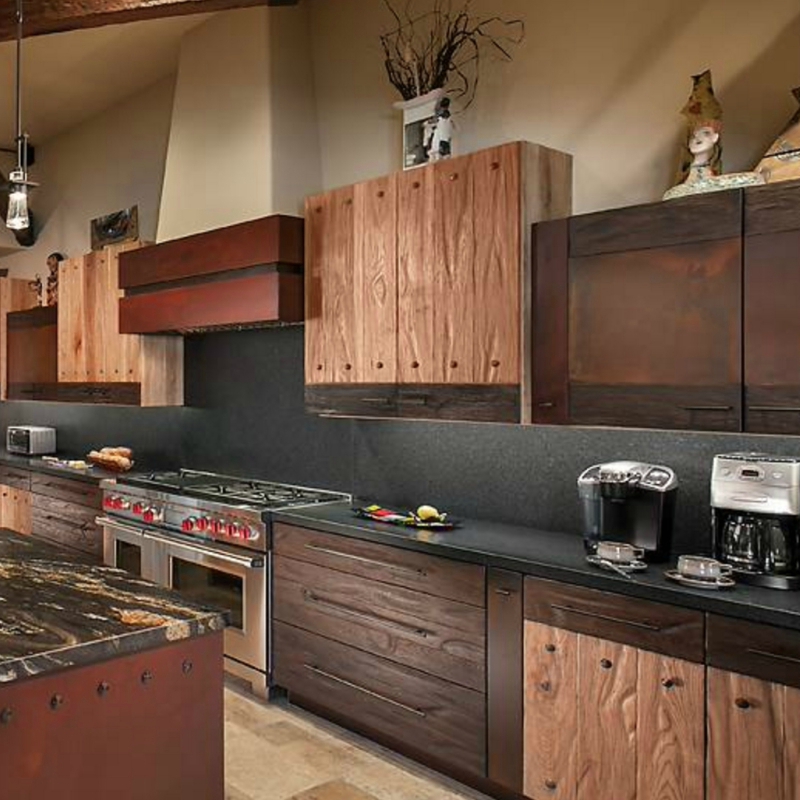 Recreate this look with MSI's Nero Mist Granite and Saturnia Granite (Photo Credit: Houzz)
You can create a dramatic kitchen by adding darker tones throughout. The dark granite on the one-wall kitchen is similar in tone to the granite on the island, but it features a powerful pattern that ties the entire design together. Nero Mist is a black granite color from Brazil with soft and subtle gray veins and flecks for the slightest texture. The honed finish is spot on with all of the natural elements, and the various wood tones unite in the Saturnia granite. This Italian stone with a medium variation swirls together whites, yellows, and grays across a black background. It's a foolproof match for this kitchen design!
River White & Premium Black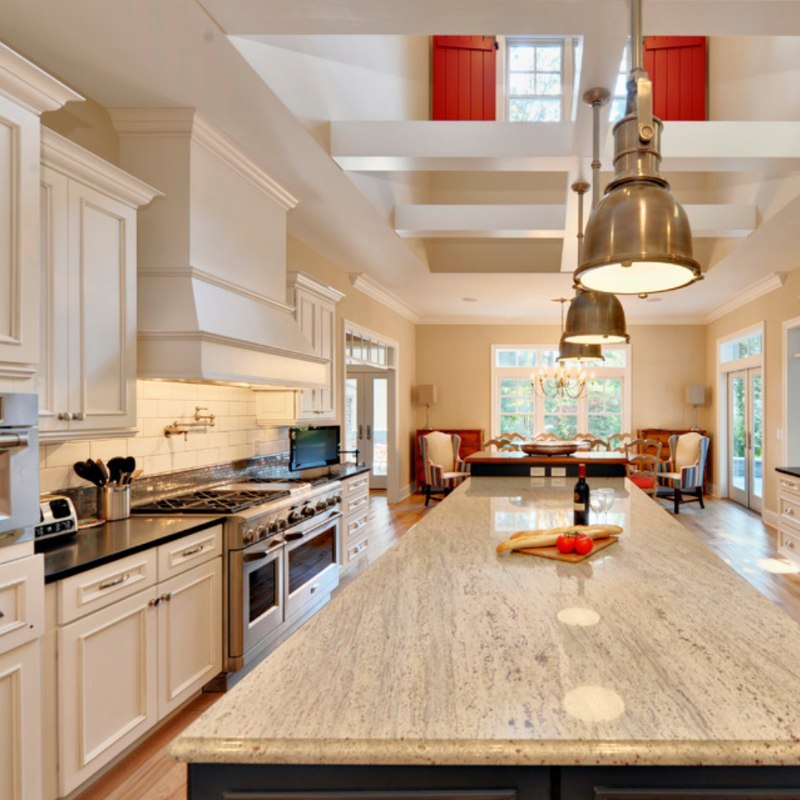 Recreate this look with MSI's River White Granite and Premium Black Granite (Photo Credit: Houzz)
Talk about taking your design to new heights! This large kitchen features contrasting granite countertops and opposite cabinetry that deliberately draw attention to the two-story ceiling opening. On the oversized island is River White, a lovely granite from India with low variation for a more consistent, subtle pattern. The white and gray veining is highlighted by small, deep burgundy flecks, which pick up on the red accents in the traditional country design. It sits atop dark cabinetry that then connects to the Premium Black granite on the L-shaped kitchen. The solid black granite from India is also low in variation and featured in a honed finish for a more natural look.
Silver Waves & Alps White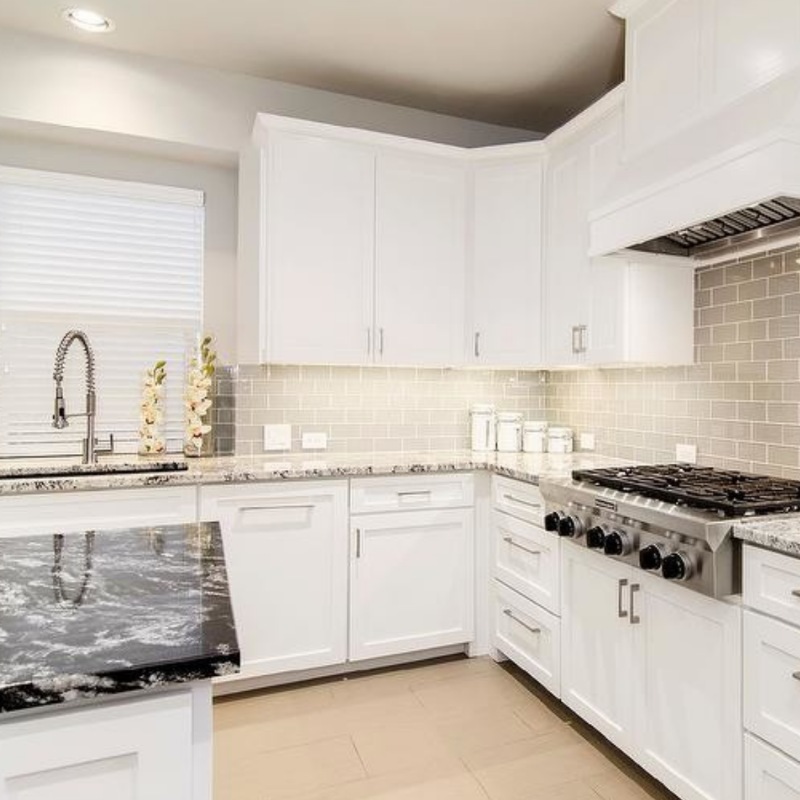 Recreate this look with MSI's Silver Waves Granite and Alps White Granite (Photo Credit: Houzz)
The granite featured in this contemporary, L-shaped kitchen with an interesting island shows just how you can give your design the right pattern punch! Alps White features a warm white background with accents of rich burgundy, hints of black, and sprinkles of white crystals. The Brazilian granite comes in a polished finish and is high in variation, so you'll want to make sure to pick out your exact slab. It works beautifully with the gray glass subway tile and light gray walls, and while it has enough color to pop against the bright white cabinetry, it doesn't stand out nearly enough as the Silver Waves on the island. This Indian granite includes a black background with swirls of gray tones, which also purposely connect to the rest of the design scheme.
New Venetian Gold & Cygnus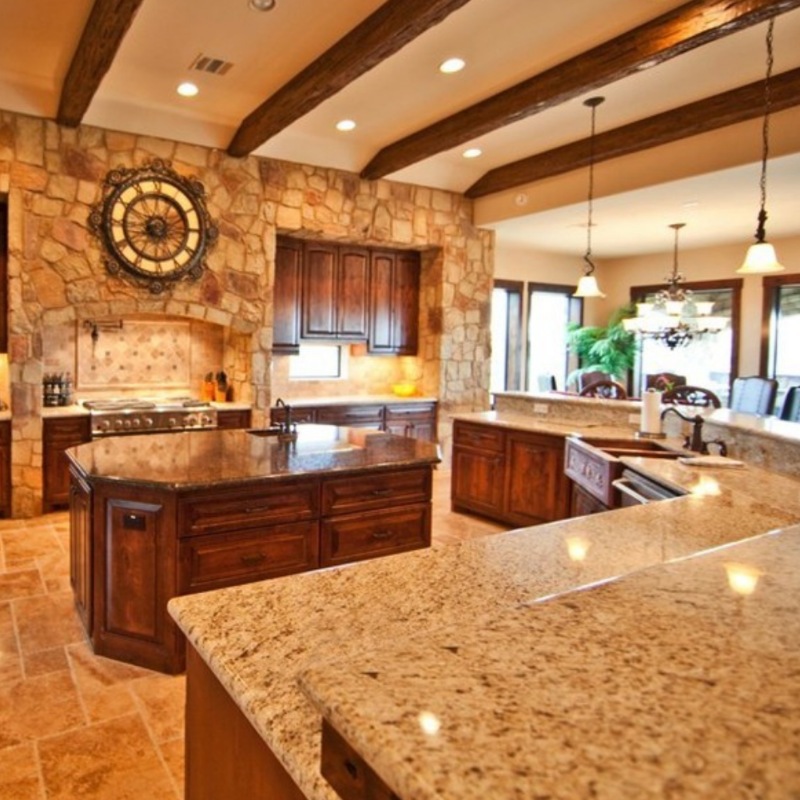 Recreate this look with MSI's New Venetian Gold Granite and Cygnus Granite (Photo Credit: Houzz)

This monochromatic, rustic traditional kitchen features a lot of natural stone in various warm tones. New Venetian Gold is a beige and gold granite from Brazil that's featured throughout the cabinetry and across the oversized peninsula island. It comes in a polished finish and medium variation, and the coloring matches well with the natural stone accent wall, beige ceiling, and Versailles pattern flooring. The kitchen features the same rich cabinetry throughout, but the center island grounds the space and draws the eye up to the wood beams above by being topped with Cygnus. The backdrop for this Brazilian granite is a blend of bronze, cedar, coffee, and antique copper and accented by ivory, pearl, and inky black. The medium-variation granite is seen in a polished finish but also comes in a brushed finish for an even more worn-in look.
When it comes to combining granite counters, you don't have to be scared of making the wrong choice. Select the colors that bring you joy, work well with your personal design style, or match with other elements in the space. For more color advice, check out this article on the do's and don'ts of mixing colors in the kitchen.
Red More about Granite Countertops
Granite Countertops for a High Style Home Office
5 Unbelievably Beautiful Granite Kitchen Countertops from Nature
Perfect Granite Countertops to Balance Dark Kitchen Cabinets
5 Natural Granite Countertops for Ultimate Luxury
READ MORE ABOUT GRANITE COUNTERTOPS
The Most Pinterest-Worthy Granite Kitchens
The Perks Of Granite Countertops