Top 5 Most Beautiful Installations Of Luxury Vinyl Tile Flooring
July 12, 2023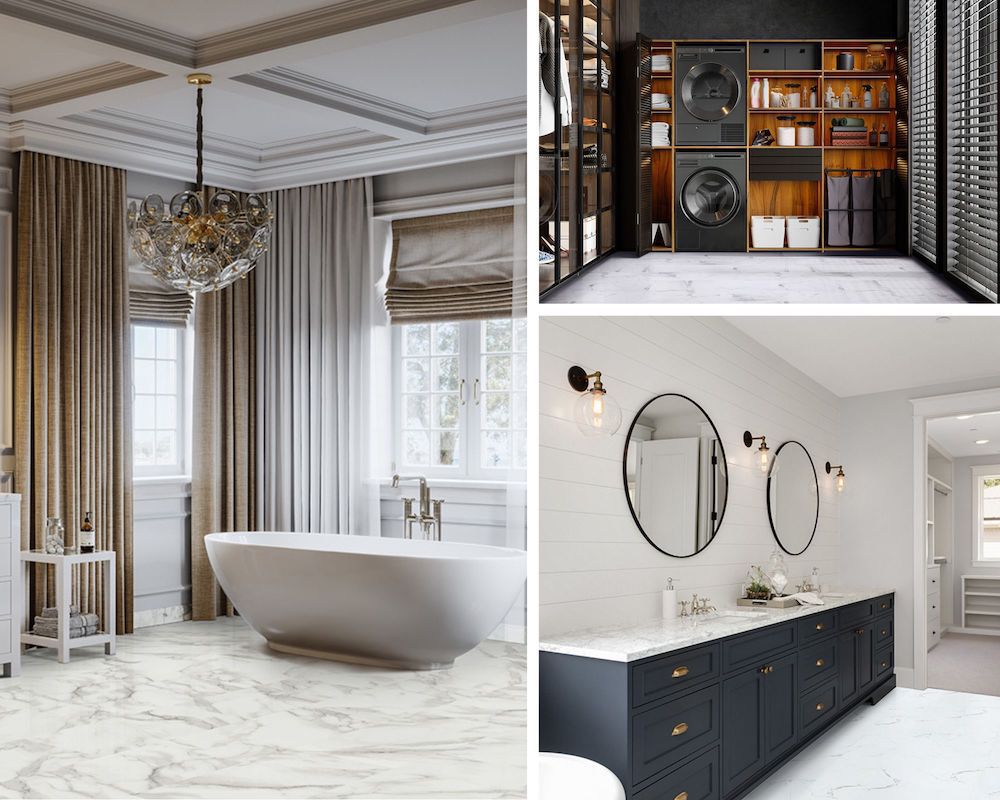 Luxury vinyl tile (LVT) is an exceptional flooring option that blends elegance and functionality flawlessly. Homeowners and designers love how LVT enhances any space's look while providing practical advantages.
Aesthetic appeal, durability, and ease of maintenance are crucial factors to consider when selecting flooring. Luxury vinyl tile is incredibly versatile and has a striking resemblance to natural stone. So, whether you're seeking a visual transformation or a flooring solution that can withstand heavy foot traffic, our luxury vinyl flooring emerges as a reliable contender.
Let's explore deeper into the remarkable benefits of choosing luxury vinyl tile as your next flooring option.
Why Choose Luxury Vinyl Tile
Luxury vinyl tile offers many benefits that make it a top choice for both residential and commercial settings.
Durability & Longevity: Luxury vinyl tile is a hard-wearing and long-lasting flooring material that can withstand the demands of busy households and high-traffic spaces without losing its beauty or structural integrity.
Moisture Resistance: Luxury vinyl tile is 100% water proof, making it ideal for areas prone to water damage, such as kitchens, bathrooms, and basements. Its waterproof capabilities ensures longevity and easy maintenance.
CrystaLux™ Protection Layer: All the LVT flooring products mentioned in this blog feature our proprietary CrystaLux™ protective wear layer. This layer adds an extra level of durability and resilience that guards against scratches, scuffs, and everyday wear and tear to help maintain the flooring's beauty.
Comfort and Sound Absorption: These LVT products include a 1MM pre-attached backing that offers underfoot comfort and noise reduction. With its cushioning effect, this rigid core flooring is more comfortable to walk on and reduces noise in your home.
Easy Installation: Luxury vinyl tile features innovative installation, such as patented locking systems that make it easy to install. Plus, our "no acclimation" technology allows for immediate installation, eliminating the need to wait before enjoying your new flooring.
5 Stunning Luxury Vinyl Tile Installations
Let's dive into a collection of the top five most stunning luxury vinyl tile installations, showcasing their remarkable aesthetics and craftsmanship. These exemplary designs will spark your creativity and give you plenty of inspiration for your upcoming project.


Calacatta Legend™ is a true gem for creating a sophisticated environment. This 12x24 vinyl flooring replicates the refinement of natural stone with a white base and wide smoky gray veins. Its intricate veining patterns add depth and visual interest, while its proprietary PietraTech™ polished finish evokes elegance. This flooring option integrates the attraction of natural stone and the convenience of LVT, producing a waterproof, low-maintenance, and durable flooring option. It is a stunning choice for any room where you want to infuse a touch of glamor.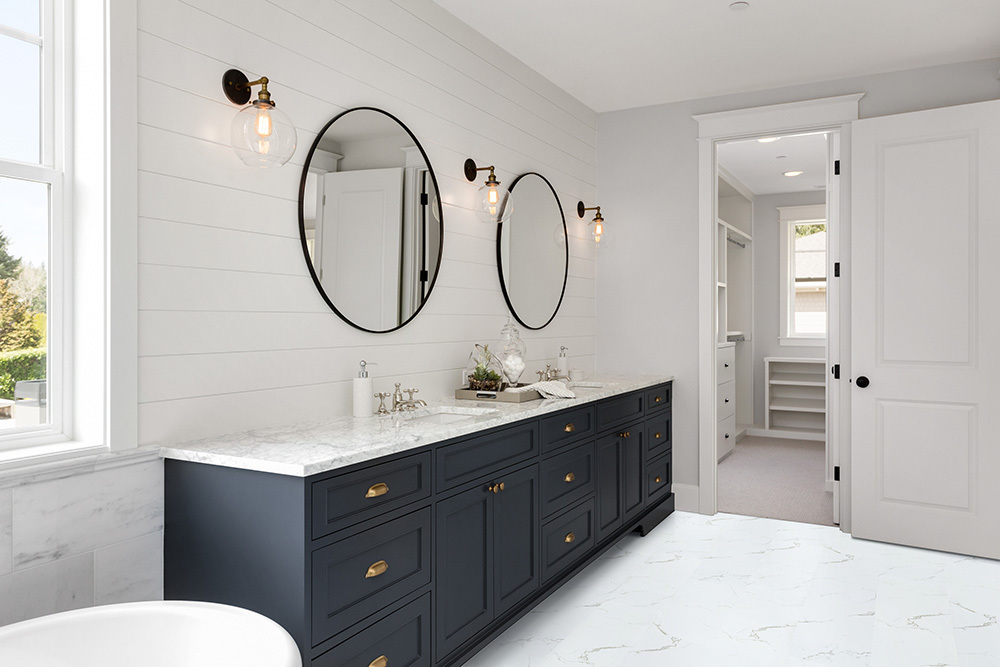 Immerse yourself in the understated elegance of Calacatta Serra™. With its cool white background and understated gray veins, this LVT flooring exudes subtlety and sophistication. The marble-inspired design adds allure to any room, making it a popular choice for bedrooms, kitchens, and bathrooms. This 12x24 vinyl floor tile offers the beauty of marble without the maintenance requirements. Thanks to its 100% waterproof construction and protective layer, this flooring is as practical as it is beautiful.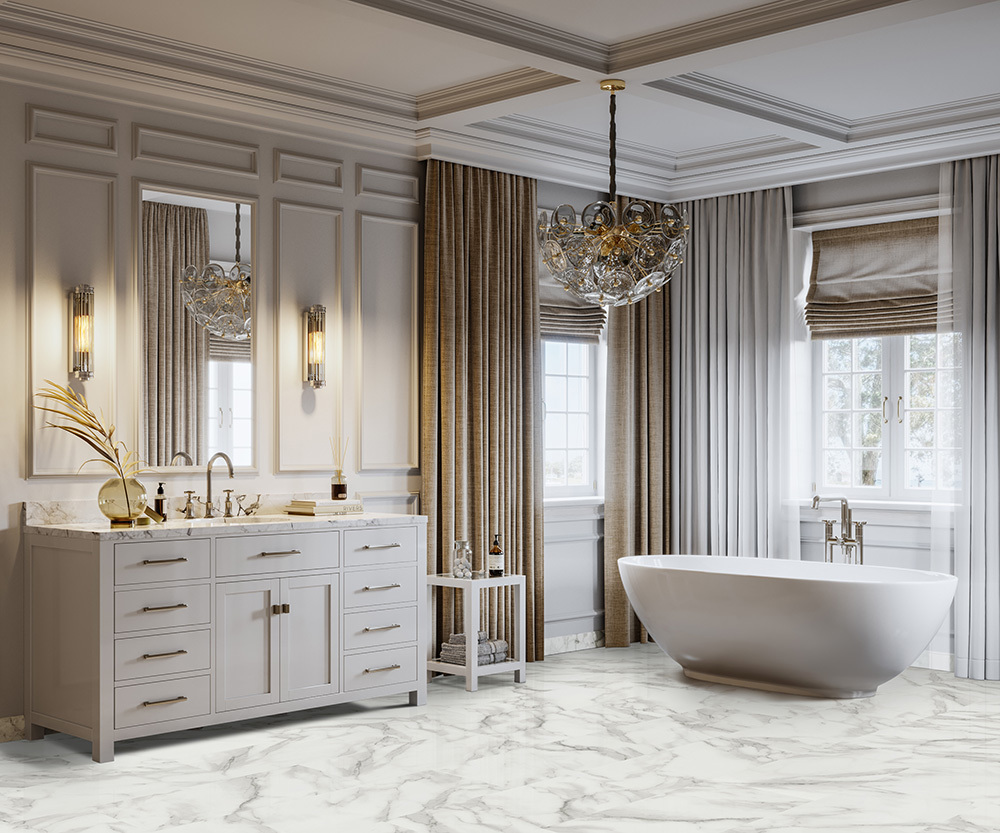 Calacatta Venosa Gold™ exudes timelessness, featuring a brilliant white background highlighted by thick golden veining. The intricate pattern creates a spectacular appearance that adds a touch of luxury to any room. Combining the captivation of natural stone with the practicality of LVT, this floor tile provides a waterproof surface and an exclusive PietraTech™ coating that further enhances its visual appeal and replicates the smooth texture of marble. No matter the room, Calacatta Venosa Gold™ makes a grand statement.


Mountains Gray® captures the essence of natural stone with its subtle gray and greige tones. This LVT flooring offers a sense of sophistication that is always stylish, making it perfect for contemporary and mid-century modern designs. Its rugged yet refined concrete finish adds a touch of modernity, while the PietraTech™ coating provides an authentic marble-like finish. Mountains Gray® offers practical and visually stunning floors with its 100% waterproof feature, durable CrystaLux™ protection layer, and comfortable backing system.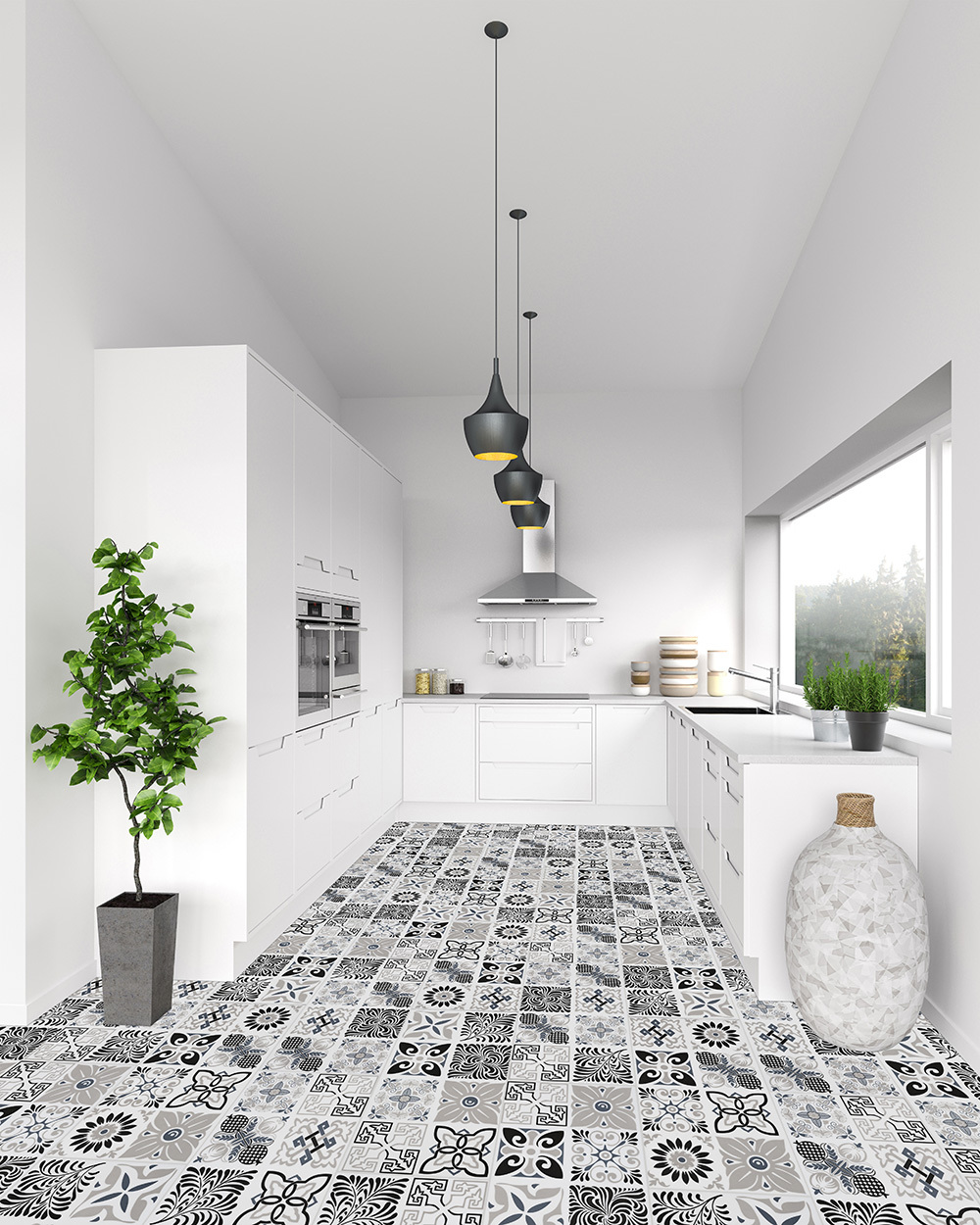 Unleash your creativity with the captivating design of Windsor Isle™. This 12x24 vinyl floor tile features a beautiful mix of ivory, gray, black, and white floral patterns to create a vibrant, bohemian look. Combining durability and aesthetics, Windsor Isle™ boasts 100% waterproof construction, a durable CrystaLux™ protection layer, and convenient 1MM pre-attached backing. Whether used in bedrooms, living rooms, kitchens, or bathrooms, Windsor Isle™ is visually striking with a one-of-a-kind style that highlights your individuality and design flair.
Luxury Vinyl Tile by MSI
Luxury vinyl tile offers exceptional design possibilities and practical benefits, making it a top choice for many homeowners and designers. These five most beautiful installations of LVT each offer unique visual appeal to ensure the right option is available for your next flooring project. Transform your home with the breathtaking allure of luxury vinyl tile flooring and create a space that reflects your personal style and vision.
To explore these stunning LVT options, we invite you to chat with us online, visit an MSI showroom, or contact an MSI authorized dealer. Our knowledgeable team is ready to assist you in selecting the ideal luxury vinyl flooring to make your design dreams a reality.
LEARN MORE ABOUT LUXURY VINYL FLOORING
COMPARING WOOD LOOK TILE AND LUXURY VINYL PLANKS - WHICH IS RIGHT FOR YOU?
DURABLE AND BEAUTIFUL: TOP 5 XL LUXURY VINYL TILES FROM MSI'S EVERLIFE® COLLECTION
THE BENEFITS OF STONE LOOK LUXURY VINYL TILE VS. NATURAL STONE
3 FLOORING TILE STYLES THAT CREATE A SEAMLESS INDOOR AND OUTDOOR SPACE