Durable And Beautiful: Top 5 XL Luxury Vinyl Tiles From MSI's Everlife® Collection
April 21, 2023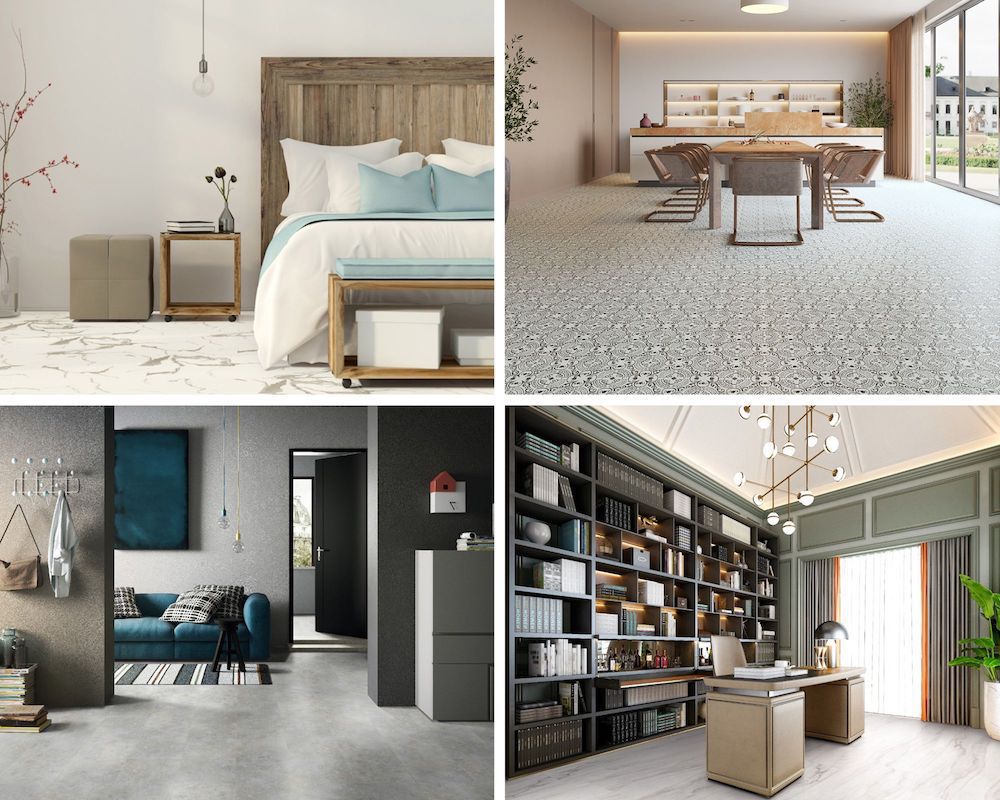 Flooring is a foundational element in any interior design, residential or commercial. It not only represents your style and contributes to a feeling of luxury, but it impacts your daily life from a practical standpoint.
Luxury vinyl tiles have become a highly sought-after flooring choice, thanks to a combination of beautiful designs, outstanding functional benefits, and low maintenance care that modern homeowners love.
The trend for these vinyl tiles is continuing to evolve with the increasing popularity of large format flooring. These modern and stylish tiles offer an even more seamless look to any room, while still providing the durability and low maintenance benefits of standard-size luxury vinyl tiles. MSI's Everlife® Flooring Series, with its stunning selection of luxury vinyl planks, wood-look flooring, and luxury vinyl tile or stone-look designs, offers a wide range of large-format tiles to meet diverse design preferences. One particular standout collection is Trecento, which features an array of extra large marble and stone-look designs that exude timeless beauty.
Let's explore the benefits of luxury vinyl flooring and discover what makes the XL Trecento Collection a sought-after choice for homeowners.
Benefits of Luxury Vinyl Tile
A big draw for many homeowners is the prospect of totally waterproof flooring. Whether you live alone or your household is made up of immediate and extended family members, knowing that splashes, splatters, messes, and tracked-in mud aren't going to damage your floor is a significant stress reducer.
LVT is strong, durable, and resistant to impact, staining, and scratches. It's also slip-resistant and soft and quiet underfoot, delivering comfort and peace of mind. With easy installation and maintenance, this is one flooring product you can definitely get behind.
MSI's Top 5 XL Luxury Vinyl Tile Products
Whether you're looking to upgrade to luxury vinyl flooring in the kitchen, bathroom, entryway, or throughout the entire home, you'll find plenty of attractive products in our XL Trecento Collection. Here are just a few examples sure to elevate the function and aesthetics of your whole house.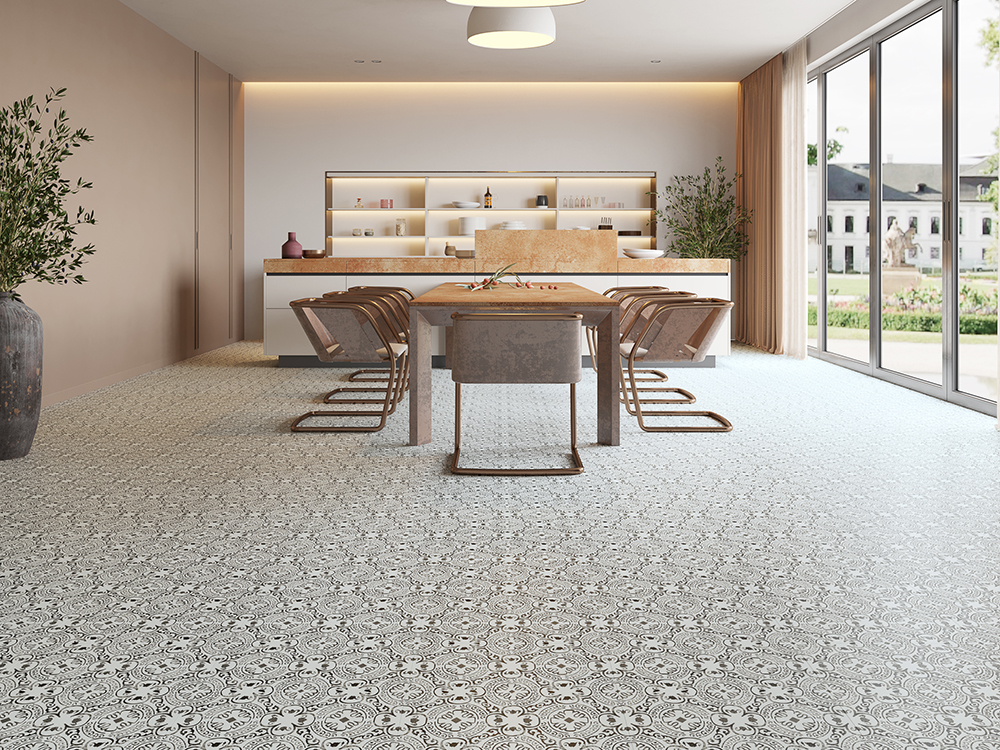 If you're seeking an elegant patterned tile to add personality to a neutral design, XL Kenzzi Taza vinyl tile offers a sophisticated, timeless choice, featuring a white background with an encaustic graphic stamp in vintage black.
Inspired by our popular Paloma porcelain tile, this LVT flooring adds bold flair that pairs perfectly with black-and-white motifs, classic subway tile, and natural wood surfaces to create zen living spaces.
Grays and greiges help create a modern backdrop for any home design style, with an on-trend appeal that goes with everything. For example, XL Mountains Gray, featuring low-variation patches of pale gray, provides a stone look that serves as an ideal base for sophisticated floors in kitchens, bathrooms, or other areas throughout your home.
Carrara marble is known for its soft, soothing aesthetic, and XL Carrara Avell delivers the same tranquil vibes, with a cool white background kissed by sparse, subtle veining in silvery gray.
This tile pairs perfectly with neutral palettes in black, white, and gray and cool colors like greens and blues. Pale wood tones can also contribute to a harmonious feel with this calming design.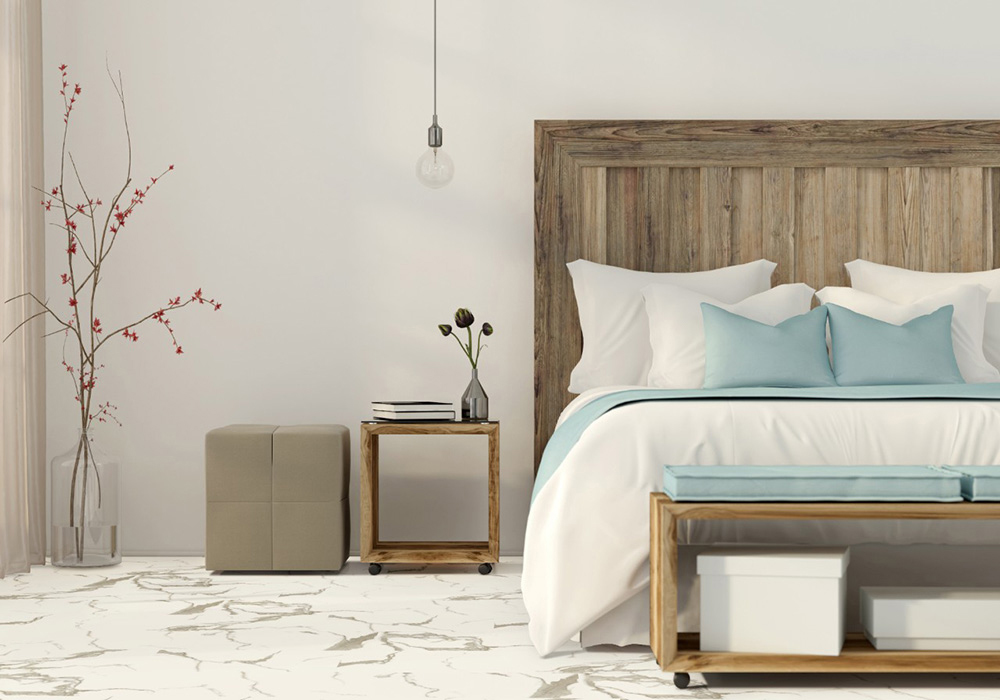 If you love the bold veining of Calacatta marble, elegant and dynamic XL Calacatta Marbello vinyl tile does not disappoint. This natural stone look features a white background and chunky, gray veins, with styling that spices up a tonal white kitchen or stands out against darker elements.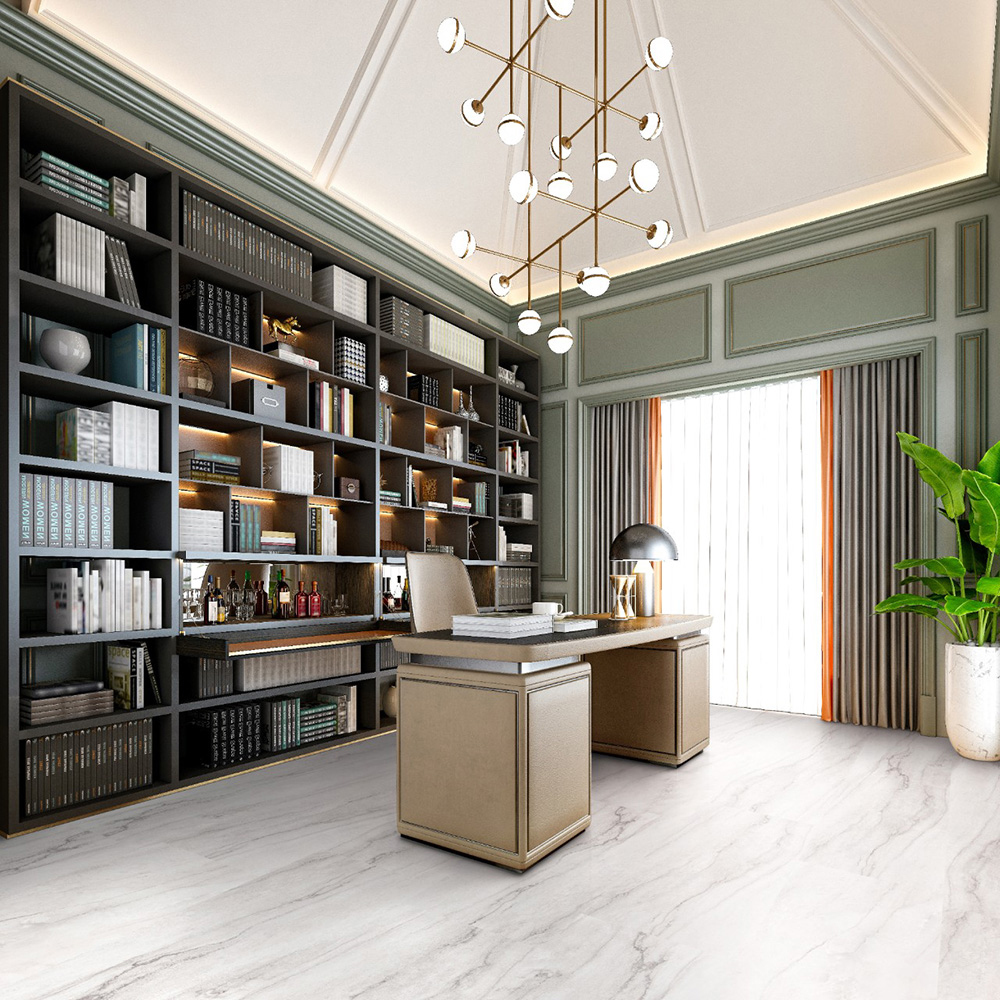 The linear striations that characterize many quartzite varieties are on full display in XL Quarzo Taj, with an ivory backdrop and delicate veining in pale gray. It's hard to imagine a more refined addition to your home office, gourmet kitchen, spa-like bathroom, or upscale laundry or entryway.
Update Your Home with MSI's XL Trecento Collection
Our XL luxury vinyl tile Trecento Collection delivers gorgeous, low-maintenance stone flooring that elevates your interior to a larger-than-life space. Affordable and durable, this waterproof flooring allows you to get the natural stone look you love with an expansive array of practical benefits.
Want more information? Chat with a qualified MSI agent today with any questions or find an MSI authorized dealer near you and plan a showroom visit to look at samples.
LEARN MORE ABOUT LUXURY VINYL FLOORING
Find Inspiration with Our 10 Most Popular Luxury Vinyl Flooring Colors
Ever life Waterproof Flooring Is Affordable and Easy to Maintain
10 Ever life® Luxury Vinyl Flooring Options to Consider
7 Realistic Wood Look Planks from The Ever life® Luxury Vinyl Flooring Collection