10 Everlife® Luxury Vinyl Flooring Options To Consider
April 17, 2023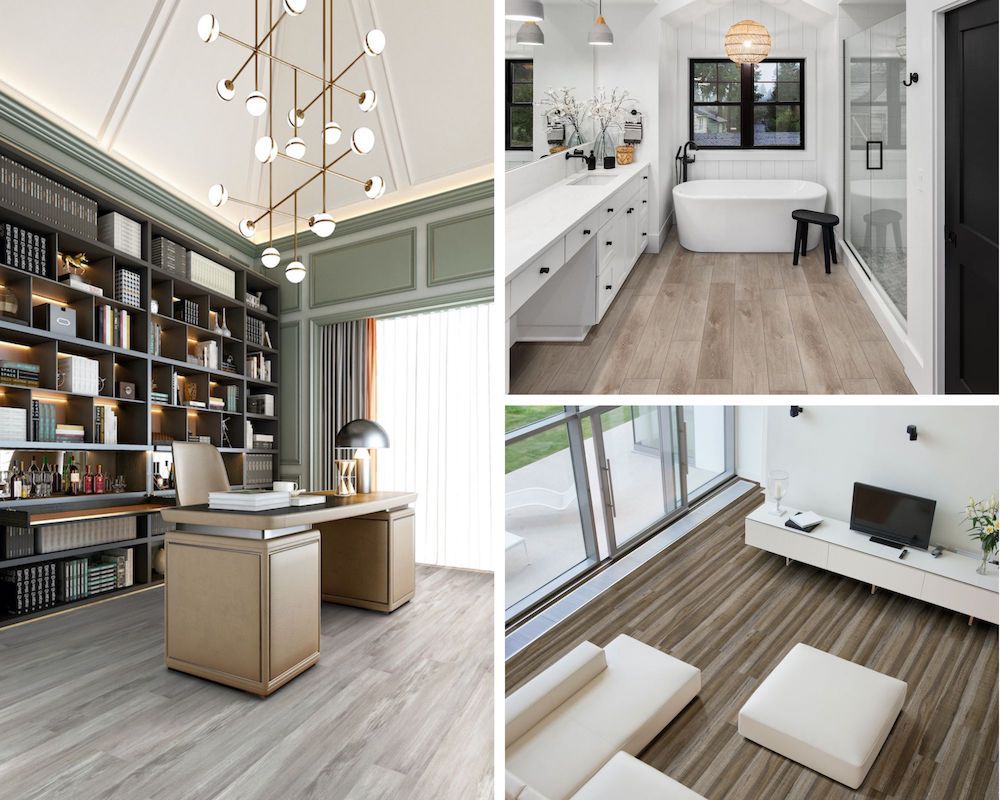 Luxury vinyl flooring (LVF) boasts a sleek and refined aesthetic similar to that of authentic hardwood, while simultaneously providing a soft and cushioned feel underfoot that minimizes noise. Additionally, it offers a slip-resistant surface and exceptional durability, withstanding damage from water, wear, impact, scratches, and other potential hazards with ease.
Our Everlife® Series of luxury vinyl tile and plank designs deliver supreme comfort and style. Here are some of our top picks!
BEST OVERALL: CYRUS™ COLLECTION
With over a dozen natural wood looks and a versatile 7" x 48" format, the Cyrus Collection™ features luxury vinyl plank flooring to match any decor style. In addition, with exclusive 12-mil CrystaLux™ protection, you'll enjoy outstanding resilience and durability for every room in the house.
Innovative, pre-attached backing adds comfort and convenience, and the patented locking system paves the way for speedy installation. There are several wood flooring looks to explore in this popular collection, including light brown Exotica luxury vinyl planks featuring graining in darker brown and gray with the appearance of trendy, reclaimed wood.
BEST BUDGET: ASHTON™ COLLECTION
Although you probably have several criteria for updating the flooring in your home, value per square foot may be a top priority. The Ashton™ Collection offers the timeless look of luxury you crave, paired with the durability you need, all at affordable prices.
Featuring CrystaLux™ protection with a 6-mil wear layer, this durable luxury vinyl holds up well to everyday use. In addition, you're sure to appreciate the no-acclimation technology that allows for buy today, install today convenience.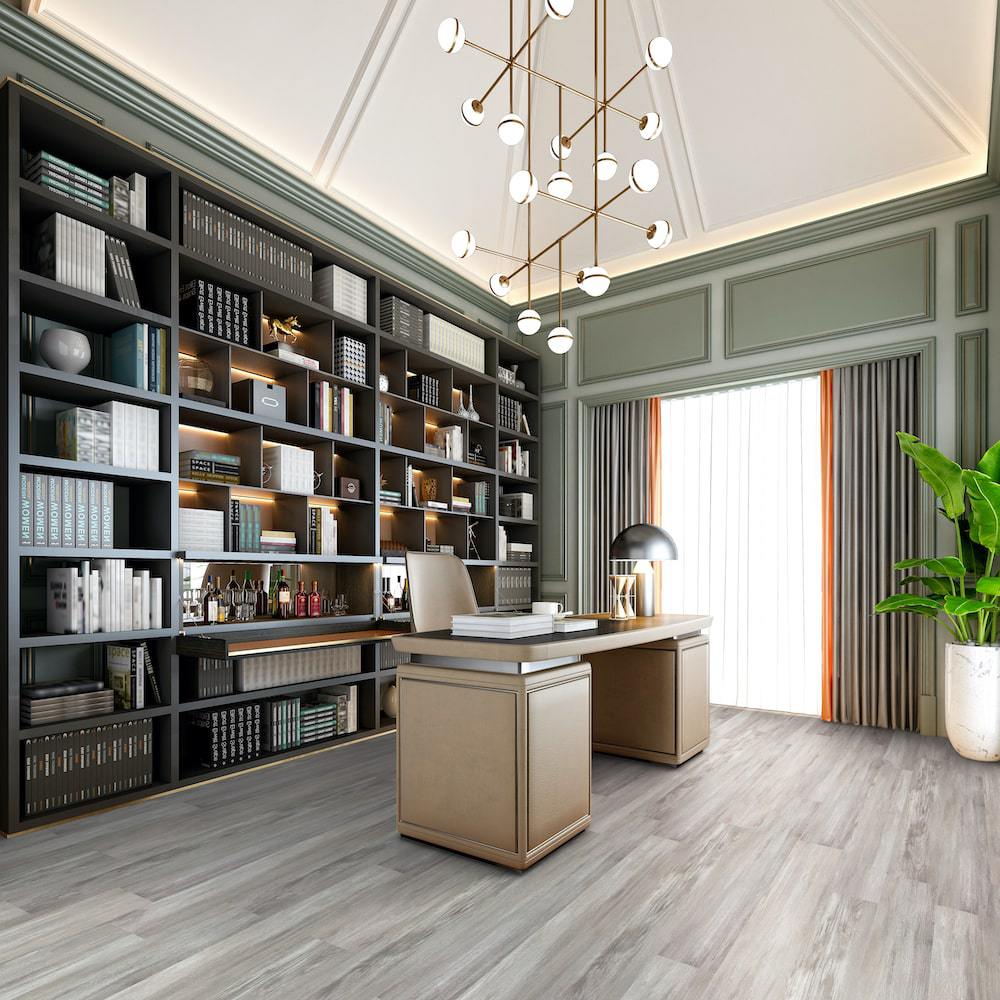 Loton Hill Luxury Vinyl Planks
Homeowners crafting a chic, modern interior will love Loton Hill, a high-variation design that blends light to medium gray tones, featuring knots and grains to add visual authenticity.
BEST RIGID CORE: PRESCOTT™ COLLECTION
Rigid Core flooring construction is engineered with a core that adds considerable stability, creating a hard format flooring that's still somewhat soft and flexible. This technique allows for both comfort underfoot and incredible durability. It also makes for a speedy installation process when paired with a patented locking system.
The Prescott™ Collection is an excellent choice from our Rigid Core line, with 20-mil CrystaLux™ Ultra protection and over two dozen wood-look flooring options.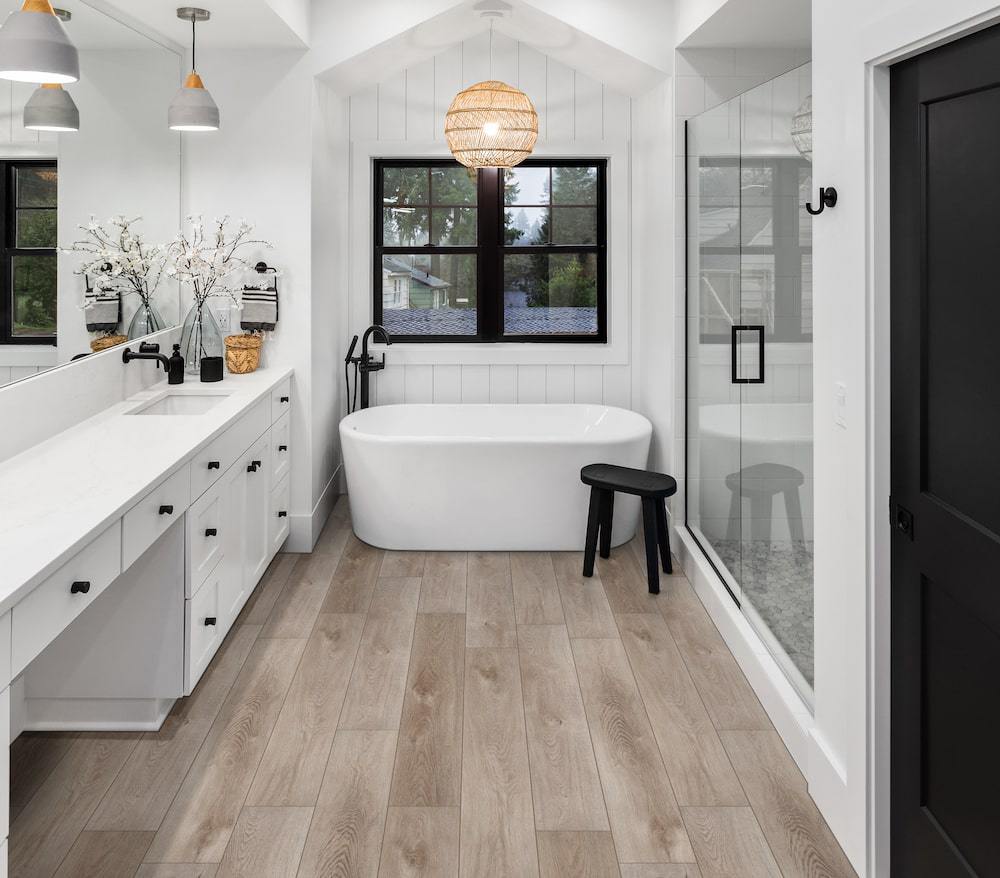 Akadia Luxury Vinyl Planks
Akadia luxury vinyl planks offer an attractive option for homeowners looking for a light, bright design. The creamy, beige tones and dark, delicate veins add subtle movement to your design, and the 7" x 48" format is suitable for small and large spaces.
BEST WIDE PLANK: XL PRESCOTT™ COLLECTION
Large format luxury vinyl planks are ideal for minimizing seams to create a smooth appearance and a light, airy feel. The XL Prescott™ Collection, offering 9" x 60" planks, boasts a modern appeal and 20-mil CrystaLux™ Ultra protection for your peace of mind.
There are over two dozen stunning wood looks to choose from, and Jenta luxury vinyl planks deliver the beauty of rich, dark brown tones that add timeless elegance to living areas. This design is ideal for making large spaces feel cozy.
BEST WOOD LOOK LUXURY VINYL PLANK: ANDOVER™ COLLECTION
The look of genuine hardwood adds richness and dimension to your space, and the Andover™ Collection offers classic and modern designs. Available in standard, 7" x 48" format, with 20-mil CrystaLux™ Ultra protection, this robust and water-resistant flooring perfectly pairs beauty and functionality.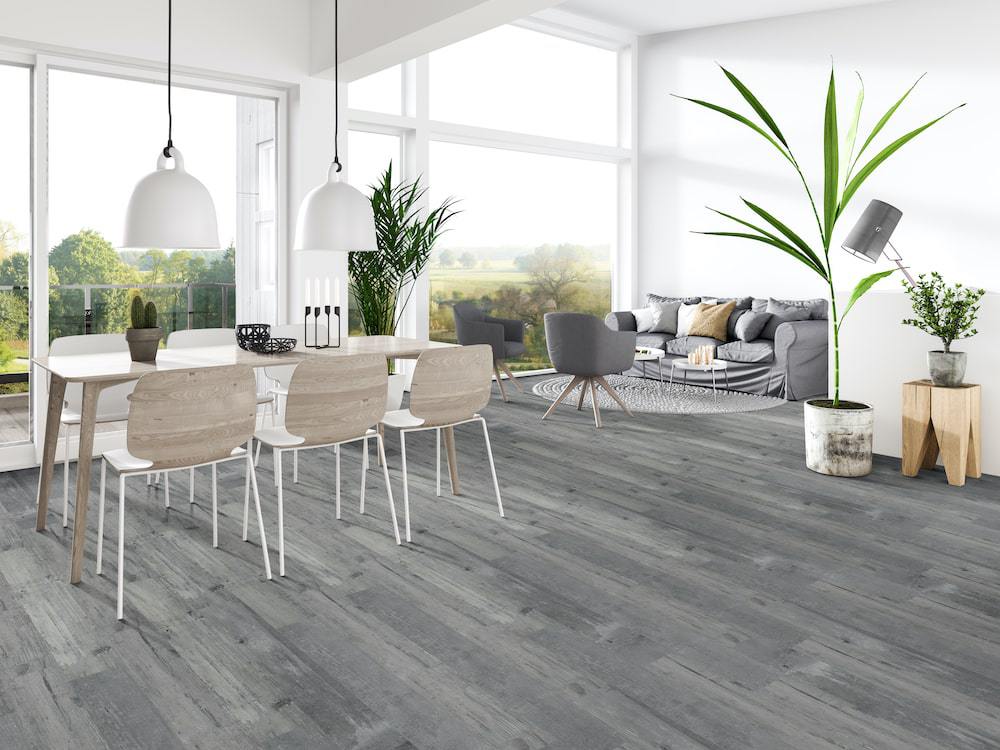 Kingsdown Gray Luxury Vinyl Planks
Kingsdown Gray luxury vinyl planks are a prime example, featuring a weathered appearance in soft grays with ample shading for an authentic appearance. Variable veins and knots help add to the realistic look.
BEST STONE LOOK LUXURY VINYL TILE: XL TRECENTO™ COLLECTION
While you could use the same flooring throughout your home, selecting different flooring allows you to create unique living spaces that reflect different facets of your style.
The XL Trecento™ Collection, featuring large-format 18" x 36" tiles, is a great way to bring the majestic look of natural stone to your bathroom or entryway. In addition, this collection benefits from the PietraTech™ realistic stone finish that mimics the smooth polish of marble and 12-mil CrystaLux™ protection.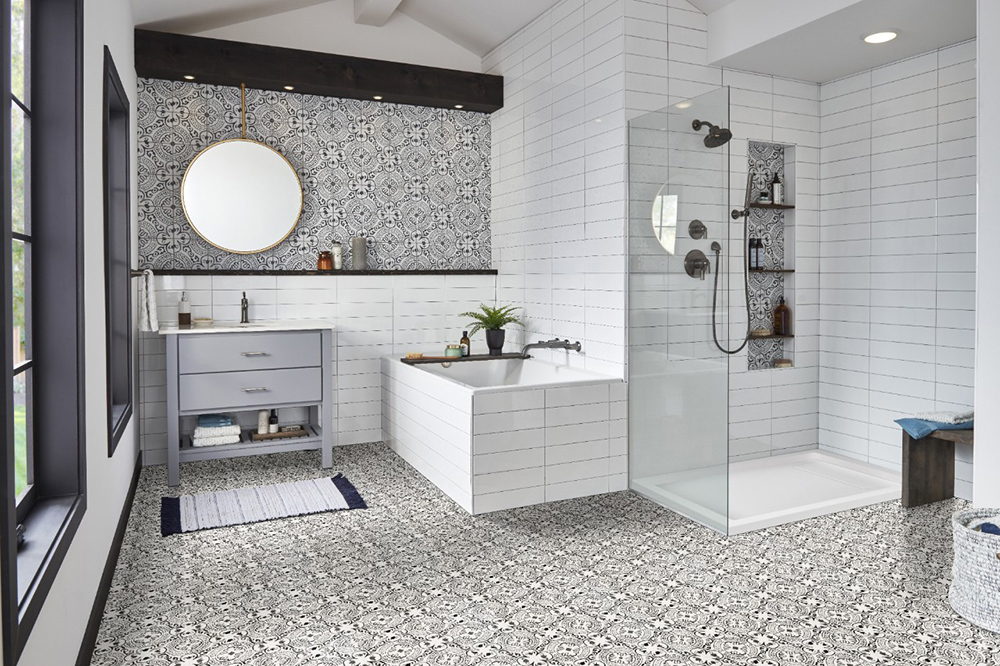 Kenzzi Taza Luxury Vinyl Tile
The collection has several eye-catching designs to choose from. For those who favor graphic tiles, the Kenzzi Taza luxury vinyl tile is a great option, featuring an elaborate vintage encaustic design in black against a white backdrop.
BEST FOR BATHROOMS AND KITCHENS: TRECENTO™ COLLECTION
Any luxury vinyl flooring option will function in kitchen and bathroom spaces. The Trecento™ Collection is no exception, thanks to PietraTech™ realistic stone finish and 12-mil CrystaLux™ protection.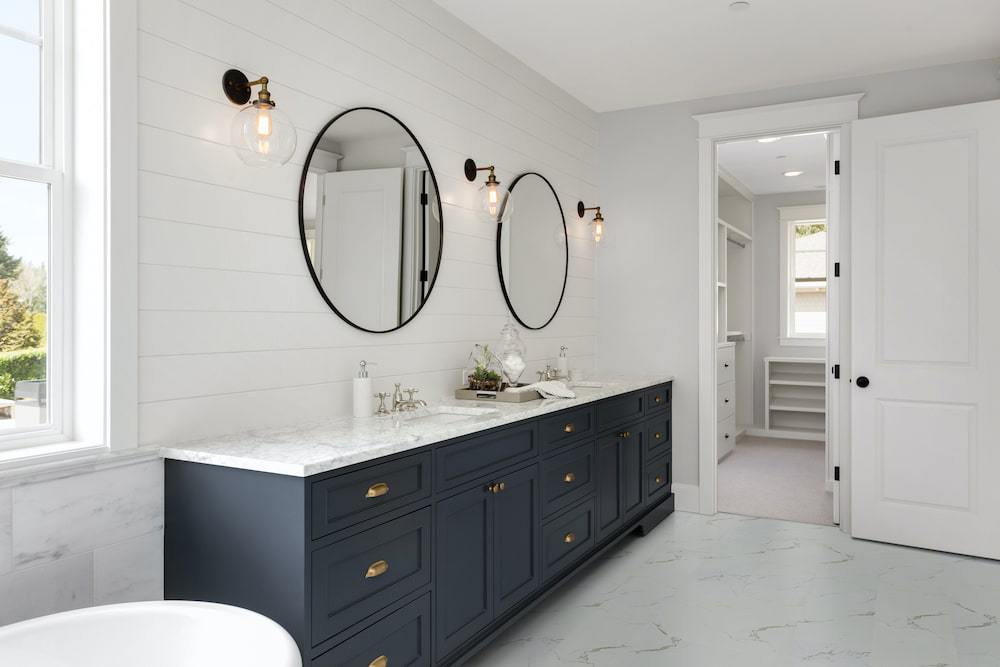 Calacatta Serra Luxury Vinyl Tile
However, stone-look designs provide an air of simplicity and serenity, perfect for your upscale kitchen or spa-like bathroom. Calacatta Serra luxury vinyl tile, with a cool white background and sparse, gray veining, offers classic appeal in a versatile 12" x 24" format.
BEST FOR DIYERS: XL CYRUS™ COLLECTION
Professional installation is always recommended, but dedicated DIYers can't go wrong with these extra wide and long 9" x 60" 100% waterproof luxury vinyl planks from the XL Cyrus™ Collection, perfect for adding an authentic wood look to any space. The larger format means fewer pieces to install, and the process is quick and easy with our patented locking system. Durability is heightened with 12-mil CrystaLux™ protection, a layer that provides exceptional durability against everyday wear and tear, ensuring longevity.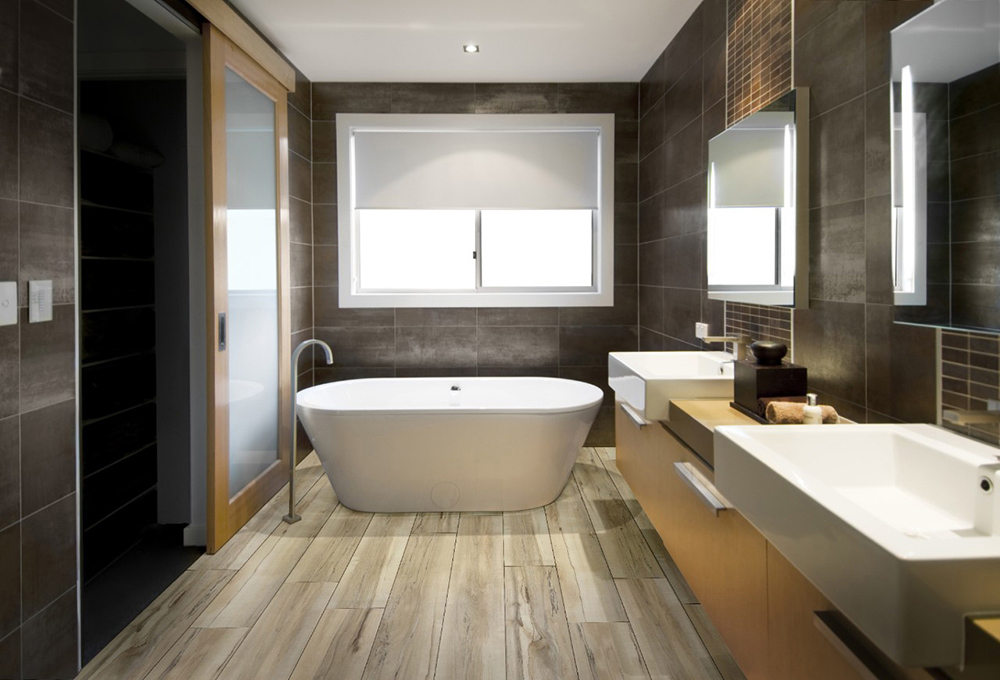 Akadia XL Luxury Vinyl Planks
The beauty of XL Cyrus® is further enhanced by its custom-designed beveled edge, making it an ideal choice for anyone seeking lasting elegance, as seen in the image above, featuring our stunning Akadia XL luxury vinyl planks. Moreover, this flooring is backed by a lifetime residential and 10-year light commercial warranty, ensuring its reliability and durability for any space.
BEST FOR PETS AND KIDS : CYRUS 2.0™ COLLECTION
The Cyrus 2.0™ Collection offers the elegance and sophistication of authentic wood flooring with the added benefit of being 100% waterproof. Featuring our exclusive CrystaLux Ultra™ technology, a protective layer that provides ultimate durability and longevity, it is ideal for homes with children and pets, where endurance and resilience are essential.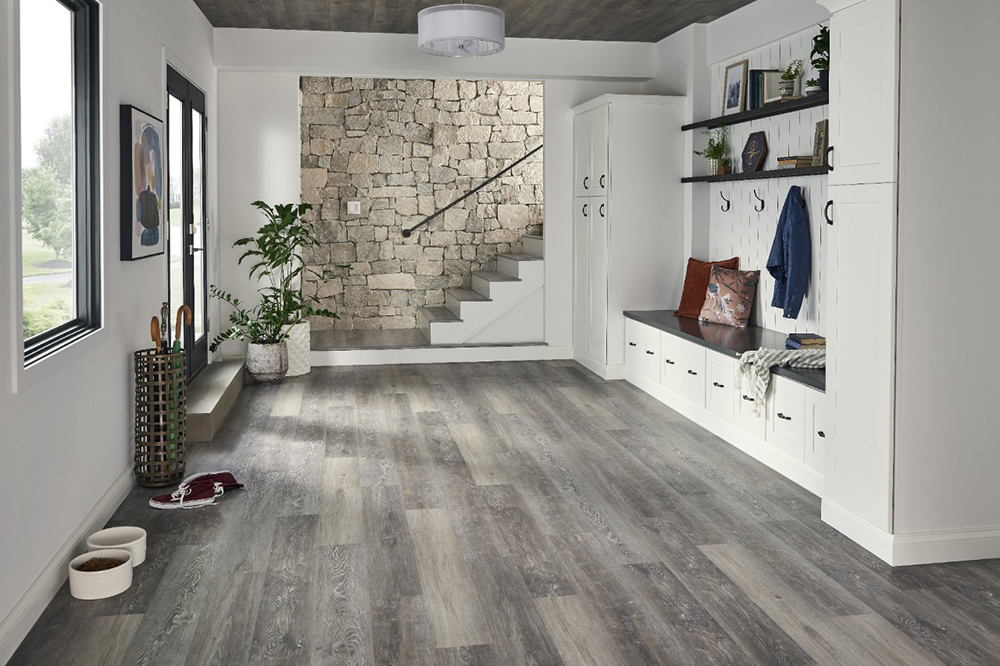 Finely Luxury Vinyl Planks
This smart flooring solution, exemplified by our Finely luxury vinyl planks depicted above, can endure daily use and abuse, offering a stress-free choice that gives homeowners a sense of security. These gorgeous planks offer an innovative pre-attached backing and easy-install locking system to ensure a simple installation process. Its rigid core flooring features "no acclimation" technology, allowing for convenient buy today, install today service. It is a perfect flooring solution for any space, from the kitchen to the bathroom this flooring will live up to its expectation. All Cyrus 2.0™ products are backed by a limited lifetime residential, 15-year limited light commercial, and 10-year limited commercial warranty for added assurance.
BEST FOR COMFORT: ASHTON 2.0™ COLLECTION
The Ashton 2.0™ Collection offers the perfect combination of high-end vinyl flooring and an authentic wood look, making it a trendy and versatile choice for any space. The proprietary formula provides a 12 MIL wear layer that offers protection against daily wear and tear, making it an excellent worry-free flooring solution.
These planks feature an easy click-locking system for hassle-free installation, and their innovative pre-attached backing provides a soft underfoot feel, making it easier on your feet, legs, and back. This added cushioning also makes these luxury vinyl planks more comfortable to walk on compared to other flooring options, such as hardwood or tile. Additionally, this flooring won't get chilly in the winter months, making it comfortable for bare feet all year long. And with its "no acclimation" technology, you can buy and install this LVP on the same day.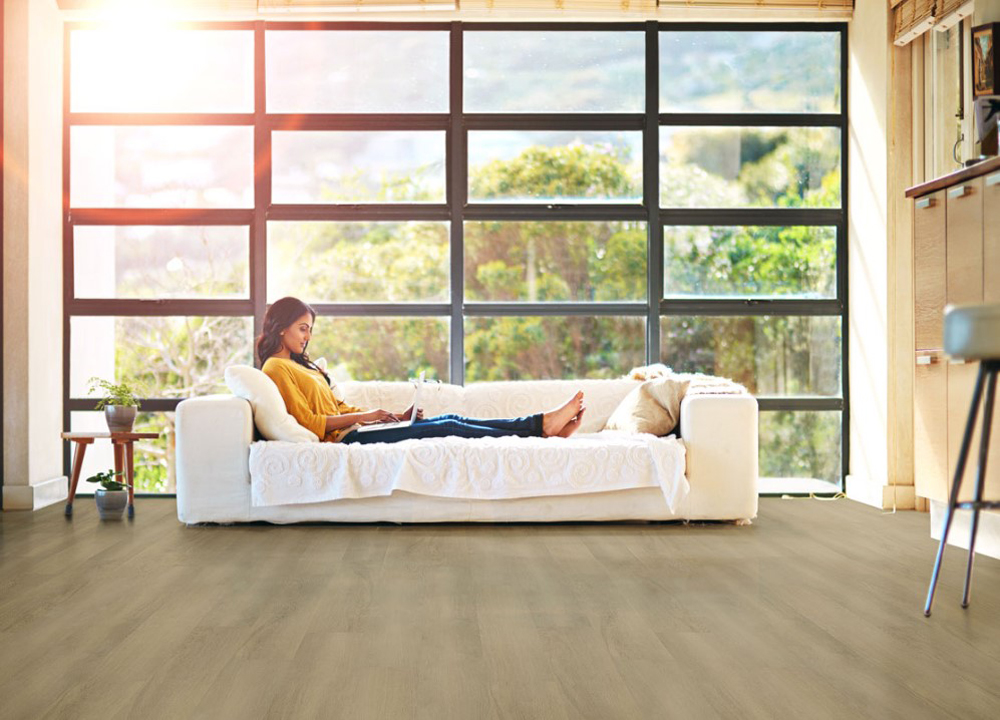 Benton Blonde Luxury Vinyl Planks


Suitable for both residential and commercial settings, the Ashton 2.0™ luxury vinyl planks, like our Benton Blonde shown above, can add sophistication and comfort to entryways, kitchens, bathrooms, and more. With a lifetime limited residential and 6-year limited light commercial warranty, you can enjoy peace of mind with this product for years to come.
Explore Your Options with Our Everlife® Series"
Whatever your needs and preferences, you'll find an expansive array of suitable options with our Everlife® Series. If you have any questions or need help deciding on the perfect plank or tile for your project, chat with an agent online, find an MSI showroom, or find an MSI authorized dealer near you.
LEARN MORE ABOUT LUXURY VINYL FLOORING
Ever life Waterproof Flooring Is Affordable and Easy to Maintain
7 Realistic Wood Look Planks from The Ever life® Luxury Vinyl Flooring Collection
How To Choose the Right Type of Luxury Vinyl Flooring for Your Home and Lifestyle
Transform Your Kitchen with Popular Design Upgrades: Luxury Vinyl Flooring and More!