Transform Your Kitchen With Popular Design Upgrades: Luxury Vinyl Flooring And More!
April 12, 2023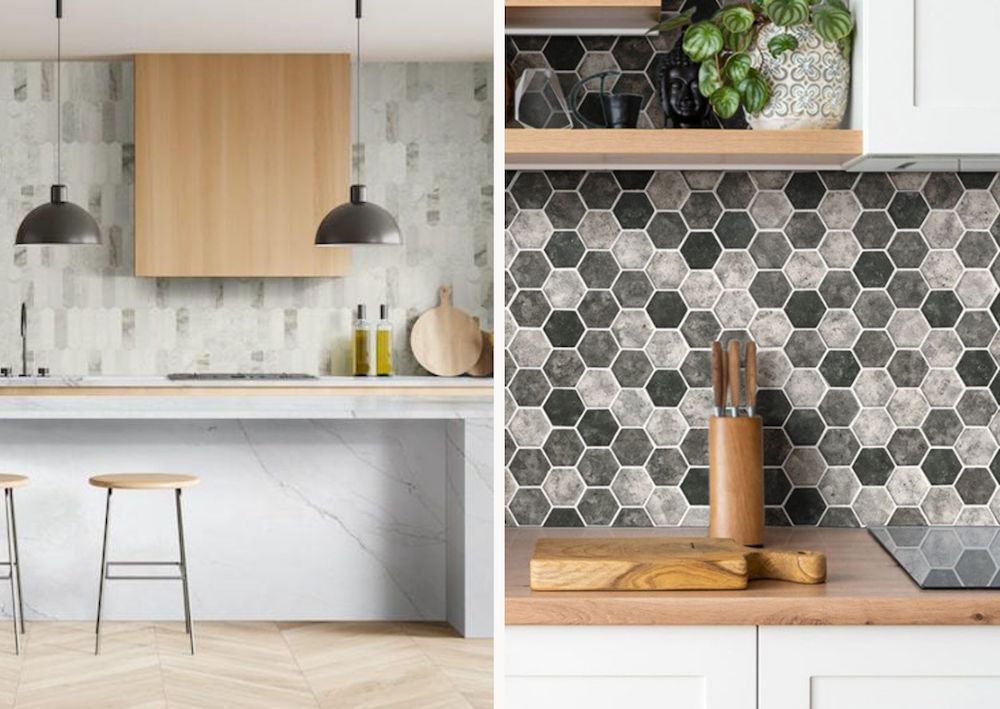 The adage tells us that the kitchen is the home's heart–which is no surprise to most. It's where families come together to create memories, share stories, supervise homework, have long conversations over coffee, and enjoy delicious meals. As a result, this space is a high-traffic spot that needs to meet the demands of modern life. In terms of use, materials like luxury vinyl flooring and quartz countertops may come to mind as crave-worthy choices.
Despite the fast-changing world of kitchen design, one thing stays the same--people want their kitchens to be functional, welcoming, and stylish. Choosing durable, quality materials and making wise design choices can create a kitchen that will last many years.
Here, we will explore some of the current top kitchen design trends that will elevate the look and feel of your space. But first, let's look at some of the benefits of investing your time and budget in a new kitchen update.
The Benefits of Updating Your Kitchen
Revamping your kitchen comes with a multitude of benefits that extend beyond aesthetic appeal. For example, you can optimize your kitchen layout by incorporating intelligent storage solutions, appliances, and premium surfaces such as flooring and countertops, enhancing functionality and efficiency in the space. This, in turn, creates a brighter, more spacious, and more inviting atmosphere in your kitchen. Today's homebuyers often prioritize modern kitchen amenities, such as luxury vinyl flooring, backsplash tile, and impressive kitchen countertops, making them high on their wish list. Additionally, smart kitchen upgrades add value and desirability to your home.
Kitchen renovations can increase the value of your property, making it an investment that pays off in the long run. Whether you plan to sell your home soon or in the future, a well-designed and modern kitchen can attract potential buyers and increase your home's resale value. High-quality, long-lasting materials rank high on the list of priorities for buyers, so you can enjoy a space that is easy to clean and maintain now and reap the rewards later.
Popular Design Upgrades to Transform Your Kitchen
A kitchen is the heart of any home, where families and friends often gather to share meals and make memories. From installing new countertops and cabinets to updating your flooring and lighting, there are numerous ways to create a more inviting, comfortable, and stylish kitchen.
Install White Kitchen Cabinets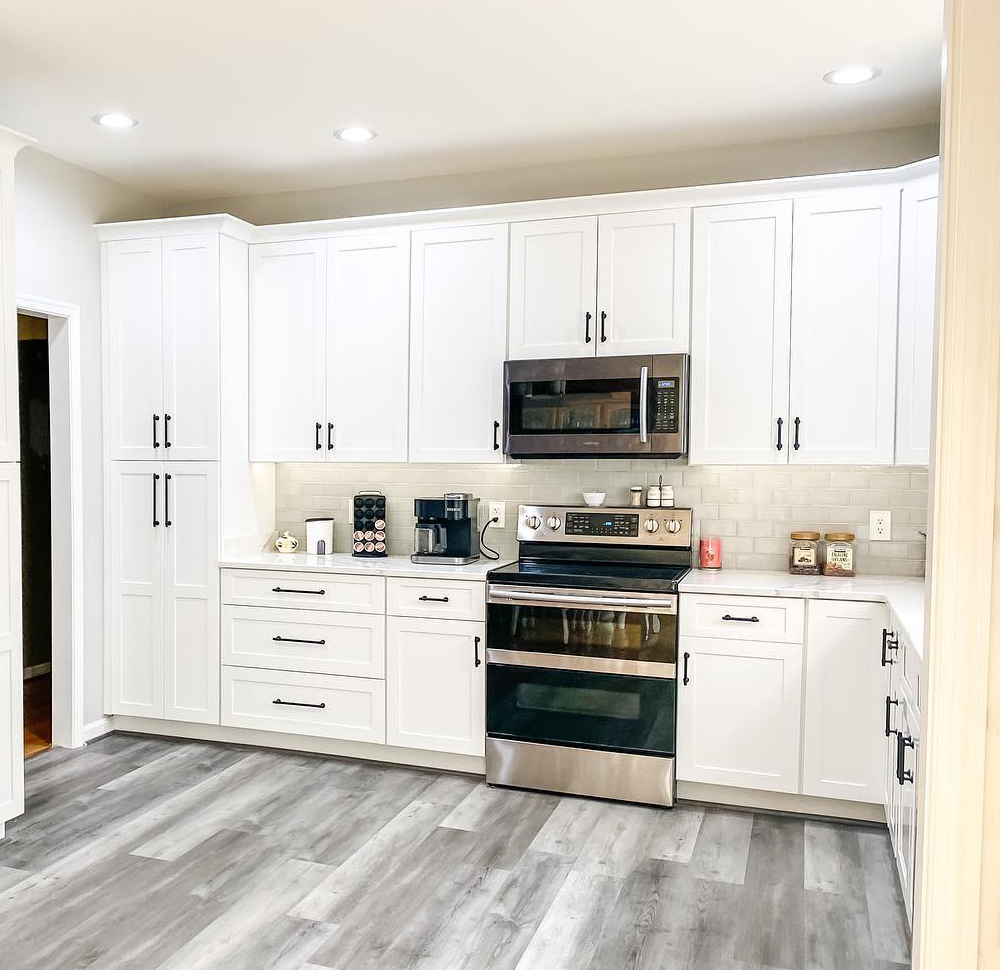 Katella Ash Photo Credit: @potomackitchendesigns on Instagram
White cabinets are a timeless and classic choice for any kitchen design. They offer a clean look that can brighten up any space. White cabinets can also make a small kitchen appear more expansive, giving you the illusion of more space. The crisp appearance makes the room feel airy and contemporary—the bright white pairs perfectly with the rich tones of luxury vinyl flooring.
Our Katella Ash luxury vinyl flooring adds warmth and character to this kitchen, beautifully complementing the sleek, white cabinetry. Its natural wood-like texture and neutral color palette create a cozy and inviting atmosphere, making it an ideal choice for any modern kitchen design. In addition, its durable and low-maintenance features make it an excellent option for high-traffic areas, ensuring longevity and practicality for years to come.
Create an Open and Airy Kitchen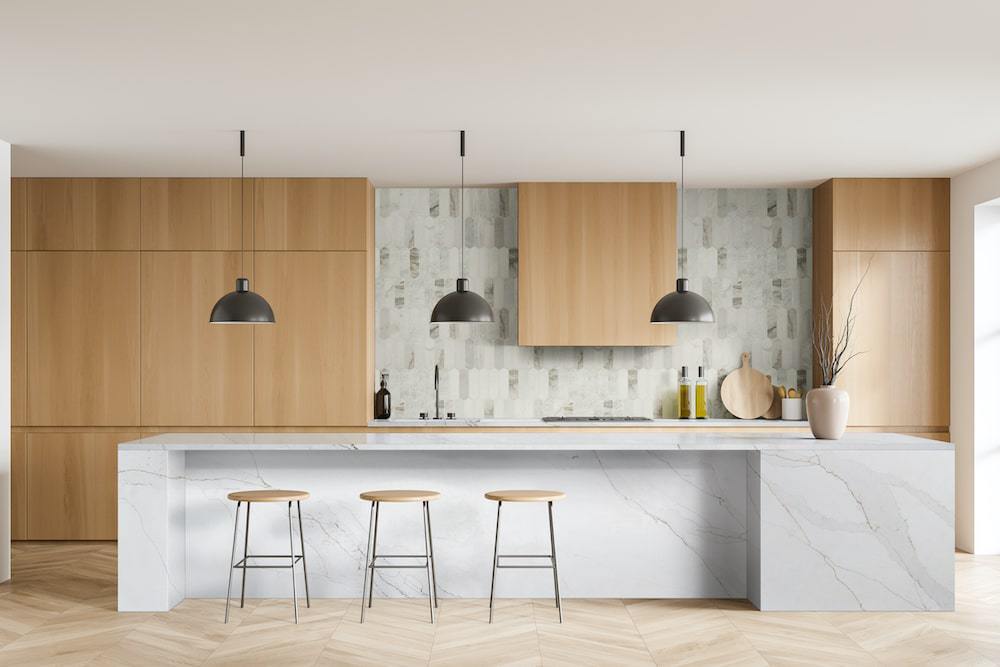 Calacatta Abezzo
Open-concept kitchens are popular for a reason. They make your kitchen feel more spacious, inviting, and welcoming. For example, removing walls or installing an island can create an open and airy feel, allowing you to interact with guests while you cook. Another way to open up a space is by replacing drab kitchen countertops with trendy marble-look quartz countertops, such as our stunning Calacatta Abezzo. The creamy, marbled surface looks fantastic and will easily withstand daily use for the years ahead.
Use Designer Kitchen Lighting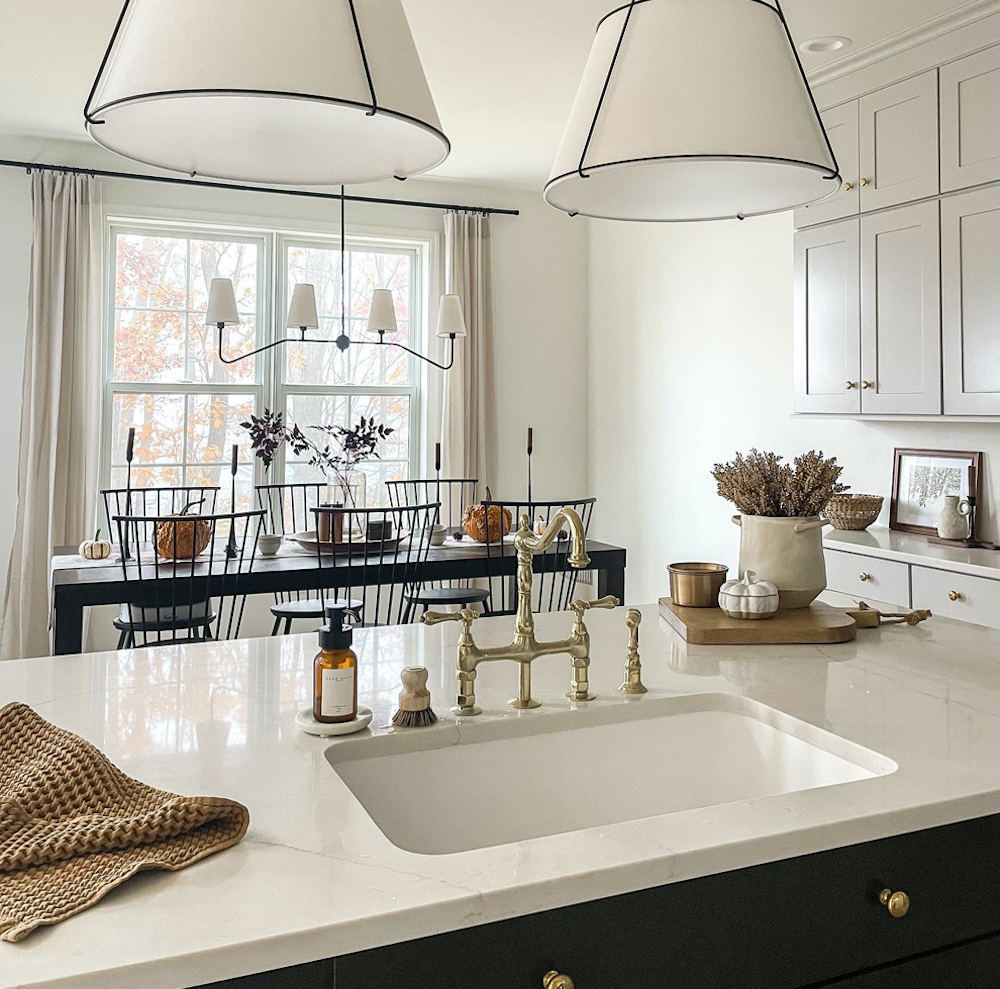 Calacatta Arno Photo Credit: @piperjames.co on Instagram
Incorporating well-designed lighting is an essential aspect of any kitchen remodel. Not only does it provide functionality, but it also enhances the overall aesthetic of the space,
creating an inviting ambiance. Install task lighting, such as under the cabinets, or designer lighting fixtures above a kitchen island, to illuminate work surfaces and accentuate key features. Doing so lets you fully appreciate the exquisite beauty of materials such as our Calacatta Arno quartz countertop. In addition, the designer lighting fixtures will provide stunning illumination, bringing out the distinct veining and accentuating the subtle cream background, resulting in a breathtaking and luxurious focal point for your kitchen.
Choose Sustainable Materials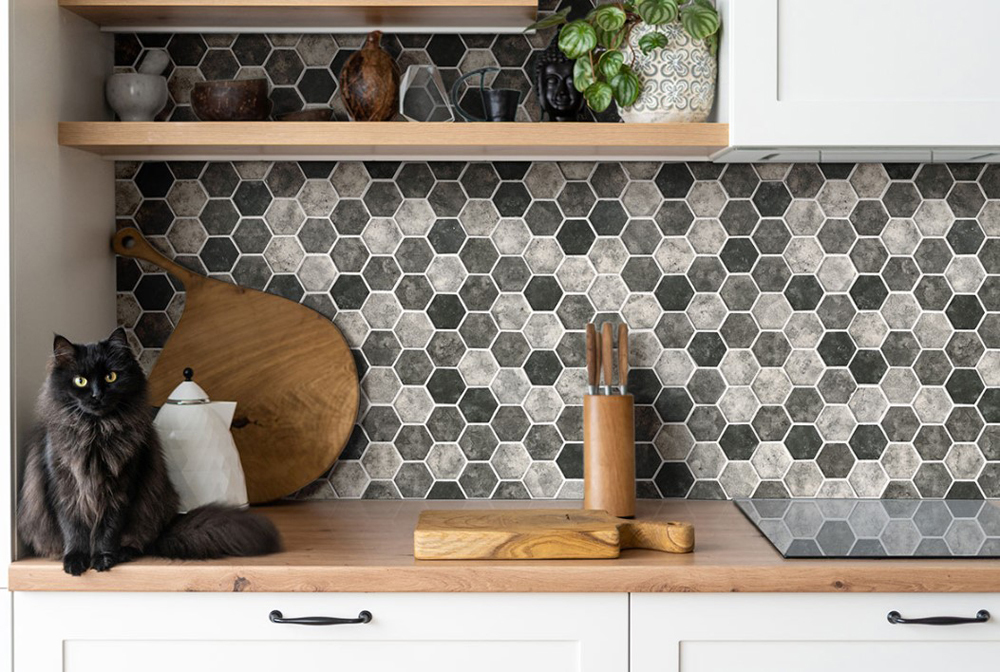 Urban Tapestry Mosaic Tile
Most people are increasingly conscious of their environmental impact, and kitchen renovations are no exception. Sustainable materials like our Urban Tapestry Mosaic Tile come from recycled glass, so the rich tones of this hexagon tile will add stylish gray and cream tones to your kitchen design while minimizing your carbon footprint.
In conclusion, updating your kitchen can be an exciting and rewarding experience with numerous benefits. You can create a functional and stylish space by choosing durable, quality materials and implementing intelligent design choices. In addition, you will find plenty of kitchen design trends and updates to choose from that will elevate the look and feel of your space. So go ahead and give your kitchen the upgrade it deserves – your family and your home will thank you for it.
Are you ready to give yourself the kitchen you always dreamed about? We can help! Chat with us now, visit one of our showrooms, or connect with an authorized MSI dealer in your area.
LEARN MORE ABOUT LUXURY VINYL FLOORING
How To Choose the Right Type of Luxury Vinyl Flooring for Your Home and Lifestyle
Why Luxury Vinyl Flooring Is a Smart Choice for Your Bathroom
Meet Ashton 2.0™ With an Upgraded Protection Layer And 5 Entirely New On-Trend Designs!