Porcelain Perfection: 6 Porcelain Tiles That Mimic Wood
December 10, 2015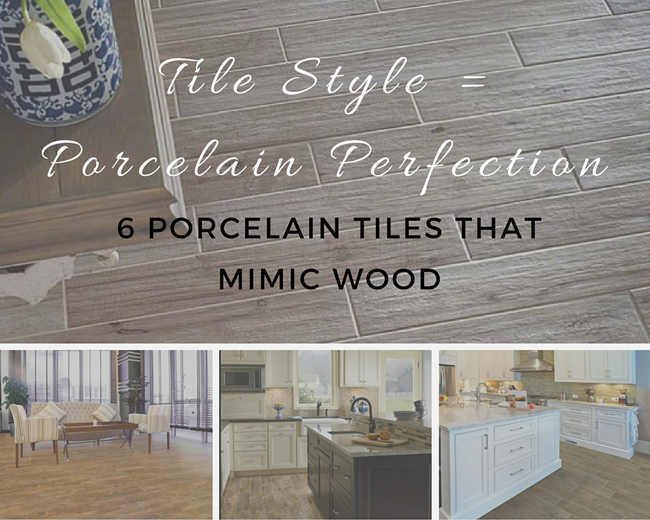 With the right conditions and care, a rustic wood floor is a warming and timeless focal point in any home. However, wood floors aren't the right choice for every homeowner. Hardwood floors can be expensive (depending on the wood species) and difficult to install. Wood is also susceptible to moisture damage, scratching, and everyday wear and tear. Great news! You can now achieve the same wood flooring look with porcelain tile.
Crafted from super-fine porcelain clay—and fired at a higher temperature than ordinary ceramic tile—porcelain tiles are dense, beautiful, and durable. Available in both glazed and unglazed, porcelain wood tiles are artfully crafted in glossy, refined, or rough textures that realistically resemble natural materials. With a genuine wood look and added protection against moisture and wear, wood-look porcelain tiles are gaining popularity amongst homeowners, builders, and designers alike.
These striking, wood-look porcelain tiles from MSI offer the rustic warmth of wood without the drawbacks:
#1 Forest Natural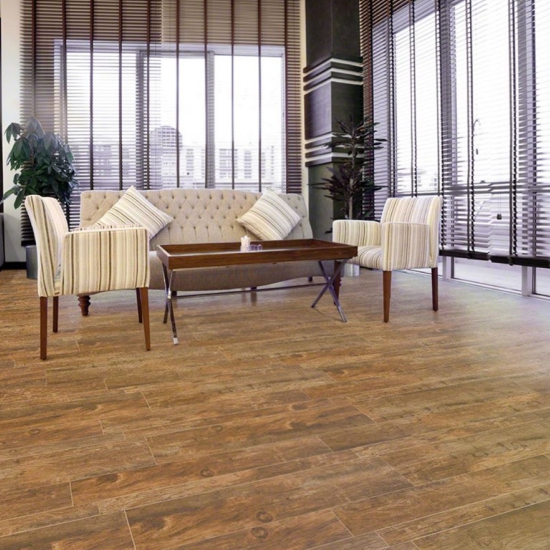 Featured: Forest Natural
With flecks of beige and greige cascading throughout the entire design, even Mother Nature couldn't tell the difference between Forest Natural tiles and real wood. With a design that realistically resembles pine planks, these easy-care tiles add an element of warmth and magnetism to any space including bathrooms and kitchens, where hardwood isn't ideal. Featuring a natural wood-look in a kit with three different tile sizes, you'll craft a unique look for floors, countertops, and walls throughout your home.
#2 Ecowood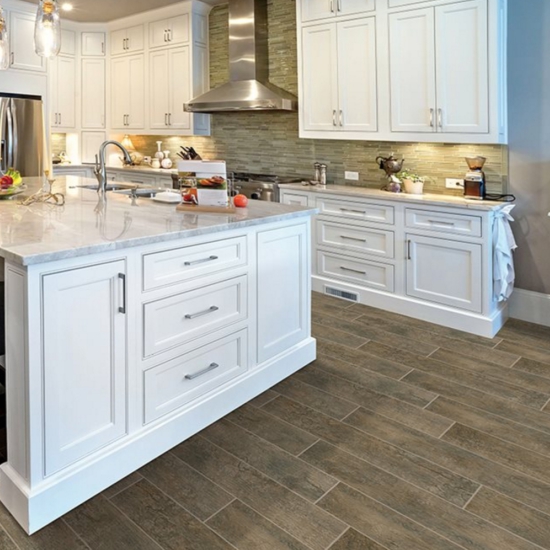 Featured: Ecowood in Argent
Reimagined in contemporary colorways, Ecowood offers an exotic, fossilized-wood look in resilient porcelain. Available in 6x24, this gorgeous wood tile line combines advanced inkjet technology and rectified edges for a natural beauty as old as time itself. Available in three contemporary colors, Argent, Copper, and Tungsten, you'll be able to create that rustic, wood-look floor or accent wall you've been dreaming of.
#3 Palmetto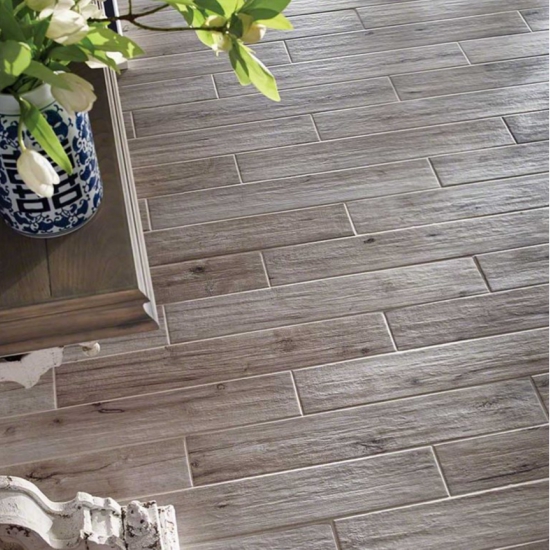 Featured: Palmetto in Fog
Fashioned in Italy using the latest in high-definition inkjet technology, the Palmetto series captures an intricate wood look in dependable porcelain. With a quality and attention to detail that's distinctly European, Palmetto complements any space from modern condos to traditional villas. Available in richly colored, 6x36 planks pressed to provide soft, pillowed edges, this gorgeous tile delivers stunningly realistic wood texturing and colorations. Offered in four distinct colors—including the coveted grey-wash look, Palmetto brings warmth, character, and patina to any space.
#4 Redwood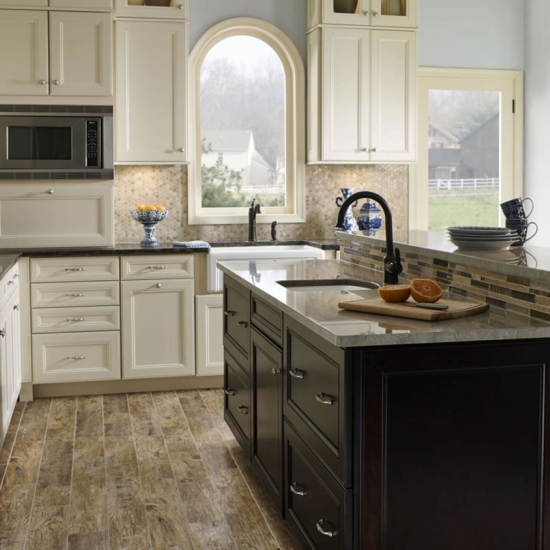 Featured: Redwood in Natural
Like a great tree in a sky-scraping forest, the Redwood series delivers a natural, effortless elegance and reverence. Available in 6x24 and 6x36 planks, with a pattern that replicates the allure of reclaimed wood, this wood tile delivers a dramatic texture that echoes the look of salvaged building materials. Mahogany, a rich brown-red, and Natural, a lighter blond-gray, emphasize the graining of this carefully crafted series.
#5 Salvage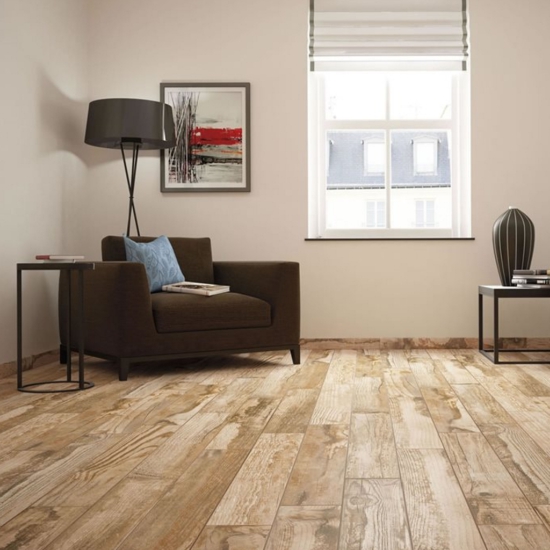 Featured: Salvage in Red
Like a sprawling farmhouse or country manor, MSI's Salvage collection authentically replicates the grain, texture, and color of reclaimed wood. Offered in four natural hues with a matte finish—Brown, Honey, Musk, and Red—this collection is carefully crafted with the latest digital glazing techniques. These 6x40, non-rectified porcelain tiles mirror the length of traditional wood planks, providing countless installation options.
#6 Woodstone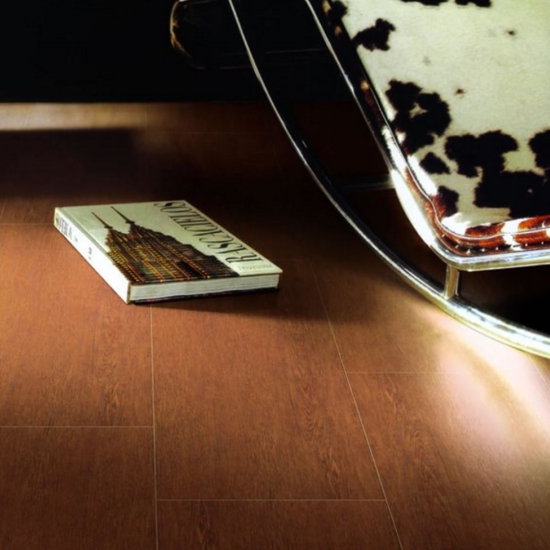 Featured: Woodstone in Oak
When it comes to looks and elegance, hardwoods are a naturally exquisite choice. With Woodstone porcelain, you'll achieve that desirable wood look, with the added strength and durability to stand up to everyday wear. The delicate veining and rectified edges of these 6x24 planks make them a hard-working surface for wet and dry residential and light commercial spaces. Available in Cedar, Mahogany, and Oak, this refined porcelain tile flooring delivers high style at a value price point.
With a range of styles and formats to choose from, porcelain tiles are versatile, striking, and easy to care for. If you adore the natural warmth of wood but can't stomach the expense and upkeep, you may want to consider the overall cost savings and easy-care of wood-look porcelain.
READ MORE ABOUT THE BENEFITS OF PORCELAIN TILE
Porcelain Perfection: 3 Of Our Favorite Porcelain Tiles
5 Best Porcelain Tile Options For Mudrooms
5 Places to Use Plank Porcelain Wood Tile