Creative Backsplash Tile Patterns For Standard Tile Shapes
January 15, 2022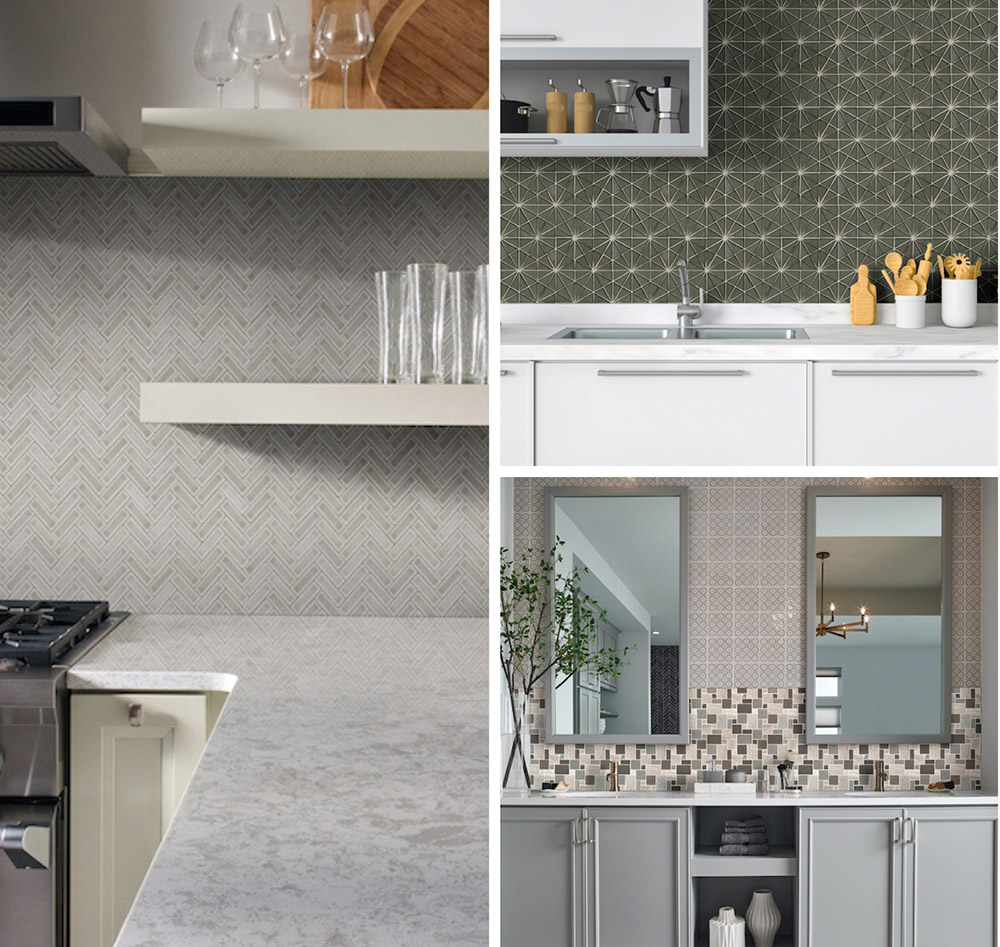 After you've chosen the perfect countertop, cabinetry, and flooring, there's one more decision to make for your newly remodeled kitchen — one that can make or break your entire design. You could take the safe route and choose a plain kitchen backsplash, or take advantage of MSI's backsplash tile to create something extraordinary.
To create amazing backsplash designs, there's no need to employ professional interior designers or invest in specialized materials. Your own creativity, plus a few popular, timeless tile patterns, is all you need to let your personality shine through and create a room you'll love for decades.
MSI offers both traditionally shaped tiles such as squares, rectangles, and hexagons, as well as specialty shapes that include the arabesque, pencil-thin rectangles, scallops, fish scales, and even circles. Couple that with the immense variety of colors, textures, and tile materials, and your only limit is your imagination. You can create designs with just one type of tile, combine different shapes for a pattern of your own, or use a contrasting tile to create a border. We make it easy, though, by offering many different pre-assembled mosaic patterns on convenient mesh backing. Try out MSI's backsplash visualizer to see how our tile designs look in a real room and get some additional inspiration.
Let's dive in and explore some inspiring backsplash ideas!
DOVE GRAY HERRINGBONE PATTERN BACKSPLASH TILE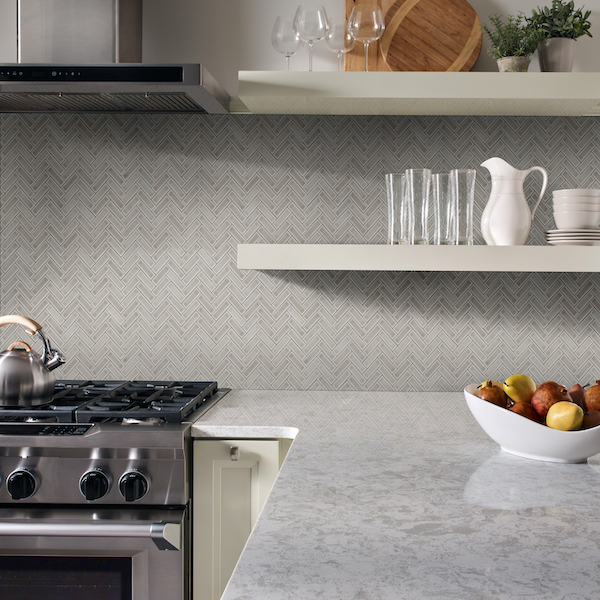 The herringbone or chevron pattern is a classic, traditional favorite. MSI's Dove Gray tile, pre-assembled in a herringbone pattern, puts a lovely modern twist on this old favorite. It's a warm shade of medium- to pale-gray with a polished, artisan glaze that gives it amazing depth. With a petite 1" x 3" size, this eye-catching diagonal pattern is easy to coordinate and won't overwhelm a small space. Install it horizontally as shown here, or flip it around and place it in a vertically oriented pattern. Use a matching grout color on your kitchen backsplash to minimize the contrast, or a darker grout color to enhance the tile edges. It's as versatile as it is beautiful.
LYNX PATTERN TILE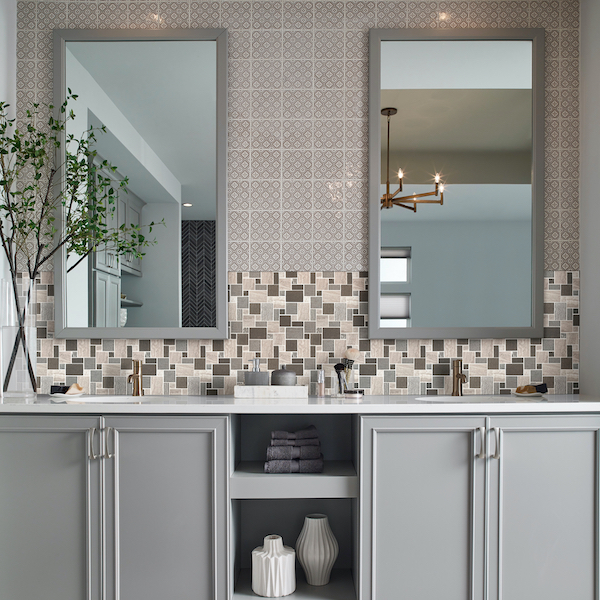 Combining varying sizes of squares and rectangles is another popular tile pattern. This combination is also referred to as the Versailles pattern. It's frequently used in flooring and pavers, but it's ideal for your backsplash too. Lynx Pattern mosaic is a retro-inspired combo of porcelain and textured glass tiles in shades of brown, gray, and silver. Pre-assembled in mesh-backed sheets, this mosaic tiles are a snap to install.
BLACK GRANITE DESERT SUNSET MEDLEY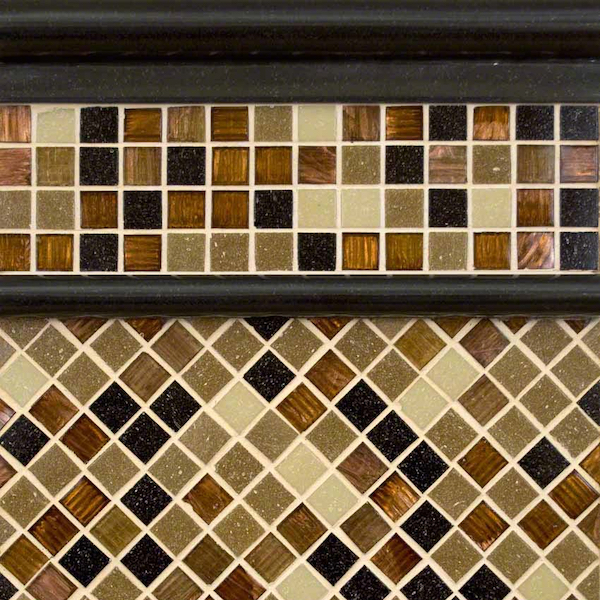 Beautiful mosaics entirely made of square tiles might seem less exciting by comparison to the other patterns mentioned here — but not if it's Black Granite Sunset Medley. This combination of natural stone and textured glass tiles features shades of black, taupe, brown, and cream, a blend that is complementary to nearly any color scheme. For added interest, we suggest installing these pre-assembled wall tile sheets on the diagonal and contrasting that with a straight, grid-stacked border.
ALASKA GRAY PEBBLE POLISHED TILE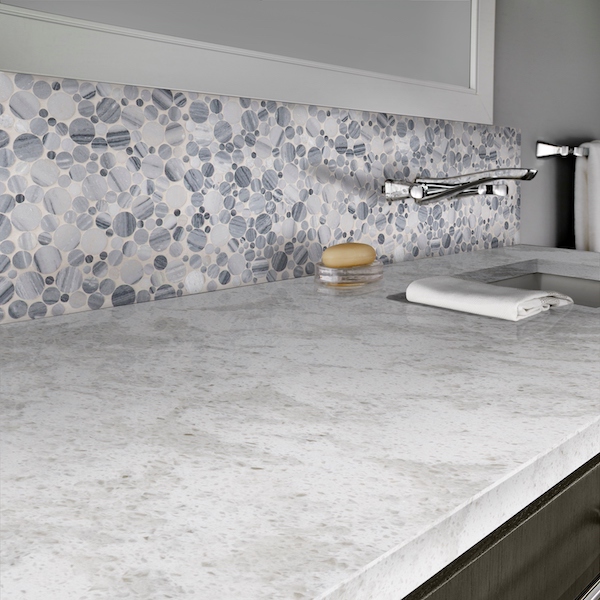 The Alaska Gray Pebble mosaic with a polished finish is an entirely unique way to enjoy the natural beauty of marble. Varying sizes of white marble circles, with different degrees of gray veining, are assembled randomly together, the large and small pieces fitting like pebbles dropped into a jar. This unusual backsplash will surely become the focal point of your kitchen or bathroom. As with other tile patterns, you can choose different grout colors to enhance or reduce the contrast between each circle.
STELLA GRIGIA GLASS TILE

The intricate pattern of the pre-assembled Stella Grigia Glass Tile mosaic makes an enchanting contrast to an otherwise white kitchen. Of course, it would be beautiful with other pale-colored cabinetry and countertops as well. It features dark-gray, shiny glass tiles in triangle shapes arranged in a pattern that includes diamonds, hexagons, and more. With light-colored grout, the starburst in the center of each patterned tile arrangement stands out.
RETRO BIANCO ARABESQUE Arabesque Tile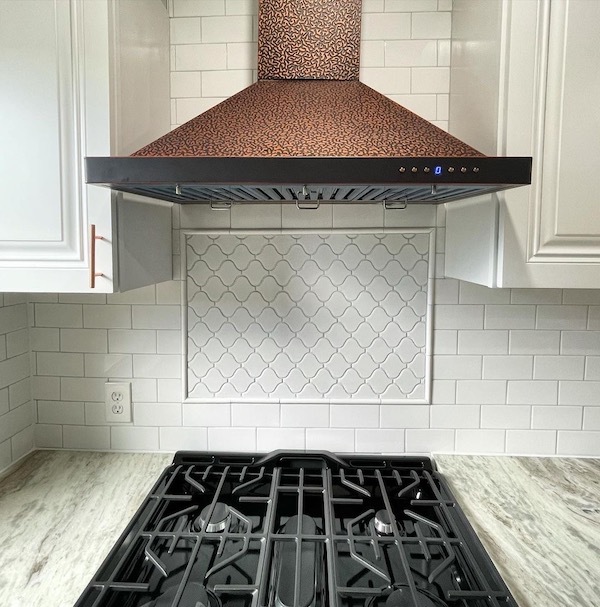 The Moroccan-inspired arabesque pattern has been a hot trend in recent years. This deceptively intricate pattern is easily achieved, of course, with curvy Arabesque-shaped tiles such as Retro Bianco Arabesque. Featuring a soft white shade of porcelain with a matte finish, it's a neutral element that adds subtle flair to your backsplash design. If you don't want the entire backsplash in this pattern, an inset section as shown here provides an artistic accent. It makes an excellent addition to a backsplash of white subway tile.
RETRO BRICK BIANCO WHITE SUBWAY TILE
To round out our list, here's the classic Retro Brick Bianco White Subway Tile. This matte-finish, white porcelain tile has always been a favorite, but it has seen a surge of popularity in recent years as kitchen designers and homeowners embraced a minimalist style. As an added bonus, it's a truly neutral element that fits easily into any type of decor, from contemporary to traditional and even rustic. With a rectangular subway tile you can achieve several interesting layout patterns, but by far the most-used is the staggered brick pattern. For a twist on this classic favorite, try the offset pattern, which is done by laying the adjacent row 1/3 of the way across instead of 1/2. Want to try something even more radical? Try laying them vertically instead of horizontally.
Use your creativity to design a bold, dramatic, colorful backsplash, or one that adds subtle interest. Make it traditional, retro, or contemporary — it's up to you! We know you'll find the perfect tile for your home from our wide selection.
READ MORE ABOUT MSI BACKSPLASH TILE
How To Remodel Your Kitchen With A Stacked Stone Backsplash
Don't Ruin Your New Backsplash Tile With A Bad Install
Enhance Your Kitchen Backsplash Tile With Dimension And Texture
Find Porcelain Tile Inspirations With Our Backsplash Tile Guide