Popular
Venetian Marble - Natural Stone Look At An Affordable Price
October 27, 2014
Have you always loved the beautiful natural look and feel of granite, marble, and natural stone, but could never bring yourself to spend the money? Venetian marble could be the answer for you!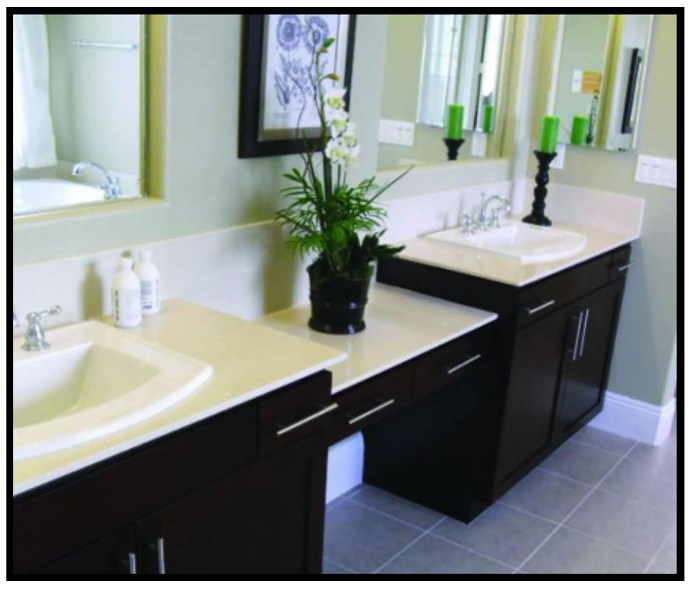 What is Venetian Marble?
Venetian marble is an environmentally sustainable and affordable alternative to cultured marble, granite, and other natural stone products. It is man-made and formed by taking recycled natural marble that is pressed and heated with resins, polymers, and pigments, to make a tough and impervious premium surface. The material is factory-made in slabs and then cut and polished by fabricators to allow for easy installation. It comes in a variety of colors and decorative edge finishes to complement any design project.
Venetian marble has become a popular renovation material and is often preferred over other natural products because it is easier to install, requires less maintenance, and has an excellent resistance to stains and bacteria. The resulting product is so durable it can be used to create custom countertops, backsplashes, shower enclosures, and floors. Venetian marble can be used anywhere natural marble, granite, and tile are used, and so much more!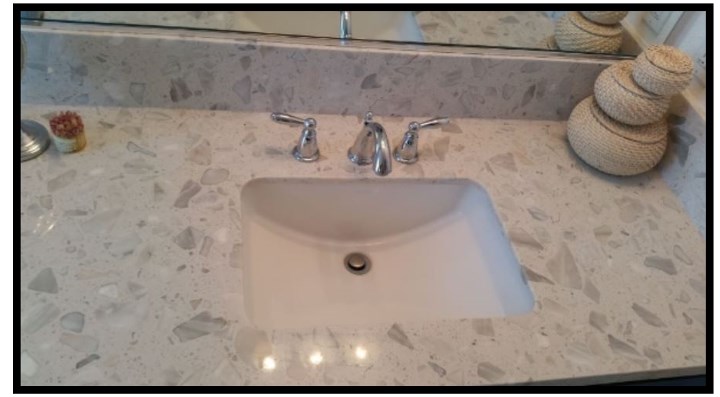 "No Seam" Easy Installations
You are no longer restricted to the traditional 48" wide surfaces. Venetian marble is the first 60"+ wide engineered marble in the industry. Because it requires less seams, installation is easier, faster, and there is very little fall off waste. Venetian marble is one of the most environmentally sustainable products on the market today. "No Seam" back wall tub installations are now possible for standard 60" wide bathtubs!
A Variety Of Color Choices
Natural rock varies in color and pattern and will often have surface pitting and marks. Engineered stone, on the other hand, has a consistency in color and texture throughout the slab helping to minimize seam visibility, making it a good choice to use where color consistency is important. Venetian marble offers a variety of color choices from our popular Tibetan Beige and Coco Emperador and to our more traditional colors such as Vanilla Sky and Melange.


Care and Maintenance
Venetian marble premium surfaces are easier to care for and maintain than traditional stone and tile surfaces. All you need to do is wipe with a damp cloth, sponge or paper towel. For those more difficult stains, a mild soap or a neutral pH cleaner and nonabrasive scrub pad ensure your surface will provide you with many years of trouble free use. It is recommended that additional sealing be provided by simply using any available marble sealer. Highly sustainable, Venetian Marble countertops and backsplashes are an ideal option for those looking for the elegance of marble and granite stones with lasting durability and longevity.
With so many Venetian marble options to choose from, you will always be able to find one that matches your design preference, lifestyle and budget. Click venetian marble countertops to view our entire line of Venetian marble premium surfaces!