Find Inspiration With Our 10 Most Popular Luxury Vinyl Flooring Colors
July 15, 2022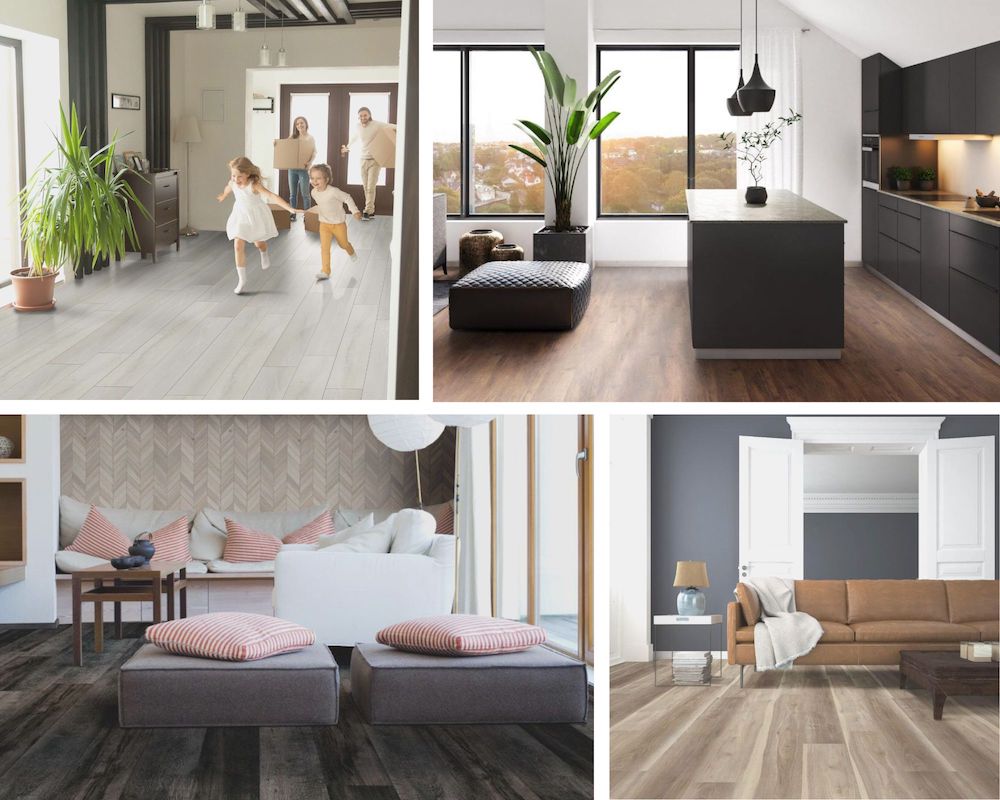 There are so many reasons why MSI's Everlife Luxury Vinyl Flooring is so popular among today's homeowners: It's kid-proof, pet-proof, and easy-care. It's tough enough to stand up to the demands of active families.
After all, there's no doubt that wood flooring goes with every style of decor, from rustic to traditional to refined, minimalistic contemporary. Water resistant vinyl flooring lets you enjoy the look of wood anywhere in your home — including bathrooms, kitchens, laundry rooms, and more — without worrying about spills and splashes. Even better: It's slip-resistant, too.
But those aren't the only reasons. With over 100 beautiful colors of wood-look planks to choose from, everyone is sure to find a favorite. Here are our 10 most popular colors!
CYRUS KATELLA ASH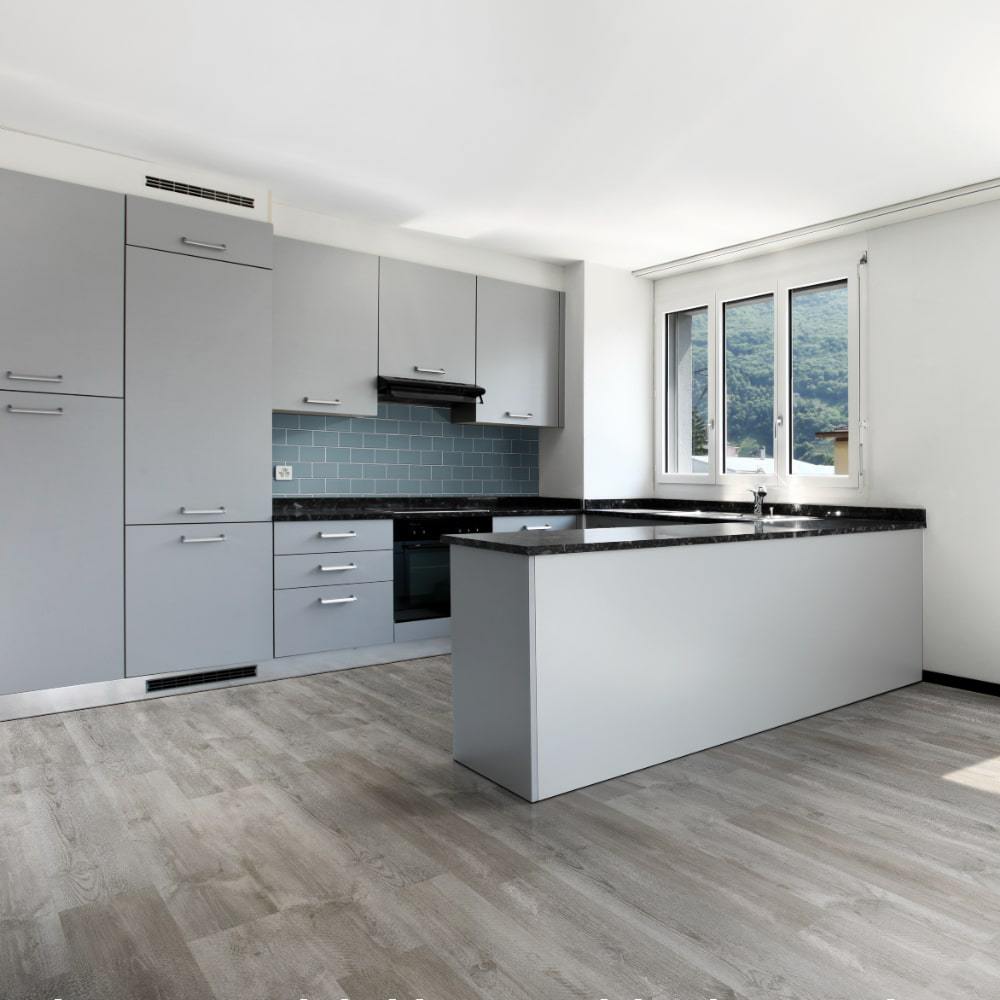 Katella Ash Luxury Vinyl Planks
When you look at Katella Ash, you might wonder how we create such realistic wood looks. This rigid core flooring is a dark gray shade, and it features the knots and graining found in real wood planks — we've even included subtle saw marks. You'll love it in the kitchen because waterproof flooring is so easy to keep clean, no matter how messy your family can be.
ANDOVER KINGSDOWN GRAY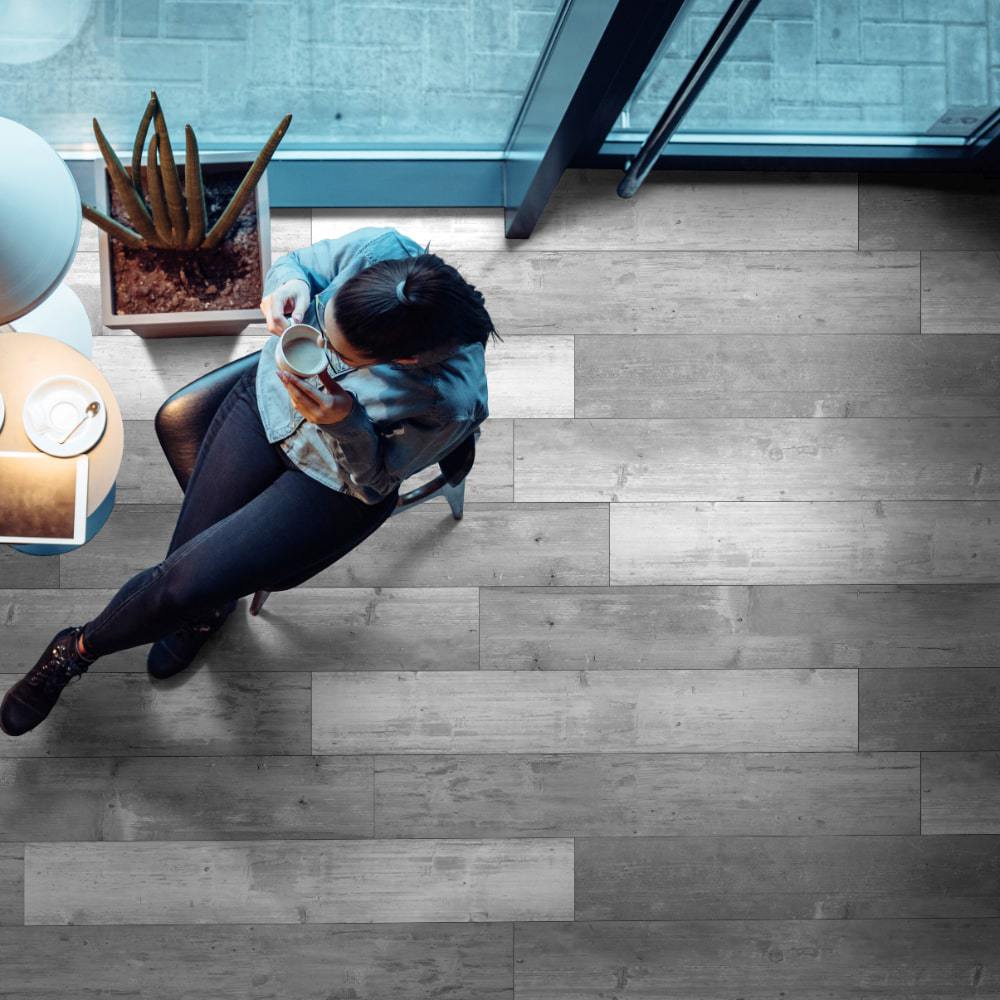 Kingsdown Gray Luxury Vinyl Planks
Kingsdown Gray is another frequently selected color of vinyl plank flooring. This one is a bit more rustic, with a weathered wood look that many decorators associate with a coastal aesthetic. Whether you're remodeling your seaside vacation home or making your home office feel a bit more peaceful and serene, this color is easy to love.
ANDOVER HATFIELD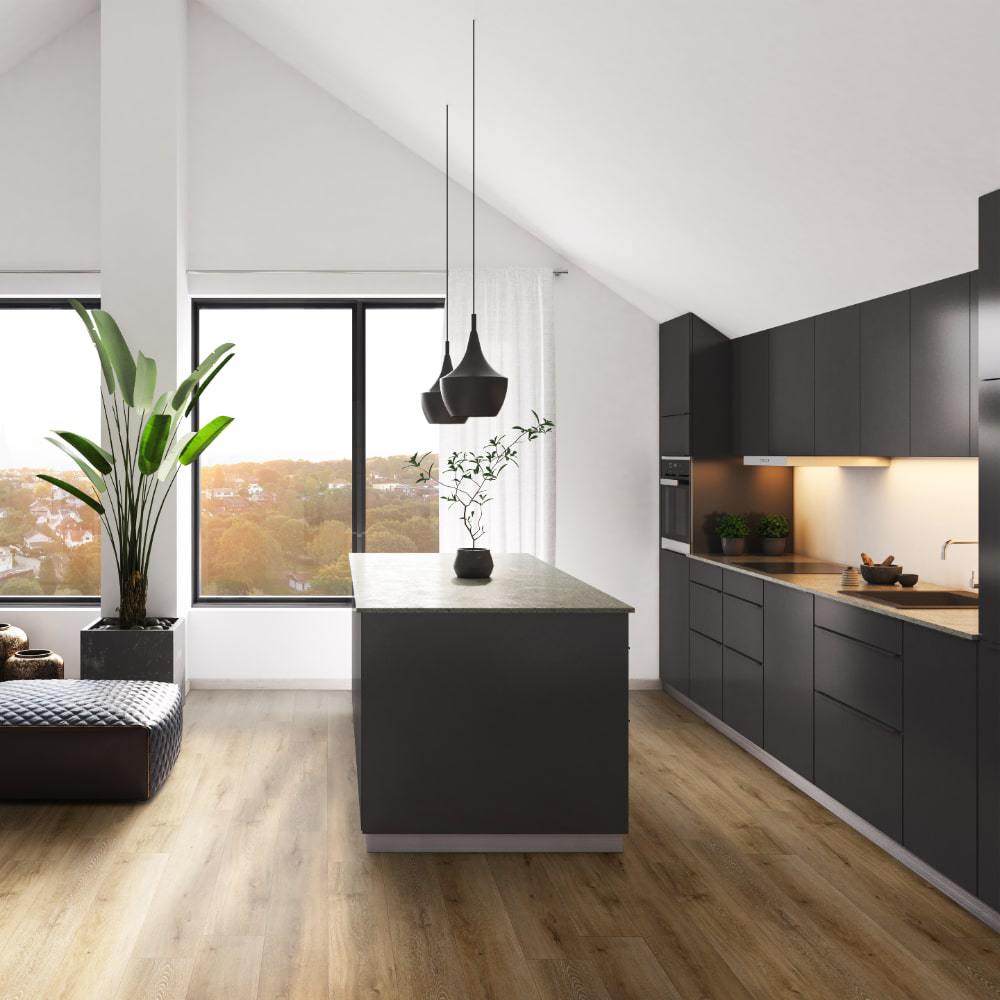 Hatfield Luxury Vinyl Planks
Our customers are enamored with the look of natural oak, which you can create with Hatfield from the Andover collection. The rich, brown color is accented with realistic wood grains and knots. But if that weren't enough, the planks are designed with enhanced bevel edges. It's a subtle touch that does wonders for making the vinyl planks' appearance even more like real wood.
PRESCOTT AKADIA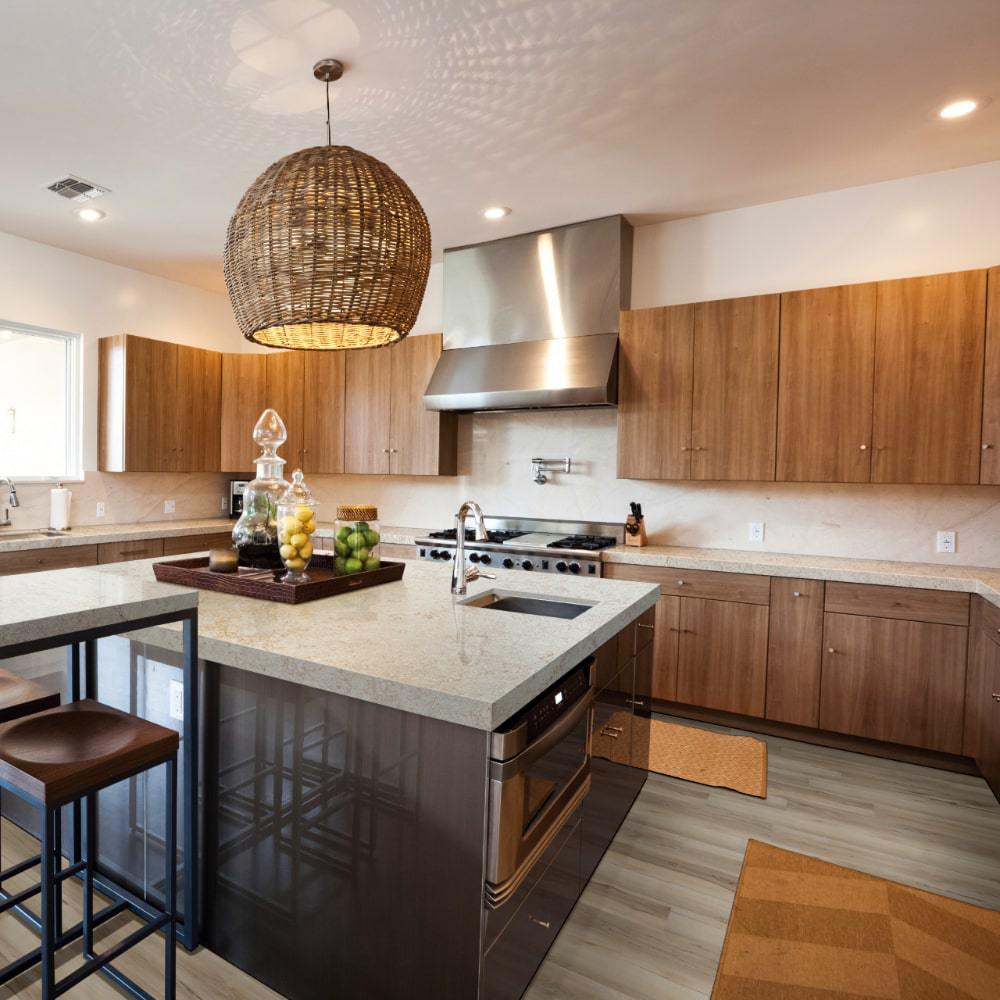 Akadia Luxury Vinyl Planks
If you have an open floor plan, you'll want to find flooring options that look just as great on one side of the home as they do in the other — from kitchen to dinette to family room. And honestly, just about everything is complemented by Akadia from the Prescott series. This premium flooring is a medium beige with striking wood patterning reminiscent of pine.
ANDOVER BAYHILL BLONDE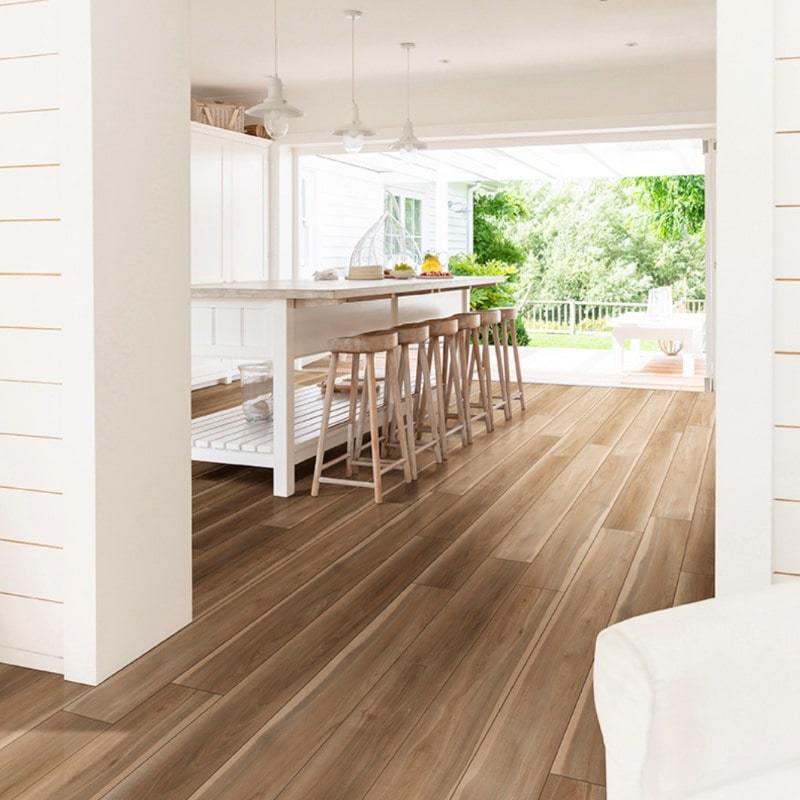 Bayhill Blonde Luxury Vinyl Planks
Bayhill Blonde from MSI's Andover series features two distinct wood tones, a light brown contrasted with a paler shade. It's an excellent choice for tying together different colors within a decorating scheme, such as white walls with dark wood cabinetry. Like every other flooring color mentioned here, it comes with a pre-attached acoustic backing which makes it easier on your feet. And you can't beat the simplicity of luxury vinyl planks care and maintenance.
ANDOVER HIGHCLIFF GREIGE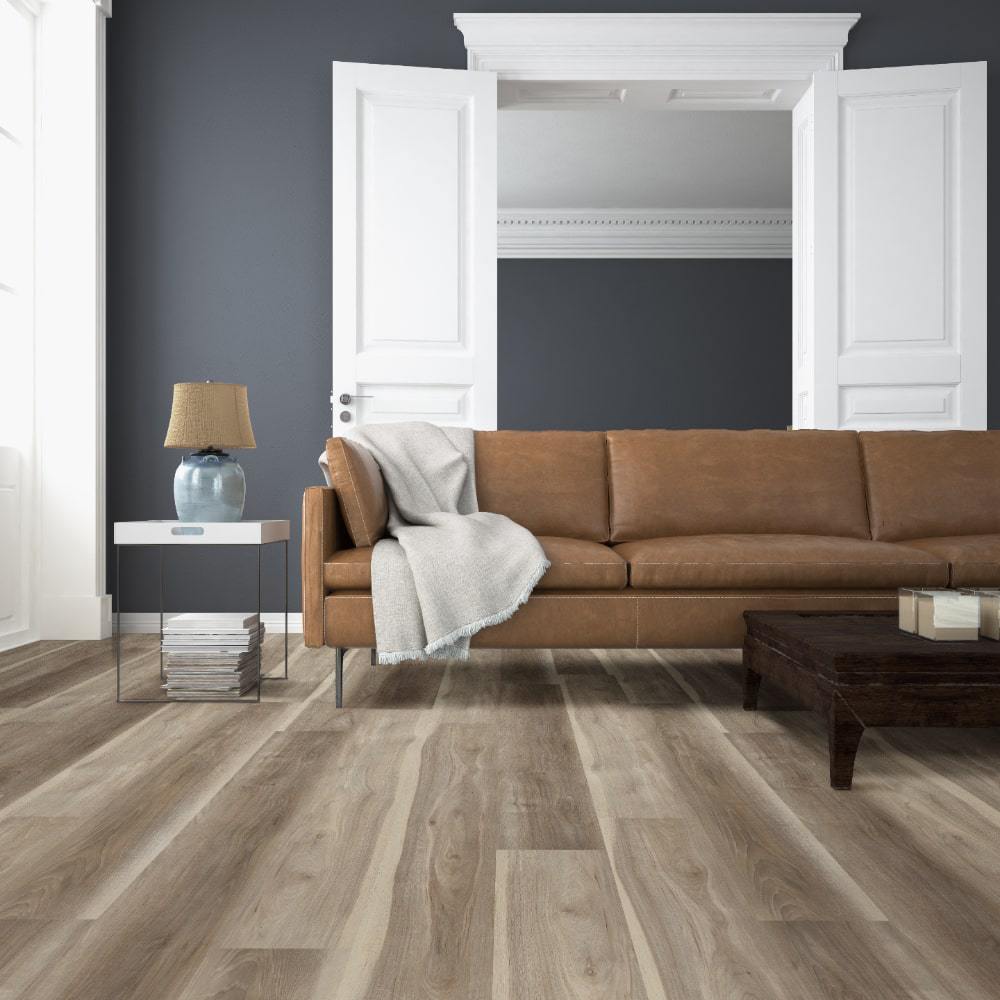 Highcliff Griege Luxury Vinyl Planks
Also in the Andover series, Highcliff Greige is similar to Bayhill blonde, featuring two contrasting shades. It's more neutral, however, making it a better choice to complement cabinetry and countertops with more of a cool tone. With its simple click-lock system, it installs quickly and can even be a great DIY project. Premium flooring is always a big investment, but LVT is one of the best values on the market in terms of beauty, easy installation, and price per square foot.
ANDOVER DAKWORTH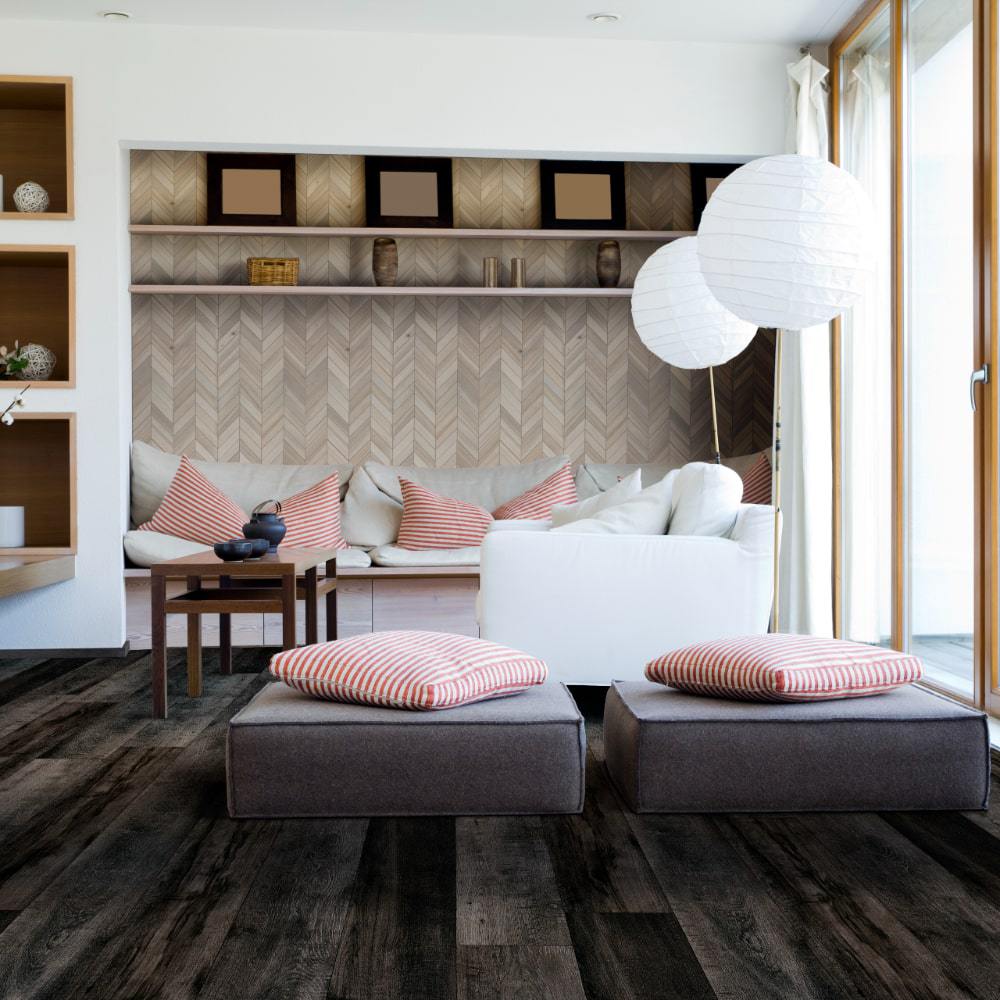 Dakworth Luxury Vinyl Planks
A dark-colored floor can make any room look elegant and refined. Dakworth luxury vinyl planks are protected with an industry-leading 20 mil CrystaLux wear layer so it resists sun fading, scratches, dents, and other forms of damage that result from everyday wear and tear even in high traffic areas. Its charcoal-black color is accented with a lighter grain pattern that is truly eye-catching.
XL CYRUS BRALY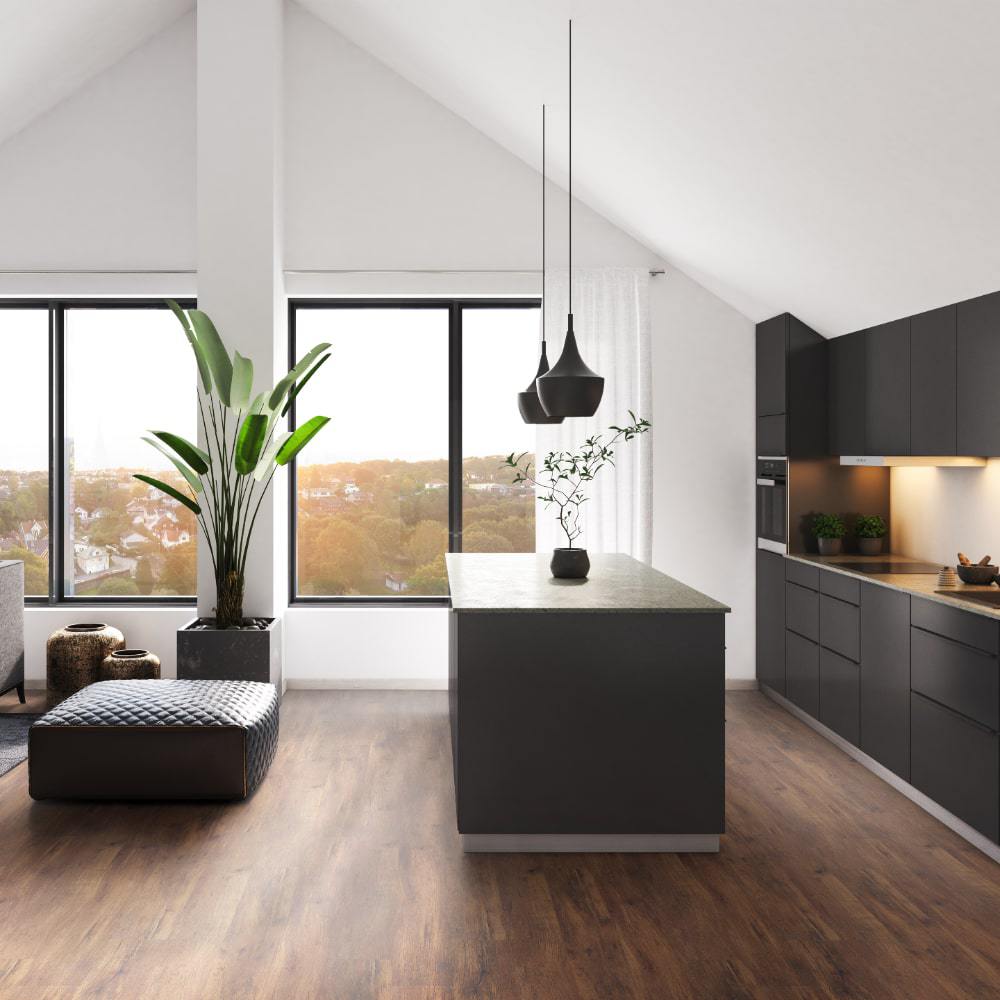 Dark brown Braly from the Prescott collection is a representation of the classic wood flooring commonly found in traditional homes — the type you might imagine filled with priceless antiques. The enhanced beveled edges create an even more authentic finished installation, because they create a slightly 3D look. But even if you have a more contemporary preference, these 7" x 48" wood planks with a pre-attached backing will make your home as comfortable as it is stylish.
PRESCOTT BRALY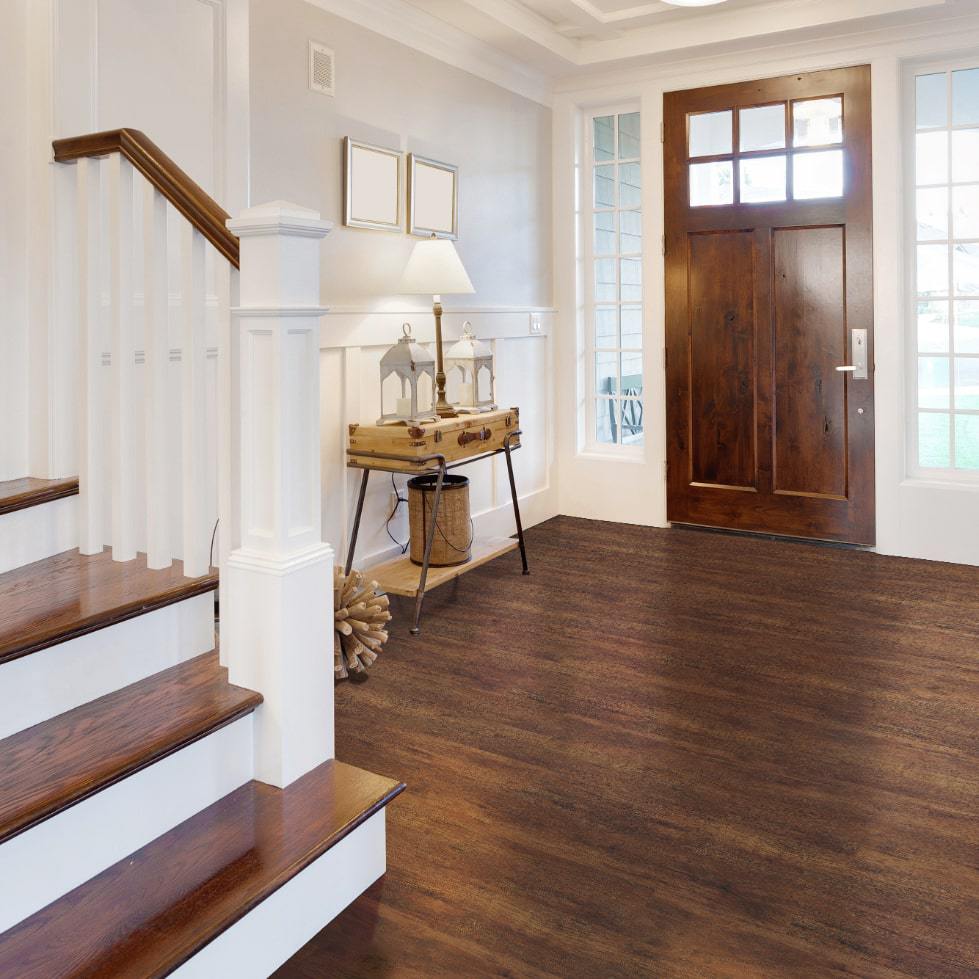 Prescott Braly Luxury Vinyl Planks
Prescott Braly offers the same rich, cozy brown tones with an upgraded 20 mil wear layer. MSI offers several of its most popular LVT colors in a variety of options, so you can change the features that are most important to you. When planning your installation, don't forget to add our matching trim pieces, including stair noses and treads, quarter-round molding, end caps, and molding to create a professional meeting with other types of flooring.
ANDOVER WHITBY WHITE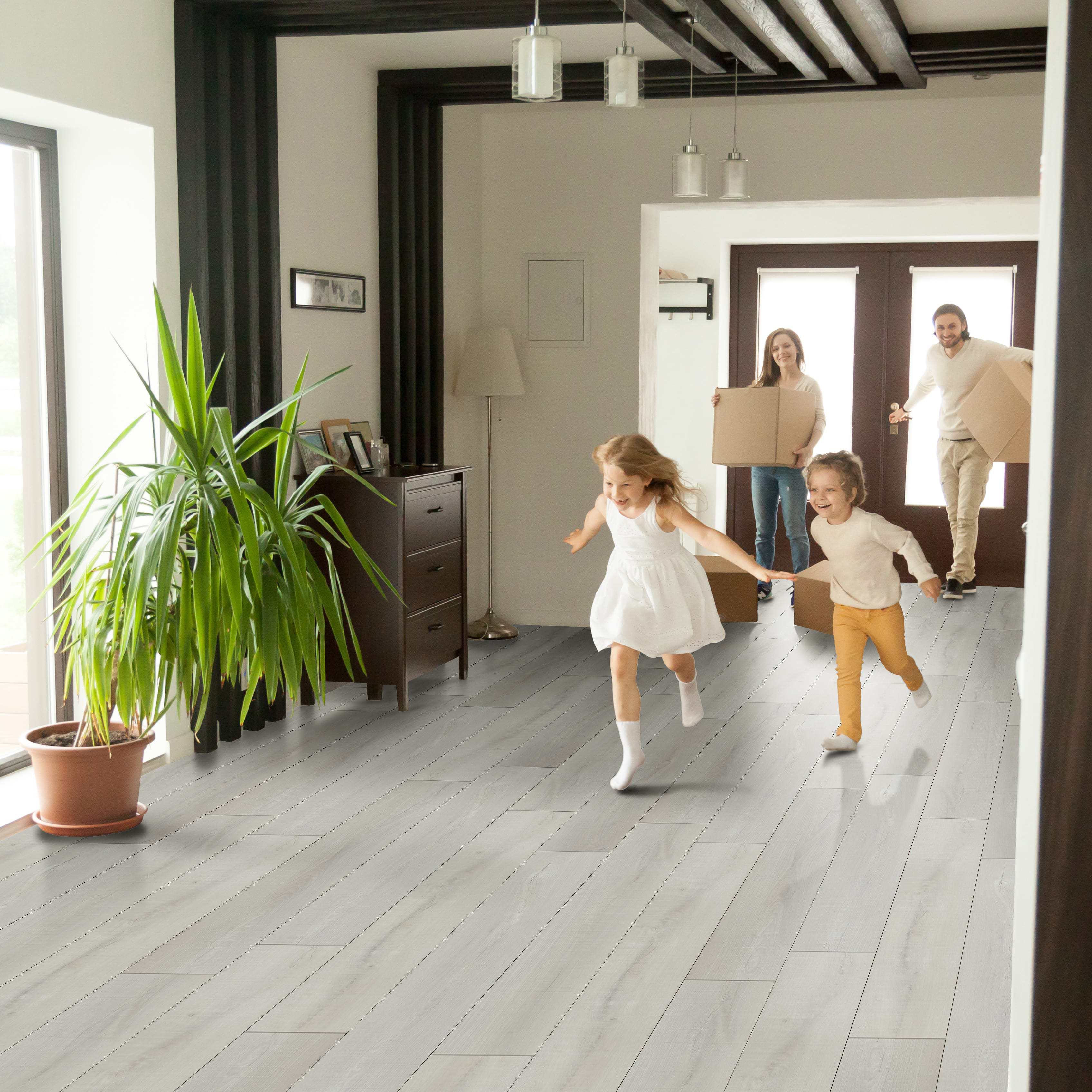 Whitby White Luxury Vinyl Planks
It seems like over the past decade, homeowners and decorators have fallen in love with everything white, from walls to counters and even flooring. Whitby White in our Andover series remains on-trend and top-ranking. It features a soothing combo of soft white and pale gray you'll want to come home to at the end of a hectic day. If you're worried about the work involved in keeping a white floor sparkling clean, you'll be pleasantly surprised to discover how easy the dirt wipes away from its nonporous, 20 mil CrystaLux wear layer.
These may be our most popular LVT colors, but with so many different wood-look planks to choose from, your favorite may still be waiting for you to find in our luxury vinyl plank gallery online or in one of our showrooms. Click or visit us in person for the personalized experience that sets us apart from the rest.
There's so much to explore with our Andover series, and we'd love to help you find your perfect one! Please visit us at an MSI showroom, chat with us online, or contact an authorized MSI retailer in your area.
Learn More About Luxury Vinyl Flooring
Cost Comparisons Of Luxury Vinyl Flooring
Best Practices for Installing Luxury Vinyl Flooring
Get Easy Care Wood Looks With Flexible Glue-Down Luxury Vinyl Planks
Bigger And Better Than Ever: XL Luxury Vinyl Flooring
Beautiful Stone-Look Luxury Vinyl Tile Featuring MSI's Pietratech™ Technology
Whitewash Vinyl Flooring Planks From MSI