Beautiful Stone-Look Luxury Vinyl Tile Featuring MSI's Pietratech™ Technology
September 19, 2022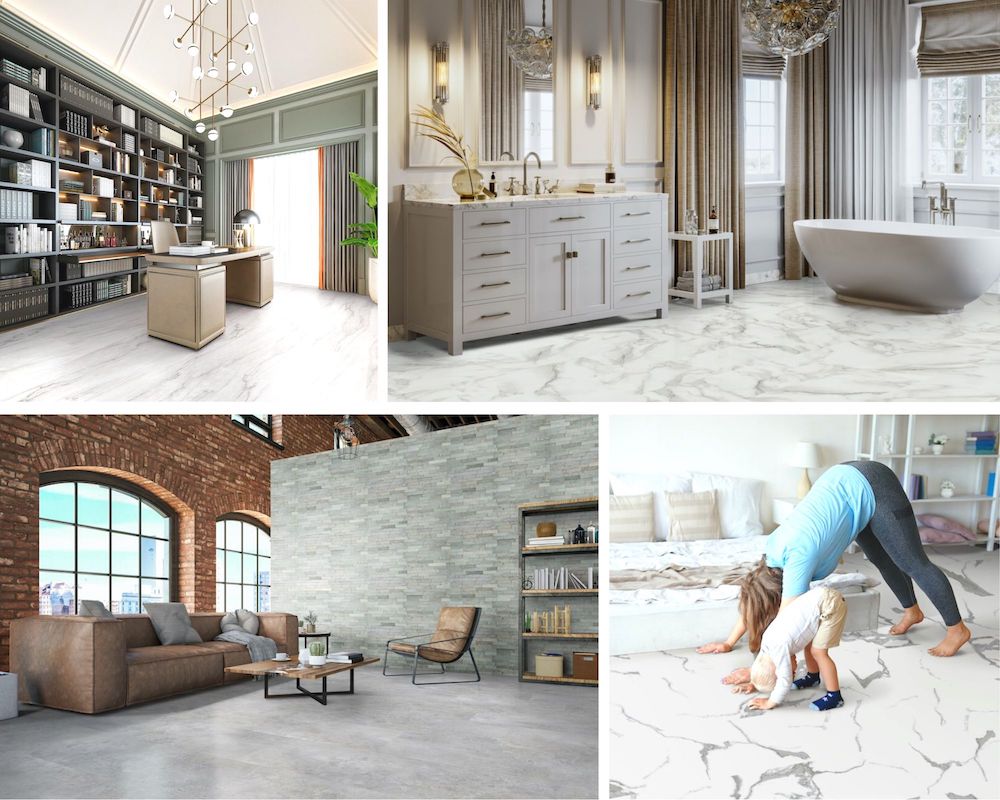 Hardwood and natural stone are traditional flooring options that offer strength, durability, and high-end appeal, but they're not without their drawbacks. Wood can rot, warp, and succumb to pests, while stone requires specialized care and maintenance. Both can be incredibly costly. Fortunately, luxury vinyl tile provides a modern alternative with significant advantages.
Luxury vinyl flooring offers benefits similar to authentic stone and wood flooring but without some of the challenges associated with these hard surface options. Luxury vinyl tile, or LVT, allows you to enjoy the stone flooring looks you love with less hassle, especially when you factor in MSI's singular PietraTech™ finish.
Below, discover the benefits you'll gain when you choose exceptional LVT from MSI for your home flooring upgrades.
Benefits of Choosing Luxury Vinyl Tile
There are several reasons why you might choose luxury vinyl tile over other flooring options, starting with the fact that it offers similar strength and durability. Unlike traditional vinyl options, this product features a rigid core and layers of vinyl that hold up to heavy traffic and daily wear.
You'll find that there are no negatives when comparing the pros and cons of LVT. Instead, this water-resistant flooring addresses a wide range of practical and aesthetic concerns, meeting the needs of modern homeowners and often even exceeding expectations.
Practical Concerns
Perhaps the most significant appeal of LVT is that it's 100% waterproof flooring. While some other types of flooring can suffer from rot, warping, mold or mildew, and staining when exposed to moisture or liquids, LVT can survive a significant leak and look just as good as new.
Although LVT is strong and rigid, it's softer and typically warmer underfoot than other varieties of hard flooring, delivering greater comfort. It doesn't suffer the echo effect common to natural stone, either.
Best of all, MSI luxury vinyl tile collections deliver an environmentally friendly option that's NSF Certified, Greenguard Gold, FloorScore, and USGBC LEED Certified.
With MSI's patented locking system, homeowners and contractors who install LVT enjoy a quick and easy installation process. In addition, LVT is resistant to staining, scratching, and denting, making it ideal for busy, modern households. It's also quiet, comfortable, slip-resistant, and simple to clean and maintain.
Aesthetic Considerations
It's no secret that antiquated sheet vinyl isn't remarkably durable or attractive, but modern, luxury vinyl tile offers an upgrade on both scores. When it comes to aesthetics, you'll find that the advanced printing processes used to create designs are so similar to authentic stone that you won't be able to tell the difference easily.
With advanced wear layer technology and texturing, luxury vinyl flooring often surprises modern homeowners searching for high-quality, low-maintenance, affordable options. LVT offers the beauty of natural stone with lots of added convenience.
Additional Benefits Offered by PietraTech™
MSI rigid core tile flooring is designed to be robust, with added layers of protection that ensure years of function and beauty. In addition to our CrystaLux™ wear layer that protects against harm from everyday occurrences like scratches, dents, spills, pet accidents, and UV fading, MSI has added PietraTech™.
This exclusive finish is the icing on the cake, so to speak, creating a smooth, polished texture that is often associated with natural stone. When you want all the benefits of LVT with a look and feel nearly indistinguishable from authentic stone, MSI delivers with a range of technologies that emulate natural marble and other popular stone varieties.
Choosing the Perfect MSI LVT for Your Interior Upgrade
With so many types of flooring to choose from, it can quickly become overwhelming. However, it's hard to argue with the astonishing benefits offered by LVT. Once you've chosen this resilient flooring option for your home, all that remains is to pick the perfect variety to add elegance, luxury, and comfort to your interior design. There are several sophisticated and versatile options to choose from. Here are a few of our favorites:
The Bold Look of Classic Calacatta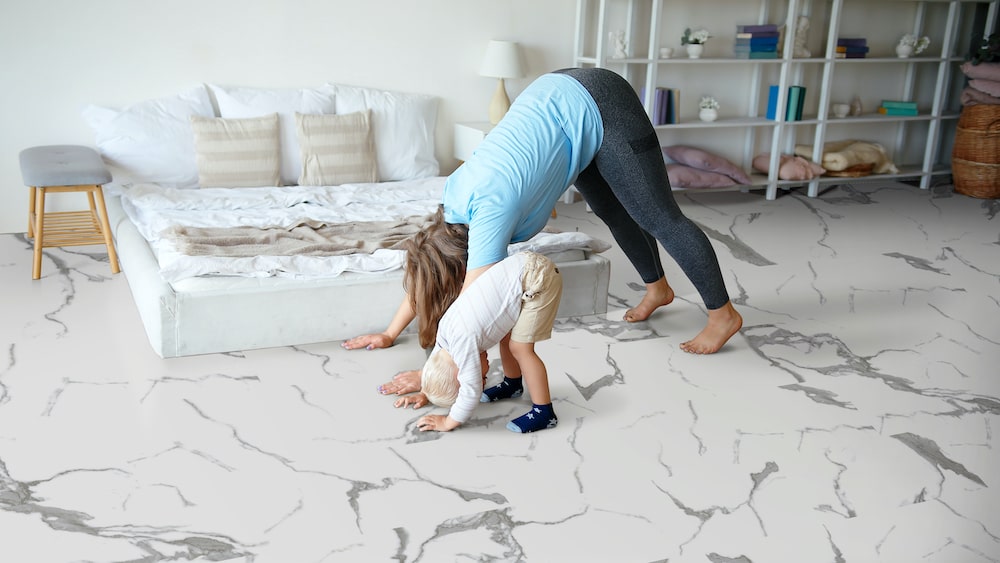 Calacatta Marbello Luxury Vinyl Tile
The beauty of white marble lies in the soft, milky appearance that adds soothing appeal to kitchens, bathrooms, and the entire home. Calacatta, in particular, also serves up incredible movement with gray veining that dances across the white surface.
Calacatta Marbello luxury vinyl tile aptly mimics everything you love about Calacatta marble with a brilliant white background marked by bold veining in pale-to-mid-tone gray. Every square foot delivers just the right touch of drama, adding visual interest and a feeling of luxury to the floors in your home.
Soft, Refined Patterns in Cool Hues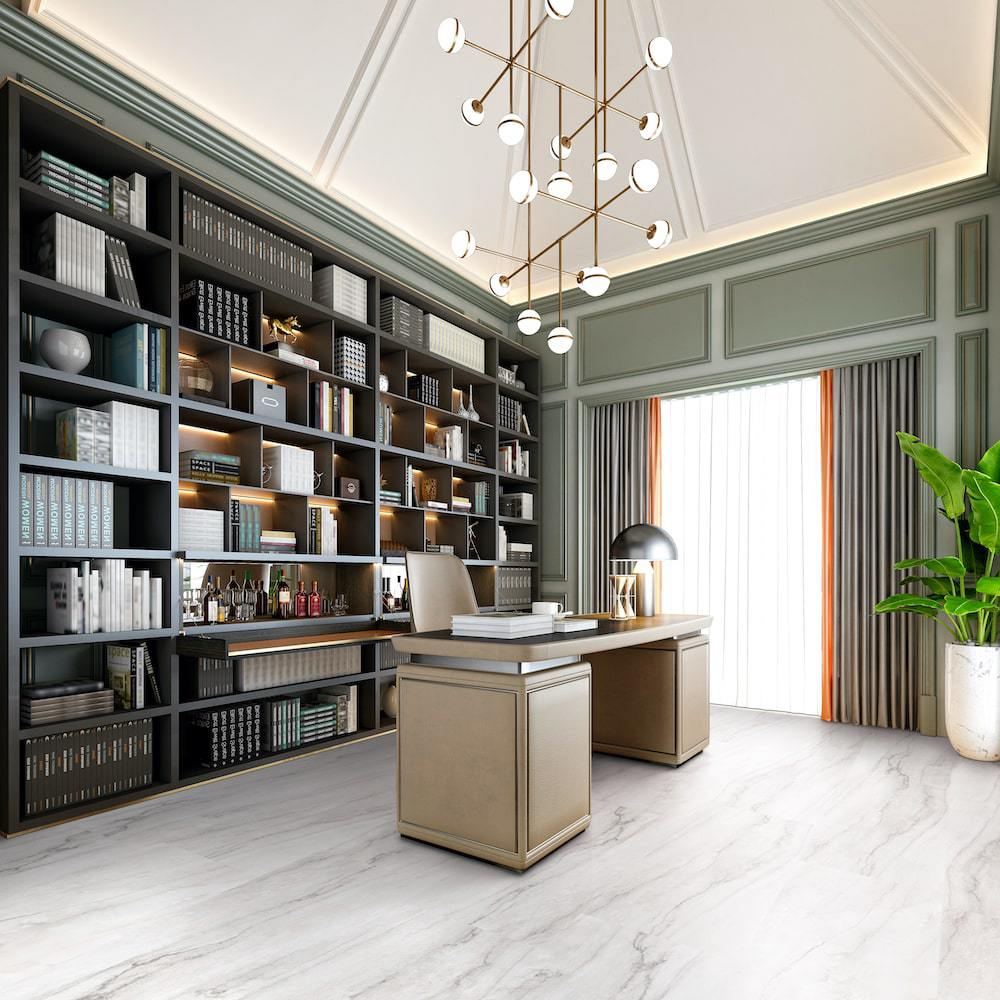 Quarzo Taj Luxury Vinyl Tile
Suppose you like softer marble patterning that leans toward the dreamy appeal of quartzite. In that case, you're sure to appreciate the wispy strokes of gray dancing across the soothing, ivory backdrop of Quarzo Taj luxury vinyl tile. It's the perfect complement to modern kitchens and bathrooms alike, delivering a tranquil ambiance that grounds the room and perfectly complements a range of design elements.
A Warm Welcome
Calacatta Venosa Gold Luxury Vinyl Tile
Many white marble varieties skew a bit cool, pairing white and gray hues. While this works incredibly well with current trends, you may be among the many homeowners who want a warmer, more welcoming aesthetic in their homes.
Calacatta Venosa Gold luxury vinyl tile delivers the marble look you love, paired with a slightly warmer palette, thanks to a bright white background brushed with delicate, golden veining over smoky streaks of pale gray.
Low-Variation Luxury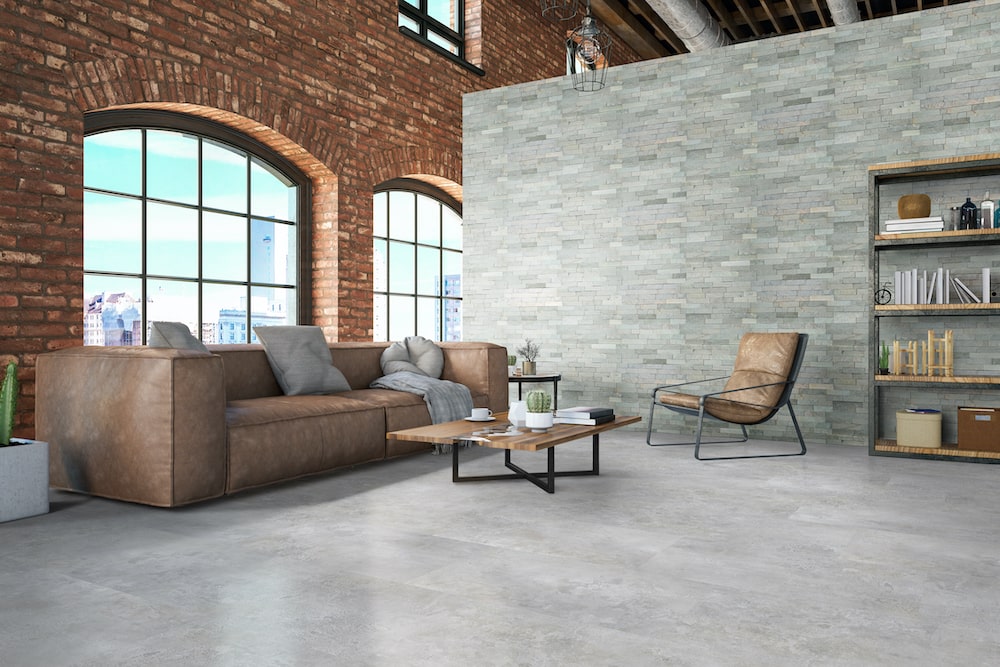 Mountains Gray Luxury Vinyl Tile
You might be understandably nervous about installing white flooring, particularly in high-traffic home areas. While MSI LVT is well-protected and incredibly easy to maintain, some designs are especially appealing for their ability to hide dust and other daily life marks.
Mountains Gray luxury vinyl tile is a great example, designed to look like trendy concrete in mid-tone greiges that match well with warm and cool palettes. In addition, the rugged appearance won't feel gritty underfoot, thanks to the smooth PietraTech™ finish.
Discover the Perfect LVT for Your Home
MSI is committed to improving your flooring experience by developing technologies that add comfort and luxury to your home. If you need help finding the perfect LVT design for your project, chat with us online, visit an MSI showroom, or contact an authorized MSI dealer near you.
Learn More About Luxury Vinyl Flooring
Cost Comparisons Of Luxury Vinyl Flooring
Best Practices for Installing Luxury Vinyl Flooring
Get Easy Care Wood Looks With Flexible Glue-Down Luxury Vinyl Planks
Find Inspiration With Our 10 Most Popular Luxury Vinyl Flooring Colors
Bigger And Better Than Ever: XL Luxury Vinyl Flooring
Whitewash Vinyl Flooring Planks From MSI