Create A Cohesive Space With Our Top Quartz Countertop And LVT Pairings
September 10, 2021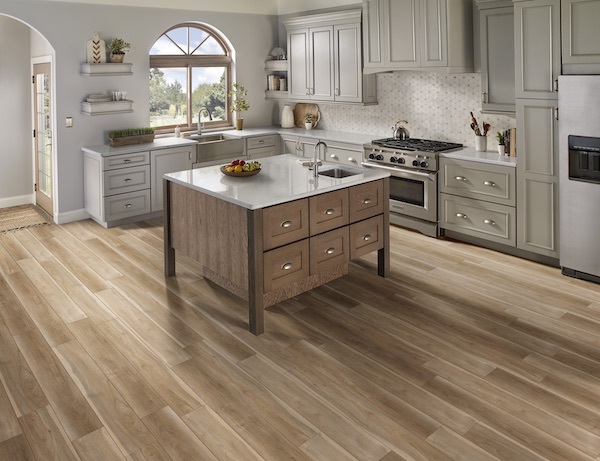 When you're planning a kitchen remodel, there are a lot of independent parts that must come together to create a whole coordinated, beautiful space. Because MSI offers so many colors and patterns of quartz countertops and wood-look luxury vinyl tile, it can be tricky to pair them correctly.
Here are a few tips for matching countertops and flooring like a professional interior designer:
Order a few samples of each product you're considering, and compare them in your own kitchen.
Always view and compare LVT and kitchen countertops in natural light as well as the artificial light in your kitchen.
Choose your countertop first, then select flooring that complements it.
Neutral colors are easier to pair — if you want to add color to your decorating scheme, use items such as curtains, wall art, small appliances, or other objects.
Select countertops and flooring that have the same color temperature, which means they should both have either cool or warm undertones.
Typically, you'll want to pair darker floors with lighter-colored countertops.
If your countertop has color variations such as veining or speckles, try pairing it with LVT flooring in complementary colors.
If your countertop has a bold pattern, choose flooring with a more subtle one.
Consider how each surface fits with your decor theme, such as modern, traditional, or rustic.
Our designers have put together a few of our popular quartz countertops and LVT colors that pair beautifully. No matter which combos you choose, you're going to love the easy quartz countertop care and maintenance, as well as the durable elegance of luxury vinyl tile.
Barrell LVT and Montclair Quartz

Montclair White Quartz countertops feature a bold pattern with gray and taupe swirls on a white background. It's a shade of white with warm undertones, so it matches perfectly with the deep brown hue of Barrell Luxury Vinyl Plank Flooring. These wood-look planks show the grains and knots of natural hardwood, but it's a subtle pattern that won't clash with the movement of the quartz.
Bayhill LVT and Carrara Mist Quartz

This pairing showcases two classic looks: gorgeous white quartz that looks like marble, alongside elegant light-brown planks reminiscent of pine. Elegant Carrara Mist Quartz and Bayhill Luxury Vinyl Plank Flooring are premium surfaces that have something else in common — they're a lot easier to live with than the surfaces they replicate.
Boswell LVT and Montage Quartz

Montage Quartz is a soft shade of white with delicate gray veining, and since they are waterproof and stain-resistant, you can enjoy a white countertop worry-free. The gray veins are the perfect partner to the gray wood grain of Boswell Luxury Vinyl Plank Flooring.
Dakworth LVT and Cashmere Quartz
One of the most enchanting combinations in kitchen design is a bright white countertop with the high contrast of dark flooring. Cashmere Quartz countertops are a cool shade of white, so they pair well with a luxury vinyl tile that also has cool undertones such as charcoal-gray Dakworth Luxury Vinyl Plank Flooring. This vinyl flooring has a beveled edge, an additional touch that makes wood-look plank flooring even more realistic.
Highcliffe Greige LVT and Verona Quartz

Most homeowners prefer to select their favorite quartz countertop first, then match other elements to that. Verona Quartz is a breeze to coordinate with flooring, countertops, or anything else in your kitchen design. It features delicate gray veins on a warm-white background, so we suggest pairing this classic marble look with a warm-hued LVT color. Highcliffe Greige Luxury Vinyl Plank Flooring authentically replicates natural hardwood with the perfect intersection of gray and beige — gray to match the veining and beige to give it a warm, cozy feel.
Jenta LVT and Galant Grey Quartz

The decision between quartz vs. granite can be a tough one because both are very hard, durable surfaces. Quartz, however, has the advantage of never needing to be sealed to maintain its resistance to liquids and stains. If you love the look of granite, consider Galant Grey Quartz. Its gray background with swirls of dark gray and cream create a sophisticated contrast to the coffee-colored tones of Jenta Luxury Vinyl Plank Flooring.
Kingdown LVT and Botanica Quartz

Botanica Quartz countertops feature a cool white background with subtle light-gray veining, and this simple pattern is a breeze to coordinate with just about any type of flooring. That makes it the perfect partner to Kingdown Luxury Vinyl Plank Flooring, which is a show-stopper. With a range of gray shades, this plank flooring replicates the character of weathered, reclaimed barn wood. Allowing your flooring to become the room's focal point instead of the countertop is a clever option.
Sandino LVT and Calacatta Monaco Quartz

Another marble lookalike, Calacatta Monaco Quartz has the look of fine Italian marble. It features a creamy-white background and grey veins that run long and thin throughout, with enough variety that it's tough to discern from the real thing. What could be a better match than classic wood-look Sandino Luxury Vinyl Plank flooring? Its wood grains and knots are subtle, and the enhanced beveled edge highlights each separate plank, so the whole floor is as elegant as an expanse of traditional, natural hardwood.
Woburn Abbey LVT and Premium White Quartz

The weathered, gray shades of Woburn Abbey Luxury Vinyl Plank Flooring are just as much at home in the suburbs as in a sophisticated city loft; it's simultaneously cozy and urbane. So, if you want a modern, on-trend flooring look with lots of character, this might fit perfectly. Modern sophistication is also one of the reasons people love quartz countertops — although they are engineered to resemble natural stone, they're also available in solid colors that meld well into a contemporary design scheme. Premium White Quartz countertops are a perfect example of a clean, simple look that fits well with any interior.
Consider these combinations for your own kitchens, bathrooms, or laundry rooms. Although we think they're perfect pairings, chances are you can come up with even more creative combos using the tips we've provided. For even more inspiration, check out MSI's visualizer tools are an innovative way for you to try on any combination of flooring, countertop, cabinetry, wall tile, and more.
More On Quartz Countertops
Make A Bold Statement with New Q Premium Quartz Countertop Colors
Quartz Countertops: The Perfect Minimalist Surface
Quartz vs. Granite for Countertops
Easy Quartz Countertop Care and Maintenance