Living Alfresco With Arterra Porcelain Pavers
October 25, 2022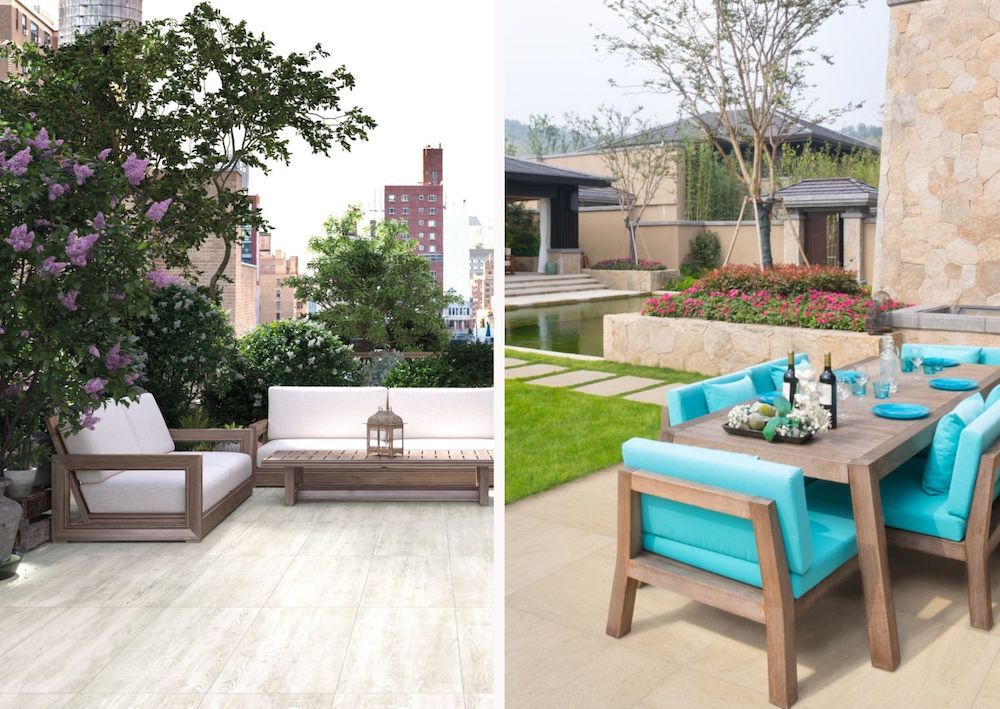 To dine or entertain alfresco comes from the Italian "al fresco," which loosely translates to "in the cool air." One of the beautiful things about alfresco dining is it can take place anywhere outdoors. It could be a garden, restaurant, cafe, or bar patio, and for this article, many would argue, most importantly, your captivating outdoor space built upon and around stunning porcelain pavers.
Alfresco dining is extremely popular in the spring, summer, and fall. It has become synonymous with beautiful weather, but this approach to entertaining and dining can take place in any climate. In colder parts of the country, outdoor fireplaces or fire pits will help keep you comfortable. Covered patios can make a big difference if you reside in a warmer climate.
MSI Arterra Porcelain Pavers are ideal for all things alfresco. When you entertain family or friends at your home, their safety should always be a priority. Using Arterra Porcelain Pavers will provide the peace of mind needed to spend less time worrying about the safety of your guests and more time enjoying your alfresco experience. In addition, these pavers come equipped with our proprietary ZeroSlip™ technology. This new technology offers exceptional slip resistance on wet and dry floors and dramatically exceeds industry standards.
With Arterra Porcelain, you get the luxurious look of authentic stone in a porcelain paver equipped with a dynamic coefficient of friction value, a scientific measurement that defines the amount of friction on wet, level floors when walked upon. Arterra Porcelain is at least 50% higher than the industry standard, including many of today's most popular pavers. So when incorporating these pavers into your outdoor designs, you never have to sacrifice safety for beauty.
ARGENTO TRAVERTINO™ ARTERRA PAVERS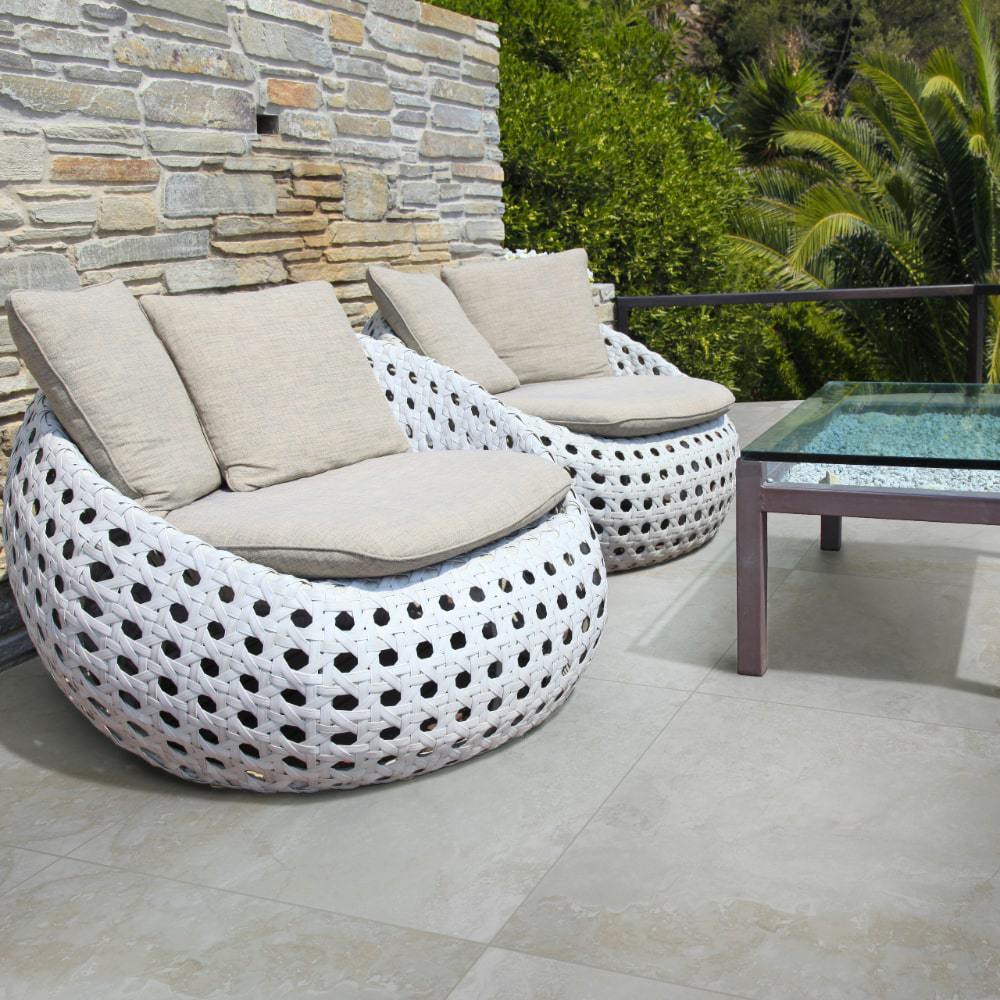 When you use porcelain tile like the ZeroSlip™ technology-equipped Argento Travertino Arterra® Pavers for your outdoor patio, you create a luxurious space to entertain alfresco. These pavers are nothing short of showstoppers with understated grays, whites, and creams. Low-maintenance, durable, and easy to clean, Argento Travertino comes in large matte-finished 24x24 pavers that complement numerous traditional and modern design styles.
Just look at how tranquil this outdoor patio tile looks in this scene. Here we have the perfect setup for entertaining alfresco. Imagine your closest friends and family gathered around this patio with the golden light of a day's end streaming through the laughter and activity. Once the sun goes down and your outdoor string lights kick on, your alfresco event becomes that much more enchanting.
BLUESTONE™ ARTERRA PAVERS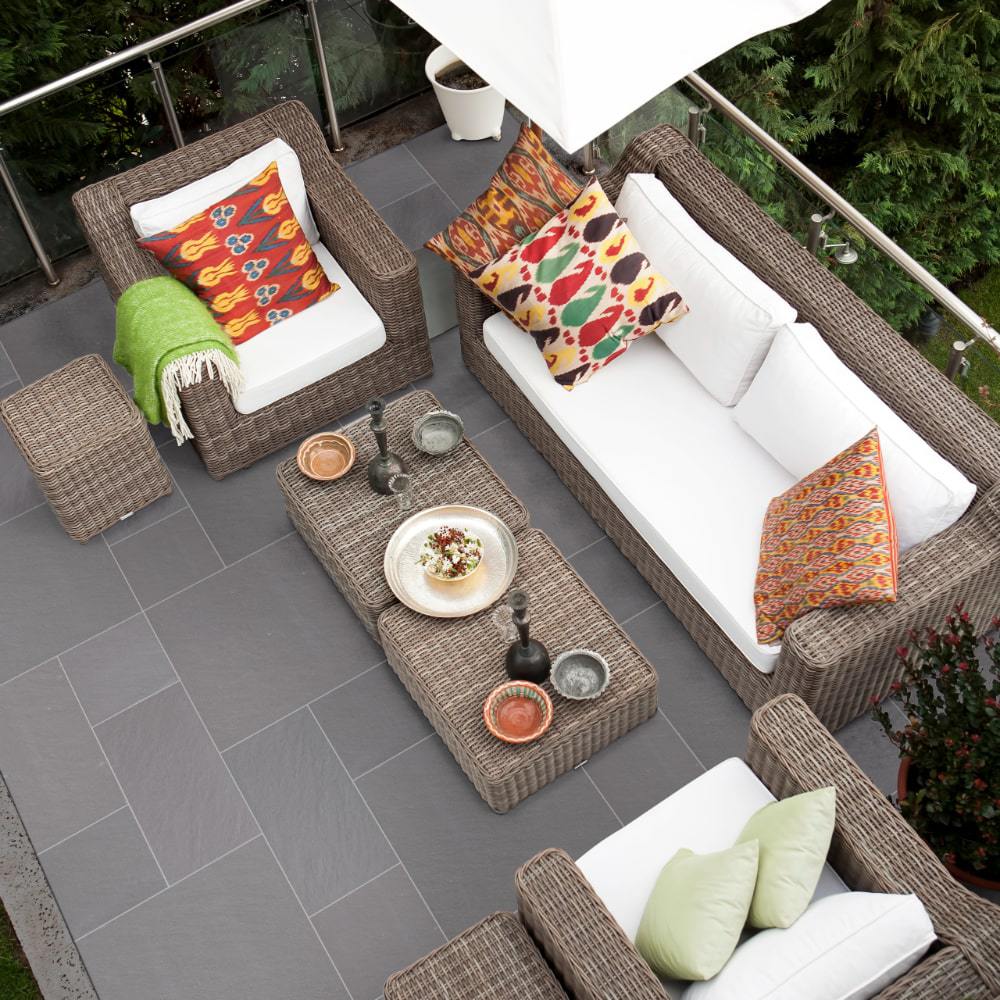 Bluestone Arterra Pavers provide a soft elegance using a palette of blue-gray and an exquisite matte finish. It is challenging to differentiate this modern porcelain paver from natural bluestone. It even feels authentic. Equipped with our ZeroSlip™ technology, these pavers are highly durable and easy to care for, which makes them ideal for outdoor settings, especially those that see a lot of entertaining.
This aerial shot of an inviting patio utilizing Bluestone Arterra Pavers is the perfect setting for alfresco dining. It could be a small group gathering or an unforgettable date night. There's something to be said about entering a space like this to savor time with this beloved style.
CALDERA™ BLANCA ARTERRA PAVERS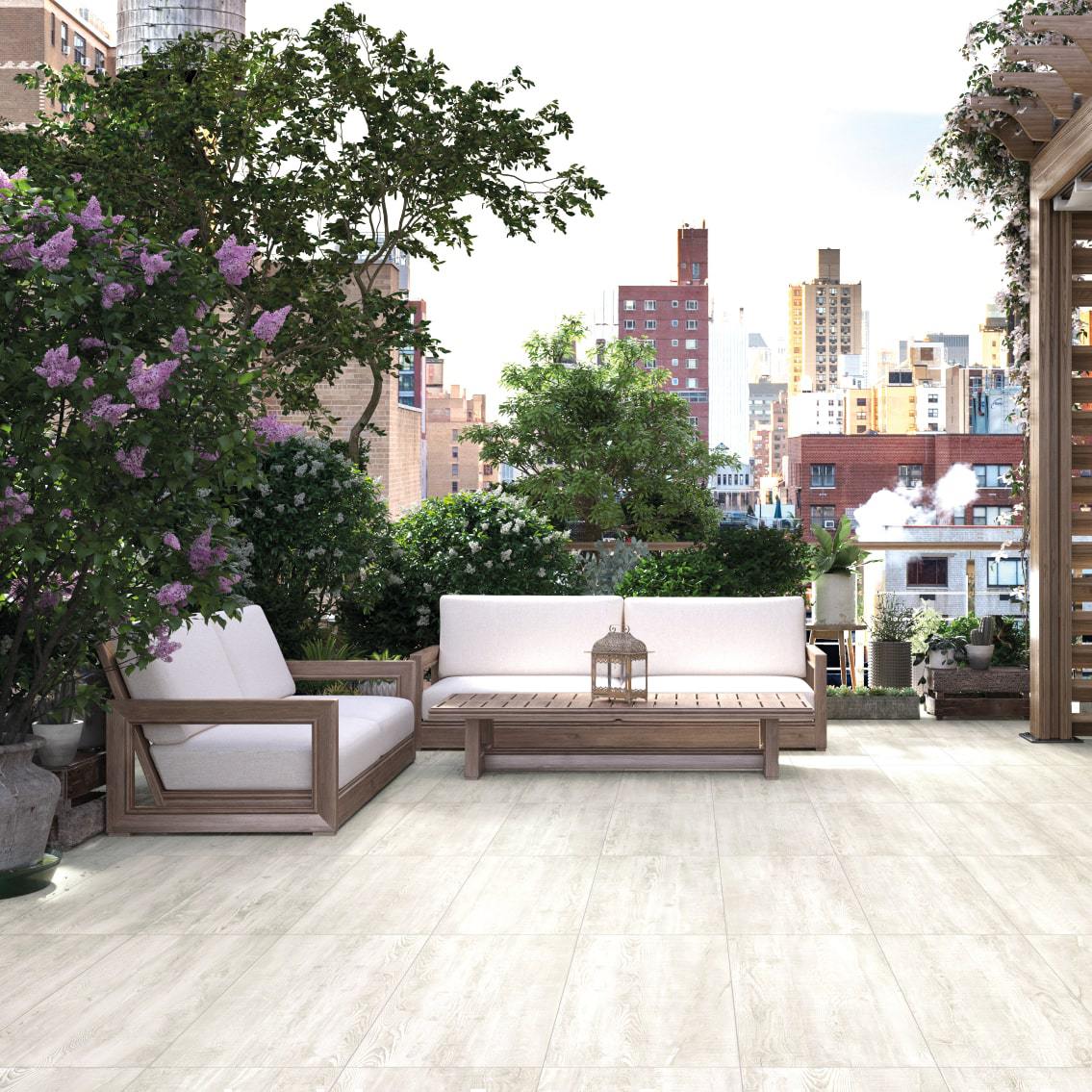 Caldera Blanca Arterra Pavers pairs rich creams and understated whites in wood-look tile patterns ideal for creating that sun-drenched outdoor oasis you've always desired. Caldera Blanca comes in a durable porcelain package that remains easy to clean and maintain. Did we mention they boast the added safety of our ZeroSlip™ technology? This product is ideal for floor tile and, of course, outdoor use.
In every sense of the word, romance comes to mind looking at this Urban patio. Imagine being surrounded by loved ones as you entertain alfresco among the lively city and its mighty skyline. Gatherings in a city sanctuary like this are your much-needed alfresco escape from the hustle and bustle of city life.
Check out this excellent video to learn more about our Arterra™ Premium Porcelain Pavers.
TIERRA IVORY™ ARTERRA PAVERS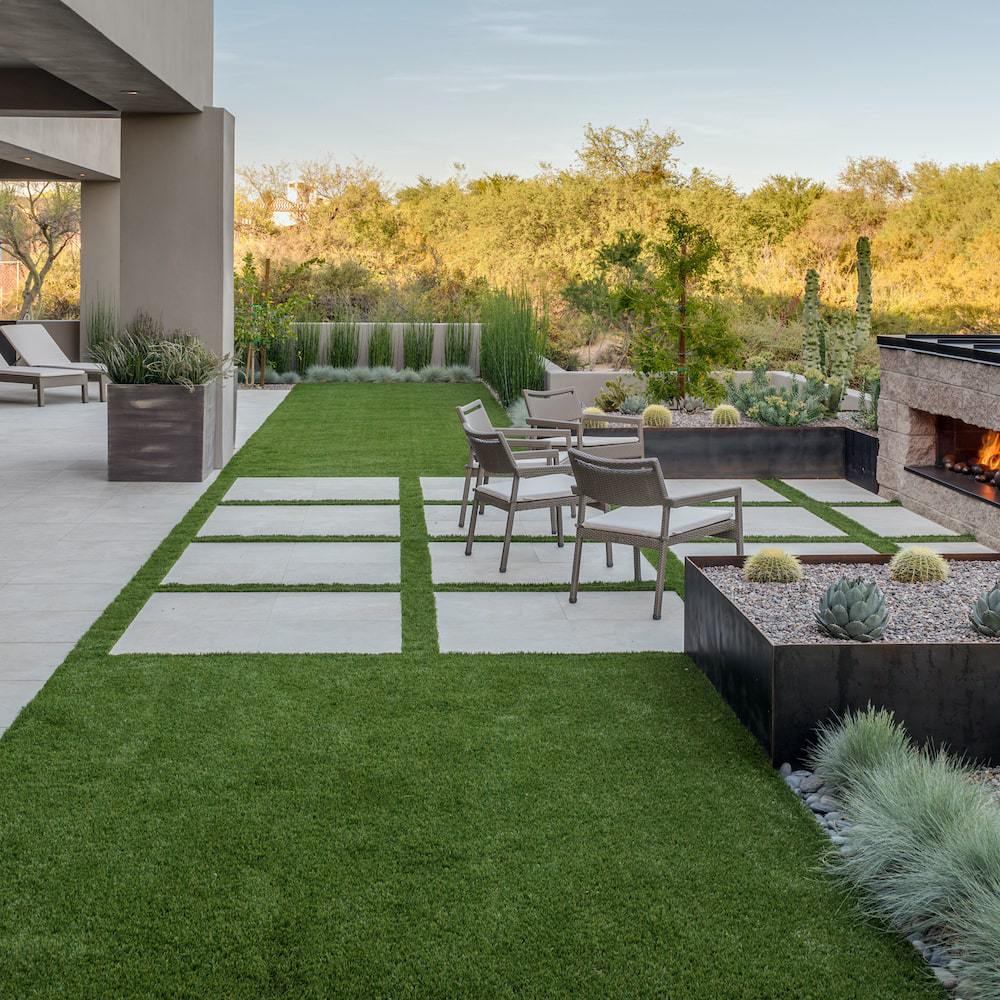 Tierra Ivory Arterra® Pavers use calm white and cream tones to establish an elegant backdrop perfect for indoor and outdoor designs. Fitted with our ZeroSlip™ technology, these porcelain pavers lend an air of sophistication to any design, from the traditional to contemporary.
One look at this striking desert patio scene, and you know its heightened luxury will elevate any alfresco event. Due to the dust in the air, many say desert sunsets are unrivaled. As the last rays of a setting sun hit this awe-inspiring scene, the experience will only heighten with the romance of warm evening desert air.
LIVING STYLE BEIGE™ ARTERRA PAVERS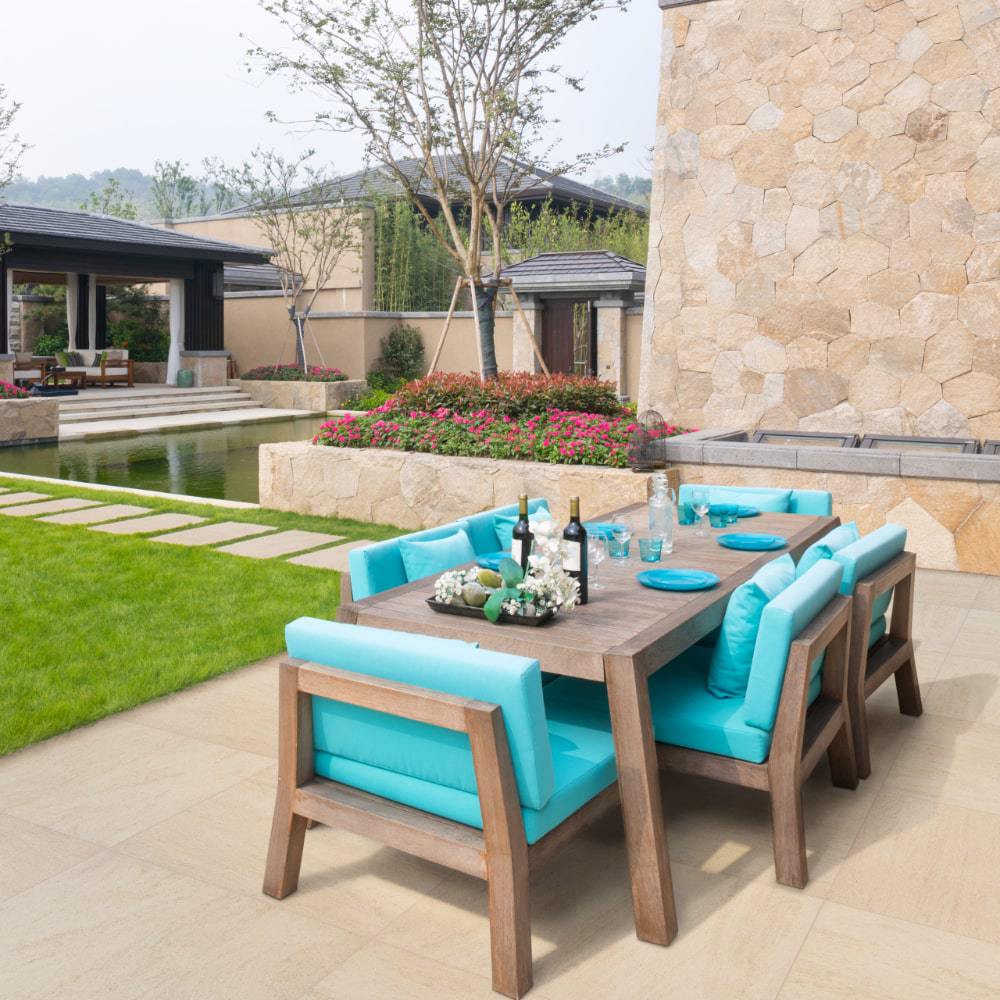 Our ZeroSlip™ technology-equipped Living Style Beige Arterra Pavers use calm beige tones combined with a subtle pattern to create the look of natural stone. The pavers are glazed with a matte finish and are difficult to take your eyes off.
In this sunny scene, how the beige tiles play off the turquoise cushions sets the stage for an unforgettable afternoon of alfresco entertainment. Gathering around a patio like this with those closest to you and enjoying fine food, refreshing drink, and great conversation is what life is all about, and exactly why these elegant patios are so important.
If you have any questions about creating an irresistible outdoor patio using Arterra Porcelain Pavers, please don't hesitate to contact us. You can easily reach us online, by phone, or by paying a visit to one of our many showrooms. Finding the right fit can prove challenging with such a wide selection of flooring options. For this reason, our experts stand ready to assist you in any way possible.
Additionally, consider contacting us in real time using our MSI website chat feature. Through this feature, we can field your questions and provide solutions to any design issues you may be experiencing. Locating this feature is easy—look to the bottom right of your screen on any page on the MSI website. From there, click the circle, and a chat box will appear with a friendly MSI agent ready to assist you.
Learn More About Pavers And Alfresco Flooring
Coordinate Your Indoor & Outdoor Spaces With Matching Porcelain Tile & Pavers
Holistic Havens: Creating Your Indoor/Outdoor Sanctuary
Stylish Soreno Porcelain Pavers And Tiles With Zero-Slip Technology
3 Flooring Tile Styles That Create A Seamless Indoor And Outdoor Space
Living Alfresco With Arterra Porcelain Pavers