Popular
The Great Escape: Bringing The Indoors Out
May 19, 2021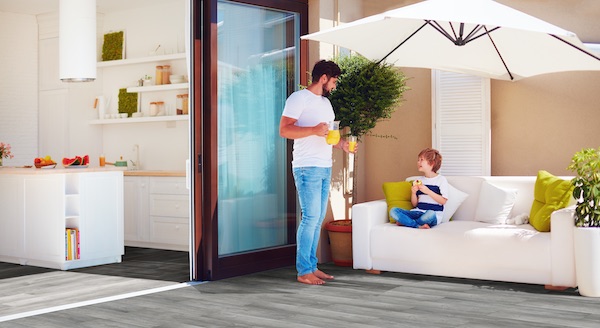 Katella Ash Everlife™ LVP Indoors, coordinating Arterra™ porcelain pavers outdoors.
Having spent more time than ever before inside our homes, it's no surprise that people are seeking a deeper connection to nature – a desire to extend life beyond four walls. Whether it's tossing the ball with the kids in the garden, quietly reading a book by the pool, dining under the stars, or simply enjoying a warm breeze as you work, the great outdoors is calling, and the possibilities in expanding our home's footprint are endless.
Naturalist and writer John Muir once said, "Everybody needs beauty as well as bread, place to play in and pray in, where nature may heal and cheer and give strength to body and soul alike."
The Great Escape, one of this year's Top 5 Hard Surface Design Trends, explores the opportunities we have to discover the unrealized potential of the space outside our doors. To allow nature to heal and cheer. We've talked about inviting the outdoors in, but now it's time to bring the indoors out and experience our homes in a new and refreshing way.
THE PLAYBOOK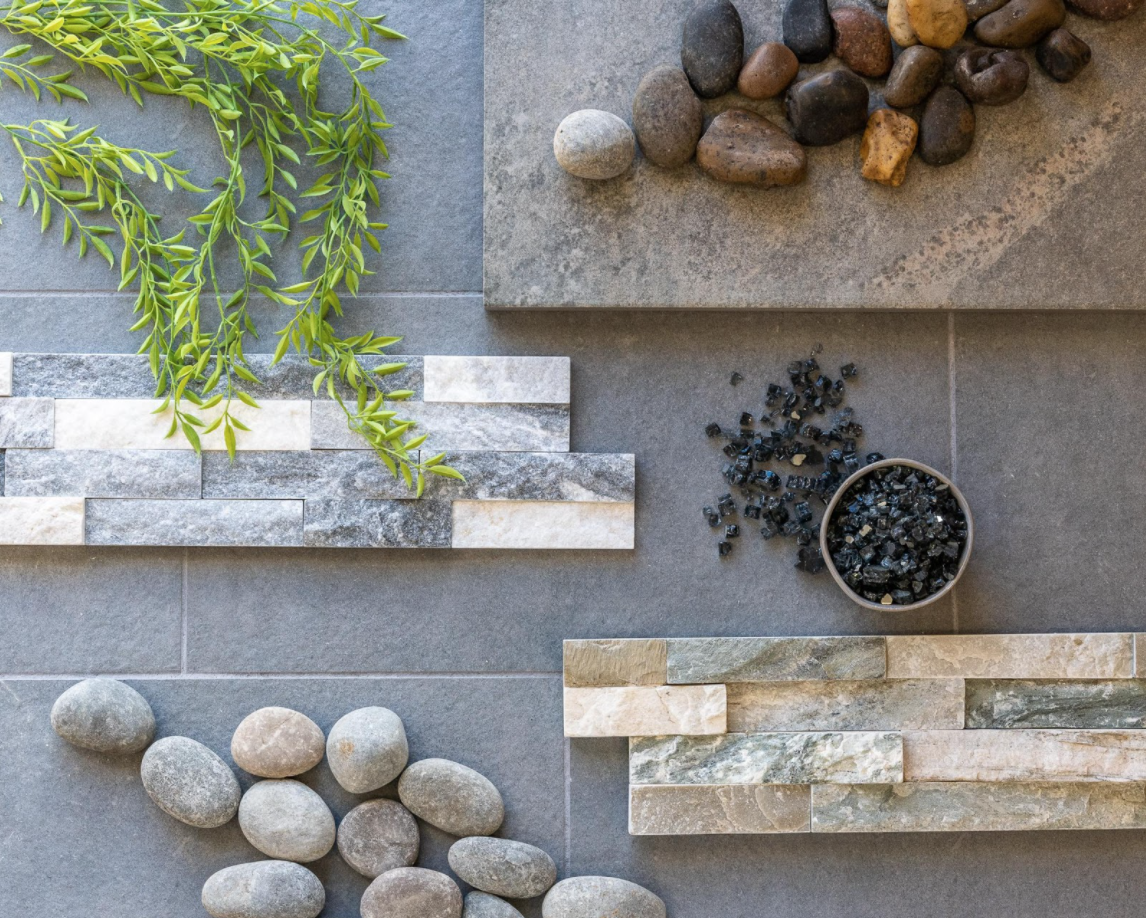 Our mood board showcases the stunning mesh of materials, textures, and patterns to
offer a look that is both organic and fresh.
1. Consider mixing natural stone, wood, porcelain, pebbles, and patterns to create an outdoor oasis that is both an extension of your surroundings and something entirely individual. The Great Escape playbook delivers versatility and inspiration.
2. Enjoy more of your time outdoors by selecting durable, low-maintenance surfaces designed to withstand weather and stand up against the wear and tear of daily life.
3. Bold, eye-catching patterns provide a striking focal point and highlight your design creativity.
4. Natural colors such as whites, creams, browns, and grays are perfect for a timeless look and expansive feel.
5. Carry the look from the ground up through the wall with textured panels and tiles that add depth and character.
6. Large format tiles lend a more spacious feel and can be carried through from the interior to the exterior.
LAND THE LOOK: ONE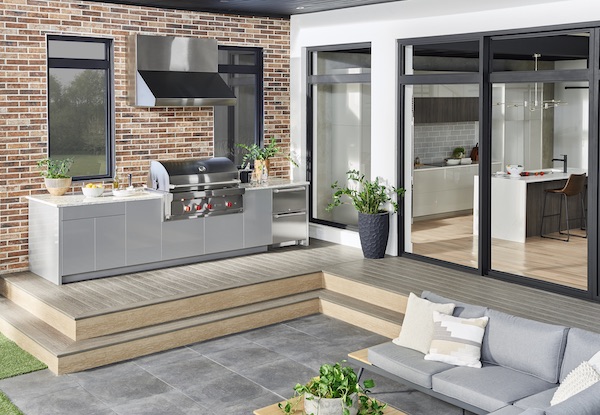 Warm brick, contemporary charcoal pavers and sleek granite blend beautifully with the interior and
create an extended kitchen and outdoor living space. Brickstone Red 2x10 Porcelain Tile on the wall.
Vulkon Nero Arterra Porcelain Pavers on the patio. White Glimmer Granite on the outdoor kitchen counter.
You've spent all day at your kitchen counter using it as a makeshift office or school. When it's time to cook, step outside, throw something on the grill, and unwind. Large glass doors allow the look to easily carry from inside to out, revealing a truly expanded space. Red brick on the wall adds depth and richness, while large format pavers with charcoal and black accents add a sleek, modern look. A granite counter is an elegant addition that glimmers in the natural light. A cozy and stylish sofa is perfect for entertaining or an afternoon nap in the sunshine. What better place to escape?
Achieve the look with our favorite surface choices.
Countertops: Alpine White Granite; Delicatus White Granite; White Valley Granite
Accent Wall: Golden White Stacked Stone; California Gold Stacked Stone; Brickstone Charcoal Brick 2x10
Pavers: Bluestone Arterra Pavers; Quarzo Gray Arterra Pavers; Beton Antracite Arterra Pavers
Flooring: Lucas Canitia Arterra Pavers; Caldera Blanca Arterra Pavers; Lucas Betulla Arterra Pavers
LAND THE LOOK: TWO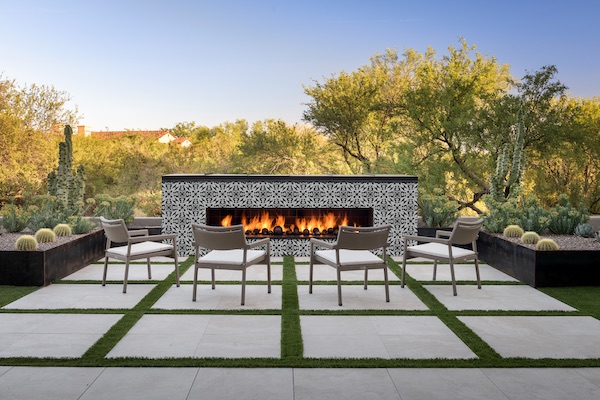 Elegant white pavers lead the way to a stunning outdoor fireplace with eye catching graphic tile.
Kenzzi Brina on the fireplace surround.
Nothing says outdoor cozy like sitting by a fire, sipping wine with friends, or playing games with your family. No longer are fireplaces relegated to the living room. Today more people are extending their living spaces outdoors and building stunning fireplaces to serve as the centerpiece for gatherings and relaxation. Four 24"x24" pavers, like those in our Arterra Collection, come together to create a large grid pattern with grass in between, drawing the eye to the fireplace and adding an on-trend geometric element to the lawn. And floral printed tile, as shown above, is not only picture perfects, but it adds to the beauty of the natural surroundings.
Achieve the look with our favorite surface choices.
Tile: Kenzzi Azila Porcelain Tile; Kenzzi Tanzania Porcelain Tile; Kenzzi Paloma Porcelain Tile
Pavers: Terrazo Glacier Arterra Pavers; Beton Blanco Arterra Pavers; Arterra Quartz White Pavers
LAND THE LOOK: THREE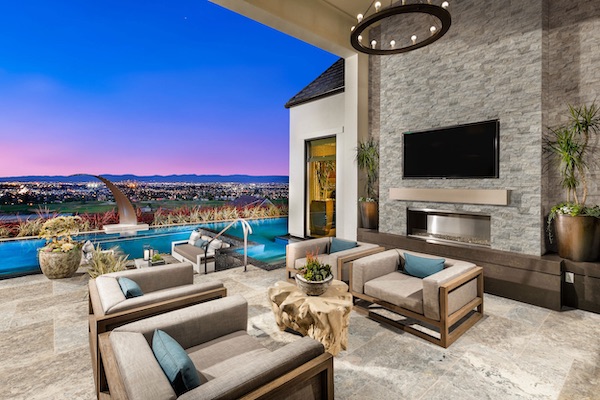 Settle into the outdoors, featuring Rockmount Stacked Stone in Silver Travertine and
coordinating Earth Natural Stone Pavers in Silver Travertine.
The use of texture is becoming increasingly popular in design. Materials with textural elements are making their way onto surfaces, indoors and out. Blend texture with sleek, flat surfaces. Use varying shades of white for contrast. Select the pieces that will make your outdoor escape feel like a true oasis. Here, the brilliant pool surround and bright white Rockmount stacked stone wall enhance the blue of the water, making it look refreshing and inviting after spending time indoors.
Achieve the look with our favorite surfaces.
Walls: Rockmount Cosmic White Stacked Stone Panel; Rockmount Arctic Golden Stacked Stone Panel;
Rockmount White Oak 3D Honed Stacked Stone Panel
Tile: White Carrara Marble; Livingstyle Cream Arterra Pavers; Earth Natural Stone Mayra White Pavers
LAND THE LOOK: FOUR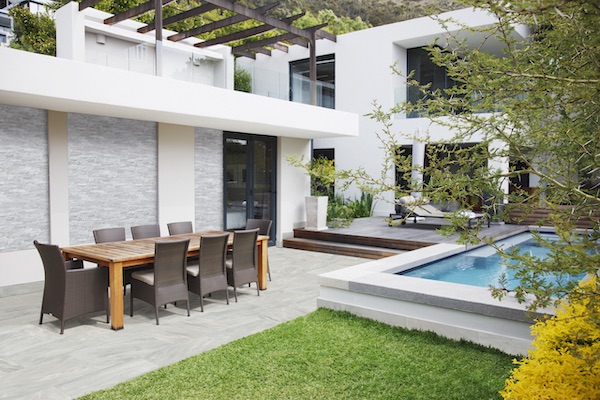 Work, play, dine and dream in an outdoor space designed for all ages. Cosmic Gray Pavers.
If there's anything the last year has taught us, it's how to seek new ways to use space for entertainment or as a haven. Reinventing the Nest, our previous blog post shared the many ways the pandemic was having us rethink our home's interiors. Now, we are thinking about making the most of our exteriors. Your outdoor space, no matter the size, doesn't have to be one thing. The beautiful back garden pictured above has spaces for everything – reading, play, dining, or even work. The classic yet contemporary green-gray tile is the perfect canvas for the bright oranges of the seating and lush green surroundings.
Achieve the look with our favorite surfaces.
Tile: Ostrich Grey Quartzite; Earth Natural Stone Cosmic Black; Earth Natural Stone Gray Mist Granite Paver
A NATURAL EXTENSION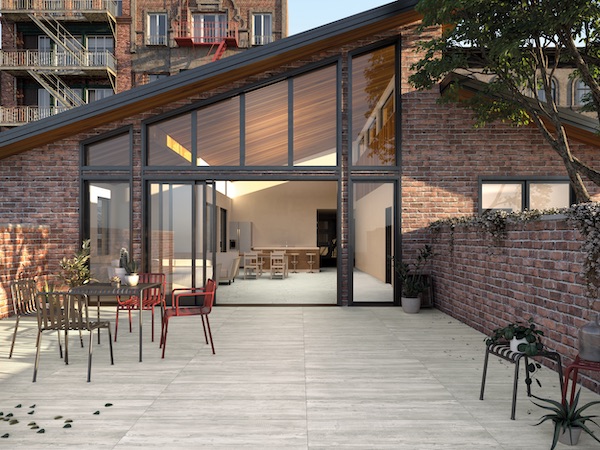 A truly extended living space. Caldera Grigia Arterra Paver on the patio
and Caldera Grigia Porcelain Tile on the interior floor.
Spring and summer bring warmer days and longer light. They offer you more time to connect with the people who matter and with yourself. These are days where you long to be outside. Creating inviting outdoor spaces isn't new, but now there are more ways to achieve the design of your dreams. Whether it's extending the look of your interior or building an entirely new refuge, connecting with nature has never been easier.
Share the looks you create with us on Instagram. Your designs inspire us to create new and beautiful surfaces for you. And we hope our 2021 Trends have inspired you. Tag us – #msisurfaces – on your projects.