The Top 5 Most Popular Colors For Granite Countertops
June 12, 2020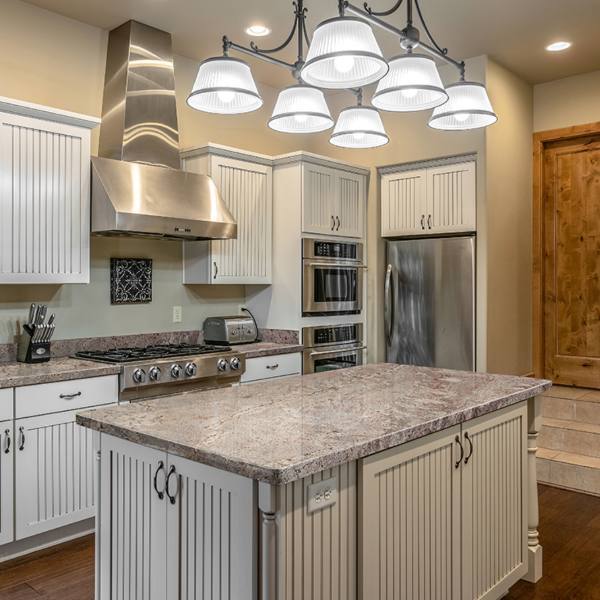 When it comes to choosing the best materials for your home, granite countertops are still the cream of the crop. Granite says "luxury" in a way that nothing else can. In fact, granite is so universally recognized as superior that it can raise the value of your home!
That doesn't mean that putting granite in your kitchen or bathroom is without its challenges, however. Choosing the right color granite for your space from the vast array of gorgeous options available can be a major decision! If you're having trouble choosing, let our top five most popular granite colors inspire you.
1. Alps White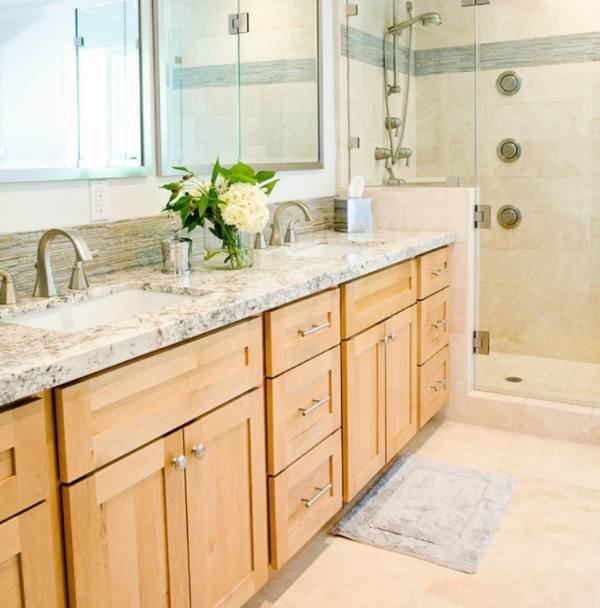 Photo Credit: Houzz
Alpine White granite is a beautiful, warm shade of white that brings richness and depth to any space. Elegant flecks in deep hues of Bordeaux and black mix with a smattering of white crystals for unique visual texture and appeal.
White is always in style and white granite is equally at home among traditional and contemporary decors. It pairs perfectly with wood, stone, tile, glass, and other soothing and elegant finishes.
2. Black Galaxy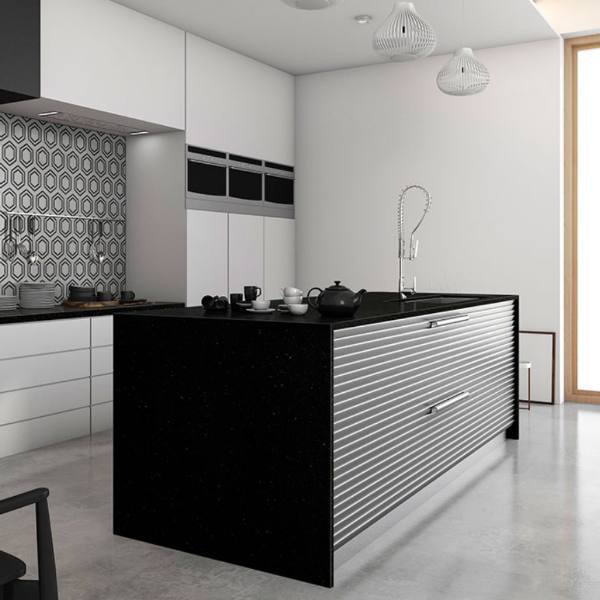 It's no surprise that our Black Galaxy granite is a best seller. It's a sure-fire way to craft a stunning focal point for any room. Along with the black granite, the white and gold flecks in this stone add an extra eye-catching boost.
Try contrasting a solid slab with white floors and walls for maximum effect, or install a section of Black Galaxy tile in on a floor, accent wall, or backsplash for a high-impact pop of color in an otherwise neutral space.
3. Colonial White Colonial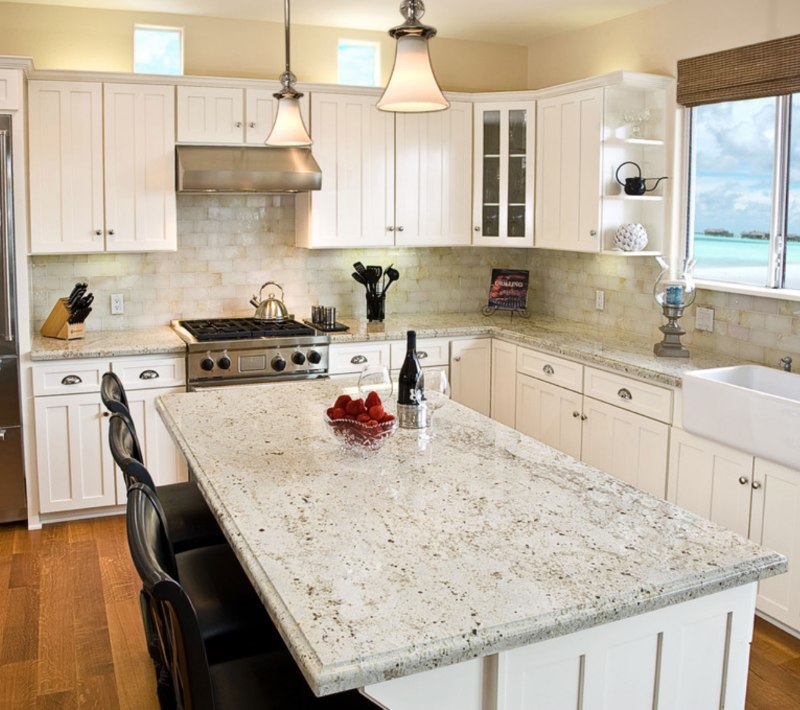 Photo Credit: Houzz
White is an ideal option for anyone who wants to go white but not too white. Its creamy, cloudy mix of hues creates a warm, comfortable ambiance.
Available as slabs or tiles, Colonial White complements white cabinets, warm wooden floors, and rich neutral tiles or paint colors. Its subtle depth of color is also wonderful for long or wide stretches of counter because it creates visual interest without overwhelming your space.
4. Gray Nuevo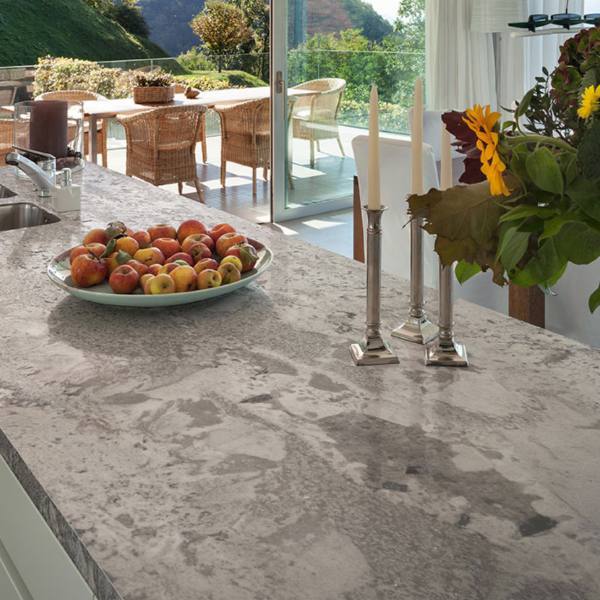 If you love the look and uniqueness that natural stone bring to a room, Gray Nuevo is the granite countertop for you. Its dramatic patterns lend themselves beautifully to focal-point pieces like islands, table-tops, and bars. To create a truly singular room, use a sweeping stretch of this distinctive grey stone on your floor!
5. White Sparkle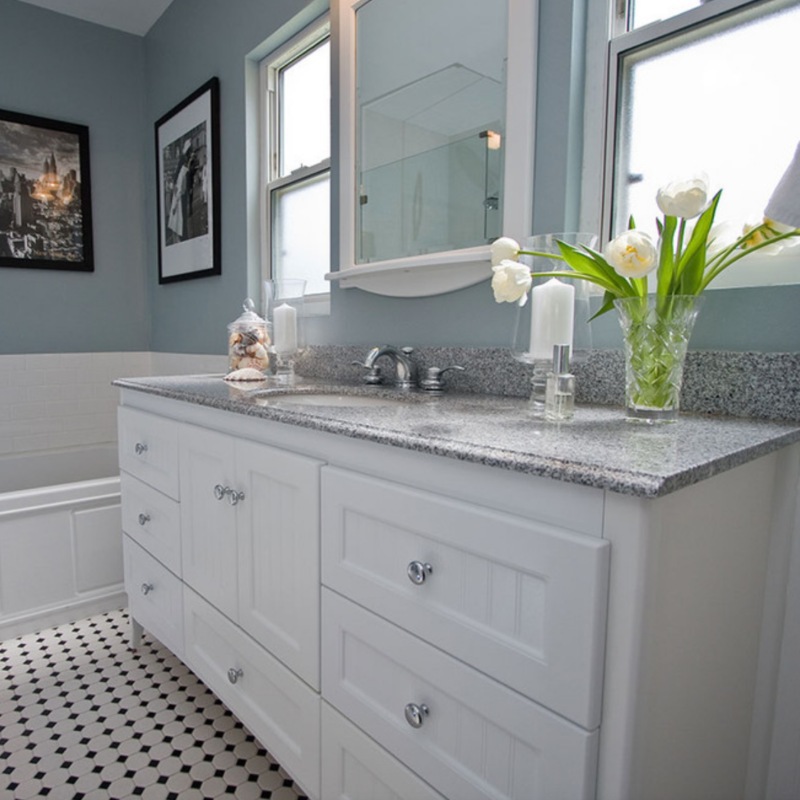 Photo Credit: Houzz
If you've been trapped in the quartz vs. granite debate, our White Sparkle granite may the solution you've been looking for. Its cool white and grey tones give you all the elegance of granite with a hint of quartz-like sparkle. Together, these elements give you a warm, neutral surface that fits seamlessly into any kitchen or bathroom.
If you like the look of it but are having trouble picturing exactly how it would fit in with your decor, try our granite visualizer!
Making Granite Countertops
Easy If you've been struggling to choose the right granite countertops for your space, consider going with one of these top five best-sellers. It's impossible to go wrong with granite, and no matter which modern design trends you love most, these tried and true colors are sure to satisfy!
READ MORE ABOUT GRANITE COUNTERTOPS
The Distinct Similarities Between Quartz & Granite
The Exquisite Shades and Textures Of Granite Floor Tile
The Latest Marble & Granite Countertop Trends – Waterfalls, Brushed Finishes, And More
The Right Finish for Lifestyle & Maintenance - Part 2: Polished, Honed, And Brushed Finishes For Granite Floors