Popular
4 Ways To Light Up Your New Kitchen
July 06, 2015
Proper kitchen lighting ensures a safe and efficient work area, which also works as a welcoming entertainment hub that invites folks to gather. Thoughtfully selected and placed light fixtures highlight a kitchen's surfaces and cabinet profiles, help establish specific design styles, and bring furnished-room warmth to practical spaces.
When remodeling a kitchen, devise a lighting plan that introduces layers of light arranged in ways that ease passage through the kitchen, directly illuminate workstations, and draw attention to your kitchen's best-looking elements, such as countertops, backsplashes, and flooring. Incorporate brighter or extra illumination in kitchens with tall ceilings, rich cabinet finishes, and dark-hued premium surfaces. Equip your new light fixtures with bulbs that emit the color of light desired for specific areas of your kitchen. Bulbs that emit yellowish light are good choices for fixtures meant to enlighten eating areas and cast a warm glow on backsplashes or countertops. Neutral, bright, and cool white bulbs energize kitchens and are ideally suited for fixtures that provide ambient and task lighting. Remember to put at least a few lights on dimmers so you can control the room's ambience with the flip of a switch.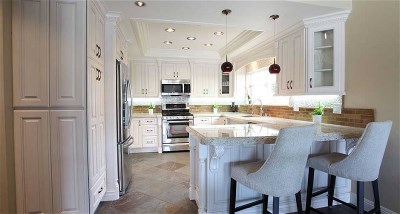 Here is a closer look at four types of lighting you should include to amplify your new kitchen's purpose, increase its usage, and magnify its aesthetic appeal.
Ambient Lighting
Ambient or general lighting sheds light across the whole kitchen; it's the lighting you are most likely to switch on when entering your kitchen. Recessed lights, like those showcased in this kitchen, are a popular method for producing diffused light that ricochets off polished natural stone countertops, stainless steel appliances, and glass-front cabinets to pleasingly illuminate an entire workspace. Recessed can lights should be centered in the room, set between 4 and 5 feet apart, and positioned so light from the bulbs falls onto islands, peninsulas, and perimeter countertops. Other types of fittings that emit ambient light include chandeliers, track lights, fluorescent fixtures, and semi-flush and flush-mounted ceiling fixtures. Select fixtures with finishes that play off the colors seen in the kitchen surfaces. Choose polished nickel recessed lights to echo a marble countertop's silvery veins, coppery-shaded pendants to complement slate floors, or bronze-detailed chandeliers that echo a travertine backsplash's earthen tones.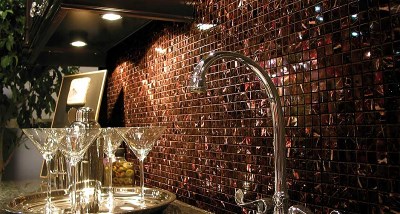 Task Lighting
These types of perfectly focused lights are all about lighting whatever task is at hand. They are the brightest lights in a kitchen and direct light downward to illuminate countertops and sink areas to guarantee kitchen operations run smoothly. Under-cabinet lights are a good choice for illuminating perimeter countertops; in addition to lighting work surfaces, they set glass and metallic mosaics shimmering and highlight natural stone countertops crystalline details. Aim recessed spotlights and floodlights so they illuminate cleaning stations, hang pendant lights that cast light directly onto your island top, and choose range hoods equipped with task lights focused on the cook top.
Accent Lighting
Accent lighting does just what its title describes; it accentuates a kitchen's loveliest details. Use spotlights on wavy tracks, picture lights on framed artworks, and lights installed inside glass-door cabinets to draw attention to your kitchen's finest features. Under-cabinet lights and range-hood lights do double duty as task and accent lighting, especially when shining light across mosaic-tiled backsplashes or behind-the-range murals.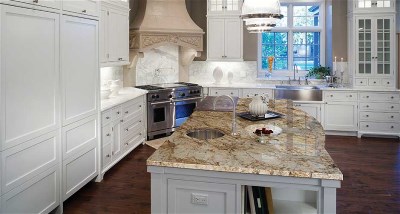 Decorative Lighting
Think of decorative lighting as jewels that impart light while adding razzle-dazzle to your home's hardest working room. In old world designs, like this kitchen outfitted with marble countertops and travertine floors, antique wall sconces and vintage-style schoolhouse pendants underscore the room's classic appeal. Crystal-draped chandeliers, tubular glass pendant lights, and simply shaded wall sconces are other decorative light options that contribute stylish silhouettes to your kitchen's design plan.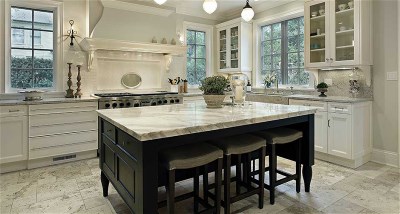 Decorative fixtures team up with ambient, task, and accent lighting, cabinet finishes, and premium surfaces to optimize a new kitchen's utility and good looks, while supplying bright lights of interest at every level . . . which is what the ideal kitchen lighting plan is meant to do!