Popular
Pattern Play: The New World Of Intricate Mosaic Blends
June 02, 2014
Have you been looking for a new mosaic? I bet you've noticed that are no two alike and they are more intricate in shape, size, pattern, and material.
In order to make all these mosaics fit together, they are arranged in an interlocking pattern. An interlocking pattern is an arrangement in which geometric shapes are fit together so that one cannot be moved without impacting the others in the overall design. In short, these are simple to complex patterns that achieve a great look.
Mosaics often capitalize on the foundations of interlocking patterns, taking complex shapes and arranging them in intricate designs to take the guesswork out of both design and installation for homeowners. Pre-arranged by artistic designers and mesh mounted, mosaics offer the benefit of a high-end, finished look with minimal financial investment and labor, which the professional installer or do-it-yourselfer can accomplish easily.
These days, the world of mosaic tiles is exploding with more options than ever to upgrade the kitchen, bath or any space indoors or out with beautiful glass, metal, or natural stone tiles that render a fluid design which appears carefully constructed.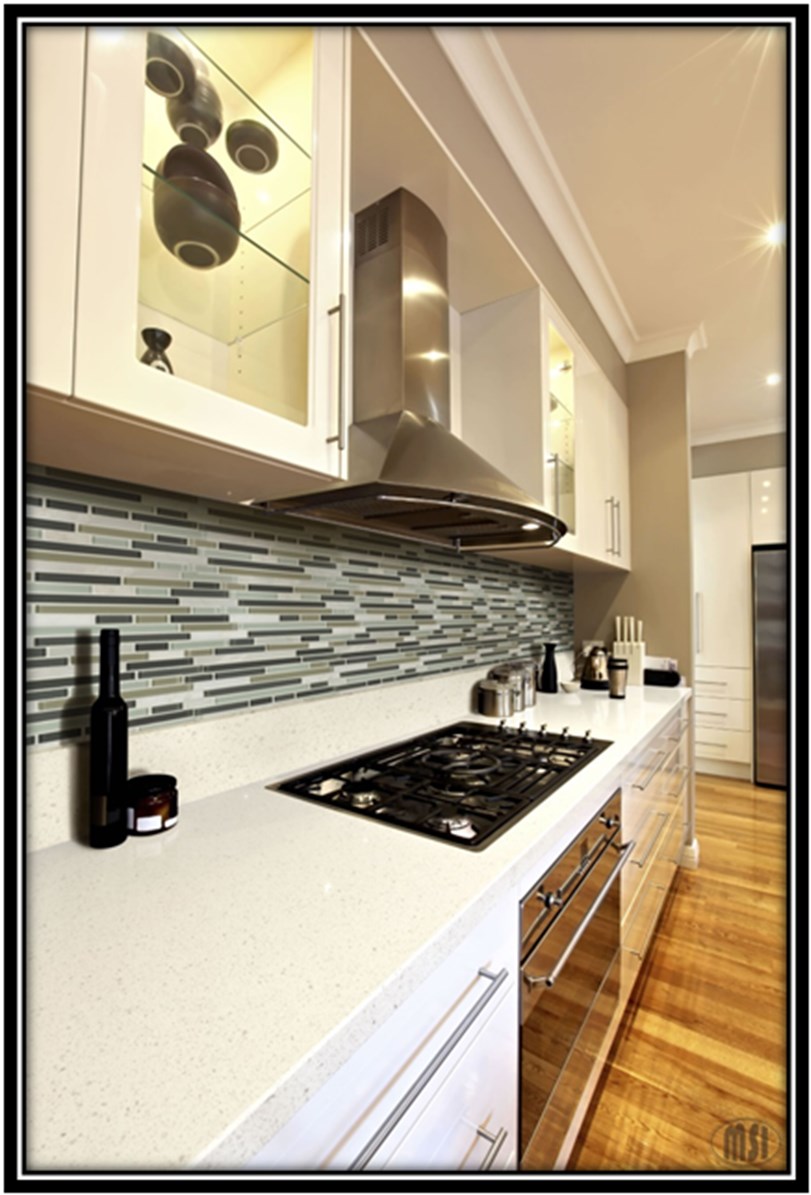 MSI recently introduced many more mosaic patterns, which include solid glass, glass stone blends, metal blends and specialty blends. Whether these mosaics are applied as a kitchen backsplash or a bathroom wall feature, they make a style statement while also protecting the wall surface. Used in large expanses to highlight the intricate or simple interlocking patterns or applied in small accents, these mesh mounted mosaics make what could be a labor-intensive job a much easier one:
Solid Glass
MSI offers solid glass wall tiles in simple, interlocking patterns. These wall tiles are highly popular as backsplash tile as they are non-porous and perfectly adapted to wet areas like the kitchen and bath. The patterns play on color and tile size to offer a traditional but updated look. Pebble Interlocking and Khaki Interlocking are two new popular solid color glass options that offer a neutral back drop that match many different countertop colors or tile to be the perfect accent in a shower.
Glass Stone Blends
If you're looking for a more unique tile, glass stone blends offer more than a cohesive pattern – with use of color, design and an eye-catching mix of materials, they will introduce texture and interest to any application. Cristallo, Truffle, Urbano, & Perspective Blend capitalize on more intricate patterns and cool, sophisticated colors. Harvest Moon & Ashlar Rock are additionally unique because of their three-dimensional look.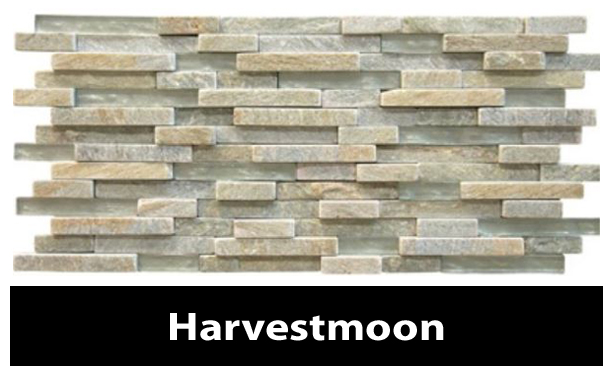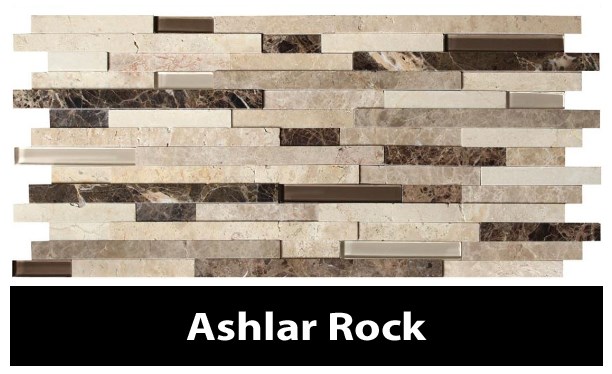 Metal Blends
MSI offers two new glass metal blend mosaics, Madison Avenue and Cityscape, that use interlocking linear chips mixed with longer and shorter pieces for a dramatic look in urban color palettes. Cityscape is a clean, modern blend of silver, whites and greys. Madison Avenue takes the urban color palette and elevates it with a greater mix of color, including brushed bronze and stainless steel. For even more bling, Eclipse is a stone/metal blend with similar color schemes but with plenty of dimension to spice up your own urban interior.
Specialty Blends
The new category MSI has deemed "specialty mosaics" offers some of the most unique items in the mosaic industry. MSI is now offering a new porcelain stone blend tile in an interlocking pattern design. Titan is a high-design, futuristic looking pattern and color scheme for modern and elegant decors. This option (as well as most of the other interlocking pattern selections) is a porcelain/metallic painted slate blend that is suited to backsplash tile applications, as well as an accent strip for flooring, and blends nicely with many countertops. Applied alone or as accent to other porcelain tiles, it is a beautiful statement mosaic.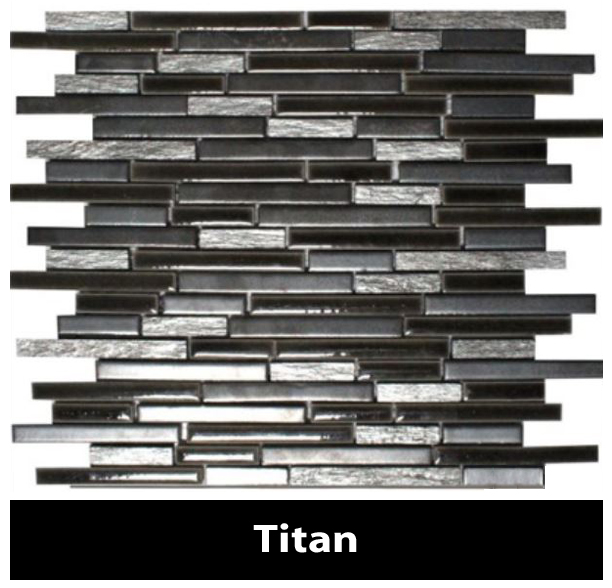 Verona blends porcelain with stone and employs browns and beiges with distinctive movement. Vienna Blend Brick (shown below) is a stone, glass, metal & resin blend with a more uniform design, offering lighter stone colors like Crema Marfil. Both are impressive blends that combine professional design know-how with skillful execution. Their mix of materials also allows for greater coordination with many different tiles and countertops.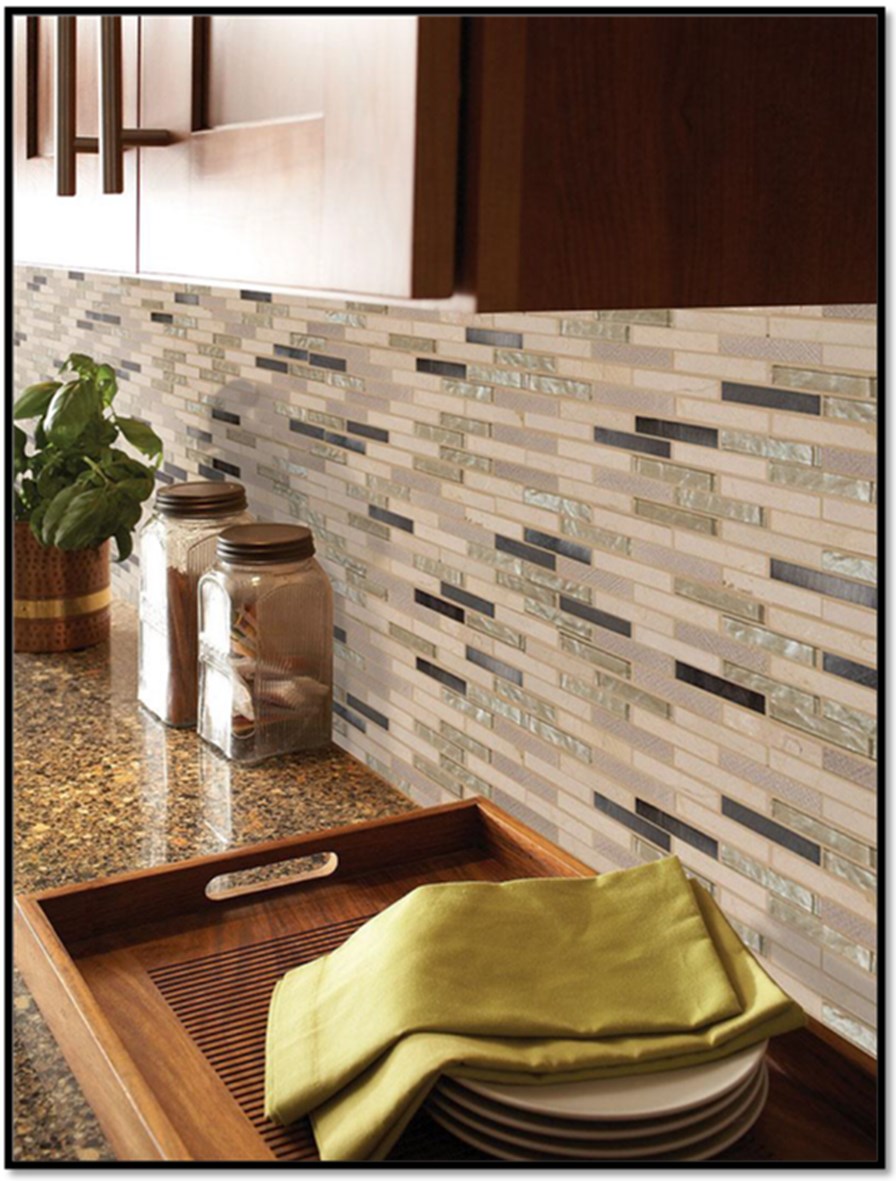 Mosaics take the guesswork out of laying the perfect pattern. Designers have done the hard part, selecting the perfect complementary colors and fitting pieces of varying size into both simple and complex designs that will fit any motif you desire. Easy application makes them an affordable way to upgrade any room. See more of MSI's new products for the newest ways to play with mosaics and elevate your indoor and outdoor living.