Underlayment Guide For Luxury Vinyl Flooring And Hybrid Rigid Core
December 24, 2022
You did your research and determined that luxury vinyl flooring or hybrid rigid core suited the needs of your space best. They are excellent choices with many benefits not found in the elegant surfaces they mimic, like real wood or natural stone. We will take a look at those benefits later in this article.
Right now, there is a more pressing matter: Do you need underlayment for your vinyl flooring, and if so, which type is most suitable? Here we will explore these questions deeply. Unfortunately, we cannot cover everything in our limited space, so it's crucial to consult your flooring manufacturer to receive information tailor-made to your specific product.

MSI's Everlife sells first-rate underlayment for dryback LVT, rigid core LVT, and hybrid rigid core flooring. While MSI's rigid core products all come with pre-attached underlayment, supplemental underlayments such as AbaTec take underfoot comfort & sound attenuation to the next level.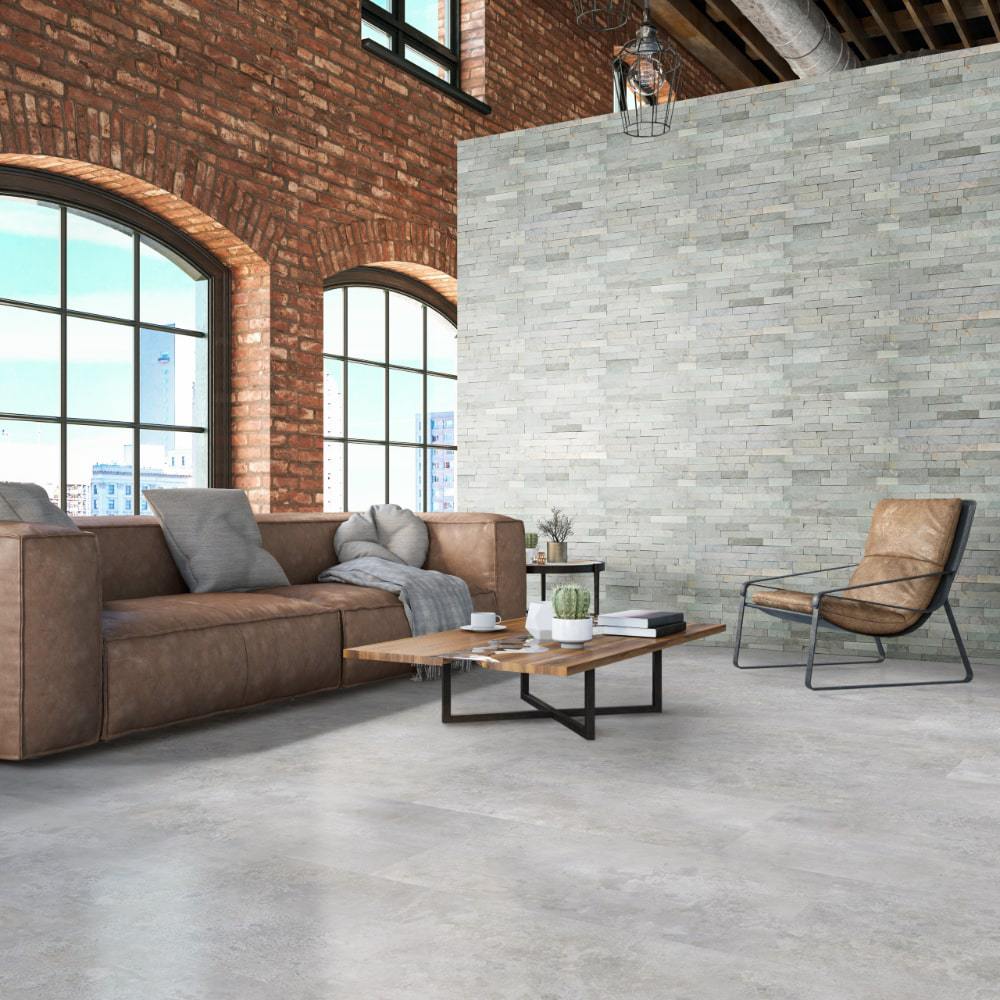 Just as your luxury vinyl flooring has many benefits, so does the proper underlayment. But underlayments aren't a one-size-fits-all solution. You'll need to investigate the appropriate installation style and what underlayment works best with the premium flooring product you purchased. And what about the subfloor? Will it work for or against your efforts?

Read on to learn the answers to these questions and more. But before we dive deeply into underlayments, let's look at the awe-inspiring flooring it supports.
WHAT IS LUXURY VINYL FLOORING?
Luxury vinyl flooring is an umbrella term that covers numerous vinyl flooring types. Most of these floorings deliver the same beautiful benefits, but some offer more than others.

There are two main types of premium luxury vinyl flooring. First, there are luxury vinyl planks, otherwise known as LVP flooring. Luxury vinyl planks offer a stunning wood look that captures the appearance of natural hardwood flooring so well that many people struggle to tell the difference
Luxury vinyl tile, or LVT flooring, delivers a natural stone look that mimics the real thing as effectively as luxury vinyl plank flooring does for wood.
Hybrid Rigid Core is the next-generation rigid core product that provides unparalleled durability, featuring CrystaLux ULTRATM, which protects against UV, scratch, dent, accidents, and spills.
LUXURY VINYL FLOORING BENEFITS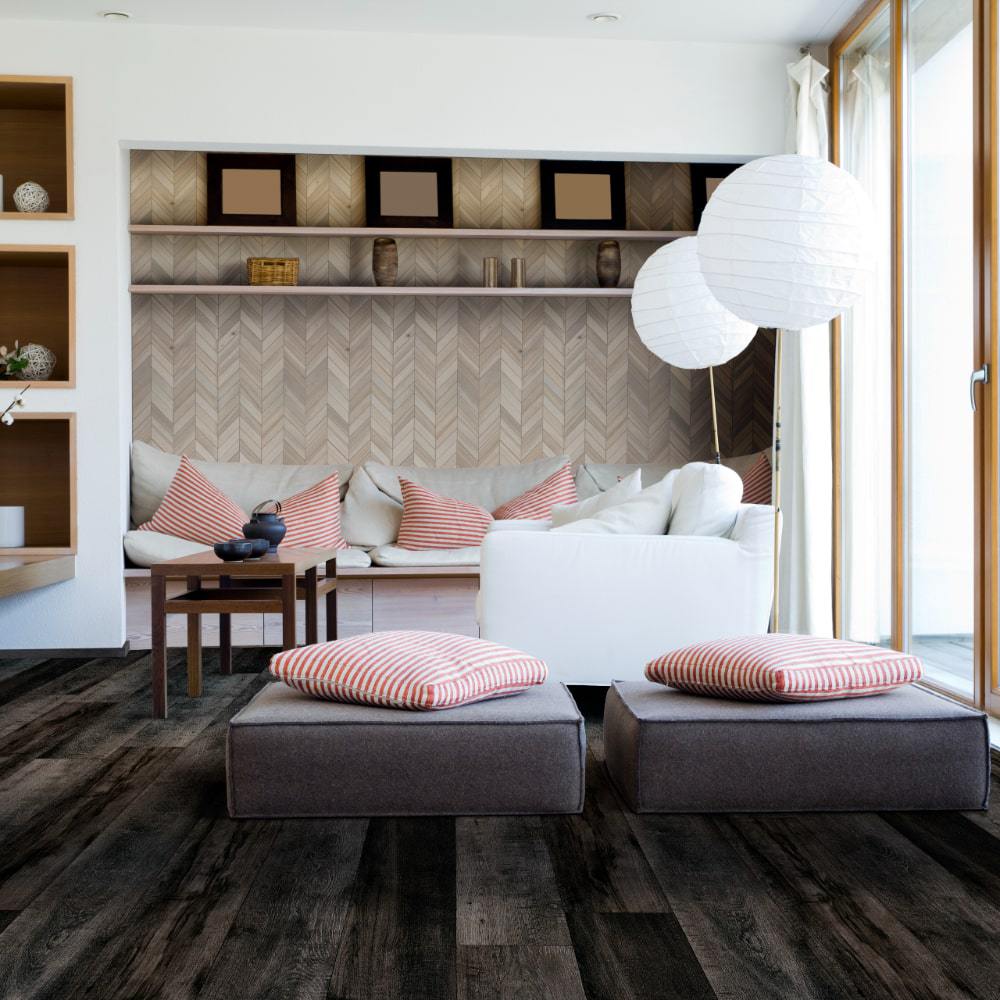 In this section, we'll cover the benefits that owners of both LVP flooring and LVT flooring enjoy. Both luxury vinyl flooring styles are more affordable than the luxurious surfaces they imitate. They also require no maintenance
Luxury vinyl flooring is highly durable. It's perfect for high-traffic areas as it stands up well to wear and tear. Depending on the product and the manufacturer, it's either water-resistant or waterproof flooring, making it perfect for moisture-rich areas like kitchens and bathrooms. On top of all that, your flooring will stand up to scratches and stains.
One of the leading benefits of luxury vinyl flooring is that it's easy to care for and maintain. Daily sweeping and light cleaning will keep these surfaces looking as good as new. For a stubborn spill, all you need is some warm water to dampen a mop, clean it up, and you're all set.
Ease of installation is a huge benefit of luxury vinyl flooring. Keep reading to learn more about this and how it correlates to your underlayment choice.
Finally, the underlayment supporting your luxury vinyl flooring makes it feel softer underfoot and acts as a fantastic sound dampener.


UNDERLAYMENT: WHAT IS IT?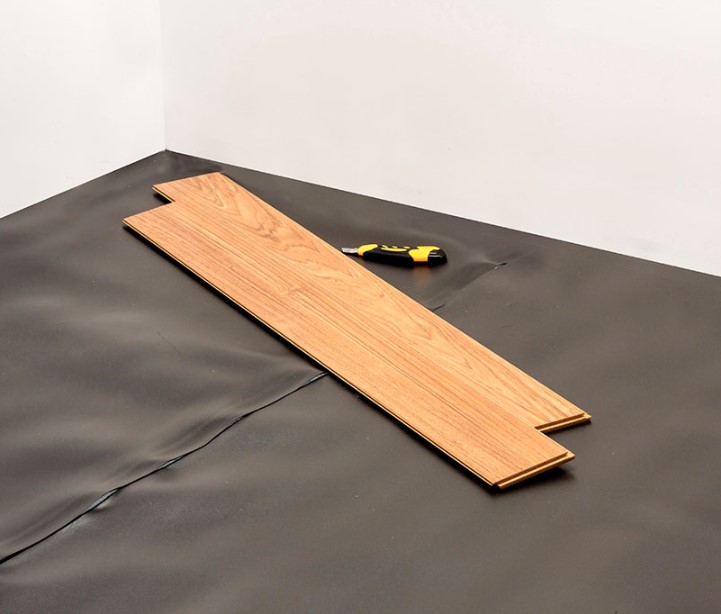 Several parts make up your floor, including a subfloor, an underlayment, and luxury vinyl flooring. Directly beneath your flooring rest a layer of underlayment. Below that underlayment is the subfloor. As previously mentioned, underlayment acts as a cushion that supports your flooring, serves as a sound dampener, and keeps the floor soft underfoot. The underlayment also helps keep your flooring in place while allowing it to float.
Do I need underlayment for luxury vinyl flooring?
Even if your luxury vinyl flooring comes equipped with a pre-attached backing, additional underlayment such as AbaTec is recommended. For Dryback, underlayment such as MitiTec is required. There are many reasons for the necessity of underlayment. First, of course, the benefits of sound dampening and cushioned flooring are highly attractive, but so are the added benefits of durability and the stability of keeping your floor in place, especially in even subfloors, which most homes have.

One thing to remember is that using the wrong underlayment might toss your warranty out the window. This is why it's of the utmost importance to get the flooring manufacturer's facts before installation and ensure your installer is aware if you're not installing the flooring yourself.
HOW DO I KNOW WHICH UNDERLAYMENT IS RIGHT FOR ME?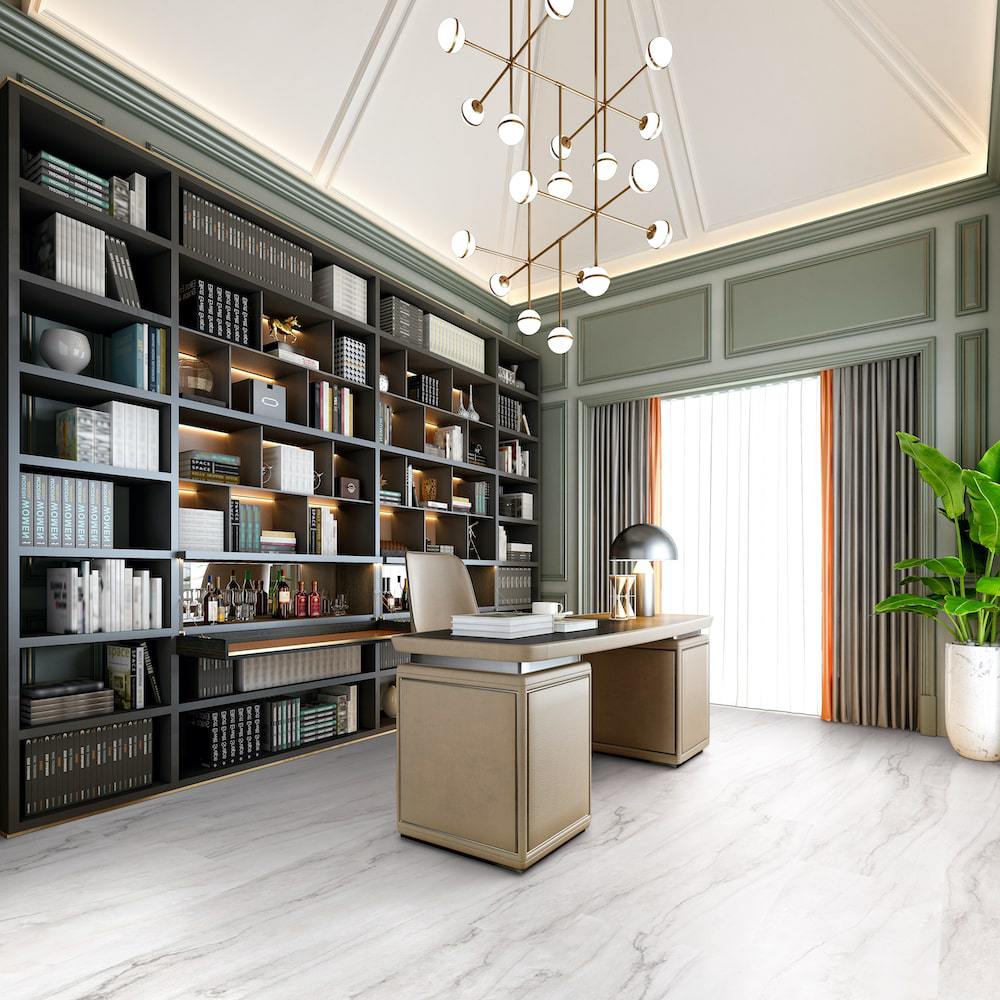 When deciding which underlayment is best for your luxury vinyl flooring needs, there is much to consider, including the following:
The style of luxury vinyl flooring you're installing.
Whether your subfloor is made of concrete, wood, or another material.
Installation style — glue down, floating, or another approach.
The specs of the flooring you're installing. For example, for rigid core, use MSI's AbaTec. For dryback, use MSI's MitiTec.
MOST POPULAR UNDERLAYMENT STYLES
There are many different types of underlayment to choose from for your flooring installation. Let's take a look at some of the most common.
Felt: Felt offers cushioning, sound absorption, and insulation. Felt is a decent choice for condos or apartments, though not recommended for use over concrete or in moisture-rich areas.
Closed Cell Foam: The BEST of all underlayments, such as AbaTec and MitiTec. This is the best all-around option for any subfloor. A closed cell structure means it does not harbor microbials or bacteria.
Pre-attached: For luxury vinyl flooring with an undermount layer already attached, you'll also want additional underlayment such as AbaTec in the form of a moisture barrier when installing over concrete or wet areas, and also as an extra layer of comfort underfoot & sound attenuation
Cork: Cork is a natural product but is prone to mold growth due to moisture getting trapped between the crevices. Not appropriate for many settings.
MSI offers a few options for underlayment for luxury vinyl flooring. Our AbaTec underlayment for our Rigid Core luxury vinyl flooring provides optimal sound attenuation and moisture protection
For glue-down flooring, we offer MITITEC™. This underlayment delivers outstanding sound comfort, protects from moisture, and is an excellent choice for multilevel installations. Be sure to use MSI's glue for the best results.
LUXURY VINYL PLANKS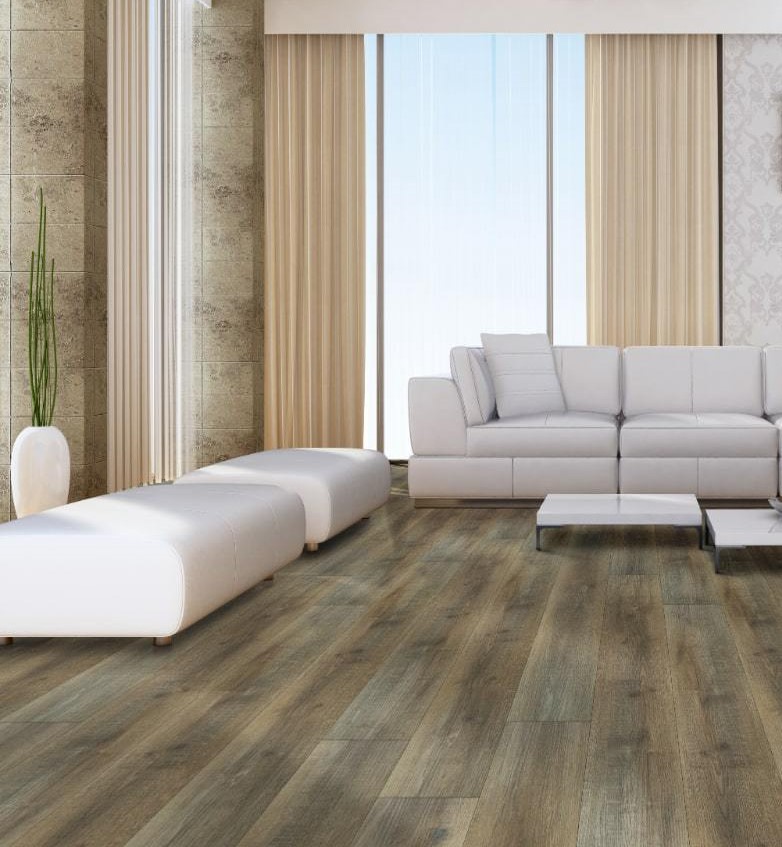 The distinct types of luxury vinyl planks differ in several ways. Let's explore these styles.
Flexible
Most of the time, flexible luxury vinyl planks use a glue-down method. The added stability provided here is one thing that makes this approach so popular. For example, if you're installing flexible luxury vinyl planks in a large room, you'll have much more stability than if you opt for click-down planks. Additionally, suppose down the line, you decide to change your flooring. In that case, flexible luxury vinyl planks make for an easier job since you won't need to remove a large number of interlocking planks.
It's important to mention that if your flooring requires a glue-down installation, it's essential to begin with a subfloor that is even and completely flat. Otherwise, the imperfections will show through, ultimately leading to damage from the underside. Also of note is that while click-together luxury vinyl planks are great projects for handy homeowners, glue-down installation should involve a professional.
Rigid Core
Rigid core luxury vinyl plank flooring is rigid at the core and doesn't bend like its flexible counterpart. These luxury vinyl planks utilize a tongue and groove system for an easy-click installation that floats over a subfloor. Rigid core is thicker than flexible luxury vinyl planks, which leads to additional durability and a surface that offers greater resistance to wear and tear.

WHICH UNDERLAYMENT SHOULD I USE FOR WHICH INSTALLATION STYLE?
Glue Down Luxury Vinyl Planks
As their name suggests, these luxury vinyl planks glue to the subfloor. This glue-down approach to installation requires underlayment like MitiTec.
Rigid Core Luxury Vinyl Planks and Luxury Vinyl Tile, and Hybrid Rigid Core
Rigid core like those offered by MSI's Everlife Collection easily clicks into place to form a continuous flooring that sits atop your subfloor. Floating floors like this leave a small space between the subfloor and the luxury vinyl flooring above.
WHAT BENEFITS SHOULD MY UNDERLAYMENT PROVIDE?
You most likely spent a good deal of time researching luxury vinyl flooring to find the perfect match for your design needs. Since your time is valuable, getting as many benefits as possible from your underlayment is essential, so your flooring is enjoyable today and for many years to come.

The Underlayment Is Insulating
Cold floors are a part of life. While we are fortunate to live in a modern age where we can control the climate of our indoor spaces, your floor will inevitably be cold at one time or another. Choosing underlayment with a reputation for strong insulation can help keep some of that cold air from reaching your floor. This will also keep your entire home warmer, and you'll spend less on utilities and have more walking-around money to enjoy.

The Underlayment Protects Your Flooring From Moisture
Even if your luxury vinyl flooring is waterproof or water-resistant, the buildup of excess moisture may still pose an issue. Let's say a good amount of water makes its way into your luxury vinyl flooring. This can cause it to warp and become unsightly. Protect your investment by choosing an underlayment that wards off moisture.

The Underlayment Is Sound Absorbing
No one likes loud floors. So if there were a way to quiet them, wouldn't you jump at it? To ensure your luxury vinyl flooring is quiet underfoot, ensure your underlayment works to soundproof your footsteps. Even in the busiest households with high-traffic areas at every turn, the right sound-absorbing underlayment can make a world of difference.

The Underlayment Hides Subfloor Issues
The deal with subfloors is they often have a series of unsightly issues. For example, the subfloor could be uneven or have dents or other problems. However, as long as your subfloor is still usable, the proper underlayment will care for any issues and provide the cover your subfloor desperately needs.
WRAPPING IT ALL UP
As you can see, there is so much to consider when it comes to underlayment for your luxury vinyl flooring. But if you take the time to find underlayment that fits your needs, it will be time well spent to help keep your luxurious flooring looking and performing as great as it did the day you had it installed.
With our extensive collection of luxury vinyl flooring, vinyl accessories and underlayment, you're sure to find the perfect match for your flooring upgrade. But before you get started, reach out to us at MSI and see how we can help you find the material that checks all your boxes. You can chat with us online 24/7 through the chat feature at the bottom right of your screen, or visit one of our showrooms.
LEARN MORE ABOUT LUXURY VINYL FLOORING
Laminate Compared to Hybrid Rigid Core Flooring: Which Is the Right Choice for You?
What Is Luxury Vinyl Flooring?
Whitewash Vinyl Flooring Planks From MSI