Tips From The Trade: Factors That Affect The Cost Of Marble Countertops
July 31, 2017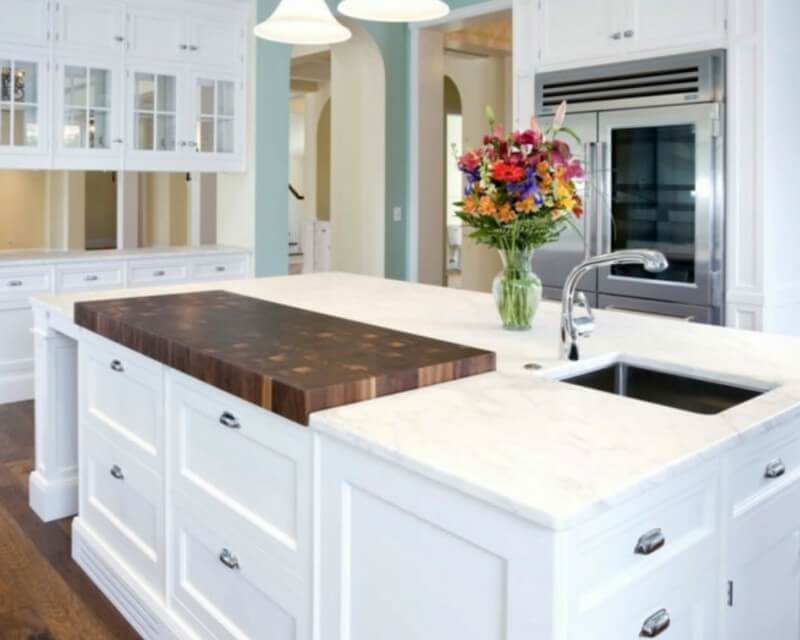 Are you looking to upgrade your home with marble countertops, but are wondering why the price of different slabs can vary so widely?
Homeowners are often surprised to see the range of costs for what seem like similar marble slabs. In reality, though, the cost of natural marble is affected by a variety of factors, from the color and pattern to the country of origin.
Read on for helpful tips to consider when budgeting for your marble countertop upgrade.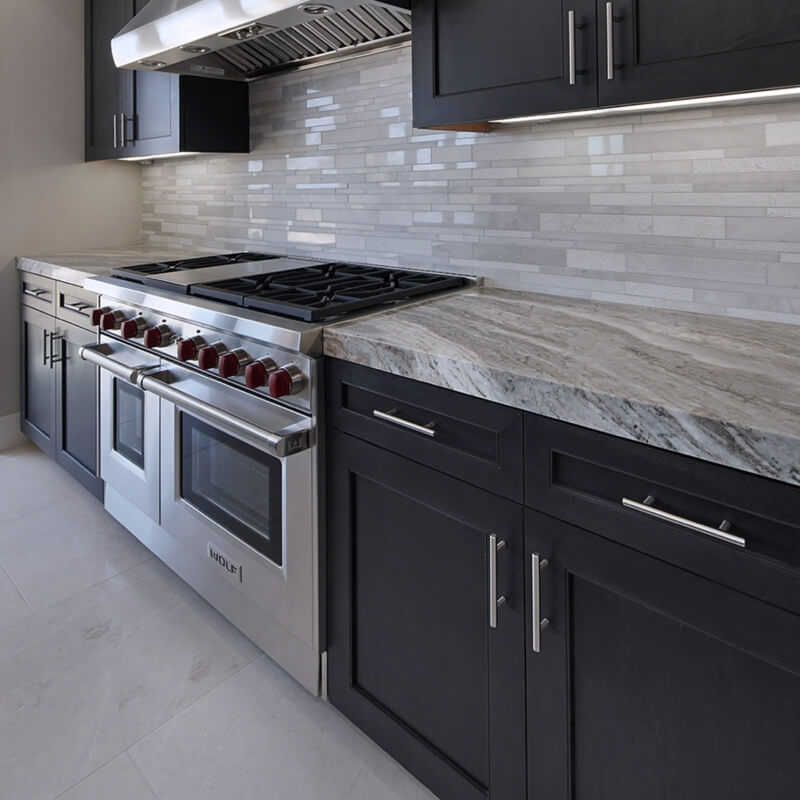 Featured: Fantasy Brown Marble
Certain varieties of marble cost more due to their limited availability and the country in which they originated. Harder to find varieties of marble from far-flung countries are more expensive than varieties found in abundance, and that higher price of rare marble is reflected in the additional work it takes to mine the beautiful stone.
On the other hand, Italian marble is wildly popular, but it is also widely available, making it a fairly economical choice.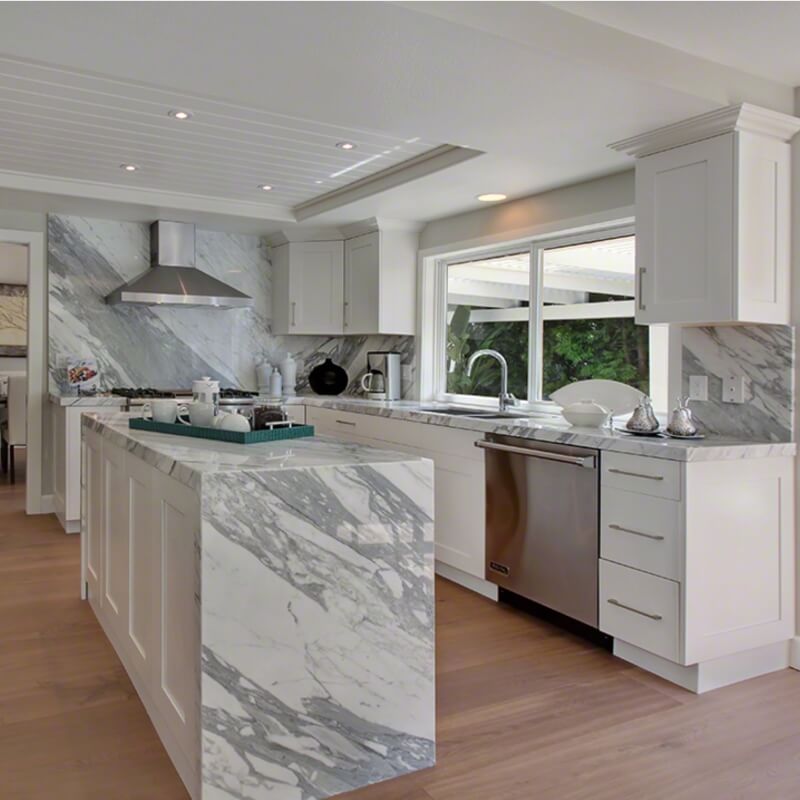 Featured: Volakas Marble
Choosing to include a decorative edge in your countertop design is another factor that will drive up the cost of your marble. Still, when you see the impact a waterfall or ogee edge can make, you may find it well worth the splurge.
Waterfall edges can be a great way to show off a slab with a lot of movement and veining. Or you may choose to go with a simple edge to cut costs and avoid distracting from an already beautiful piece of marble.
Your marble countertop can also be customized with a specialty finish. The least expensive finish for countertops is a polished finish, which is also the most common. A honed finish can be more expensive, but the look can be particularly suited to certain interiors due to its rustic yet sophisticated charm.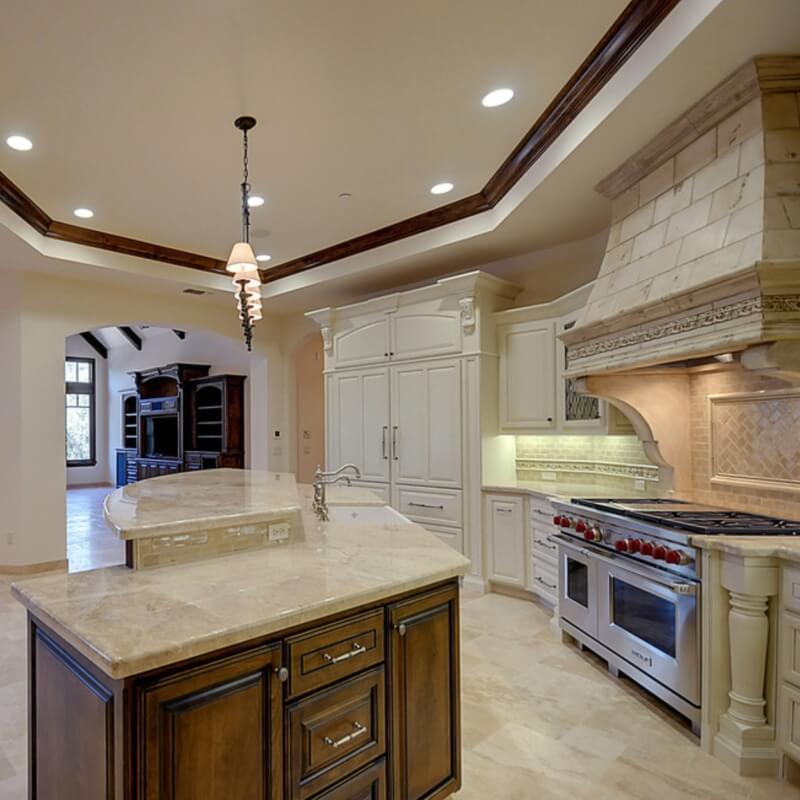 Create this look with MSI's Crema Cappuccino Marble (Photo Credit: Houzz)
Other less common finishes—such as brushed and leathered—involve special processes and increased labor, which will drive up the price. Most people tend to choose a simpler finish and let the natural character of the marble speak for itself; however, you may prefer an unconventional look.
The thickness of the marble slab is yet another factor to consider in the cost of your countertops. Slabs of 2 cm thickness are typically only seen in laundry or utility rooms, or possibly in a less-used bathroom.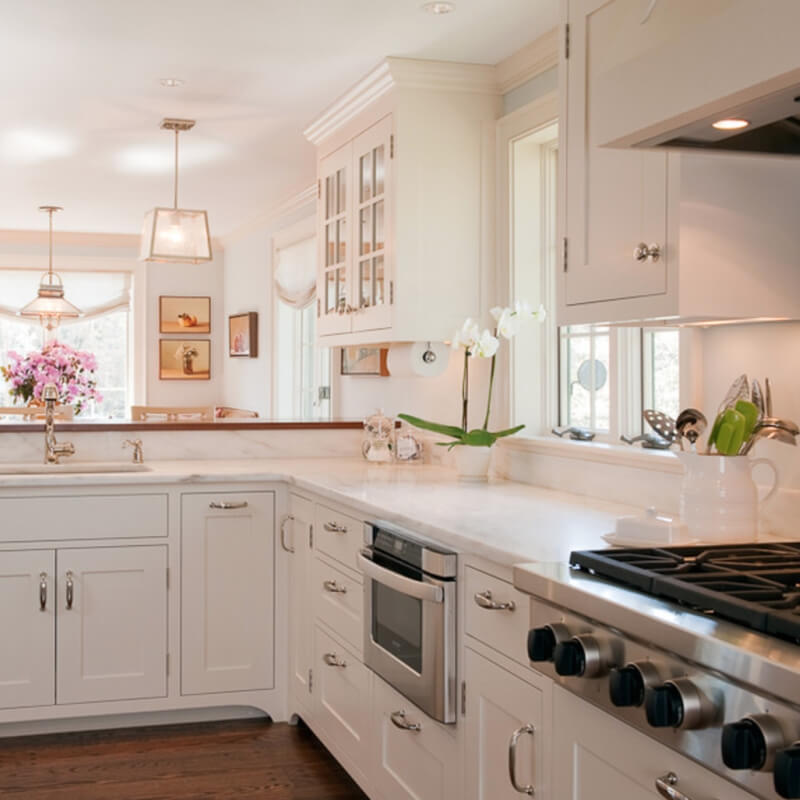 Create this look with MSI's Imperial Danby Marble (Photo Credit: Houzz)
Far more common are 3 and 5 cm slabs, with many homeowners and designers increasingly leaning towards the rich look of a heavy 5 cm slab in the kitchen. You may even choose to design only a special area with a thicker edge (such as an island), and save money by using a 3 cm edge on the rest of your countertops.
Installation of your marble countertop is the final and most important component factoring into the cost of your project. A bad install can ruin a perfect slab of marble, whereas a good installer can highlight the best parts of your slab and provide quality work that should last the lifetime of your material. Depending on the layout and conditions of your space, installation pricing can vary drastically.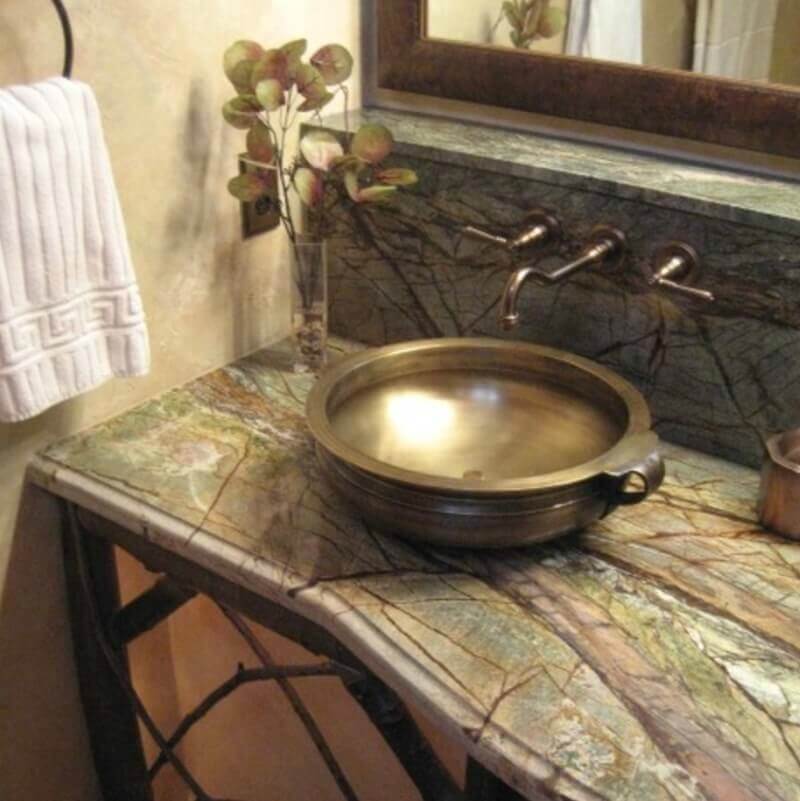 Create this look with MSI's Rain Forest Marble (Photo Credit: Houzz)
Multiple separate surfaces that involve more cutting and finishing will be more expensive than a galley kitchen or similar straightforward floor plan. However, it's best to save in other areas whenever possible, and use a highly recommended installer with lots of experience.
Now that you know the reasons for the price differences between marble slabs, you can make an informed decision for your marble countertop project. For more inspiration, explore different countertop looks with MSI's kitchen visualizer tool.
And if you're still wondering whether or not marble is affordable for you, check out the following kitchen countertop buying guide.