How To Nail The Wood Tile Look In The Bathroom
August 23, 2017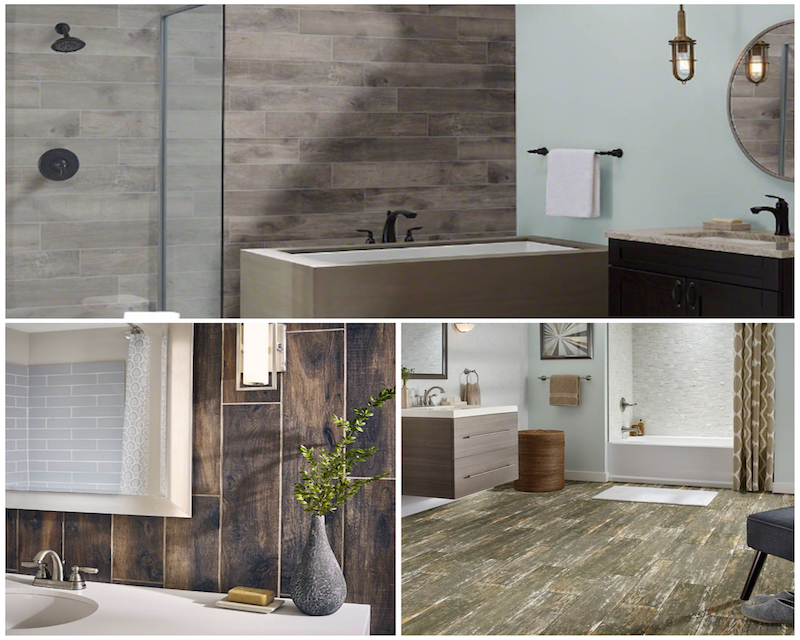 You love the look of hardwood throughout your house. Still, the idea of installing real wood in your bathroom, which is regularly baptized with shower and bath water, is scary.
But don't fret, because with a porcelain tile installation, you can have the look of wood, without the worry. That's because, unlike wood, porcelain tile won't warp or rot under your bathroom's constant assault of humidity and water.
Plus, wood-look tile is far easier to clean and maintain than real wood. A quick swish with a damp mop will pick up makeup spills and small puddles that rest on the surface of the tile. What's more, porcelain is scratch resistant and doesn't require the periodic refinishing or sealing you have to take into account with natural wood.
With that in mind, here are our favorite creative bathroom tile ideas with MSI's wood-look porcelain tile. If you don't stoop to touch, you'll never even know it isn't real wood.
Stone Country River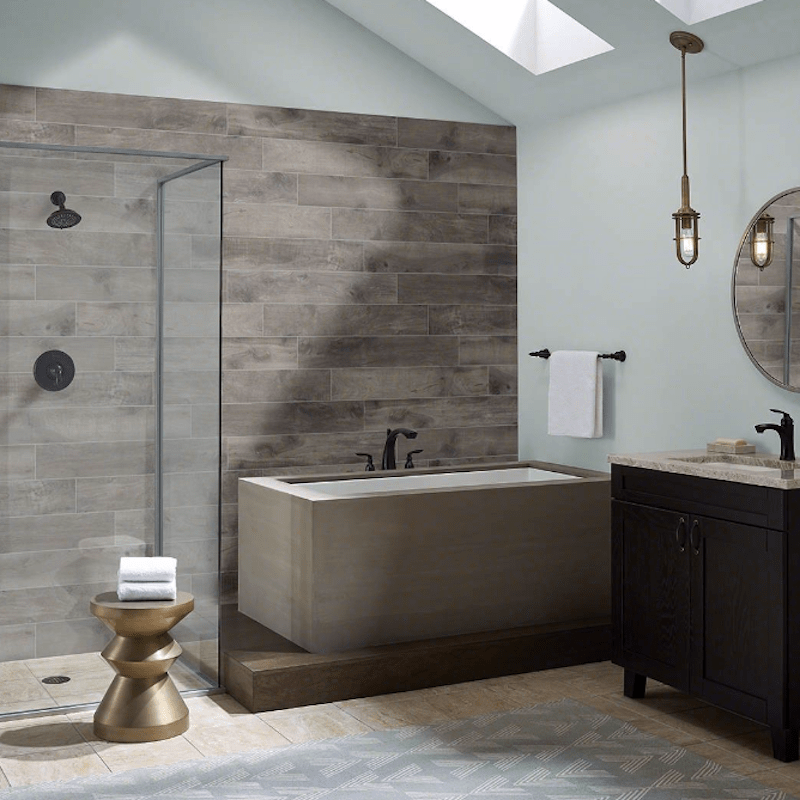 Featured: Stone Country River Porcelain
Stone Country River Porcelain is a wood-look tile that features warm grays, accented by authentic-looking hardwood knots and gains. It resembles white pine and is a great flooring choice for outdoor entertainment spaces, as well as for rustic-décor bathrooms and kitchens. The gray tones pair perfectly with white fixtures, oil-rubbed bronze hardware, and dark cabinetry.
Gray Oak Marble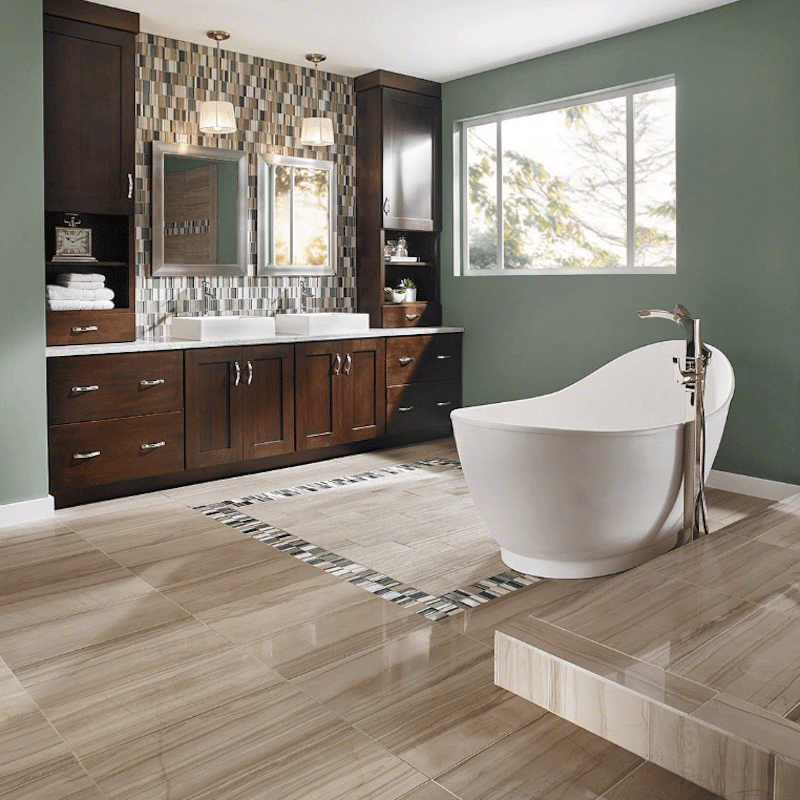 Featured: Gray Oak Marble
Elegant Gray Oak Marble is a porcelain tile that combines the classic looks of wood and marble. Its soft, gray tones blend with lighter, warm hues and linear grains, giving the tile a gentle and inviting aura.
Subtle colors and delicate grains make Gray Oak Marble a perfect flooring material or tub surround choice for bathrooms with contemporary or traditional designs. Its neutral colors invite inlays with contrasting colors. And stand-alone white tubs complement Gray Oak Marble floors with high design and luxurious finish.
Walnut Palmetto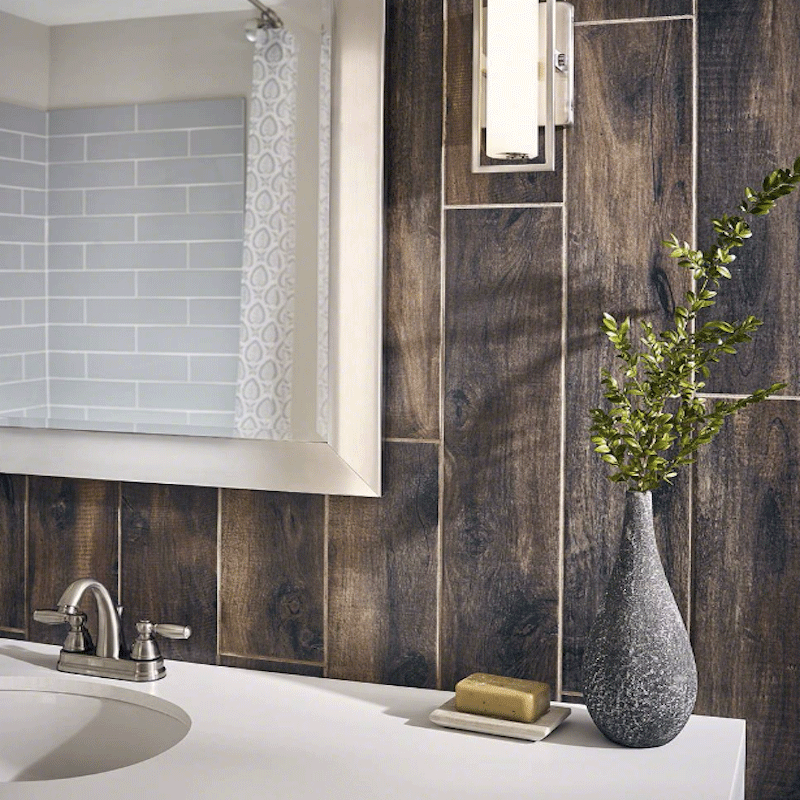 Featured: Walnut Palmetto Porcelain
Walnut Palmetto Porcelain is a dead ringer for dark hardwoods, but so much easier to maintain. Rich browns combine with darker grains and subtle knots, which play well with both traditional and more daring décor. This natural-looking beauty is available in 6x36 planks that can be installed in herringbone and chevron patterns for additional pizzazz.
Walnut Palmetto floors give white bathrooms more interest and depth. Install as a contrast to lighter cabinets, or install vertically to create an eye-catching accent wall.
Ash Aspenwood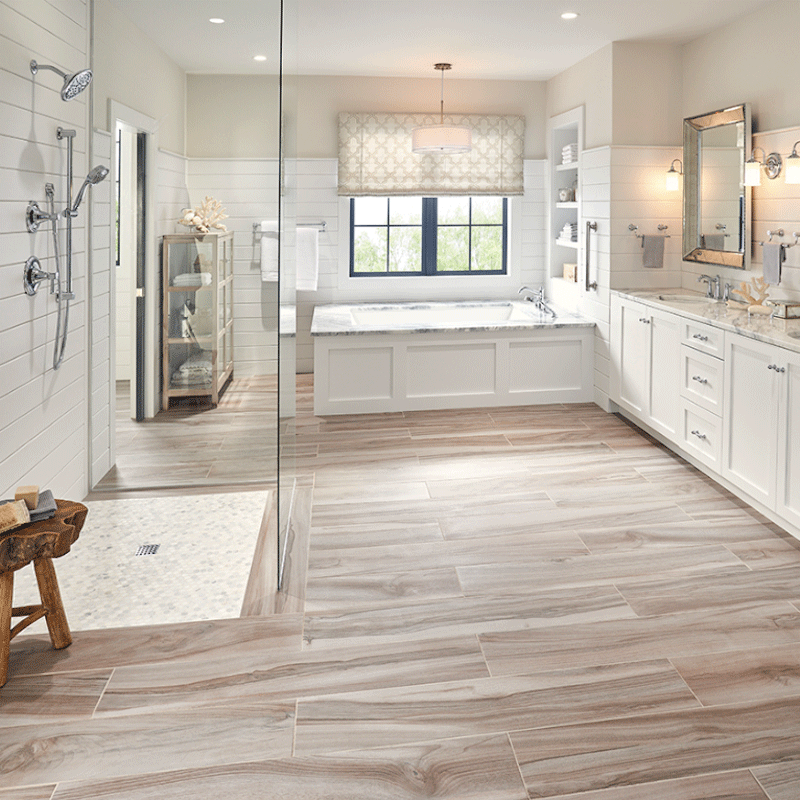 Featured: Ash Aspenwood Porcelain
Ash Aspenwood Porcelain is a soothing, porcelain tile that combines rich browns and creams with realistic grains, veins and knots. This tile will make you feel like you're taking a leisurely stroll in an Aspen copse.
Install Ash Aspenwood on bathroom floors to blend easily with white fixtures; or set it behind a dark brown, floating vanity to create a dramatic focal point for the room.
Copper Vintage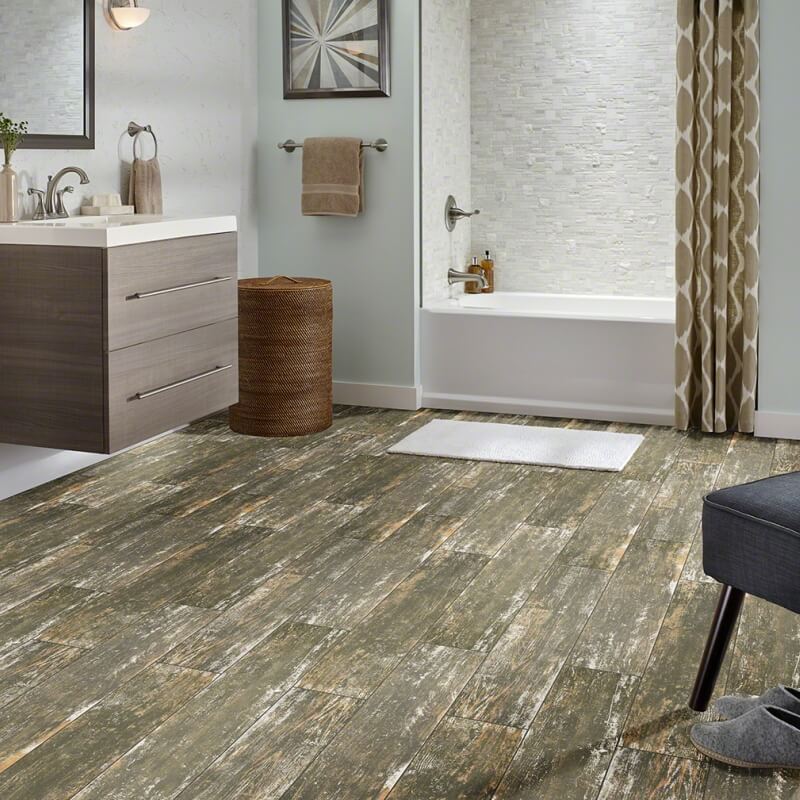 Featured: Copper Vintage Porcelain
Copper Vintage Porcelain wood-look tile features pops of copper and white set against a dark brown background, creating the look and feel of reclaimed hardwood planks. Rustic décor enthusiasts will love this tile as a bathrooms floor that perfectly complements a white tub or dark cabinetry.
Can't get enough of wood-look porcelain tile? Spend some time with MSI's "Into The Woods" Collection for ideas that will make your bathroom the most fabulous room in your house.
READ MORE ABOUT WOOD LOOK TILE:
Lived-In Wood Look Tile Flooring
Fall Trends Favor Wood Look Tile
6 Unbelievably Realistic Wood-Look Tile Installs
How to Get Perfect Grout Lines For Wood-Look Tile Flooring