Tips From The Trade: What Are Engineered Quartz Countertops?
April 22, 2017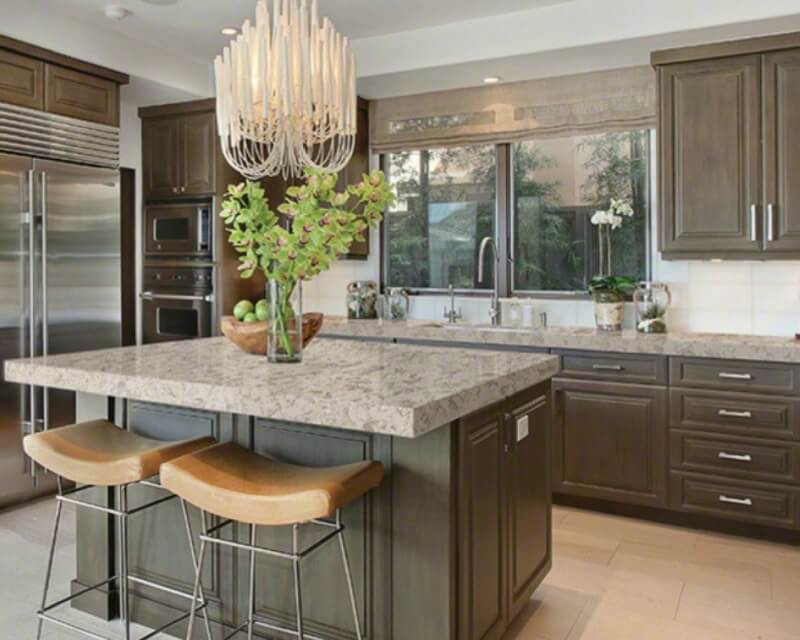 If you love the low-maintenance beauty of quartz, you're not alone. Quartz countertops are a popular choice for many reasons. Quartz combines the durability of man-made materials with the beauty of natural stone, for countertops that are as stylish as they are sturdy.
Quartz is durable, antimicrobial, and maintenance free. Quartz also resists scratches, stains, heat, and mold. Choosing new countertops is a big decision, and it's natural to have questions. So, what are engineered quartz countertops, and are they right for you?
• How durable are quartz countertops?
Quartz is a mineral found in many different types of rocks. While quartz can come in many different colors, pure quartz is actually clear. Quartz is an extremely durable mineral that stands up to even the harshest elements. While wind and water erode the surface of rocks over time, the dazzling sparkle of quartz remains.
In fact, quartz is one of the hardest materials on Earth. That's great news if you want countertops that are both stylish and strong. Even after years of cooking, cleaning, and chopping, the natural beauty of quartz will remain unmarred—no sealing or polishing needed.
• What are engineered quartz countertops?
Engineered quartz is a manufactured stone that combines both synthetic and natural materials. The result is a countertop material that is beautiful and durable. Once processed, quartz is offered in limitless color options to suit a wide range of tastes and styles.
Such a variety of quartz countertop colors allows homeowners to achieve virtually any design aesthetic. Sometimes, quartz is processed even further to add microbial properties or a little extra sparkle and shine.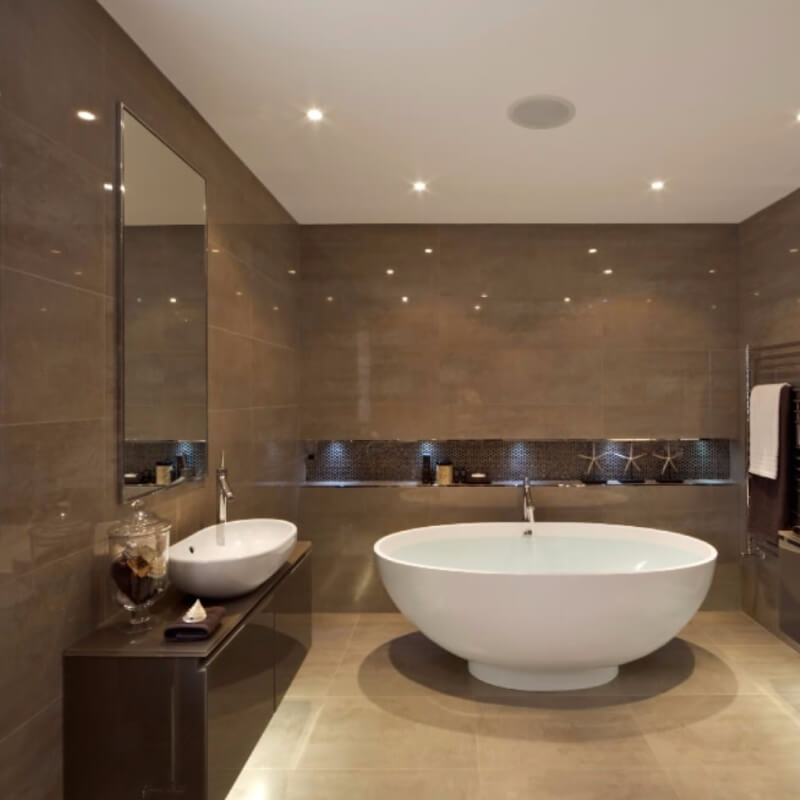 Featured: Lagos Azul Quartz
• Are quartz countertops made from a slab, similar to granite?
Just like granite, quartz countertops are made from a slab. Once the natural and man-made materials are blended, the mixture is poured into a mold. During a process that uses a vacuum and vibrations, the slabs are pressed down to a thickness of 2-3 centimeters. The slabs are then baked in the oven at a high temperature, polished until they gleam, and cut into the desired shape and size.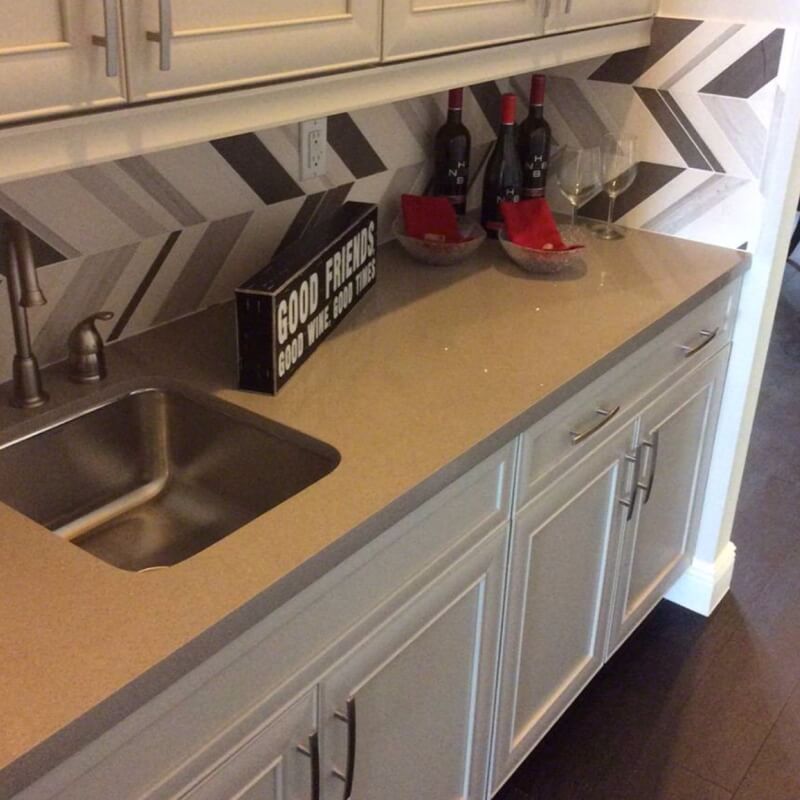 Featured: Stellar Gray Quartz
• Are quartz countertops and quartzite countertops the same thing?
Quartzite is a natural stone with long-lasting beauty, but it should not be confused with quartz. Quartzite is a naturally occurring metamorphic rock, and quartz is a manufactured stone composed of ground quartz and man-made materials.
Quartzite is a beautiful, durable natural stone, but unlike quartz, quartzite requires a bit more care. Quartzite countertops must be re-sealed every few years to maintain their gorgeous luster. Additionally, since pigment can be added during manufacturing, quartz is offered in a wider range of colors.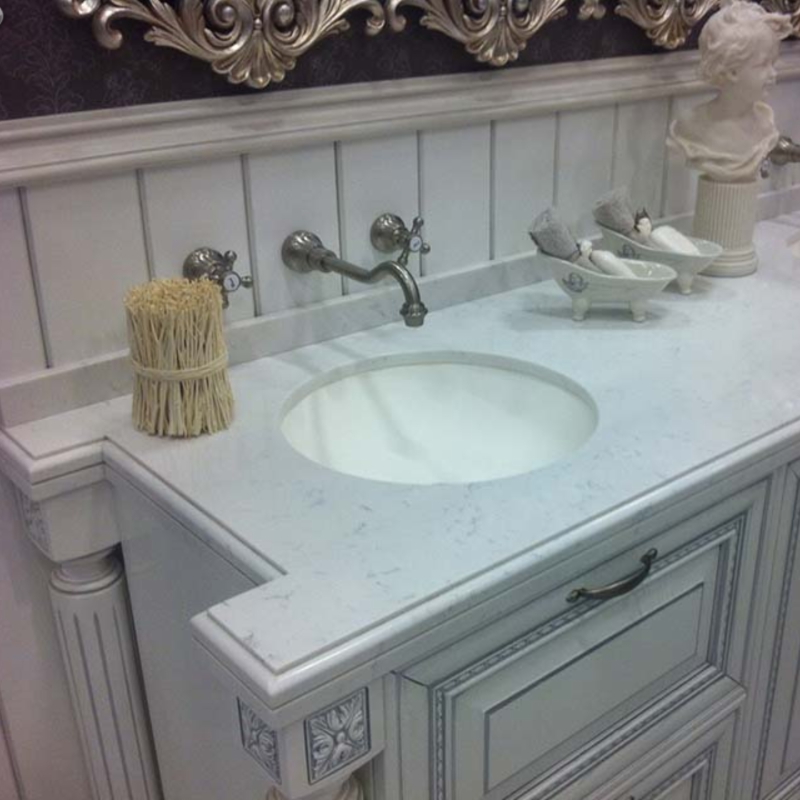 Featured: Cashmere Carrara Quartz
• Are quartz countertops made of pure quartz or a blend of materials?
Using the Bretonstone system, marble, silica, granite, and quartz are bound, heated, pressed, and polished into slabs that closely resemble natural stone.
Quartz countertops are made by combining a polymer mix, binding syrup, and pigments with fragments of natural quartz. To enhance the natural sparkle of quartz, pigments, recycled mirror, colored glass, or granite pieces are often added during the manufacturing process.
• Can engineered quartz countertops mimic the natural look of marble?
Quartz can be made to resemble a variety of other materials, like limestone, granite, concrete, and most popularly, marble. Marble and granite are both exquisite choices, but these countertop materials aren't right for every homeowner. Granite countertops must be re-sealed every few years to keep their natural beauty. Granite slabs are also quite heavy, making installation more involved.
Marble is also a gorgeous choice for countertops. However, not every homeowner is up for the maintenance marble countertops require, and not everyone can afford this exquisite countertop material. However, with marble-look quartz, you can enjoy the natural beauty of marble—without the upkeep.
Quartz comes in a range of different finishes (polished and honed) and is available in various countertop edges, including waterfall. For an even more stylish, uniform look, quartz can be used as flooring and on walls, too. With quartz countertops, you'll enjoy a beauty that's made to last.
More on Quartz Countertops
MSI Quartz: Modern Elegance Mixed with Versatility
The Most Popular Quartz Countertop Colors in 2020
The History of Quartz Countertops