Popular Natural Stone Countertops: Granite Vs. Quartzite Vs. Marble
February 28, 2023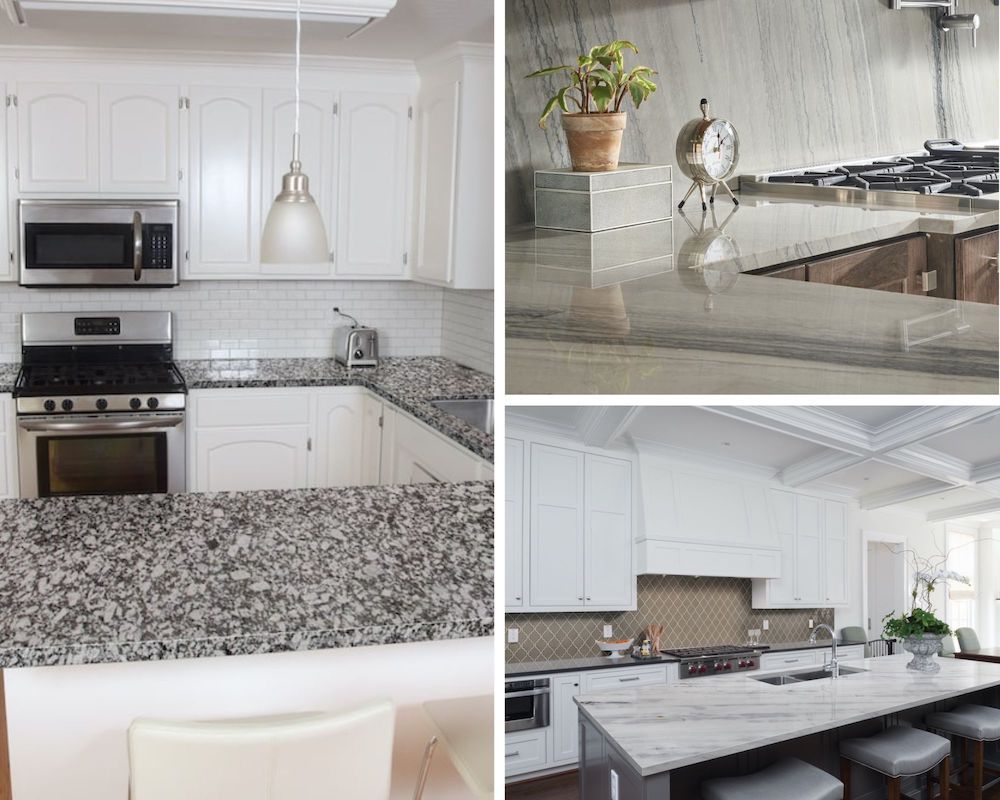 When designing a space within your home or business that requires counters, you will be faced with a variety of decisions. Each decision will have an impact on the overall aesthetics of the room. However, one critical consideration is the type of countertops to use.
Natural stone countertops are popular for home improvement projects, including bathroom renovations and kitchen remodeling. They offer water-resistant and highly durable properties that can withstand stains and scratches. In addition, natural stone countertops are available in beautiful and exotic patterns and colors that add a touch of natural beauty and elegance to any space. As a result, they are highly sought-after by designers, particularly for use in kitchen spaces.
Types of Natural Stone Countertops
When it comes to choosing natural stone for your new countertops, you'll find that the most commonly used materials are granite, quartzite, and marble. To select the ideal option for your upcoming project, it's important to comprehend the distinctions between these materials. Let's delve into what you need to know to make an informed decision.
Characteristics and Cost
To begin, let's focus on the characteristics and costs of these exquisite natural stones, which all make for ideal materials for countertops.
Granite is a tough igneous rock that is highly resistant to cracking or chipping and can withstand high temperatures. Since each natural stone slab is unique, a granite countertop provides a distinct touch to your space. With a long lifespan, the cost of granite countertops, not including installation, can range between $10 to $75 per square foot.
Quartzite is a metamorphic rock that is comparable to granite but offers a wider range of design options. Due to its marble-like appearance, high durability, and easy maintenance, quartzite is a popular choice for countertops. The cost of quartzite countertops typically ranges between $30 to $150 per square foot, not including installation.
Lastly, marble is a highly sought-after surface material in the design industry, known for its classic, upscale look and attractive veining. Additionally, the cool surface of marble does not conduct heat, making it ideal for creating baked goods. Marble countertops usually cost between $15 to $150 per square foot, not including installation.
Please note that, nationwide, without the countertop material, the cost of installing countertops ranges from $40 to $150 per square foot. The installation price ranges will vary based on local labor costs and the job's complexity, such as sink cut-outs, soap cut-outs, fixtures, edging detail, and corner details.
For nature stone lovers, granite, marble, and quartzite are the perfect materials. Yet, while these materials are excellent for countertops, they have a few differences. Let's explore various factors such as appearance, maintenance, and durability to help you understand the differences between three popular countertop surfaces.
Granite Countertops
Granite is a beautiful slab surface with unique patters, this countertop material is highly durable and a popular choice for natural stone looks in the kitchen or bathroom. Granite is an all-natural rock that is quarried. Due to its natural durability, granite is resistant to chipping, scratching, or breaking. However, while brief contact with high heat will not cause significant damage, leaving hot items on the countertop for extended periods can result in discoloration. For longevity, regular sealing minimizes water damage, staining, and cracking.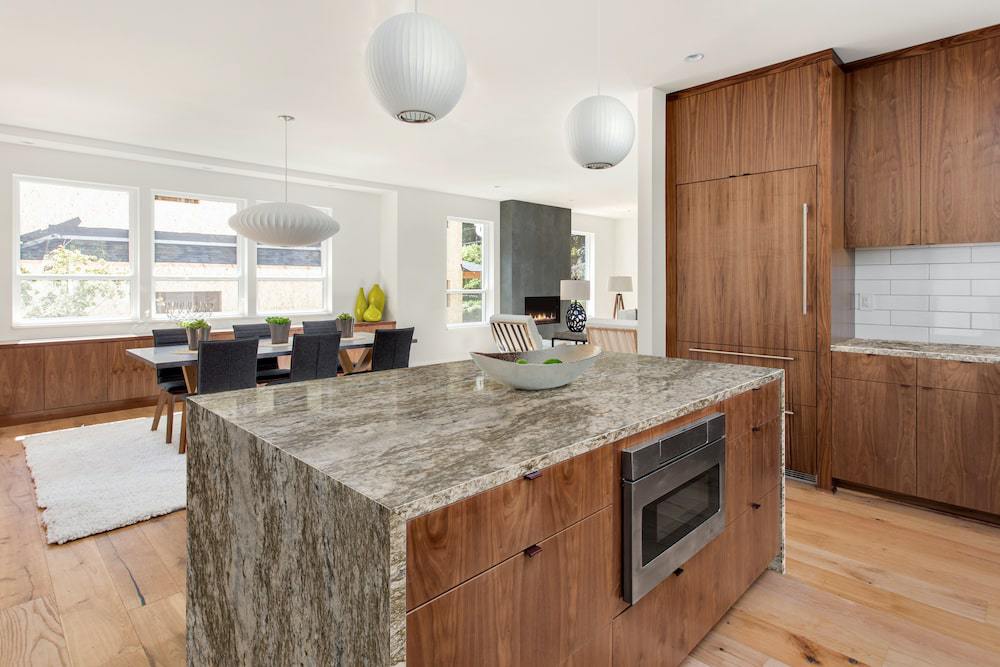 Savanna Gold Granite is an example of granite's beauty with its rich blend of chocolate browns and creams, interwoven with gold threads.
Granite countertops are a highly durable and popular choice for homeowners seeking a natural stone surface. Its exceptional durability, resistance to scratches, and unique composition make it a wise investment for any home. By following simple maintenance and care practices, granite countertops can provide a functional and aesthetically pleasing surface for years to come.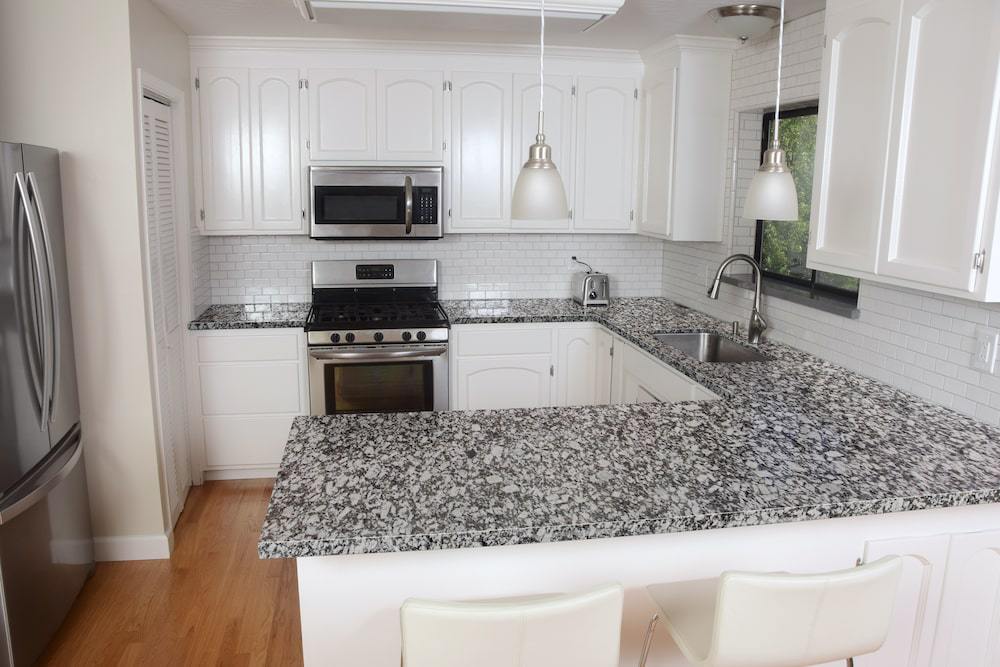 Quartzite Countertops
Quartzite is a beautiful and durable surface that is moderately priced, making it a popular choice among homeowners. Its veining is the closest resemblance to marble among natural stones, and it is available in striking and exotic colors and patterns. Manufacturers extract the natural stone from large blocks and then trim it into slabs, which are smoothed and fabricated to fit perfectly in your home.
Quartzite is a hard and long-lasting material that is highly resistant to staining, scratching, and cracking. Its durability ensures that it can withstand heavy use, making it ideal for high-traffic areas in your home. Maintaining and cleaning quartzite is a straightforward process, and it is relatively easy to maintain. However, it is essential to note that sealing quartzite is recommended to extend its lifespan and minimize the risk of damage caused by water or other substances. Audacia Quartzite is an excellent example of a stunning quartzite with a beautiful blend of beiges and greens, accented by hints of charcoal and black.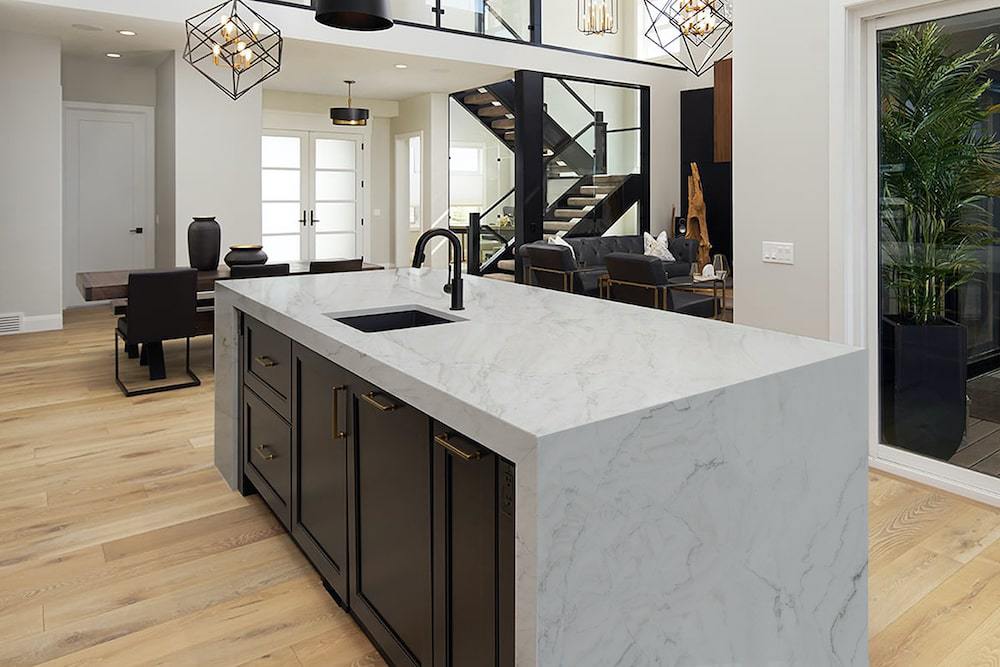 Quartzite countertops are an excellent choice for those seeking a natural stone surface that is both aesthetically pleasing and functional. Its exceptional durability, resistance to stains and scratches, and availability in bold and exotic colors make it a worthwhile investment for any home. With proper care and maintenance, quartzite countertops can last for many years, providing a beautiful and functional surface for your home.
Marble Countertops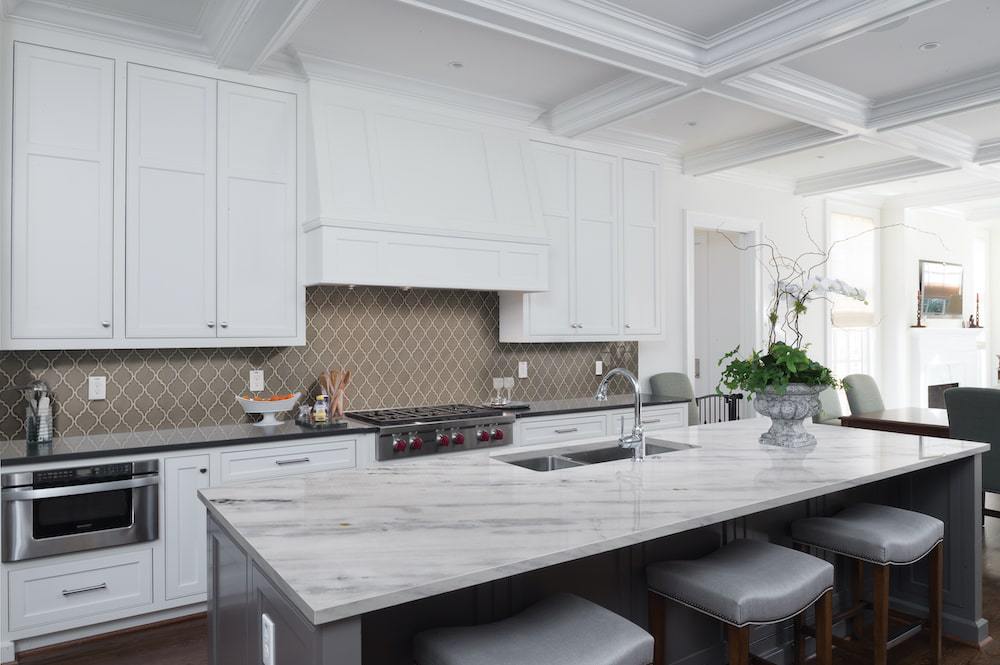 Marble is a luxurious and high-end natural stone surface that is popular for homeowners seeking a timeless look. Its deep, rich colors and beautiful veining are unmatched in the design industry, with colors from classic white and black to pink and green. Popular varieties include our Calacatta Gold and Carrara White marbles. And Arabescus White is a prime example of marble's high-quality elegance with its patterns and beautiful veining.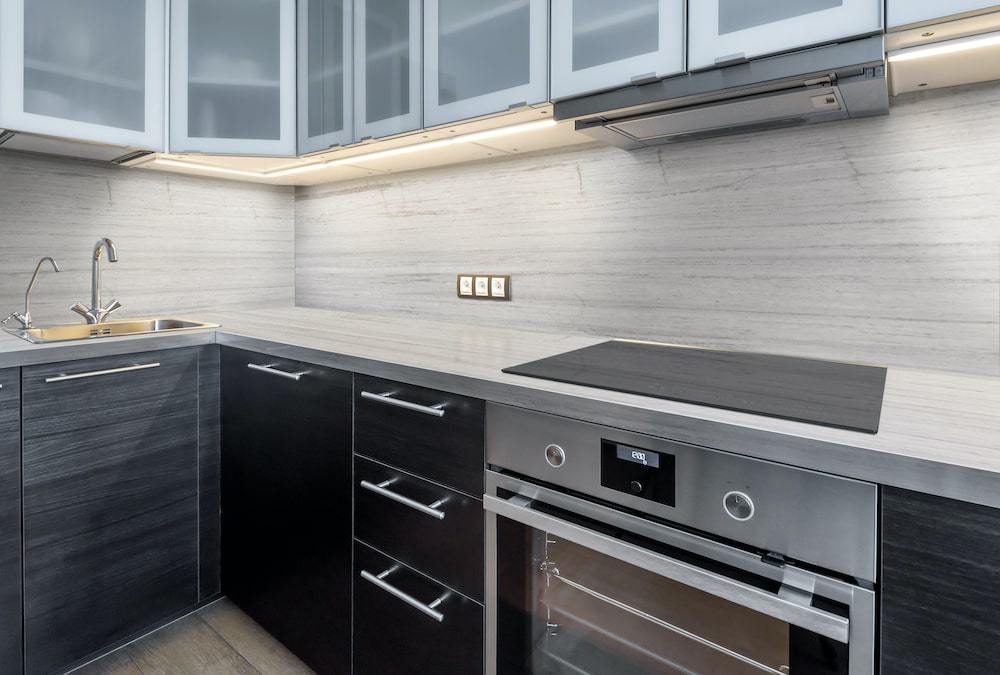 Maintaining and caring for marble countertops is a straightforward process, with regular sealing being an important component to minimize the risk of staining. Additionally, with proper care, marble's unique veining and pattern will only improve with time, making it a worthwhile investment for many homeowners.
Although marble may require more upkeep than some other natural stone surfaces, its unmatched beauty and luxurious appearance make it a worthwhile investment for those seeking a high-end and timeless look for their home.
Selecting Your Natural Stone Countertop
By understanding the attributes and differences between granite, quartzite, and marble, you can make an informed decision about which type of natural stone countertop material is best for your project. All three of these materials are highly valued and will make a fabulous addition to your space.
If you're ready to start shopping for your countertops, we are here to help! Chat with us online, or visit one of our showrooms or an authorized MSI countertop dealer in your area.